Echo Show 5 Review: An Upgrade Over Echo Dot, But Not Much Else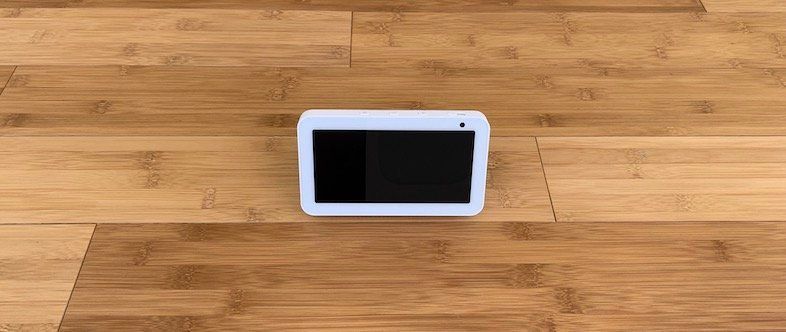 After weeks of testing, I determined Echo Show 5 is an upgrade over Echo Dot (3rd Gen), but the overall experience is not on Nest Hub's level.
Services (B):
Alexa is way more compatible than Google. There's an Alexa app store where Alexa can learn over 15,000 new skills. Developers build on the platform and create skills using the Alexa APIs.
Echo Show is compatible with any smart home product, including Philips Hue, LIFX, Ring, Wemo, TP-Link, Ecobee, August, and Arlo to name a few. Unfortunately, Nest products are no longer compatible.
Regarding audio, Alexa is compatible with Spotify, Apple Music, Amazon Music Unlimited, Pandora, TuneIn, iHeartRadio, and Audible.
For video services, Echo Show is compatible with Hulu and Amazon Video. These can be played on Echo Show's display, or you can send them to any TV that uses Fire TV.
Alexa works with lots of different calendars and list providers. (While it can't write events in Apple's calendar, it can at least read what you have).
Interface & Smarts (C-):
On the home screen, you can pick what you want to be displayed: sports scores, notifications, reminders, stocks, trending topics, or upcoming events. And for the background wallpaper, you can have it rotate between pictures in one of your Amazon Photos albums, like a digital picture frame. Unfortunately, you can't turn off the Alexa tips at the bottom.
The screen is usually only useful when listening to music because you can see the album art and song name and skip songs and tap enter buttons. But it's laggy and doesn't function anything like a tablet. The keyboard takes forever to show up and then it blocks the entire screen so you can't see what you're entering. This is a voice-first device.
Echo Show (2nd Gen) is slower than Nest Hub, but Echo Show 5 takes it to another level. There's a full second delay (or more) when switching between menus.
Alexa doesn't understand pronouns. For instance, when I ask "Alexa, how old is Tom Brady?" it gives his correct age, but if I come back with, "Alexa, what team does he play for?" it has no memory of the previously-named subject, Tom Brady.
Alexa can't handle multiple commands at once. Tasks like making a shopping list are hard. With Alexa, you have to say "Alexa, add butter to my shopping list." and then repeat the process for each item.
Alexa can learn different voices, but it doesn't work nearly as well as Google. On Alexa, multi-voice setup takes a long time and doesn't work well. With Google's setup, everyone uses their own Google account and downloads the Home app, and it takes a couple of minutes. With Amazon, the user has to be in "Your Household" on Amazon.com (you're only allowed two adults in the household). This isn't ideal if you have multiple roommates.
You can set up "Routines," which is Alexa's way of compensating for not understanding multiple commands at once. You create a word or phrase like, "Alexa, Cam's my favorite online reviewer" and have specific lights turn on, along with other smart tasks, simultaneously.
The lyrics show on the screen in real-time when you're playing Amazon Music songs.
Things To Do (B+)
Four tasks that Echo Show 5 is far superior to Nest Hub:
Communication between devices. Alexa has a feature called "Drop In" which is useful if you have multiple Alexa devices. You can use them as an intercom system and have conversations from different parts of the house. (You can "Drop In" on other people's Alexa devices too, but I don't know why you'd want to).
Video calls. You can receive video calls from Echo Show or Spot users or from the Alexa phone app. You can make and receive calls with Skype too.
Shopping. Alexa is perfectly integrated with Amazon.com. My favorite commands:
Sunrise Alarms. 15 minutes before your alarm is scheduled to go off, the screen's brightness gradually increases.
You can use this as a kitchen TV, but there isn't much content available. You can use Hulu or Amazon Video, but Alexa usually can't figure out which episodes to play from your voice.
You can access your smart devices and routines by swiping from the right side, but the interface looks bad, isn't intuitive, and is slow. It takes multiple taps to complete a simple task.
You can use Firefox or Amazon Silk to browse the internet, but the web browsing experience is clunky and slow with an awful keyboard.
There's no YouTube app, but you can say "Alexa, open YouTube" and it'll open YouTube in your preferred web browser. It's a workaround, and it isn't smooth. If YouTube is important to you, you want Google Nest Hub.
I like following video recipes (from Facebook or YouTube) rather than reading them. The problem is it's hard to watch the videos you want because you can only bring up videos with your voice, and there isn't much content available.
You can use Echo Show 5 as a digital picture frame, but the feature is buried in the settings, hard to set up, and doesn't work as well as Nest Hub.
To make things worse, Google and Amazon have beef, and YouTube is no longer allowed on Echo Show. For cooking videos, you're stuck with Amazon's content or AllRecipes, which is hard to navigate.
Echo Show uses a combination of Kitchen Stories, Side Chef, and Allrecipes for recipes.
If you have Ring Video doorbell, it can display the video call when the doorbell is rung.
Design (D+):
Echo Show 5 has a 5.5" display (960px x 480px) with a 195ppi resolution. While the resolution is technically sharper, Google's display looks nicer to my eyes.
There's nasty screen glare during the day, it's a fingerprint magnet, and the screen doesn't get as bright as I'd like.
The angle of the screen works better if you're close to eye level. Show 5 makes sense for a nightstand, but the angle isn't ideal if you're standing while it's on the kitchen counter. But you can fix the angle by buying the adjustable stand.
It's not ascetically pleasing and bulkier than it needs to be.
Show 5's screen size is fine, but the extra space on Nest Hub is great. Google nailed the size because there's more screen real estate, but the device doesn't feel bigger.
There are volume and mic disable buttons on the top.
Echo Show 5 only has two mics compared the four mics on Echo Show (2nd Gen).
It has a one-megapixel camera. To disable the camera, you'll slide the top button to the right and a cover slides over the camera. It gives you more assurance that no one is watching because you can visibly see the cover.
The camera is set at a fixed angle. This means you have to adjust your face position when in a video call rather than repositioning the device. If you have it set on the counter, for example, you either have to stand an unnatural distance away from the device or bend down to get your face in the frame. Also, there's no button to turn off the camera.
Sound Quality (D+):
It sounds similar to Echo Dot (3rd Gen).
It sounds fine when Alexa speaks and for video, but I don't recommend using it for music. Although, I'd pick Show 5 over Nest Hub for music if necessary because it's louder, clearer, and has more bass.
If you want a speaker with more power, Echo Show (2nd Gen) has the best speaker of any native Alexa device.
It has a 3.5mm out port on the back for the option to plug in a better sounding speaker. You can use an external speaker with Bluetooth too.
Larger Option (C):
Echo Show (2nd Gen) has a 10.1″ screen with a 125 PPI pixel density. It has the same features as Echo Show 5, but it has a superior speaker. Other notes:
It's ugly, bulky and oddly-angled. It's not aesthetically pleasing. They couldn't even make the top and bottom bezels symmetrical.
It can function as a smart home hub with a Zigbee radio, meaning if you plan on getting smart home devices, like Philips Hue lights, you won't need the Hue bridge. You can use the Echo Show as your bridge.
You can't physically block the camera, but you can disable it via software.
Echo devices notoriously have terrible sound quality, so don't compare this to premium speakers like Bose, Sonos, HomePod or Sony. But relative to the original Echo, Google Home Mini or Echo Dot, the sound is amazing and great for music.
It's the best-sounding Alexa speaker. It sounds similar to Echo Plus, but the bass is more defined.
When comparing this to a premium speaker, the bass is overkill for me and drowns out the other parts of the song.
I prefer Sonos One and HomePod by a lot. Even affordable Bluetooth speakers, like JBL Flip 4, produce a more well-balanced sound.
Quick Review (TL;DR)
Music: Spotify, Apple Music, Amazon Music Unlimited, Pandora, TuneIn, iHeartRadio, and Audible.
Video: Hulu and Amazon Video. YouTube only works in the poorly-designed web browser.
Smarts: Alexa doesn't do well with multiple voices, multiple commands, or pronouns. You can customize the home screen, but the interface is a mess.
Things To Do: Recipes, video calls with Skype, ordering via Amazon, digital picture frame, and listening to music.
Design: It has a 5.5" display and comes in two colors. Not aesthetically pleasing.
Speaker: You shouldn't use it for music, but it sounds better than Nest Hub.
Who is this for?
Echo Show 5 is best for you if you want a camera for video calling or need Apple Music and Apple Calendar integrations. Echo Show 5 is a solid upgrade from Echo Dot, but you'll have to look past the bad interface, lack of YouTube, and extra steps it takes to complete tasks compared to Nest.
Echo Show (2nd Gen) is $230. It's the best sounding native Alexa speaker ever produced and has a 10″ display.