JBL Flip 4 Review: Nice Sound Quality But Not Like Charge 3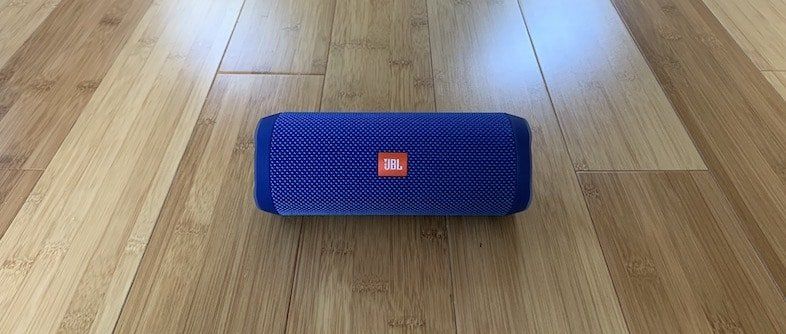 JBL Flip 4 sounds amazing, and it's more affordable compared to similar sounding speakers, like UE Boom 3.
Sound: C+
It delivers stereo sound with dual passive radiators. The radiators bounce as music plays.
The sound is always clean, but some will want more bass. UE Boom 3 and Bose SoundLink Micro have more bass.
I played a wide range of music, and it consistently impressed me with its mids and highs.
While it doesn't deliver omnidirectional sound, it sounds surprisingly crisp outside relative to its size. It's a good choice for a casual cookout.
My biggest problem with Flip 4 is that Charge 3 is better and only $30 more. Flip 4 seems great until you hear JBL Charge 3.
Design: B
It weighs 1.1 pounds and is 6.9 inches long. It's lighter and smaller than Boom 3, but for all intents and purposes, they're the same size and won't fit into a pocket.
It has a string strap, but I'm not sure of its purpose.
Flip 4 sounds best when it's horizontal, but their marketing material occasionally shows it in vertical position too. It doesn't sound as good vertically because of one of the side radiators is covered.
It doesn't have a base. If you plan on using it in a car or boat, it's going to roll, covering the speaker and distorting the sound.
It's hard to open the port cover. The cover is there for waterproofing, but they went a bit overboard. I have to use the end of a pen to get it open.
You can plug in any media player or computer directly with a traditional 3.5mm cable.
The side radiators bounce as music plays. It's not practical, but it's a coolness factor that Boom doesn't have.
You get to decide what function you want the triangle button to do: it can manage playback controls or activate your phone's personal assistant.
Durability: B+
It has an IPX7 waterproof rating, which is an upgrade from the splashproof Flip 3. The waterproof rating is the only noteworthy upgrade from Flip 3, so it's worth looking into Flip 3 if waterproofing isn't important to you and you're on a budget.
It won't float if you drop it in the water.
It's definitely a durable speaker, but because of the exposed radiators, Boom is more durable.
Power: B
JBL lists a playback time of 12 hours, but once the volume goes higher than 60-70%, the battery drastically decreases. You're looking at close to four hours at max volume according to my tests, which produced six hours at 60% volume.
It has a 3.5 hour recharge time.
Software: D
The JBL app is poorly made and serves no purpose. You don't get an equalizer or firmware updates, and the app isn't necessary to pair to other speakers. You can't even power it on.
You can have two devices connected simultaneously.
You can connect up to 100 new generation JBL speakers together that use Connect+. You can pair the speakers to be in "stereo" or "party" mode. This occasional works, but you don't need the app to do it.
It uses Bluetooth 4.2 and lists a range of 30 feet, which my tests confirmed. I can move my phone anywhere throughout my house without losing the connection.
Who is this for?
Get JBL Flip 4 if you want great sound and don't care about bass. It doesn't have wireless charging, omnidirectional sound, or a great app, but most will like its sound quality and it does well outside too.
The only issue with Flip 4 is how much better JBL Charge 3 sounds next to it. Charge 3 is just and extra $30 or so.