Nest Hello vs. Ring Pro: Which is the Best Video Doorbell for 2021?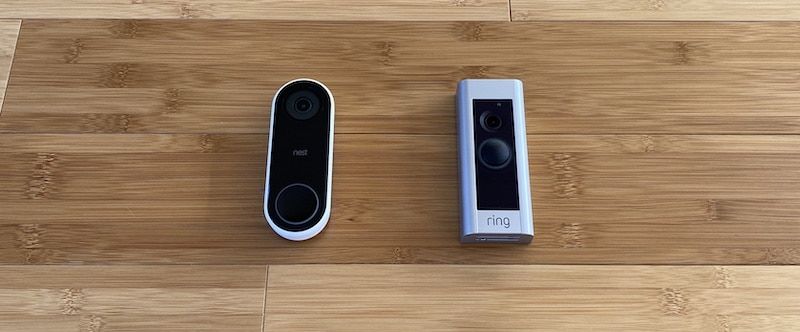 After a new month of testing, I determined Nest Hello is the best video doorbell because it has a better build-quality, a few advanced features, and offers an option for 24/7 recording, but it's $6/month.
However, Ring Pro is just $3/month with similar reliability to Nest, which makes it a better value.
Want to learn how I reached this conclusion? Read on to see the detailed breakdown of user-friendliness, motion recording, and design that informed my overall impression.
Setup
Nest Hello
You'll need to install the included "Chime Connector" accessory for better power management. The Nest app has an interactive guide with a "next" button after you complete each step. I prefer Nest's step-by-step interactive walkthrough which stops after each step.
While Nest is supposed to be powered with traditional doorbell wires, it has a micro-USB port on the back that can power it too.
It works on either the 2.4 GHz or the 5 GHz band.
Nest recommends at least 2Mbps upload speeds. In my experience, with 8–11Mbps from the location of the doorbell, I still got choppy live video when chatting. I can't imagine how poor the experience would be with the minimum requirement.
It works between 14°F and 104°F temperatures.
Ring Pro
Ring's setup is similar to Nest's because you need to install the "Pro Power Kit" on the transformer side. All instructions are shown in one walkthrough video inside the app.
It's waterproof and works in extreme temperatures from –5°F to 120°F.
It works on the 2.4 GHz and 5 GHz channels, just like Nest. It requires the same 2Mbps upload speeds as Nest, but the connection is stronger from the same location.
---
Subscription
Nest Hello
Nest Hello requires a subscription plan to record motion. Unfortunately, the 2021 Nest Aware plans don't provide the same value as in previous years.
Nest Aware is $6/month or $60/year. It records all motion activity and stores the clips for 30 days.
Nest Aware Plus is $12/month or $120/year. It records 24/7 and stores the footage for 10 days. Plus, all motion clips are saved for 60 days.
The upside to Nest's subscription? One plan covers all your Google and Nest devices.
Ring Pro
Ring Pro requires a subscription plan to record motion.
Ring Protect is $3/month or $30/year. It records all motion in front of your door and stores the clips for 60 days, making the Ring a much better value.
Unfortunately, there isn't an option for 24/7 recording for maximal surveillance.
Ring requires one subscription for each camera.
---
Software
Nest Hello
Nest Hello is controlled in the Nest app, just like the Nest x Yale lock. The app is well-done with two ways to see your recordings by scrubbing through the timeline or viewing the thumbnail for each motion event.
Unfortunately, Google is slowly phasing out the Nest app. The doorbell settings and recordings can be viewed in the Google Home app currently, but the interface is slow and messy. Hopefully, the app gets fixed if/when a full migration happens.
In addition to the phone app, there's a web interface.
Nest has a unique feature called "familiar face detection" that learns familiar faces. It's nice to have, but not all that it's hyped up to be.
With the familiar face alerts, the person who comes to the door can have their name announced on Google Home speakers, instead a traditional chime.
But Nest's face recognition has recognized my shoes, a leaf, and fingers as someone's face. Two years ago, I repeatedly taught Nest my fiance's face because it wasn't smart enough to learn hairstyles or glasses on previously seen people.
The doorbell doesn't project infrared lights or use depth from the faces, like Apple's Face ID. Google's machine learning looks at the 2D photos of the faces and decides who it is.
The face detection has improved from when I first tested it, but it still sees faces for the 100th time and says "Unfamiliar face at the door" even with many versions of the same person to the library.
Ideally, I'd like to customize which notifications turn on for certain people. In the future, with better hardware, I'd like to see the Nest x Yale lock Auto-Unlock when specific people arrive at the door.
But for now, the only advantage is the person's name appears on your phone's notification screen (when it works).
Nest sends alerts when your packages are placed in the field of view and stay stationary for five minutes and the package must be at least 8″ x 10″ x 1″. In my experience, this worked a little more than half the time. I didn't have my camera in a perfectly optimized position, but you might not either.
Nest Hello works with Google Assistant. A live feed can be viewed on Google Nest Home Hub or Chromecast. If you have an Echo Show or Fire TV device, a live feed can be pulled up with Alexa, but Alexa won't announce visitors over the speaker.
Unfortunately, Nest Hello doesn't work with IFTTT or any other smart home platforms.
Ring Pro
Ring's app interface is fine, but it's not as intuitive as Nest because it's missing thumbnails.
Ring has a web interface and desktop apps.
When Ring loses power or connection, you're not alerted when it happens.
Ring works with Kevo Smart Lock, Lockitron, Kisi, ADT Pulse, LockState, Smartlink, WeMo smart switches, and Wink smart hubs. There are cool integrations with IFTTT, too.
At one point, Ring claimed that it would bring HomeKit support to Ring Pro, but that was four years ago and it still hasn't happened.
Ring has a community with a "Neighbors Feed" that keeps you posted on noteworthy things that other Ring users have reported in your neighborhood. You're automatically opted in, which isn't ideal for privacy. I keep the Neighbors feature disabled because I live in a small town.
---
Reliability
Nest Hello
Nest is always recording and sending information to the cloud, so there's no chance of missing anything.
If you pay the $12/month, Nest will record continuously and store it for 10 days. Most video doorbells just record motion. But what if the doorbell doesn't properly trigger a recording or the motion doesn't happen directly in front of the door? It's like the event never happened.
Nest is your best bet if security is a top priority.
Event detection can be set off with sound or physical movement. To reduce notifications, create zones where motion should be recorded or not recorded, then choose to get notifications only when people arrive.
Nest's downside is that event notifications don't arrive until the motion is almost over, making it slower than Ring.
Ring Pro
Ring Pro caught everyone who arrived five seconds before they got to the door. I've never seen it miss a clip, but there's potential for it because it's not recording continuously.
Set up "zones" where you want to receive alerts and turn on person alerts with its "Human Detection" to reduce false alerts.
With these enhanced settings, there are no false alerts even if you're in a high-traffic location.
---
Video Quality
Nest Hello
Nest Hello records with a 4:3 aspect ratio, instead of 16:9, which allows for you to see the person from head to toe. The face of the mailman and the package he drops off can be seen at once.
The daytime picture quality is the best I've ever tested on a video doorbell, but it uses 300 GB of data per month. The medium quality setting is on par with Ring Pro and uses about 120 GB per month.
For a bandwidth reference, I burn through 600 GB per month with 14 hours of internet usage and heavy streaming. Keep Nest's usage in mind if you have spotty internet or a data cap.
Even without continuous recording, Nest Hello was still on pace to use 60 GB in a month. Nest sends more information to the cloud than Ring.
The night vision doesn't offer color, but you can see what's going on in the picture.
Ring Pro
Ring Pro has a 160-degree horizontal and 100-degree vertical field of view. It has a standard 16:9 aspect ratio.
It records in 1080p and looks clear during the day. Ring gives you a great bang for your buck based on the bandwidth to video quality ratio.
The night time recording is technically colored, but it looks mostly black and white to me.
Ring Pro uploads under 10 GB of bandwidth per month.
---
Video Calling
Nest Hello
Video calling with a doorbell is a gimmick, but calls always went smoother on Ring Pro.
While Nest Hello has the best mic and speakers of any video doorbell that I've tested, it's not great for calls. Why? Once someone hits the button on the doorbell, it takes at least 10 seconds for the notification to appear on your phone.
In the app, Nest gives you two viewing options (horizontal or vertical) when chatting. The vertical orientation makes sense because that's how we hold our phones. A wide-angle isn't necessary to capture a person's body.
When someone rings the doorbell, tap a button from your phone's notification screen, and a robot voice tells the person "You can leave it," "We'll be right there," or "No one can come to the door." Unfortunately, due to the slow notifications, and the fact that you need to be on your phone at the time, these messages won't help much.
Ring Pro
Video calls weren't always perfect, but Ring Pro consistently outperformed any other smart doorbell that I've tested.
You can just talk without holding any buttons. But unfortunately, the horizontal orientation is the only option for video calling.
Unfortunately, the default Ring chime from outside is obnoxious and can't be changed, but it can be turned down.
---
Design
Nest Hello
Like most Nest's products, Nest Hello is extremely well-crafted and resembles the look of a traditional doorbell the most. It has a sleek polycarbonate finish with a glass front. If you're a design nerd, Nest blows all Ring products away and is what you should buy.
It has a light-up ring.
It's also the thinnest (1.7" x 4.6" x 1.0 in).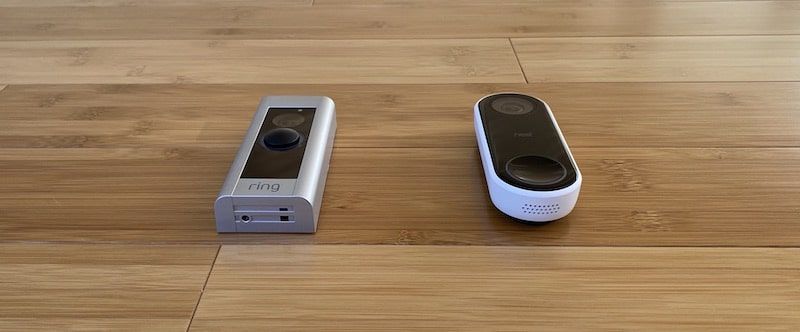 Ring Pro
Ring Pro comes with four interchangeable plastic faceplates (silver, light gray, dark gray, and white). The faceplates and the overall doorbell feel cheap, but it probably won't bother most.
You should look elsewhere if high-quality craftsmanship is your thing.
Ring Pro has a subtle light ring for night time viewing, and it's slim enough to fit on any sized trim (1.85″ x 4.5″ x 0.8″).
---
Which is best for you?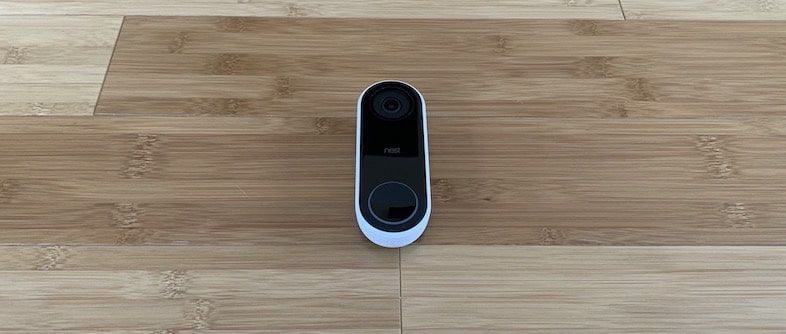 User-Friendliness (B+)
Reliability (A+)
Design (A)
Get Nest Hello if you want 24/7 surveillance for $120/year. Nest Hello offers superior build quality and has a smaller chance of missing a motion event. The face and package detection are fine, but they don't live up to the hype and aren't worth the higher subscription price.
---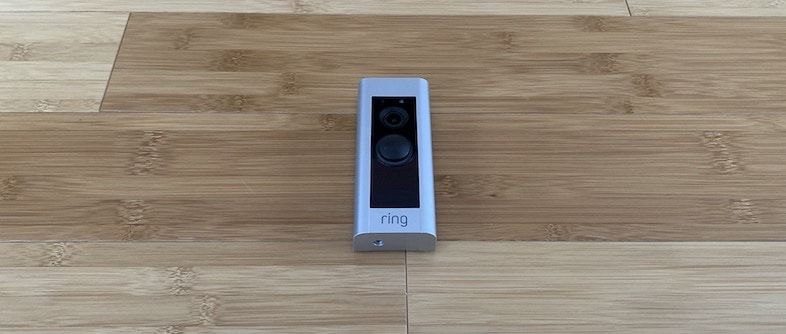 User-Friendliness (B)
Reliability (A)
Design (C)
Get Ring Pro if you want to save money on the monthly subscription plan or you want more smart home compatibility. It reliably records people who come close to the door without false alerts, but it doesn't offer a 24/7 recording option. You'll have to sacrifice build quality too.
---
Want support this blog? (affiliate disclosure)
I'm not affiliated with any of the products that I review on this blog. I always purchase them out of my own pocket to ensure that my reviews are unbiased. However, as an Amazon Affiliate, I earn a small commission (usually between 1-4%) on some purchases made through the links in my posts. These commissions help support my blog by allowing me to buy new products and produce reviews independently.