Bose SoundLink Micro Review: Perfect Size, Too Expensive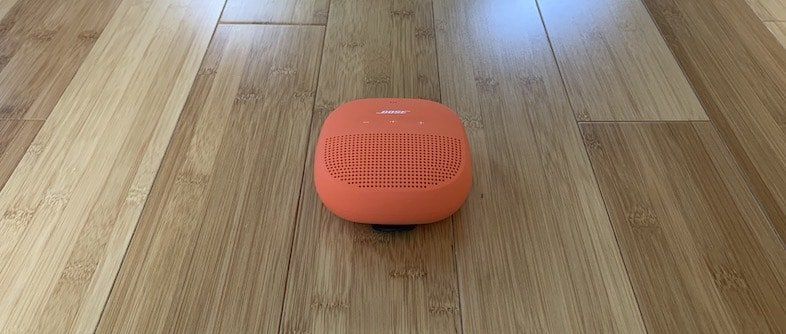 Bose SoundLink Micro sounds fantastic for its size, has a surprising amount of bass, and comes in a cool form factor, but it's substantially quieter and more expensive than competitors.
Sound: C-
The sound is amazing for its size. The bass has some thump, and it's not something you'd expect from a speaker this size.
There are one mono transducer and one passive radiator. It doesn't produce stereo sound. In classic Bose fashion, the sound is well balanced, rich and clear.
It sounds best when used indoors while standing directly in front of it.
While the sound is clear, the volume is lacking, and sound clarity declines above 60% volume. It's louder than the best smartphone or laptop speakers, but it's not something I'd recommend for large or outdoor gatherings.
While at low volume levels, I prefer SoundLink Micro to JBL Flip 4, but while at a normal volume, Micro doesn't stack up to JBL Flip 4 due to its size. But it'll dominate the sound of JBL Clip or UE Wonderboom.
I assumed it'd be omnidirectional because the speakers face upwards, but that's not the case. When the speaker's flat on the table, it sounds different as you move around the table. It can even sound muddled at certain angles. It's best to have the Bose logo facing you.
Design: A
It weighs 10 ounces and is about 4" x 4", which reminds me of Echo Dot. I fell in love with this form because it's perfect when you're on the go.
It comes in Black, Bright Orange, and Midnight Blue.
It charges via a micro USB port. Unlike most waterproof speakers, there isn't a hard-to-remove flap covering the ports. The waterproofing happens internally, similar to a phone with exposed ports.
It comes with a tear-resistant elastic strap for traveling. The strap is handy and sturdier than it appears once it's locked in. You can strap it to backpacks, bikes, coolers, poles, shower rods, etc.
There isn't a 3.5mm in port.
The multifunction button lets you skip songs with a double tap, pause with one tap or initiate your phone's voice assistant with a long press.
I don't love the buttons because there isn't much feedback. For example, because the volume increases slowly as you press it and the buttons don't feel like buttons, you can't always tell if you pressed the button hard enough for it to register.
Durability: A
It has an IPX7 rating. It can be fully submerged under a meter of water for 30 minutes, but it won't float.
It's not officially listed as "shockproof" but it's built to take a beating. I've seen it withstand many drop tests. The soft silicone rubber shell plays a role in its durability because there aren't many seems or gaps.
Power: A
Bose lists six hours of playtime, but I found it to last more than seven hours at 60% volume and close to 12 hours at 30%. Companies underselling specs like this is unprecedented. It's refreshing to see Bose give realistic battery times. It's also impressive to see this much battery from something that fits in your pocket.
It takes four hours to fully charge.
Software: B
You can pair it with other Bose SoundLink speakers to create a stereo pair. Or put it into "Party Mode" that'll play the same music source. The process of pairing and unpairing is smooth and the best you'll see with Bluetooth speakers. However, things get messy if your SoundLink speakers are connected to multiple speakers. Make sure to disconnect all other devices to avoid issues.
When you turn on the speaker, it tells you the battery life and the names of the devices connected. This feedback can be disabled in the app, but it's helpful if you're regularly working with multiple devices.
You can change the auto-standby timer.
There's no equalizer in the app, but I'm cool with letting Bose make sound choices for me.
It has a 30-foot Bluetooth range.
You can have two devices connected simultaneously and the Bose app remembers the previous eight devices that were paired to make the process easier. You can easily manage which two devices are connected in the Bose app.
Bose offers firmware updates to improve the speaker, which is great, but these updates are painfully long (over an hour) and sometimes fail.
Who is this for?
Get Bose SoundLink Micro if you want amazing sound and bass from a speaker that fits in a pocket. It's best for personal use, rather than with friends, due to its low volume, directional sound, and distortion at high volumes.
In theory, it should be good for hikers and bikers, but the sound gets lost while outside. It's a substantial upgrade over phone or laptop speakers and an excellent pick for college dorm rooms.