Bose SoundWear Companion Review: Cool Idea But Not Ideal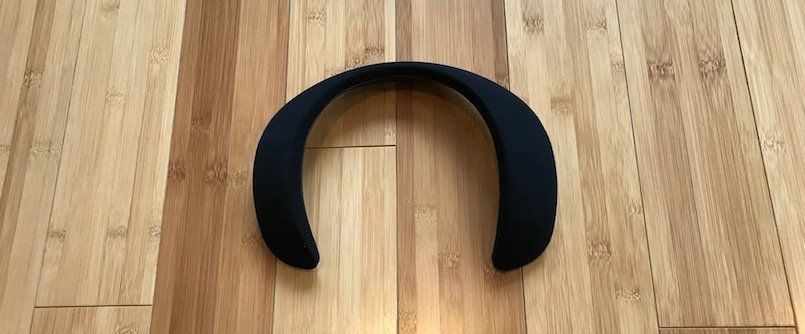 The Bose SoundWear Companion looks like the q-collars NFL players are using to help prevent concussions.
It makes me think of a guy walking down the sidewalk holding a boombox over his shoulder.
I buy a ton of tech products to review.
Getting new gadgets delivered to my door doesn't excite me anymore because there's something new at my door every day.
Bose SoundWear was the first product I was genuinely giddy about getting in the mail.
I wanted to love the SoundWear. I wanted to be the first one to discover the next cool gadget.
I wanted to be the guy who's wearing a device that intrigues everyone who looks at it.
I wore it almost every day for two weeks.
I like it, and it's a cool idea, but I'm struggling to find uses for it.
Unfortunately, I think this is a product you won't hear of again.
In my tech reviews, I usually talk about performance, but this review will include thoughts on the uses and form as well.
Things I Love
The sound is brilliant. Bose SoundWear produces impressive surround sound at low volumes. It sounds excellent at all volumes, although high volumes don't make sense for this kind of device. Bose sound is not just marketing as some people have suggested. They are legitimately great-sounding speakers. While I'm not an audiophile, I recommend getting your ears looked at if you're not digging the Bose sound. (I'm a huge fan of the Bose SoundSport earbuds.)
It's a different kind of experience that's hard to explain without trying for yourself. It's not the same as headphones or a standalone speaker because it's more immersive and intimate.
There are studies that say in-ear headphones are terrible for long-term hearing. While loud sounds coming from any device aren't good, intuitively I think a device that's not jammed in your ears has got to better for you.
The battery is amazing. The specs say 12 hours, and that's what it delivered in my tests. You get three more hours from a 15-minute charge.
It's got great range. Bose got all that it could out of its Bluetooth 4.2.
It's sweat and weather resistant (IPX4 rating).
It works well for phone calls. It vibrates a little when the call comes in and says the caller's name. It has mics, and the calls sound clear from both ends.
I've written this before, but the Bose Connect app is excellent. You don't need it to sync or setup Bluetooth, but it gives you more options. You can customize which devices you want to be connected to, see battery life, get a product tutorial, change call settings, update the firmware, and lower the bass.
I had a couple of concerns coming in about wearing hoodies or women with long hair. Wouldn't hair and hoodies get in the way? Not really, the two speakers are positioned perfectly and out of the way. I found SoundWear less comfortable with a hoodie on, but it was okay.
Things I Hate
It's $300. That's too much. Even if you want to stay in the Bose realm, there are some excellent headphone options like the SoundSport wireless headphones that start at $150. If you go the speaker route, I'd recommend one of the SoundTouch or SoundLink speakers that are the same price or cheaper as SoundWear and way more applicable.
It uses Bluetooth and Bluetooth sucks. Like I said above, Bose got all they could out of the Bluetooth and even incorporate an app. These are NOT Bose issues; they're Bluetooth problems. I faced issues like:
Multiple Bluetooth devices fight to connect at once.
Having to forget the device and re-pair it.
Being unable to control the volume of my computer, when I was connected to more than one device.
When connected to my computer there was a humming sound if nothing played instantly after a song was over.
It's 10 oz. That doesn't sound heavy, but it weighs on you, and you'll never forget you're wearing it. I firmly believe that, when executed correctly, technology should blend seamlessly into the background. Maybe I need to do some shoulder exercises to work on my muscles, but I imagine this will be an issue for everyone. And, if you're wearing this on a hot day, you'll want to take it off.
It's not magic!
Other people can hear it easily unless you're at very low volumes. In my experience, only you will be able to hear the bass, but everything else will be clearly audible to anyone around you. It's quieter for others than a standalone speaker would be, but if people can still hear it, what's the point?
If your music is playing you won't be able to hear what others say, but you'll know that they said something. I'm not docking Bose though; this is more about the form factor.
I don't understand the case design with the zipper. At first, I was confused: am I supposed to keep the case on? Why's there a zipper? Why are there button markings on the speaker and the case? It turns out you can swap out the cases for different colors. Also, you have to unzip the case to charge it. I'm sure there are reasons why Bose went with this design choice, but I'm not a fan.
On Bose's site, they suggest you could exercise with this. I wouldn't suggest anything other than casual walk. It's going to bounce around on your neck and everyone can hear your music. While biking, people on the bike path were turning around 100 feet before I reached them because they could hear me coming. Because of the wind blowing by you as you ride, you have to turn the SoundWear all the way up. I didn't have to say to the walker "on your left" as I was passing because they could hear.
Other frustrating points: I tried painting and cooking with this. It was fine, but it's going to shift when you're reaching for stuff on the top shelf or bending over to put something in the oven. It won't fall off your shoulder; it just becomes cumbersome.
The battery doesn't always give an accurate reading. My battery was at 30% and 20 minutes into my bike ride, it died. This should be fixed through a firmware update.
Who is it for?
I took a 16-hour road trip to Milwaukee by myself. I have a poor car audio system but needed to be aware of the environment while driving. Bose SoundWear would've been perfect for the road trip. If you're a truck driver, I think you'll be pleased with this product.
If you're someone who works from home and makes a lot of calls, but you still need to be conscience of your surroundings, this is something you should consider. I work from home, but the speakers on my MacBook Pro are excellent, so this isn't for me.
If you're not taking a lot of calls and need to hear others around you, go with one of Bose's portable speakers. They're cheaper, louder and will be more useful.
If you don't need to hear others, go with some of Bose's brilliant wireless headphone options.
If you want to exercise, don't use SoundWear because it won't be comfortable.
The innovation and execution are fantastic. And big companies don't take enough shots like this on products that are different. I appreciate they took the risk, but this product isn't for me, and it's probably not for you.