Bose Noise Cancelling Headphones 700 Review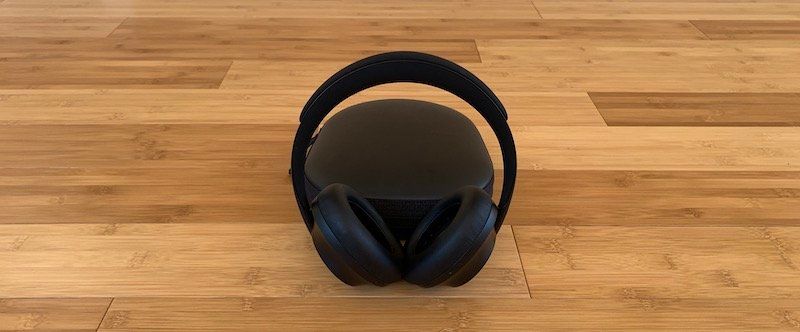 After a month of testing, I determined Bose Noise Cancelling Headphones 700 are the best because they have superior build quality, crisp sound, an amazing calling experience, and support simultaneous connections.
Sound Quality
Summary: The Bose 700 sound profile is similar to other Bose products. The sound is clear and crisp and not going to offend anyone. It plays any type of music without getting out of control by overdoing any specific aspect of a song.
Sound profile:
The sound is more balanced and probably closer to what music producers want you to hear, but you can't customize the experience if you prefer more bass or treble.
For my preferences, Bose has a perfect amount of bass. The bass is always present when it should be and never comes close to drowning out a song.
EQ:
There's no option to customize the sound inside the Bose app, but Bose brings something that'll sound great with many music genres.
Noise Cancelling
Summary: There are 11 different noise cancellation levels (0-10) that can be changed in the app. The four beamforming mics give you flawless phone calls and the ambient noise feature is amazing.
Effectiveness:
At level 0, it sounds like you're not wearing headphones because the sounds around you are augmented. I have no idea how Bose is pulling this off, it's amazing. Sony lets you hear ambient sound, but not as well.
At level 10, the outside sounds around you become muffled and hard to hear, but not completely gone. Once the music starts, on level 10, you have no chance of hearing anything around you. I give the slight edge to Sony when you're in full noise-cancelling mode, but it's not substantial.
The nine noise cancellation options between 0 and 10 are a gimmick. You either want to be isolated from outside noise or you don't.
How to control:
There's a button on the left cup to toggle three of your favorite noise cancellation levels. The default favorite settings are 0, 5, and 10, but you can edit them in the Bose app.
If you hold the button on the left cup for longer than a second, your music will pause and the noise cancellation is turned off so that you can hear the outside world. When you tap the button again, your music resumes. It's brilliant!
Calls:
There are four beamforming mics to help to isolate your voice while leaving the background noise behind. You won't find a better experience with phone calls.
Software
Summary: The 700 headphones allow for a connection to two devices simultaneously. You can go hands-free with Alexa, but it's not worth your time. However, both Alexa and Google Assistant work well when you initiate the assistant by holding the button.
Features:
You can connect two devices at once, which is a huge advantage and a major selling point over Sony's headphones. I can play music on my iPhone, pause it, then play music from my MacBook without touching the Bluetooth settings. I love that you can pick and manage your devices inside the app too.
Aside from the terrible hands-free Alexa attempt, accessing Alexa by holding the button works well.
Bose 700 headphones use Bluetooth 5.0, which should theoretically help with the speed and range when compared to Sony, but I didn't see a real-life difference.
You can't use the Bose app without signing up for a Bose account. I'm not bothered by creating accounts, but Bose signs you out frequently for no reason and it's annoying. Also, if you're on a flight (one of the most common use cases), you'll have no way of signing in without internet access.
Bose doesn't support the aptX codec. This will affect less than 1% of users, but it's worth mentioning for hardcore Android nerds who have amazing hearing and a phone that supports aptX. Even with lots of money on the table, I wouldn't be able to tell the difference between the standard AAC and aptX codec qualities.
Smart assistants:
There's support for Google Assistant and Alexa, but it's not clear in the app that only Alexa can be enabled with a wake word, while Google can only be triggered by holding the button.
Hands-free Alexa is brutal:
It doesn't hear you while listening to music and even when the music is off, you'll need to scream "Alexa" while asking your command in the perfect tone and cadence.
You can't say "Alexa, turn on the lights" as a sentence like you can with a native Alexa device. You need to say "Alexa" pause for a full second, then ask your command.
The only time you would want to use hands-free Alexa is when your hands are occupied and you want to control the music playback. Unfortunately, Alexa can only control the volume and not skip, back, or pause. Why did Bose release Alexa in this state?
Google Assistant works almost perfectly by pressing and holding the button on the right cup, but my Bose lost connection to the Google Assistant app twice. There's a chance this was my fault because I was rotating assistants frequently while testing. (I'll update the software section as I test further.)
Battery Life
Summary: The 700 headphones get 20 hours on a full charge with the volume at 70%. A 15-minute charge gives 3.5 hours of juice or a 2.5-hour charge to get to 100% battery.
Notes:
They have a listed runtime of 20 hours. In my test with the volume at 70% and the noise cancellation fully active, I got 20 hours of continuous playing.
While ten hours less than Sony sounds substantial, the 20 hours that Bose offers is in the perfect sweet spot where you won't worry about battery life.
When you turn them on, you're told how many hours are remaining before you need to recharge.
It takes 2.5 hours to recharge from 0% to 100%.
You can get 3.5 hours of juice with a 15-minute charge.
If your battery dies, you use the 2.5mm to 3.5mm audio cord and plug them into your phone or laptop to use them, but the noise cancellation requires power.
It charges with a USB-C cable.
Playback Controls
Summary: Bose's swipe and gesture implementation is great. I had no issues accidentally triggering an action or triggering the wrong action. Everything works smoothly and as intended.
How it works:
There are three buttons: Bluetooth/power, voice assistant activation, noise cancellation control.
The playback controls happen with gestures and swipes on the front side of the right cup.
Swipe up to increase the volume.
Swipe down to decrease the volume.
Swipe forward to skip the track.
Swipe backward to go to the previous track.
Double-tap to pause or play.
Tap and hold to hear how many playback hours are left before your battery runs dry.
In the next iteration, I'd like to see identical gestures and swipes implemented on both cups.
I haven't tested these in cold weather yet, but when a Bose representative was questioned, they reminded the interviewer that Bose is based out of Massachusetts and have been properly tested in cold winter weather.
Fit
The 700 headphones feel heavier with stiffer cups than the XM3's, which makes them less comfortable, but the cups stay cooler. The cups stay in the proper position and don't budge after sliding them on the rod. The arch has a firm flex, but they should comfortably fit the widest of heads. In an unscientific survey of six friends and family members, each said the 700 headphones were comfortable and could be worn for long hours.
Appearance
Summary: The 700 headphones come in matte black, silver, or white. The headband connecting the two cups looks clean and is one continuous piece of steel. There are no hinges or breaks. Not only do they look sleeker and more modern compared to the XM3 headphones, but there are fewer moving parts, which should help their longevity.
Headphones:
They come in a matte black, silver, or white finish.
The headband connecting the two cups looks clean and is one continuous piece of steel. There are no hinges or breaks. Not only do they look sleeker, but there are fewer moving parts, which will help their longevity.
They weigh almost the same as XM3's, but they feel more solid, durable, and dense.
Even the foam part that sits on the top of your head feels more sturdy because it's made with stronger silicone material. Sony's foam feels like it could easily be punctured.
You slide the cups up and down on the steel rod to fit your head better.
Case:
The case is wider but has many advantages over Sony's case:
Its shell is harder.
It'll probably fit better inside a backpack because it's thinner.
Placing the headphones into the case is intuitive because you don't need to fold or twist the cups in a weird way. You swivel the cups inward so that they sit flat (see the product photo above) and place them inside the case.
There's a secret pouch for your power and audio cords that's magnetic.
Cups:
There are huge "L" and "R" letters located inside the cups, and it's great for two reasons:
It's easy to see which cup goes on which ear, especially at night.
The letters are hidden from the outside and don't mess with the minimalist exterior design.
When adjusting the size of the cups, there isn't a satisfying click or feedback as you slide. I prefer the smooth sliding, but it's harder to get the cups at equal levels.
Who is this for?
Get the Bose 700 headphones if you want the best-built headphones on the market. The craftsmanship is second to none. They're durable and rugged but maintain a sleek and minimalist look. Bose's sound profile isn't exciting or customizable, but it's crisp and sounds clean with any genre.