Sonos Move vs. Bose Portable Home Speaker: Definitive Guide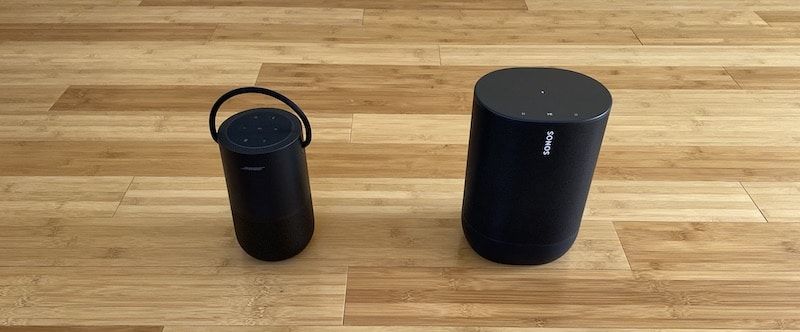 After three weeks of testing, I determined Sonos Move is the better-sounding speaker and has superior software. Bose Portable Home is a solid speaker, but it's overpriced for what you get.
Want to learn how I reached this conclusion? Read on to see the detailed breakdown of sound quality, user-friendliness, and design that informed my overall impression.
Sound Quality
Sonos Move
Summary: Sonos Move sounds like its Sonos siblings by keeping the sound well-balanced. The vocals are crisp, and the bass is there when the songs need it but never takes over. It sounds amazing outdoors and automatically adjusts its sound depending on its surroundings.
Sound profile:
Sonos Move is in a different league than Bose Portable Home. The sound feels more full and has depth. It'll only take 10 seconds of listening to pick the winner. I'm confident that more than 95% of people would prefer Sonos Move.
Sonos has "Auto Trueplay" that uses the mics to adjust the sound based on the speaker's surroundings. Trueplay is subtle, but you can hear the difference in the sound after 45 seconds if you decide to carry the Move to a new location. Auto Trueplay is a huge step forward from the original Trueplay, which had to be manually configured each time you moved your speaker by waving your phone around the room as laser sounds blast in your ears. I won't miss that process, and the new Auto Trueplay works for Android users too.
I notice Trueplay most when I'm outdoors. Sonos Move opens up and plays music that plays loudly and cuts through outside distractions.
Sonos doesn't have omnidirectional sound like Bose, but you won't notice when it's against a wall and Trueplay is enabled.
You can edit the bass and treble in the app, but I prefer the default sound.
Comparison to other speakers:
Sonos Five is the best speaker I've ever owned and the best WiFI speaker that $500 can buy. Five's sound is crisper with a better punch from the bass, and it sounds better as you add more volume. Five has three tweeters and three woofers compared to Move's one woofer and one tweeter. Five is the king, and Sonos Move doesn't dethrone it.
I prefer HomePod's sound by a thin margin because it has a more distinct bass.
Move has the same two-driver configuration as Sonos One (one tweeter and one woofer), but Move produces a more powerful sound and gets louder. While Move doesn't sound $200 better than One, it's a price you pay for more portability.
Some of the best pure Bluetooth speakers like JBL Charge 4 and UE Megaboom 3 can't compete on sound quality.
Bose Portable Home
Summary: It sounds fine under 70% volume while indoors, but it lacks bass. The quality gets worse as the volume increases, and it's brutal outside. Bose Portable makes sense at $199, but the $349 price is confusing given the sound quality from the competition.
Sound profile:
While indoors and under 70% volume, Bose provides crisp vocals and a pleasant overall sound. It doesn't have much bass, but no one will complain about the sound and 70% volume can fill a room nicely. If you don't know the price or what other speakers in this market sound like, you'll be happy.
I found Bose's "360° sound" to sound the same regardless of your position relative to the speaker, while indoors.
When played side-by-side with Sonos Move, Bose sounds underpowered and hollow. The lack of bass and deeper sounds stick out.
Bose Portable Home can get louder than Sonos Move, but it performs best at low-to-middle volumes. Due to the weak bass, Bose gets harsh on the ears and the music sounds distorted at volumes above 70%. PCMag agrees with me.
The sound above 70% isn't just bad relative to Sonos Move, it's a bad sound on its own. You lose all balance of the song and get a muddled mess of sounds in your ear.
In theory, Bose is ideal for outside listening because it's portable, durable, and rainproof, but its performance is brutal because you need more volume than when you're indoors. Something isn't optimized correctly for outdoor use because Bose sounds underpowered and lacking even at 50% volume. If you add wind, traffic, or other external noises into the equation, Bose's sound gets even worse.
Bose lets you change the sound profile via the app by editing the bass and treble, but I wouldn't. Bose's default is the best you can get. An increase in the bass, makes the songs sound unnatural and boomy.
Comparison to other speakers:
UE Megaboom 3 are JBL Charge 4 are two amazing Bluetooth speakers that have similar sound quality with more durability and runtime. They're both under $200.
UE Megablast is a WiFi and Bluetooth combination speaker that's compatible with Alexa, and it's more durable than Bose Portable Home. The sound isn't as crisp, but the bass is louder and it sounds better outdoors. Megablast is usually around $170 on Amazon.
Bose Portable Home's sound quality isn't good enough to rival home speakers like Apple HomePod, Google Home Max, Sonos One, or Sonos Five. When listening side-by-side, Bose sounds like a tin can, relative to the others. It's lacking serious depth.
---
Compatibility
Sonos Move
Summary: The Sonos app provides the best product setup in the tech industry, and music playing is excellent too. Sonos has been making WiFi speakers for longer than Bose and it shows. It works with AirPlay, Spotify Connect, and any cast-able service. You have hundreds of music options in the Sonos app too. You get Alexa and Google voice assistant options.
Ways to listen:
iOS users can AirPlay music to Sonos Move from any app that has the AirPlay icon. Most music services are AirPlay compatible.
Android and iOS users can start music inside the Spotify app, then use Spotify Connect to send it to Sonos Move. The benefit of using Spotify Connect over AirPlay is that the music plays independently of your phone.
Android users can cast music from any app that has the Cast icon. Most music services are castable.
You can use the Sonos app to create a queue of songs with friends by adding songs from over 100 different music services. For example, you can have one queue with songs from Apple Music, Spotify, Amazon Music, and Pandora jumbled together. The Sonos App has been a staple in my house for five years. My friends and I could each use our phones to take turns adding songs to the queue.
As a last resort, you can use Bluetooth with your preferred music app. Any music service is compatible.
Pairing with other speakers:
On iOS, you can pair Sonos Move with other AirPlay-compatible speakers via AirPlay.
In the Sonos app, you can group Sonos Move with an unlimited amount of Sonos speakers. All of the models are compatible.
In the Sonos app, you can pair two Sonos Move speakers to create a stereo pair.
Bose Portable
Summary: It works with AirPlay and Spotify Connect. The Bose app works with Amazon Music and Pandora, but it's a poor experience. It works with Alexa and Google.
Ways to listen:
iOS users can use any music app, then AirPlay music to Portable Home.
Android and iOS users can use the Spotify app, then use Spotify Connect to send it to Portable Home.
In the Bose app, you can play Amazon Music, Spotify, Deezer, iHeartRadio, Pandora, and SiriusXM. It's poorly done because there isn't a viewable queue or a way to add songs up next. You pick a song, album, or station and let it play until it's over.
Unfortunately, if you're an Android user who subscribes to any music service other than Spotify, you'll need to use the Bose app.
As a last resort, you can use Bluetooth with your preferred music app. Any music service is compatible. Android users who are Google Play Music and YouTube Music subscribers will need to use Bluetooth at all times.
Pairing with other speakers:
On iOS devices, you can pair it with any AirPlay-compatible speaker via AirPlay.
In the Bose App, Portable Home can be paired with the newer Bose speakers (Home Speaker 500, Home Speaker 300, Soundbar 500, and Soundbar 700), but it can't be paired with any Bose SoundTouch speakers.
Issues:
I had to return my first Bose Portable Home speaker because it malfunctioned each time I AirPlayed music for more than 30 minutes. Bose makes millions of speakers so there are bound to be a few duds in the wild. I got one of the duds. I mention my issue because there's a small chance that it becomes a widespread issue, but I'm not holding it against Bose in this review.
I had issues connecting to the Bose app with my first and second speakers. The current app version (2.4.4) is working better for me, but Bose shipped Portable Home before the app was ready. Unfortunately, poor software at launch is the new norm for Bose.
---
Battery
Sonos Move
Summary: You get 10 hours at 40%, 7 hours at 60%, and 4 hours at 85% volume. It comes with a charging dock.
Playback times:
The listed playback time for Sonos Move is 10 hours. It takes 2 hours to recharge. My real-world tests yielded these results:
10 hours with 40% volume.
7 hours with 60% volume.
4 hours with 85% volume.
Charging and standby:
Move comes with a wireless charging ring that sits around it, and you can charge via the USB-C port too.
If you keep Sonos Move on the dock, it stays on until you power it off. When Move isn't docked and inactive for 30 minutes, it goes into a low-power mode to preserve the battery. You'll get five days of battery when Sonos is in low-power mode, but your smart assistant won't work while in low-power mode.
Bose Portable
Summary: You get 12 hours at 40%, 5 hours at 60%, and 2 hours at 85% volume. The charging cradle is sold separately for $29.
Playback times:
The listed playback time for Bose Portable Home is 12 hours. It takes 4 hours to recharge. My real-world tests yielded these results:
12 hours with 40% volume.
5 hours with 60% volume.
2 hours with 85% volume.
Charging and standby:
It has a USB-C port for charging. For an additional $29, you can charge with the wireless Bose Charging Cradle.
Bose goes into a standby mode when it hasn't been used for 20 minutes, but it's not nearly as good at persevering battery life. If you forget to power it down and leave it unplugged, it'll be dead within 30 hours. But there's a huge benefit to Bose's power-using standby mode: your smart assistant, AirPlay 2, and Spotify Connect still work.
---
Smarts
Sonos Move
Summary: Sonos Move has the best WiFi range of any Sonos speaker ever shipped. It stayed on my network as far as my phone can reach (over 150 feet further than Bose), and when out of range, switching to Bluetooth is flawless. Sonos Move works with Google and Alexa, and the assistants work well.
Smart assistant:
Sonos Move works with Google and Alexa, and they work as you'd expect.
You choose which smart assistant you want, then the app walks you through the setup.
The capabilities and setup are identical to Bose.
The six mics on Sonos Move are excellent at hearing the wake word (Alexa or Hey Google) when there's no music playing.
When you add music, the hearing capabilities are just so-so, while Bose's hearing is first class with music playing.
WiFi and Bluetooth:
Switching to Bluetooth mode from WiFi is flawless. You tap the "Bluetooth/WiFi" button, and if your phone has been previously paired with Sonos Move, it automatically connects within five seconds.
Bose Portable
Summary: Ideally, you want to stay on your WiFi network wherever you bring the speaker to keep all the features, but Bose's WiFi range isn't nearly as good as Sonos' range. In my tests, the range was more than 150 feet shorter than Sonos. Bose Portable works with Google and Alexa, and the assistants work well.
Smart assistant:
You get Google Assistant or Alexa when the speaker is connected to WiFi. You can only pick one assistant, but you can disconnect and switch.
Bose's smart assistant setup and functionality are identical on Sonos Move.
Bose Portable's mics are top-notch. With music playing loudly, it still hears you say the wake word (Alexa or Hey Google) without needing to scream. Bose's mics are the best that I've seen since Siri on HomePod.
WiFi and Bluetooth:
Unlike Sonos, Portable Home stores up to 8 WiFi networks, which is great if you're going to multiple houses or offices frequently.
Switching from WiFi mode to Bluetooth is easy and works well, but I prefer Sonos' indicator lights.
I have a premium mesh router system that gives a ridiculously good connection throughout my backyard, and the connection to my Bose was still spotty.
Most homes won't have the WiFi range to stay connected in the backyard.
Bose's range is worse than a smart phone's range.
---
Design
Sonos Move
Summary: Sonos Move is a beautiful hunk of art with a premium polycarbonate finish. It feels more rugged than Bose and has no moving parts on the top because the playback buttons are touch controls. It's not ideal for travel because it weighs 6.4 pounds, but it has a built-in handle.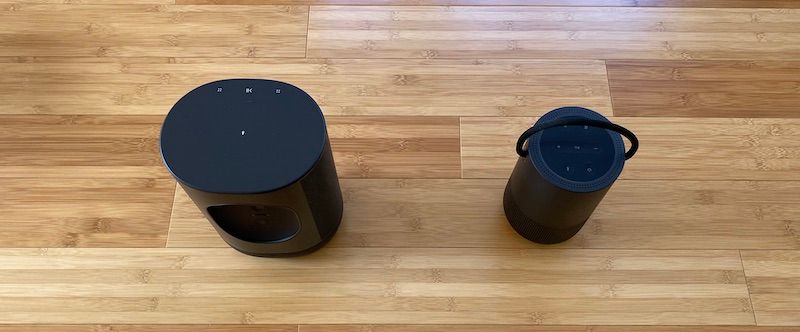 Looks:
It weighs 6.61 pounds and it's 9.4″ tall.
It comes in matte black and white.
It has a carrying handle that's carved into the backside of the speaker.
The aesthetics don't differ much from Sonos One, Beam, and Five.
It's smaller than Sonos Five, but twice the size of Sonos One. It occupies the same spot in the product lineup that was held by Sonos Play:3, which has been discontinued.
It takes up a similar amount of counter space as HomePod, but it's a few inches taller. It's a great size for kitchen counters.
Portability:
Sonos Move has been fairly criticized by other reviewers for not being portable. It's about twice the volume and four pounds heavier than Bose Portable Home. And it's three pounds heavier than other competitors like JBL Charge 4 and UE Megaboom 3.
I brought my Bose Portable Home with me to a friend's house when both speakers were docked side-by-side and ready. If I didn't have the option, I'd use Sonos Move without an issue.
The marketing pictures for "portable speakers" always show people jamming with their speakers at pool parties. It's a fun marketing image, but are frequent pool parties your main use case? Maybe. But not for me or the people that I know who'd be in the market for a $400 speaker.
How often are you traveling or bringing a speaker with you? If you want to bring Sonos Move everywhere you go, the critics are right, and it's not your best bet because it takes up too much space in a backpack or suitcase. But can you stick Move in your car to bring it to the campground or beach? Absolutely.
If you want a speaker with a powerful sound, you need to make design compromises.
The killer feature of portable speakers isn't the waterproofing, size, or Bluetooth, it's the lack of the power cord. Grabbing a docked Sonos Move (or Bose Portable Home) from one spot in your house and moving it to a different room without the music being interrupted is a delightful experience. When you're moving Sonos Move just from room to room, the weight is no longer a concern.
Due to its weight and thick silicone base, it won't budge from the table without serious force, and it won't tip over easily.
Other:
Sonos Move has an LED light on the top that's white when it's in WiFi mode. When you switch to Bluetooth mode, it turns and stays blue. You never question which mode you're in like you do with Bose.
I felt like I'd do serious damage to the Sonos if I dropped it, but despite its size, Sonos Move is more durable than Bose Portable. It has an IP56 rating, and according to Sonos, it'll withstand "falls, bumps, rain and moisture, dust and dirt, UV and extreme temperatures." Unlike Bose Portable Home, you can bring Sonos Move to the beach.
Bose Portable
Summary: Bose doesn't feel cheap, but it doesn't give you the premium feeling that Sonos' polycarbonate material gives you. It's the perfect size and weight (2.3 pounds) and has a rope handle for bringing anywhere.
Looks:
It weighs 2.34 pounds and it's 7.5″ tall. It's an amazing size for traveling or bringing to someone's house. I'd prefer to bring Bose Portable Home with me over Sonos Move because it's four pounds lighter and fits in my backpack.
It comes in two colors: Triple Black and Luxe Silver.
It has a fabric rope handle for carrying. It reminds me of the handle on beach buckets used for building sandcastles. The handle flips down when you're not carrying it. A rope handle is better than no handle, but it doesn't look great. Also, I'm curious how it'll hold up after getting wet.
Other:
The top of the speaker has tactile volume, playback, and Bluetooth buttons.
It has an IPX4 rating, which means it's splashproof. Bose's site says that it should be able to withstand bumps and drops too.
---
Which is best for you?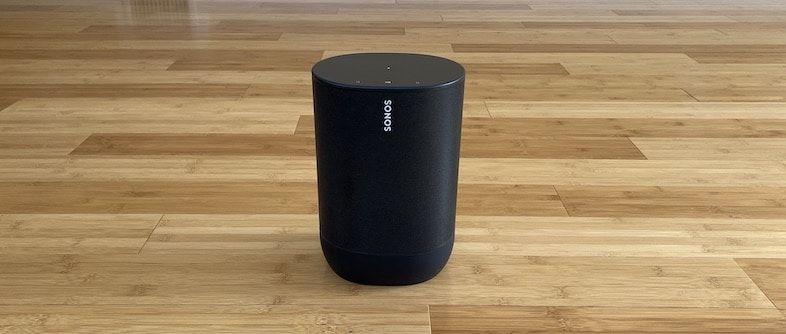 Sound (A)
User-Friendliness (A)
Design (B)
Get Sonos Move if you want an indoor speaker that can be moved to different rooms or outside with ease. It's ideal for decks or backyards because it sounds amazing and has incredible WiFi range. It's heavier than ideal to travel with, but you can without a problem.
---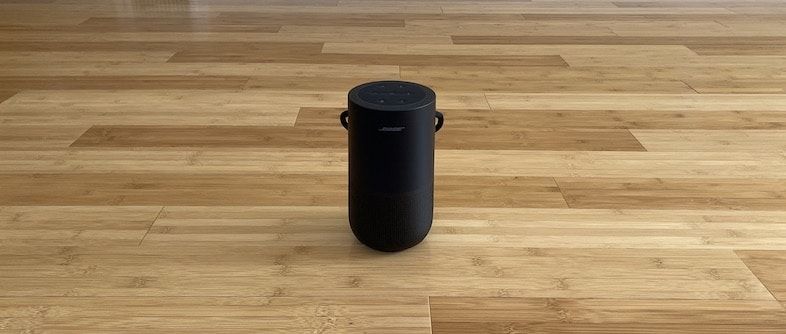 Sound (B-)
User-Friendliness (B+)
Design (B)
Get Bose Portable Home if you want to overpay for a speaker that sounds far inferior to Sonos Move. Bose's size is perfect and the sound quality is fine on its own, but speakers like UE Megablast and JBL Charge 4 are similar in sound quality and portability for half the price.
---
Want support this blog? (affiliate disclosure)
I'm not affiliated with any of the products that I review on this blog. I always purchase them out of my own pocket to ensure that my reviews are unbiased. However, as an Amazon Affiliate, I earn a small commission (usually between 1-4%) on some purchases made through the links in my posts. These commissions help support my blog by allowing me to buy new products and produce reviews independently.