Arlo Pro 2 Review: The Best Battery-Power Camera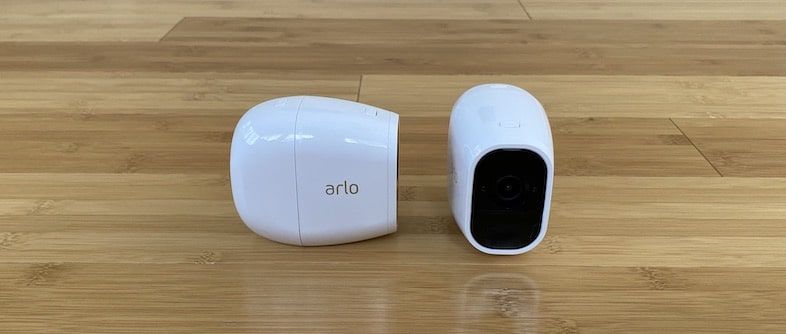 After weeks of testing, I determined Arlo Pro 2 is the better battery-powered security camera because it has more smart home integrations and advanced options.
Arlo Pro 2: 8/10
Free: A+
Arlo Basic is the name of Arlo's free plan. It records motion and audio whenever it is detected by the camera. Once motion is detected, it records a clip for up to five minutes.
Your recordings are saved in Arlo's cloud for seven days.
You can export your video clips from the cloud to your phone or computer to keep them forever.
Unlike Ring and Nest cameras, most people will be fine with Arlo's free plan because it provides plenty of value.
The Arlo Base Station has a USB port for local storage. You can plug in an external drive and have your recordings automatically saved to your drive. It's nice to have your clips backed up, but it doesn't change your system's reliance on Arlo's cloud. An internet connection is still needed at all times to record, and your clips are still sent to the cloud even when they're saved locally.
Subscription: B
Arlo Smart is $3/month and gives you enhanced features.
You get 30 days of video storage, rather than the seven days that come with the free plan.
"Activity Zones" let you decide which parts of the camera's frame trigger recordings. Arlo's free plan is pretty good at not sending false alerts based on movement. But Arlo Smart may be helpful (or even needed) to avoid false alerts in certain cases (e.g. tree branches, cars, leaves, etc.). (You can create activity zones with the Arlo Basic plan if you plug the camera into a power outlet, but the only way to get battery-powered activity zones is to subscribe to Arlo Smart.)
Person detection uses Arlo's AI to distinguish leaves blowing in the wind and cars from humans. You can ignore alerts from non-human objects that would typically set off the motion sensor. I didn't like this feature because it delays the notifications by at least ten seconds and it isn't accurate.
Package detection alerts you when the delivery person drops off a package. It's limited because of the camera placement requirements. The camera has to be facing toward the ground with a clear view of your walkway. Depending on your home's layout, you may need one Arlo camera that's dedicated specifically to package detection and another to track human movement. If you're willing to make that investment, it's a nice feature.
Enhanced notifications give you thumbnails on the notifications in addition to the text-based notifications that you get for free. It's a solid add-on feature, but it's not always helpful due to the size of the photo thumbnails.
Arlo Smart has three tiers:
30-day video storage is $3/month for one camera.
30-day video storage is $10/month for up to ten cameras.
60-day video storage is $15/month for up to 20 cameras.
You can add 24/7 continuous recording for an additional $10/month with their CVR Plan. Arlo's motion detection is excellent, so most people won't need 24/7 recording, but it's a smart move if you're serious about security and can't afford to miss any action. A downside to CVR, aside from the cost, is that Arlo needs a power supply via the Micro USB port.
Software: B+
The Arlo app interface is excellent. It's organized in a way that's intuitive for basic tasks and has more advanced features when you dig deeper.
You can create detection rules if you have multiple Arlo cameras. For example, when camera #1 detects motions, you can tell camera #2 to start recording.
Long loading times are my only issue with the Arlo app. It usually takes ten seconds for the app to load, then another six seconds for the live feed to load once you tap it.
It takes even longer to view the live feed from Alexa or Google devices.
Other interactions, like opening your library of clips, are slow too.
I've used Arlo on and off for a few years. Interactions inside the app have never been as slow as they are now. It seems like an issue with the phone app, rather than Arlo's servers because the web interface works well. I expect it to get fixed.
Live video can be recorded with one tap while you're watching the feed.
You can arm and disarm your system based on your phone's location (i.e. geofencing) or you can manually create a recording schedule.
Arlo is compatible with Google Assistant and Alexa.
"Alexa, show me the deck camera" puts a live feed of your camera on your Echo Show or Fire TV devices.
"Hey Google, show me the front camera on the living room TV" will play your live feed if you have a Chromecast. You can also view the video feed from the Google Home app.
These smart assistant video feeds can be used, but they don't always work consistently.
You can add Arlo to your "Alexa Routines." For example, when your camera detects motion, Alexa is triggered and says "Welcome back, I missed you." Or your smart devices can do things once motion is detected (e.g., turn on the lights, play music, lock the doors, etc.).
There's support for Apple's HomeKit, which is a substantial advantage over Eufy. If you're an iPhone user with other smart home devices HomeKit is a feature that you need.
"Hey Siri, show me the backyard camera" brings up the live feed on your iPhone.
You can create automations in Apple's Home app with Arlo and your other smart devices. For example, when motion is detected, your lights can turn on.
HomeKit support isn't fully baked and Arlo doesn't support HomeKit Secure Video. You can view your live feed and create automations based on motion, but you can't view recordings or arm and disarm the system from the Home app.
There's a bug that makes HomeKit unusable right now. If you view the live feed from the Home app, it turns off all motion recordings from the Arlo app. Motion recording isn't re-enabled until you reboot the system. (This guy is experiencing my issue too.)
There are great IFTTT recipes.
You can arm and disarm with Alexa or Google.
You can get warnings when your batteries are low.
You can create motion triggers, like turning on your Ring Alarm or your Hue lights when motion is detected.
The base station has a 100 dB siren that can trigger automatically after a specific action or trigger manually via the app.
Hardware: A
The cameras have a great build quality. The camera and mount are magnetic, which makes the cameras easy to hang, adjust, and take down when it's time to charge the battery.
You get a base station that plugs into your router, just like EufyCam. Arlo says the cameras need to be within 300 feet of the base station.
These cameras are battery powered and completely wireless. I'm averaging about three months before the battery needs charging.
Arlo Pro 2 cameras are IP65-certified. They can handle rain, sun, and extreme temperatures.
You can buy extra batteries on Amazon for $50 each to avoid downtime.
Arlo can run off the Micro USB cable if you have access to a power outlet. You'll get activity zones and the option to purchase 24/7 recording when you're plugged into power.
Arlo sells an optional solar panel if you don't want to worry about outlets or recharging the batteries, but I can't vouch for it.
Quality: B+
It shoots video in 1080p. It has a 130° field of view.
The video quality is far superior to other 1080p cameras that I've tested, like Blink XT2 and Ring Stick Up Cam.
The video quality is a huge upgrade over Arlo Pro 1. It's good enough that you can zoom in and identify someone's face from 20 feet away.
Arlo Pro 2 has eight infrared LEDs and the night vision is better than others on the market, but it still tends to blur faces when up close and doesn't add as much light as Eufy.
There's a three-second lag between what you see on the live feed and real life, so even though there's a mic and speaker on the camera, two-way communication is impractical.
Who is this for?
Get Arlo Pro 2 if you want to pay $3/month for advanced features like package and person detection or continuous recording. The free motion recording is excellent. You can set up smart home automations with Alexa or IFTTT.