Blink XT2 Review: My Favorite Budget Cam (No Subscription)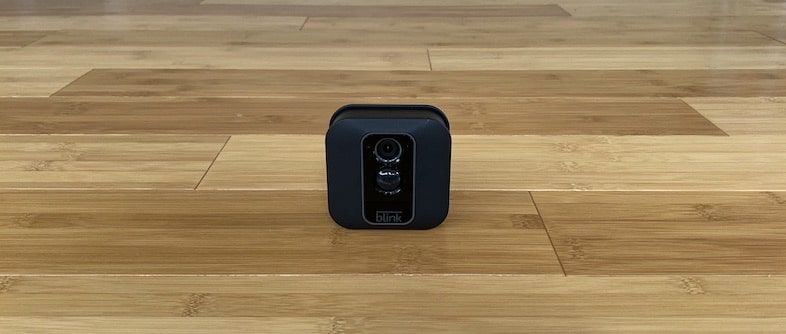 After weeks of testing, I determined Blink XT2 is a great buy for casual security monitoring because it provides accurate motion recording and stores the recordings in the cloud for free. No subscription service needed.
It shouldn't be used for serious surveillance, but as long as you're aware of the limitations, you'll love it.
Free Service: A+
Blink calls their motion detection "Instant On" and it starts recording as soon as it senses motion, then stops when the action stops.
Blink gives you 7,200 seconds of video storage, which with moderate usage should amount to a couple of weeks worth of clips. Your oldest files will be replaced with the latest when storage fills up. You can export your clips to your phone at any time to keep them forever.
You can set the clip length to between 5-60 seconds. The batteries will run out faster, the more it's recording. It can keep recording after the 60 seconds is up, but there's a major caveat: the minimum retrigger time is 10 seconds. If something's going on for two minutes, you might miss 10 seconds of valuable footage because after the 60 seconds is up, it takes 10 seconds to start recording again.
Blink has "activity zones" that let you decide where you want to receive motion alerts to avoid unwanted notifications and video recordings for things that don't matter.
You can check the live feed anytime.
Subscription Service: F
Blink doesn't have a subscription service. I love that their product is usable and provides great features for free.
Unfortunately, Blink is missing person detection.
Hardware: D
Blink runs on two AA batteries. They claim a pair of AA batteries should last two years, but that isn't close to reality. Their tests had to have been in a remote location in low sensitivity mode, with the lowest video quality and only five-second recordings. Realistically, you're looking at a month with the medium quality mode and 30-45 second clips. Blink is not an ideal camera for areas with heavy traffic.
You can power it with a micro USB cable if you have access to an outdoor outlet, but you'd lose the waterproofing unless you can create your own solution.
Unlike Ring, you need to plug in a separate bridge to get your Blink network running. The Sync Module plugs into any power outlet and dangles from it. It's included with the Blink XT2 pack. Fortunately, it doesn't need to be plugged into your router, and it doesn't add any extra pain.
You only need one Sync Module for up to 10 Blink cameras.
Blink XT2 can handle outdoor weather (4° to 113° F temperatures and waterproof).
Blink's craftsmanship is lacking. It's made of cheap plastic.
The dollar store mount that it comes with is embarrassing.
The battery cover has a funky latch and release. It's hard to know if it's fully closed or not.
Software: C-
Blink is notorious for their server issues. When I first installed Blink in 2017, I had issues too, but it seems like they've worked through many of their early startup troubles. Amazon's acquisition of Blink and their expertise probably helped. My latest install went smoothly.
Push notifications are delayed and sent after the motion has been recorded, not during the action, as with most security cameras.
There isn't an online interface or desktop app.
You can set schedules for when you want your system to be armed or disarmed. This can kill pointless notifications while you're home.
Blink made questionable interface decisions in their app. Three examples:
Scheduling is unnecessarily complex.
The thumbnails for motion detection are too small and can barely be seen.
It's easy to accidentally turn off the motion tracking without realizing it. I did this a few times.
Because Amazon owns Blink, it works seamlessly with Alexa. You can arm or disarm it by saying "Alexa, ask Blink to arm my home system." Or if you have a Fire TV or Echo Show you can say, "Alexa, show my backyard camera" and a live feed will appear.
It doesn't work with Siri or Google Assistant.
There isn't a way to natively record based on your phone's location. For instance, only record when you're away from home and stop recording when you're home.
You record clips on demand while you view them.
You can't set up scheduled recordings, due to battery limitations. Blink is great for casual monitoring of an area but not for serious surveillance.
It takes about seven seconds to load the live feed.
You can use this as an intercom or chat with someone in front of the camera because there's a speaker on the new generation. But two-way communication is terrible on Blink XT2.
When viewing the live feed, there's a three-second delay between real life and what you see.
In the app, you need to hold the mic button as you talk to the other person. Often the other person tries to talk, but can't be heard because Blink isn't ready to record the other person's voice.
The video gets choppier when you switch the landscape mode.
The mics cuts in and out frequently.
Record Quality: C+
Blink XT2 records in 1080p with a 110° field of view.
The nighttime recording could use work.
You can have a conversation with someone from the live feed because Blink XT2 has a mic and speaker. Two-way talk has a huge lag and is implemented terribly with a push to talk button in the app. It's almost impossible to talk to someone.
Who is this for?
Blink XT2 is great if you want free motion recording and activity zones with solid video quality.
The downside?
It has a slow re-trigger time, meaning there's a chance of missing 10 seconds of action. And unfortunately, it uses disposable batteries.