Apple Watch 3 Review: Best Smart Watch Ever But With Issues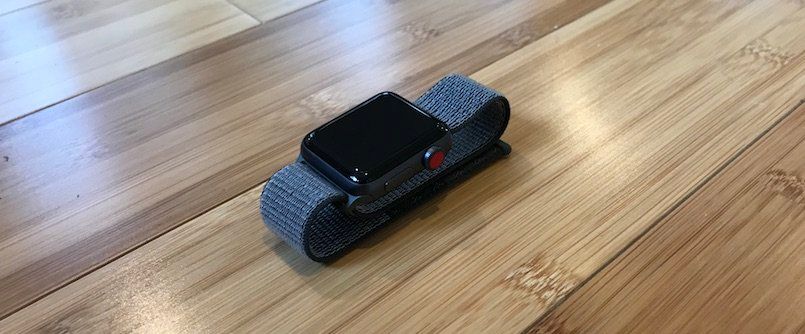 I've owned all three Apple Watches.
The first one didn't do much other than push notifications that would usually go to my phone. It was too slow for anything to function properly.
The second generation was twice as fast and could be used to exercise without the need for a phone because it had built-in GPS.
Now with Apple Watch Series 3, you can make phone calls with your watch; the software has seen four significant improvements every year, and it's fast!
Side note: Apple Watch Series 3 has more computing power than the first iPhone had.
Wearing an Apple Watch in public still attracts attention, and I get asked a lot, "Oh, is that the Apple Watch? Do you like it? Should I get one?"
My answers have varied, but often I say something like this: it's overpriced but works well for working out or getting notifications. However, unless you're a tech nerd, it's probably not worth the money.
With the third generation, the question remains: Is Apple Watch for everyone now?
Let's dive into my Apple Watch Series 3 review.
Things I Love
With Apple Watch, you can call and text without using your phone, while still using your phone number. As long as your phone isn't nearby, the cellular works flawlessly. This is perfect for going on dates or places where you want to stay in the moment without going off the grid. Even if you don't get a call or text while away from your phone, having the watch with you that's capable of texting or calling eases a lot of anxiety.
Apple Watch and AirPods are an amazing combination for workouts because it allows you to stream Apple Music from your watch. No cords. No phone. And, all you have to do is double tap your AirPods to skip to the next song.
I'm in the minority here, but the red digital crown button to indicate your watch has cellular service looks excellent. It adds a nice splash of contrast.
If you've had an Apple Watch before, all of your old bands will still fit.
watchOS 4 is great. This isn't specific to Apple Watch Series 3, but it's something you should consider when getting an Apple Watch. Gestures on the phone and watch are more in sync and make more sense now. For instance, pressing the button on the side brings up the dock with your active apps, whereas previously, after pressing the button, a contact app appeared.
This thing is fast and works similar to a phone. Apps are easy to open with a speedy loading time.
I'm looking forward to Apple's release of AirPower so I can charge my phone, watch and AirPods all at the same time on the same mat.
Apple Pay is still excellent and my favorite feature. It's not something new to this generation, but it's worth mentioning.
Apple's battery is "all-day battery" meaning it'll be on while you're awake. If you don't use the LTE, you'll typically go to sleep with a 70% battery.
Things I Hate
It's $400 (or $329 for the non-cellular version, which is basically Series 2). That's $100 more than the most expensive smartwatch.
It's $10/month for cellular and Apple doesn't make that clear on their site or ads. I had no idea it'd cost money to use the same phone number and data plan as my phone. Also, it's not available for pre-paid phone plans at the moment.
The new bands are awful. I bought my watch with the new Sport Loop Band. I didn't like it because it feels cheaply made and definitely not something worth $50. I switched back to the original Sport Bands.
It struggles with handing off the LTE from the phone to the watch. It stays on the phone's LTE for too long. For instance, if I'm going for a walk or go to the other corner of my house it'll keep using my phone's LTE even when I'm too far away from my phone for it to work correctly. In this situation you can't text, call or use Siri because you're too far away from the phone. Once the LTE switches to the watch, Apple Watch is fantastic. Texts go out quickly, and calls sound great on both ends.
You know when you go to a coffee shop or hotel, and you can't use their WiFi until you accept the terms? Previously, when Apple Watch tried to connect to those networks, it made your watch unusable. Apple patched this with the 4.0.1 software update, but there are still bugs that need to be worked out with the Apple Watch's LTE/connectivity issues.
Siri still doesn't work well on the watch. It almost never picks up "Hey, Siri." And if you're not next to your phone, it will show the "Hold on… I'll tap you when I'm ready" message a lot too.
Streaming Apple Music works well, but I don't want to waste my data on that every time. It's not easy to get music on Apple Watch. There's no Spotify app (I think they're working on it), which isn't ideal, but Apple hasn't done a good job with Apple Music integration. 1. You can only sync music if you're connected to power. I'm not syncing my full library; I just want to put an album on before my workout. It shouldn't be hard. 2. The watch claims it will automatically update the playlists that you've checked off like "Chill Mix", "New Music Mix", "Favorites Mix" while you're sleeping. The syncing is hit or miss and definitely not seamless.
If you're using LTE for more than an hour workout, you'll struggle to get to the end of the day with the battery.
Who is this for?
If you're active, have AirPods and Apple Music, Apple Watch Series 3 is close to a must own. The working out experience is amazing and will get better as it becomes easier to load music and as Apple tightens up some of the software issues.
If you like the idea of leaving your phone behind but not be off the grid, you should consider Apple Watch Series 3.
If you're just looking for a fitness band, and willing to bring your phone with you on workouts, Apple Watch Series 1 is not a bad value for $250.