Google Wifi vs. Eero (non-Pro): What About Nest Wifi & Eero Pro?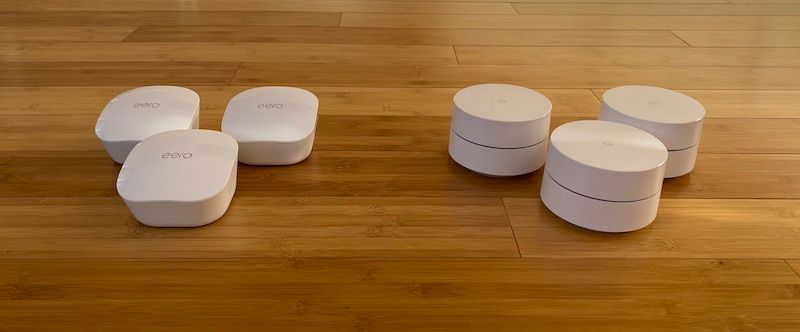 After a couple of months of testing, I determined Eero (non-Pro) is the better mesh system because of its flawless setup and dead simple app. Google Wifi performs similarly and gives you more control, but tends to be not as smooth.
Want to learn how I reached this conclusion? Read on to see the detailed breakdown of user-friendliness, design, and performance that informed my overall impression.
Setup
Eero (non-Pro)
Eero's installation process is designed to be user-friendly and guide you through every step of the setup process. Unlike other mesh systems, Eero assumes that you may not have a lot of technical knowledge and provides clear instructions on what cords to unplug and where and when to plug them in. This approach helps to minimize issues and makes it easier for even technologically challenged individuals to get a network up and running quickly.
I've installed Eero six times and my latest installation took less than five minutes. Even my parents, who are not particularly tech-savvy, were able to set up a network in under ten minutes without any difficulties.
Google Wifi
When setting up Google Wifi, you may experience some issues and delays. The app doesn't clearly indicate when to plug in the router, and it may not instruct you to unplug your modem until there is a problem. This can lead to confusion and frustration, as the loading times for Google Wifi can be long and it may not be clear if the configuration is in progress or if there is an issue.
In my experience, I have had to set up Google Wifi six times and encountered problems with the app recognizing the routers on several occasions, requiring me to perform troubleshooting steps. An average setup takes 15 minutes to get the network running.
To avoid these issues, unplug your modem first, then connect the modem and router via Ethernet. Then, scan the QR code on the bottom of the Google Wifi device and open the Google Wifi app to complete the setup process.
---
Software
Eero (non-Pro)
Features:
The Eero phone app is easy enough for anyone of any technical skill level. It's fast loading, easy to navigate, and has advanced features (like reservations, port forwarding, thread support, DNS settings, and MU-MIMO support).
Eero's new phone app prioritizes family profiles and devices instead of bandwidth, which should have more mainstream appeal.
You can create profiles of people in your household in order to name and group their devices. Inside of each profile, you can set schedules and allowances or pause the internet on-demand. This is useful for parents who want to control their kids' access without restricting use for adults. Eero's user interface and interactions in the app are more intuitive and easier to use than any of the other systems I've tested.
A guest network can have a unique name and password that differ from the main network.
Send your friends a token or have them scan a QR code to get access to your network in three seconds.
The firmware updates automatically and the system can be reset, in about a minute, with a tap of the button.
You can ask Alexa to find your phone, pause a person's internet, or put your kid in a timeout by turning off their internet for a certain period. With Amazon's purchase of Eero, expect Alexa integration to get even tighter.
Eero is one of the few systems to support HomeKit. When you add Eero to the Apple Home app, it builds a firewall between your network and your smart devices. If one of your smart devices gets compromised, your entire network can't be taken down.
There's an interface that displays your devices in order of real-time bandwidth usage, which is great for troubleshooting.
The "Activity" tab displays how much bandwidth your devices are using in the current week.
Annoyances:
Eero offers an optional subscription service called Eero Secure for $3/month that gives you better security, ad-blocking, content filtering, and you can see how devices are using your network, but most of these features are free on Google Wifi.
It's $3/month to view your daily or monthly cumulative bandwidth usage numbers.
Google Wifi
Features shared with Eero:
With "Family WiFi" you name and rename your devices, then create groups and create scheduled internet access, or manually pause a group of devices. It's not as smooth as Eero, but it has the same features.
You can check the connection of individual devices to your router, which could help diagnose buffer issues.
It takes just a few minutes to restart the network from the app.
You can enable IPv6, manage DHCP IP reservations, play with DNS settings, and manage ports.
You can create a guest network with a new name.
Unique features:
Google's Family WiFi includes SafeSearch filtering for free, while it's $3/month with the Eero Secure plan. It blocks millions of adult sites from the profiles that have it enabled.
You can see the real-time stats for each device and how much each device is downloading (per 5 seconds, hour, day, and month).
There's an excellent interface to see your cumulative bandwidth usage, which may be important if your ISP has a cap on your usage.
You can add household members' Google accounts and make them admins of your network.
Annoyances:
Google Wifi used to have a dedicated app, but now you manage your network in the Google Home app instead. The Google Wifi app was very user-friendly, but the Google Home app can feel overwhelming at times with the number of things going on. The good news is that if you're deep into the Google ecosystem already, you don't need an additional app and you'll feel at home.
Setup and access to your network requires a Google account.
The radios aren't MU-MIMO.
Google doesn't play nice with VPNs.
Lots of users are reporting WiFi calling through phone carriers isn't working with Google Wifi.
---
Performance
Eero (non-Pro)
Summary: Eero's hardware internals are almost identical to Google Wifi, but Eero is typically more stable and offers more consistent speeds. Neither system will set performance records because they're slow compared to modern WiFi systems from Orbi and Eero, but they have plenty of power for most people.
Single router testing:
I averaged 93Mbps with one Eero (non-Pro) router.
Eero (non-Pro) and Google Wifi have the same theoretical bandwidth and similar hardware, including the AC1200 2×2 radios.
Mesh router testing:
I averaged 94Mbps with two Eero (non-Pro) routers. Eero says this configuration should cover 3,000 square feet according to Eero.
I averaged 97Mbps with three Eero (non-Pro) routers. Eero says this configuration should cover up to 5,000 square feet according to Eero.
(I used speedtest.net in ten designated locations in my house and backyard with a maximum ISP speed of 116Mbps.)
Approach:
Eero (non-Pro) is a dual-band router, just like Google Wifi. It has less room for communication between the nodes and your devices compared to popular tri-band systems like Eero Pro 6 and Orbi RBK752 because it has one fewer band, which results in slower speeds.
You can't prioritize which devices get the most bandwidth like Google Wifi, but Eero has a feature called Optimize for Conferencing and Gaming that helps to automatically prioritize devices without killing access to other devices.
Band Steering tries to push devices that support 5GHz to that channel to increase performance.
Eero thrives with stability. The network never cuts out when your device switches to a new node. You won't notice it as you do with most other mesh systems.
Personal experience: I spent hours recording my download speeds for my posts and used the internet all day, but I didn't notice a speed difference from any Google, Eero, or Orbi sets. The only noticeable thing is cutouts. I haven't experienced any cutouts in my two years of using any Eero product.
Google Wifi
Summary: Google Wifi and Eero don't differ much in performance. Google Wifi reached the higher end of my speed potential more frequently, but the speeds had a higher variance compared to Eero. During random speed check-ins, Google Wifi was almost always slower than Eero.
Single router testing:
I averaged 90Mbps with one Google Wifi.
Google Wifi has the same internal specs as Eero.
Mesh router testing:
I averaged 87Mbps with two Google Wifi routers. Google says this configuration should cover up to 3,000 square feet.
I averaged 97Mbps with three Google Wifi routers. Google says this configuration should cover up to 4,500 square feet.
When the Eero and Google systems had three nodes, I got identical speeds. When the systems operated with two nodes, Eero outperformed Google, but this was more of a fluke than anything conclusive.
(I used speedtest.net in ten designated locations in my house and backyard with a maximum ISP speed of 116Mbps.)
Approach:
Google Wifi is a dual-band system, just like Eero (non-Pro).
While Google and Eero perform almost identically, they have different methods of getting there. During the tests, Google had higher speeds (more tests at 117Mbps), but there was a greater variance in speeds. While Eero never hit my max speed, it was more consistent with less variance.
During random speed check-ins, Google Wifi consistently scored lower than Eero. I can't nail down a specific reason, but I saw the same thing with Nest Wifi.
Eero automatically prioritizes devices that are streaming or conferencing, but Google Wifi gives you manual control. You can prioritize a device for a set period (one, two, or four hours).
During experiments, I put Google Wifi on the window sill and it was barely able to function while Eero did just fine in the same spot. Either way, you shouldn't put a router next to a wall or window if it can be avoided.
Personal experience: I had Google Wifi at my house for two years. For the first year, I used it as a solo router system and it worked flawlessly. When I wanted coverage in my backyard too, I set up two more nodes to create a mesh system and it worked well but not as efficient.
---
Design
Eero (non-Pro)
Eero (non-Pro) has a glossy white finish and it's shaped like a cupcake. It's shorter than Google Wifi, but it attracts more fingerprints.
The standard Eero three-pack has five available ports (one is used for your modem). The Ethernet ports are auto-sensing and interchangeable, whereas Google Wifi has a port designated for the modem.
Google Wifi
Google Wifi points are small, unobtrusive, and they come in a matte white finish. You can put these anywhere in your house without them being a distraction. I prefer the matte finish compared to Eero's glossy finish because it attracts fewer fingerprints.
The standard Google Wifi three-pack has five ports to plug-in accessories. The nodes have a built-in nightlight that can be scheduled to come on at certain times.
---
Which is best for you?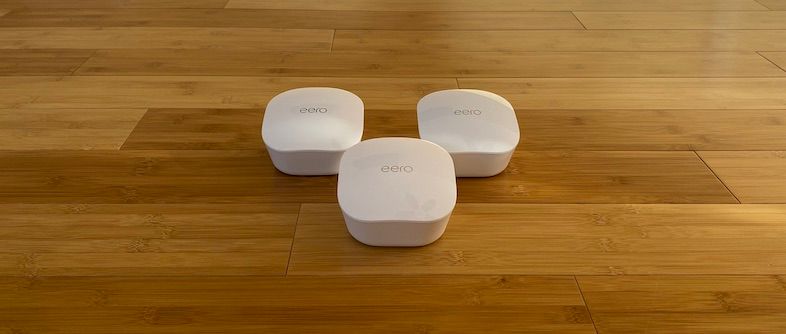 User-Friendliness (A+)
Performance (B)
Design (B+)
Get Eero (non-Pro) if you want the easiest-to-use mesh system. Due to the user-friendly app, people with zero tech skills can get a Eero system running without any hiccups. Eero makes optimizations for you. The overall network is smoother and does a better job of device switching.
---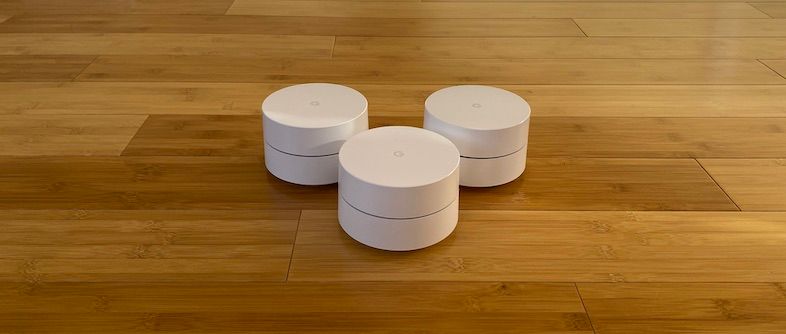 User-Friendliness (B)
Performance (B-)
Design (B+)
Get Google Wifi if you want more control. You can prioritize devices or easily troubleshoot issues with the real-time bandwidth usage interface. Eero and Google have great parental features, but Google has free content filtering, while Eero charges $3/month.
---
Choosing the right configuration
Your configuration will depend on your home's size and layout. More nodes won't necessarily result in a stronger network. In smaller houses, you may run into signal overlap, which will hurt your performance.
With that being said, I still recommended the Eero three-pack and Google Wifi three-pack to everyone because three nodes are about the same price as two. If your house size is between the two or three node range, try the system with two nodes first. If you get the desired results with two, you can sell the third node or give it to a friend.
What about the older siblings?
Eero Pro has faster and stronger radios compared to Eero. It's a tri-band router system, which gives extra room for devices and node communication. I saw an average of 16% faster speeds with Eero Pro compared to Eero in my testing (on my 117Mbps network).
Eero Pro 6 and Eero Pro 6E are premium options to consider if you want the best of the best or have gigabit internet speeds, but the regular Eero is a better bet for most people because these speed differences won't be seen in day to day life.
I wanted to love Nest Wifi two-pack, but I ran into lots of stability issues during my testing. On the spec sheet, Nest Wifi offers twice the theoretical bandwidth speed as Google Wifi and has 25% more range.
Nest Wifi matches Eero Pro in pure speed, but Nest's internet dropped out and/or hovered around 10Mbps more than a dozen times in my three weeks of testing. With future firmware updates, things should get smoothed out, but I don't recommend Nest Wifi right now.
---
Want to support this blog? (affiliate disclosure)
I'm not affiliated with any of the products that I review on this blog. I always purchase them out of my own pocket to ensure that my reviews are unbiased. However, as an Amazon Affiliate, I earn a small commission (usually between 1-4%) on some purchases made through the links in my posts. These commissions help support my blog by allowing me to buy new products and produce reviews independently.