Eero Pro 6 vs. Orbi WiFi 6 (RBK752): A Few Months of Testing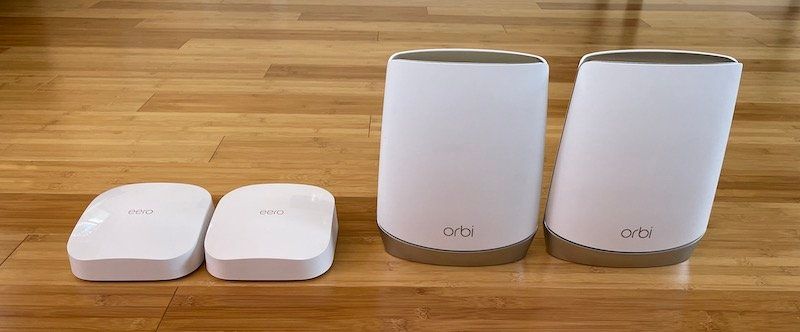 Eero Pro 6 and Orbi RBK752 are two rock-solid systems. You can't go wrong with either.
Eero Pro 6 is dead simple to install, and it does a great job of balancing great speed and stability, and it's loaded with parental control features.
Netgear Orbi RBK752 has a lackluster phone app, but it's a better bet for power users who want a full web-based interface or extra Ethernet ports.
Want to learn how I reached this conclusion? Read on to see the detailed breakdown of user-friendliness, design, and performance that informed my overall impression.
Setup
Eero
The installation is the easiest and quickest of any router that I've ever tested. The instructions are easy to follow because it walks you through even the smallest steps. Eero offers placement tips to improve the signal if things aren't working correctly.
I've installed Eero over a dozen times. In my latest install, I got two Eero Pro 6 nodes installed and running the latest firmware in five minutes. It's the only mesh system that I'd trust my parents to install without my help.
Orbi
The setup typically takes longer than Eero, but the current setup process is straightforward with the phone app.
In my latest install, I got two Orbi RBK752 nodes running in ten minutes, and an additional five minutes for the firmware updates.
In previous setups, I got errors when powering on the router and the satellite simultaneously during the setup. I used to recommend getting the network working first with one router, then adding the satellites, but it shouldn't be necessary anymore unless you run into issues.
---
Software
Eero
Eero's app is loaded with features, but it's easy for anyone to use.
A profile for each person in your household can be created with "Family Profiles." Just group each person's devices together, then control them by pausing or scheduling access for the whole group of devices. It's brilliantly set up for parents to limit internet time and when children should have access.
Advanced configurations like reservations, port forwarding, and DNS settings are available in the app. You can't tinker with as many settings as you can with Orbi, but Eero is smart about the defaults that it chooses for you.
You can track your bandwidth usage in real-time or see a cumulative number on a per-week basis.
Eero Pro 6 can be added to your Apple HomeKit account, which creates a firewall between your network and your smart devices to improve your security if one of your devices becomes compromised.
What are the downsides to Eero's software?
Eero relies on the cloud to operate, as do most mesh WiFi systems. Eero doesn't have a web-based interface either, but it's tough to see why someone would need the web app because the phone app is so well done.
What is Eero Secure?
Eero Secure is an optional subscription service for $3/month. You get better security, advanced parental controls, activity center, safe filtering, and a built-in ad blocker. And Eero Secure gives a more advanced bandwidth usage interface to see per day and month cumulative numbers.
Eero Secure is a great bet for parents who want more control over their kids' internet usage, but I don't recommend it to people without kids unless the in-depth bandwidth interface interests you.
Eero Secure+ is $10/month. You get the features from Eero Secure and three security app accounts: password manager from 1Password, VPN service through encrypt.me, and antivirus protection from MalwareBytes.
Orbi
Usually, a "Router Not Set Up" message appears when I launch the Orbi app, but when I tap "Dismiss," my network is up and running correctly. It's just a communication lag between the app and the router, but it's annoying. Launching the app is rarely a smooth process because when there's no lag, I'm often logged out of my Orbi account.
Once you're in the app, the interface looks terrible, and there's not much you can do in the app, other than name devices, pause them, or reboot the system. The Orbi app is missing native parental controls and DNS settings.
The good news?
Orbi has a web-based interface that lets you customize any setting that you want (like you can with a regular Netgear router).
Another bonus is that there's no reliance on the cloud to run, while Eero requires internet access. Orbi has a "Traffic Meter" that logs your bandwidth for a week or month, but it's confusing, hard to read, and the data can't be filtered.
What about Orbi's subscription service?
Netgear Armor is an optional service for $70/year. It protects you from phishing threats and warns you of bad sites. Unfortunately, there are obnoxious ads each time you open the app and you're forced into their free trial without permission. I turned the trial off after a few weeks because it blocked lots of legitimate sites that I wanted to access.
If you want parental controls, Netgear partnered with Disney. For $5, you can subscribe to Circle with Disney, to get most of the same parental features that come with Eero for free.
---
Performance
Eero Pro 6
My internet speed maximum is 117Mbps. I maxed out in almost every spot in my house with two Eero Pro 6 nodes set up.
Eero Pro 6 has an AX4200 rating, which means that it's capable of more than 1Gbps, but that's not a realistic speed when connected wirelessly in a mesh setup. You'll get gigabit speeds when your device is plugged into Eero directly (assuming you pay for gigabit).
A two-node configuration should cover close to 5,000 square feet.
To test real-life wireless speeds, I set up an iPerf3 server on my MacBook Pro and connected to Eero Pro 6 via Ethernet to test the throughput. I tested the throughput with the iPerf3 app on my iPhone 12 Pro.
My house is 1,200 square feet, but my home's layout and testing locations aren't the same as yours, so just use my numbers as a baseline.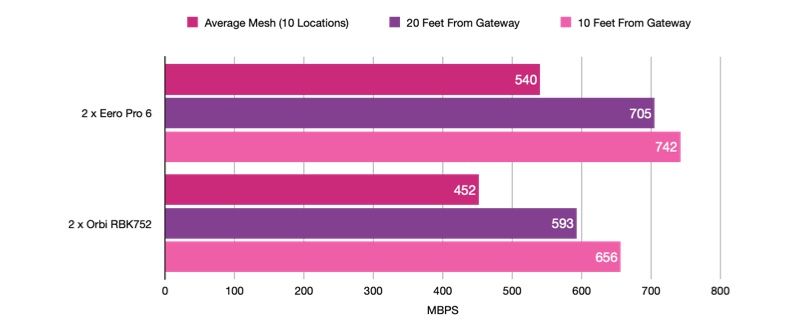 When testing from my ten designated locations, I averaged 540Mbps, with two Eero Pro 6 nodes. When just 10 feet from the main router, I averaged 742Mbps.
Stability
Eero systems shine with device switching and overall stability.
Eero Pro 6 uses a "true multi-channel mesh network," which means that all three bands are used in communicating from node to node, while these bands are also used for the clients (your devices).

Eero's ability to keep the connection on your devices running smoothly while your devices jump from one node to a different one is unparalleled. Eero does a lot of work behind the scenes to manage your network. I don't know how to measure this with data, but I don't notice when my devices switch nodes like I sometimes do with other mesh networks. In three years, there have been no substantial cutouts.
I bought Eero Pro 6 at the launch and it worked great from the beginning.
But some Reddit users had issues with slow speeds during the first weeks of release. Early firmware issues the norm with mesh systems. And by most accounts, the latest firmware version 6.6.0 is stable and working for everyone. Eero is known to push out updates quickly when there are issues, and they're active in the community.
Orbi RBK752
Orbi RBK752 has the same AX4200 rating as Eero Pro 6. A two-node configuration should cover close to 5,000 square feet.
When testing from my ten designated locations, I averaged 453Mbps, with two RBK752 nodes. I was surprised that no matter when I tested the Orbi system, I couldn't match Eero Pro 6's speed. I never noticed the speed difference in real life.
I averaged 656Mbps when ten feet from the main router.
Sure, Eero Pro 6 was faster in my tests, but it's probably random rather than anything conclusive.
The bottom line?
Eero Pro 6 and Orbi RBK752 should get similar speeds. But If you have gigabit internet and want to get the most out of it, don't go with either system because they're not capable of gigabit speeds wirelessly. Orbi RBK852, which has an AX6000 rating, would be a better bet.
Stability
With previous Orbi systems, I've experienced bad firmware updates and strange hiccups when devices switch to a new node. The satellite node had issues when too many people were connected to it simultaneously too.
But Orbi RBK752 is the first Orbi system I've ever tested where I ran into no stability issues. I had it installed for six weeks and never noticed it, which is the highest praise for a WiFi system.
While I've had a smooth six weeks, the RBK752 reviews on Amazon and Reddit aren't as favorable as Eero. Orbi could still push out another questionable firmware update that will break things at any point. Try to avoid the latest firmware updates for a few weeks after the release to avoid issues.
Orbi RBK752 is a tri-band system, just like Eero. But its approach differs because one of the channels (5GHz, 2400Mbps) is a dedicated backhaul channel that's only used to communicate with other Orbi, which leaves the other two channels open for clients (your devices).

In my experience, a dedicated backhaul usually helps to maximize the speed when you're connected to the secondary node (satellite), but you lose a bit of stability in the network. But this time, I didn't notice a stability difference when comparing Orbi RBK752 and Eero Pro 6.
---
Design
Eero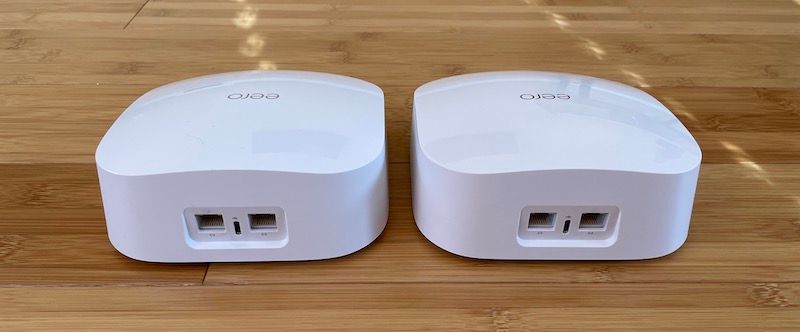 The Eero Pro 6 units (5.6 in x 5.4 in x 1.9 in) are bigger than the previous Eero Pros, but they're smaller than Orbi by a lot. They can be put anywhere in your house and stay out of the way.
There are two Ethernet ports on each Eero Pro 6, which leaves you with just three usable Ethernet ports for your accessories. The Eero nodes are interchangeable and they auto-sensing Ethernet ports, which means you can plug the modem cord into either port.
Orbi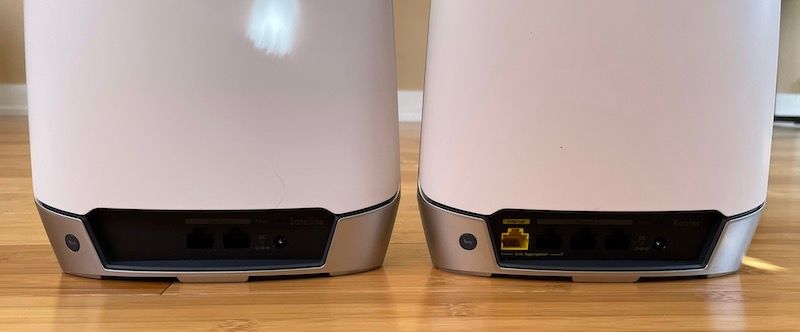 The Orbi RBK752 units are massive (9.1 x 7.2 x 2.8in) and ugly. Compared to Eero Pro 6, they're four times taller and three times bigger by volume. You can't hide these nodes away easily.
The Orbi nodes aren't interchangeable. The Orbi "router" has the Ethernet port for the internet, then three additional Ethernet ports. The "satellite" node has two ethernet ports leaving you with five ports to nerd out on with the two-piece setup.
---
Which is best for you?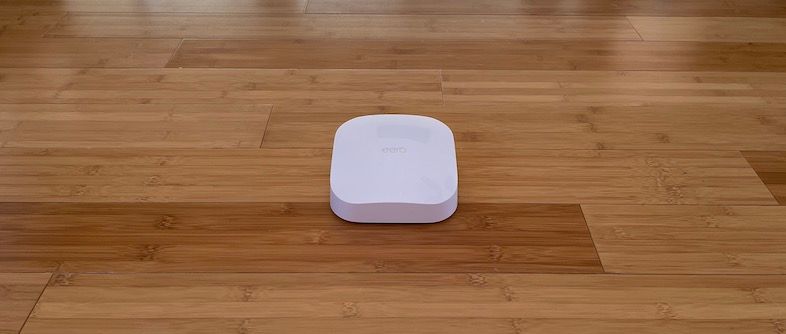 User-Friendliness (A+)
Performance (A)
Design (A)
Get Eero Pro if you want a network that works without being noticed. The initial setup takes a few minutes, the parental controls are easy to use, and the nodes are a nice size. Eero's network is typically more stable and consistent compared to Orbi, but in this round of testing, they were about the same. Surprisingly, even with the same AX4200 rating, Eero Pro 6 was consistently faster.
---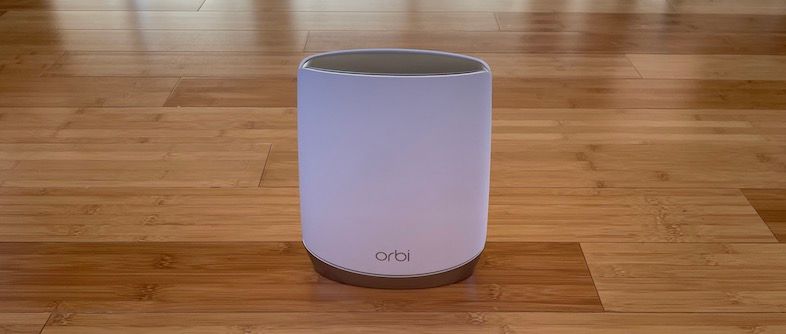 User-Friendliness (C-)
Performance (A-)
Design (B-)
Get Orbi RBK752 if you're a power user who wants more Ethernet ports or a web-based interface that's loaded with customizations. Unfortunately, Orbi's phone app is slow, has annoying pop-ups, and it doesn't have basic settings or parental controls. But you shouldn't need the app often if your network is working properly.    
---
Choosing the right configuration
If you don't care about the WiFi 6 benefits, Orbi RBK50 is a great option because it provides similar speeds as RBK752 for $100 less. There aren't a ton of WiFi 6 devices in the wild yet, so you probably wouldn't notice a huge difference. But I'd still rather pay the extra $100 to get WiFi 6 if I'm already spending $300.
Both Eero Pro 6 and Orbi RBK752 aren't ideal for gigabit speeds because you'll max out around 600Mbps. If achieving max speeds on gigabit is important to you, check out Orbi RBK852 for $650. It should reach close to the maximum throughput of 850Mbps on a WiFi 6 capable phone.
If you're sold on Eero, there are lots of options to consider.
Eero Pro 6 is the best system Eero offers, but it's not necessary for everyone. If you're not paying for gigabit internet and want to save money, Eero 6 is a great bet. I got an average of 350Mbps with Eero 6 in a wireless mesh setup. I wrote and compared all four Eero models in the 2021 lineup if you want to learn more.
---
Want to support this blog? (affiliate disclosure)
I'm not affiliated with any of the products that I review on this blog. I always purchase them out of my own pocket to ensure that my reviews are unbiased. However, as an Amazon Affiliate, I earn a small commission (usually between 1-4%) on some purchases made through the links in my posts. These commissions help support my blog by allowing me to buy new products and produce reviews independently.