Nest Wifi vs. Eero Pro: Nest Wifi Has Serious Stability Issues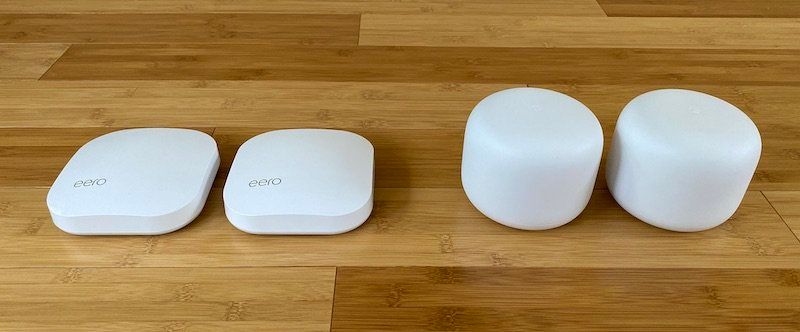 After months of side-by-side testing, Eero Pro decisively pulled ahead as the superior mesh system because of its user-friendliness and better performance. Nest Wifi has great features on paper, and great speed, but it's too inconsistent.
Google Wifi (Nest Wifi's predecessor) is a great bet for those who want a more stable network than Nest Wifi and want to track bandwidth usage.
Want to learn how I reached this conclusion? Read on to see the detailed breakdown of user-friendliness, design, and performance that informed my overall impression.
Setup
Eero Pro
People of all ages and any skill level can get Eero running in a few minutes. The Eero app holds your hand through each step and gives you placement tips and strategies along the way. Eero is one of the easiest modern tech products to set up.
I've installed Eero seven times. I got two Eero Pro routers installed and running the latest firmware in five minutes. I've never seen a Eero installation have hiccups or take longer than ten minutes.
Nest Wifi
Unfortunately, Nest Wifi runs into the same setup hiccups as Google Wifi. The app doesn't recommend restarting your modem until the installation breaks, it leaves you hanging during certain installation steps, and it takes at least twice as long as Eero to set up.
I've installed Nest Wifi three times and Google Wifi six times. In my latest install of Nest Wifi, it took 20 minutes to get the network running. I've had one errorless installation.
---
Software
Eero Pro
Features:
You can name and rename devices.
Family Profiles lets you create a profile and group the devices of each household member. Once the devices are grouped into a profile, you can create scheduled access, set downtime periods, or just pause the internet for a profile with one tap.
Eero's app is so simple that I trust my parents with it, but it's also advanced for the people who need it. You can play with the DNS settings, set up port forwarding, or reservations, but most won't need to touch these settings.
Unsurprisingly, Eero (Amazon-owned) has tight Alexa integration. You can ask Alexa to pause the internet for specific profiles, disable the internet for everybody, or ask Alexa to find which node your phone is closest to if you lost it.
You can create a guest network with a different name than the main network.
There's an "Activity" tab that displays how much bandwidth each device uses per week and the percentage of resources the device consumes. The usage can be sorted by people's profiles too. You'll get a cumulative bandwidth usage number of all your devices, which can be handy if you have a data cap.
You can see a list of your devices and how much data they're consuming in real-time, which can be great for troubleshooting.
Eero is one of the first routers to get HomeKit compatibility. Once you add Eero to the Apple Home app, your network gets more secure because HomeKit creates a firewall between your network and your smart home devices. If one of your smart devices becomes compromised, it'll protect the rest of your network.
Annoyances:
Eero relies on the cloud and you can't use the Eero app without an internet connection.
It doesn't have a web-based interface.
You can't give other household members admin access. If two people want admin access, they'll have to share an Eero account.
The "Activity" tab is great, but it only displays the bandwidth data for the current week. If you want data on a per day or per month basis, you'll need the paid Eero Secure plan ($3/month).
Nest Wifi
Summary: Nest Wifi uses the Google Home app, which is a more cluttered and watered-down version of the Google Wifi app. The app has Family WiFi to group devices together for scheduling, free content filters for your kids, and a real-time bandwidth interface. Fortunately, you can download the Google Wifi app after installation to control your network and get more features.
Features shared with Eero:
You can name and rename devices to better identify for grouping.
Family WiFi lets you group each household member's devices, as you can with Eero, but the setup isn't as clean. From there, you can create scheduled access, or pause the entire group of devices with one button.
You can create a guest network with a different name from your main network.
Unique features:
When you tap on your devices list, the devices on your network are listed in order of real-time bandwidth usage. If your network's running slower than it should, you can check to see if any devices are unexpectedly downloading in the background.
Nest's Family WiFi has a free SafeSearch feature that automatically blocks "millions of adult websites" on the selected profiles. Eero has a similar feature, but it's $3/month with the optional Eero Secure subscription plan.
Household members with a Google account can have their account added to the network for admin access.
Annoyances:
Nest Wifi uses the Google Home app by default, which can feel watered-down and cluttered compared to the previous Google Wifi app, which has been sunset. The Google Home app is fine if you're already deep in Google's ecosystem, but I prefer a dedicated app, like Eero.
Nest Wifi relies on the cloud by default. It can be disabled, but you'll sacrifice overall performance. Unfortunately, just like Eero, you still can't access your network without an internet connection.
Nest Wifi requires a Google account for the installation and to access the network.
It doesn't have a web-based interface.
---
Performance
Eero Pro
Summary: Eero Pro is one of the fastest systems that I tested in 2020. It's the most stable network that I've ever used. Eero does a better job at optimizing your network to give you a consistent connection throughout your house without any cutouts.
Single router testing:
With one Eero Pro, I averaged 108Mbps in my tests (using speedtest.net in ten designated locations in my house and backyard with a maximum ISP speed of 116Mbps).
Eero Pro has an AC2200 rating, which gives it a maximum theoretical download speed of 550Mbps on the 5 GHz channel (when in a mesh system).
Mesh router testing:
I averaged 111Mbps with one Eero Pro with two Beacon routers. This configuration covers 5,500 square feet according to Eero.
I averaged 112Mbps with two Eero Pro routers. This configuration covers 4,000 square feet according to Eero.
Approach:
Eero has more room for the nodes to communicate with each other because it has an extra band compared to Nest Wifi. Eero Pro is a tri-band router, while the Eero Beacons are dual-band. Most of the benefits of three bands can be had with just one Eero Pro in your configuration.
Eero uses a "true multi-channel mesh network," which means that all three bands are used for your devices and node to node communication.
Mesh routers often have a slight hiccup when you move from one node to another. Eero routers do work behind the scenes to keep your system running without cutouts or noticeable transitions when devices switch to a new node.
Eero has an optional feature called "Band Steering" that tries to push all 5 GHz compatible devices onto that channel for faster speeds.
Eero has a hands-off feature called "Optimize for Conferencing and Gaming" that prioritizes devices that are steaming, conferencing, or gaming without sacrificing the speed of your other devices.
Personal experience: When I'm not testing for Power Moves, I've had some configuration of Eero Pro in my house for the last two years. I haven't reset my system once since I've had it. It remains stable and just works.
Nest Wifi
Summary: Nest Wifi is neck and neck with Eero Pro for pure speed. Nest's software gets everything that it can out of the limited hardware (just two bands). The downside is that I've tested two different Nest Wifi configurations (separated by six months) and both had major stability issues. I can't confirm that the stability issues are widespread, but a few Reddit threads show that I'm not alone.
Single router testing:
I averaged 102Mbps with one Nest Wifi Router (using speedtest.net in ten designated locations in my house and backyard with a maximum ISP speed of 116Mbps).
The Nest Wifi router has an AC2200 rating. Compared to Google Wifi, it has twice the theoretical bandwidth limit and 25% more range.
Nest Wifi has a maximum speed of 1733Mbps on the 5 GHz channel and 400Mbps on the 2.4 GHz channel. This 1733Mbps won't be the speed found on your devices because the 5 GHz channel is used to communicate with the other node as well as the clients (your devices). You should see a maximum download speed of 866Mbps.
Mesh router testing:
I averaged 111Mbps with one Router and one Point. Nest rates this configuration for 3,800 square feet.
I averaged 114Mbps in my tests with two Routers. Nest rates this configuration for 4,400 square feet. It seemed to have a similar range compared to two Eero Pro routers.
Approach:
The Nest Wifi Router and Point are both dual-band routers, which is surprising given that most premium mesh systems have three bands. Nest decided against a third band because of the additional hardware costs, and it looks like they've been proven right.
Nest Wifi has a feature called "proactive band steering" that guides your devices onto the proper 2.4 GHz or 5 GHz channel to optimize performance.
Eero claims to balance prioritization automatically, while Nest puts you in charge instead. You can prioritize a specific device for one hour, two hours, or four hours. It may be an important feature if you have slow internet speed and an important task to accomplish (e.g., video meeting, uploading a big file).
Issues:
In January 2020, I reviewed the standard Nest Wifi configuration (one Router and one Point). During my two weeks of testing the system, the two nodes disconnected from each other three times, despite displaying "great connection" in the app. The Point slowly blinked an orange color and couldn't communicate with the main node or the app. If I didn't intervene, the system would not have fixed itself. I manually unplugged the Point to fix the situation.
In July 2020, I bought two Nest Wifi routers because I was convinced that my previous issues were Point related. In my three weeks with the system, the two Nest Wifi nodes stayed connected perfectly. Instead, I had twelve recorded internet cutouts and countless times where my speed was less than 10Mbps. I could fix it by toggling the WiFi button on my iPhone or MacBook. Or it'd fix itself after a few minutes.
I experienced cutouts in January too, but they were less frequent.
I researched, factory reset, and performed other troubleshooting steps without finding a solution.
There are two popular Reddit threads with users experiencing my issues, but Nest Wifi has been well received by the majority of reviewers. Hopefully, the current 12871.57.12 firmware version is the culprit and a software update fixes the issue. It may be defective hardware, but it's most likely a firmware compatibility issue with certain modems or internet service providers. Either way, I've owned two different sets and had crippling issues with both, so I can't recommend Nest Wifi right now.
Personal experience: I was rooting for Nest to perform well because it should be a performance upgrade from Google Wifi (one of my favorites). Unfortunately, Nest Wifi was so consistently poor that I couldn't keep it as my main system.
---
Design
Eero Pro
Eero routers are small (4.75″ x 4.75″ x 1.34″) with a glossy white finish. The Pro routers are small enough to put anywhere in your house without making a scene. You can buy Eero Pro configurations with Beacons, which will plug directly into the power outlet without cords.
Eero Pro routers have two Ethernet ports on each, but one port is plugged into your modem, which gives you three available Ethernet ports in a two-piece system. If you go with a Eero Pro configuration with Beacons, you'll have one available Ethernet port in the entire system.
Nest Wifi
The Nest Wifi Router has two Ethernet ports. The Nest Wifi Point has a built-in speaker with Google Assistant built-in, but it's portless. You'll have one available Ethernet port with the standard one Router and one Point configuration. The Amazon exclusive double router set has three total Ethernet ports.
Nest Wifi is shaped like Google Wifi, with rounded off corners instead of sharp. The Nest Router is 4.3″ in diameter and 3.6″ tall. It comes in a matte white finish with a tiny embedded "G" on top.
Nest Wifi is a bit taller than Eero Pro, but the combination of the matte finish and limited branding make it more appealing than Eero. The Nest Wifi Points come in a white, mist, and sand color.
---
Which is best for you?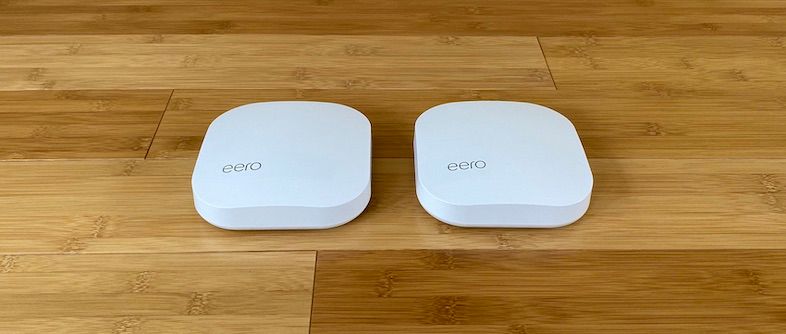 User-Friendliness (A+)
Performance (A)
Design (A)
Get Eero Pro if you want a stable and fast internet connection that can be set up by people of any age or technical background. Eero Pro is so consistently strong that you'll forget that you own a router.
---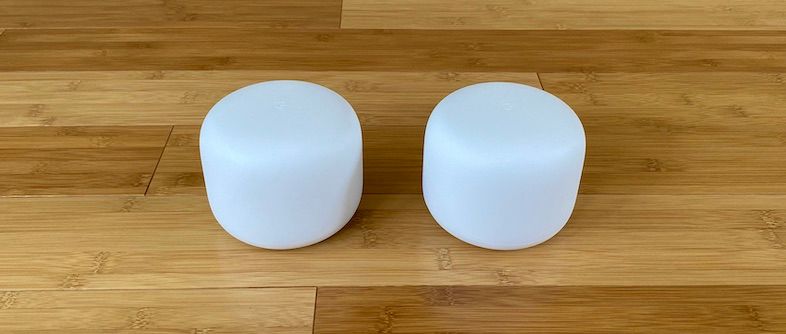 User-Friendliness (B-)
Performance (C)
Design (A-)
Get Nest Wifi if you want to track your bandwidth usage or want free parental content filters. Keep in mind, Nest's setup isn't as smooth as Eero's, and there's a chance you'll run into cripplingly network stability issues.
---
Choosing the right configuration
If you like the sound of Eero but can't decide which configuration is best for you, the deciding factors will be your need for Ethernet ports and your house size.
One Eero Pro with two Beacons costs $309 and should cover 5,500 square feet. Two Eero Pro routers will cost the same and only cover around 4,000 square feet. However, two Pro routers give you an extra band and two extra ports.
I've had both Eero configurations in my house and they performed similarly. Two Eero Pro routers work best for my house because I only need to cover around 3,000 square feet and they give me less signal overlap.
Alternatively, you could consider Eero (non-Pro). You get the great user-friendliness and stability of Eero Pro for just $249 for the three-pack.
If you pay for gigabit internet speeds from your ISP and want to maximize speed, the Eero Pro 6 and Eero Pro 6E are premium options to consider.
Nest or Google Wifi?
If you're going with Nest, the Amazon exclusive pack with two Routers is the way to go. The standard configuration from the Google Store comes with a Point that has Google Assistant built-in, but it's slower than Amazon's set. Another thing to consider: do you have a spot in your house that's optimal for network performance and a speaker? Probably not.
Nest Wifi is a better system than Google Wifi on paper. If you're looking at pure speed numbers, that's true. But Nest Wifi was too inconsistent at my house. While the Google Wifi three-pack has dated hardware, it's more affordable, more stable, and you'll manage everything in the Google Wifi app.
---
Want to support this blog? (affiliate disclosure)
I'm not affiliated with any of the products that I review on this blog. I always purchase them out of my own pocket to ensure that my reviews are unbiased. However, as an Amazon Affiliate, I earn a small commission (usually between 1-4%) on some purchases made through the links in my posts. These commissions help support my blog by allowing me to buy new products and produce reviews independently.