Sony WH1000XM3 Review: Best Noise Cancelling Option?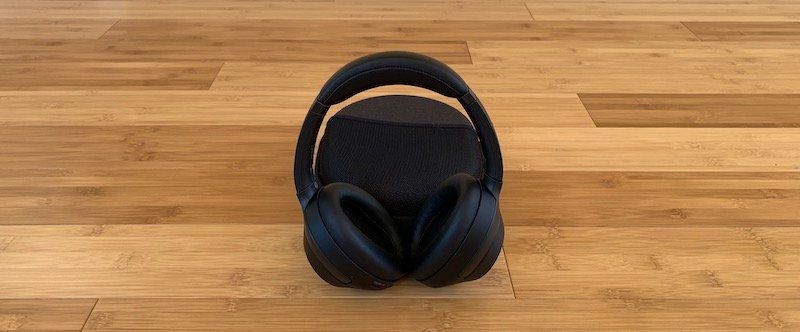 Sony Noise Cancelling Headphones WH1000XM3 have a longer runtime with a more colorful sound profile, but the design needs work to be modernized.
Sound Quality
Summary: The XM3's have a warmer and more fun sound profile compared to Bose. While the high-end sound isn't as clear as Bose, the bass hits harder (without ever overdoing it).
Sound quality:
It's hard to describe the sound profile difference compared to Bose, but they sound warmer and more fun. There's more character in the sound, whereas the Bose is probably more true to what it should sound like. You're immersed in the music like you're in the band.
If bass is your thing, you want the Sony's because the bass hits harder than Bose. It doesn't remind me of the overwhelming bass from older Beats products because I never found that the bass took over a song or muddied the rest of the experience.
The mid-range tones sound great. The high-end isn't as clear as Bose, but it's good enough.
EQ:
The best part of Sony's sound is that inside the app there's an equalizer with nine preset options (regular, bright, excited, mellow, relaxed, vocal, treble boost, bass boost, and speech) or you can customize it manually with toggles. There should be a sound style for everyone's needs, but most will love the default.
Noise Cancelling
Summary: The XM3 headphones have stronger overall noise cancellation, but they struggle with phone calls.
Effectiveness:
Sony has "Personal Optimizing" and "Atmospheric Pressure Optimizing" features that can be set up in minutes. It's tough to tell if these two features are marketing speak or if they're for real.
Sony's noise cancellation is slightly stronger than the 700 headphones.
Sony has a feature called Adaptive Sound Control that detects your surroundings and your movement and modifies the noise-cancelling levels based on your circumstances. You'll hear a ding in your ear when it's switching modes. It works about 70% of the time. There are four modes that you can customize:
Staying: No noise cancellation by default.
Walking: Some noise cancellation by default.
Running: More ambient noise by default.
Transport: Full noise cancellation by default.
You can listen to your outside surroundings with your headphones on, by setting the ambient sound to level 20, but it's not quite as clear as Bose.
How to control:
With the button on the left cup, you can turn noise cancellation on or off without in-between settings.
You can hold your hand over the right cup and your music's volume will lower and the noise cancellation turns off. Once you move your hand off the cup, the music returns to your previous volume level. I love that feature, but I wish it paused the music instead of lowering the volume.
Calls:
Phone calls aren't great because the self voice feedback echoes in your ears and doesn't sound clear. On the other end of the call, it sounds muffled with more background noise than ideal. You can make a call in a pinch, but if phone calls are a major part of your day, you want the Bose.
Software
Summary: The XM3 headphones allow for just one paired device at a time. The Alexa and Google implantation isn't good enough due to poor voice feedback and overall inconsistent experience.
Features:
If you're using an Android device, you can take advantage of the NFC pairing by tapping the back of your phone to the NFC logo on the left cup to auto pair to your phone.
You can pair these headphones with as many devices as you want, but you can only pair them to one device at a time. For example, when you're paired with your phone and want to listen on your laptop, you need to enter the sometimes painful Bluetooth pairing mode and repair. Then, repeat the process when you want to listen on your phone again.
You can customize the sound to your preferences with the EQ (see above).
They use Bluetooth 4.2.
Sony supports more major codecs than Bose: SBC, AAC, aptX, aptX-HD, and LDAC.
Smart assistants:
The app doesn't walk you through how to connect the assistant. Sony assumes you know which Alexa and Google apps to download and how to connect them. I found an online guide for it though.
Sony doesn't attempt hands-free Alexa and Google via a wake word.
You can activate your choice of personal assistant by holding the button on the cup while speaking, but their implementation of Alexa and Google is even worse than Bose's, unfortunately:
Your self voice feedback sounds terrible because it echoes and has static.
Sometimes when you ask Alexa or Google a question, rather than playing the answer inside the headphones, it plays the answer on your phone. Considering you're wearing noise-cancelling headphones and can't hear your phone, I wouldn't call this a strong feature.
I've seen it forget that you're using Alexa and all of a sudden trigger my iPhone's Siri instead.
Battery Life
Summary: The XM3 headphones get 30 hours on a full charge with the volume at 70%. A 10-minute charge gives 5 hours of juice or a 3-hour charge to get to full battery.
Notes:
Sony lists a 30-hour runtime. In my test with the volume at 70% and the noise cancellation fully active, I got 25 hours of continuous playing.
It takes 3 hours to recharge from 0% to 100%.
You get 5 hours of juice with a 10-minute charge.
You can't charge and listen at the same time. This is the biggest nitpick of all time because it takes ten minutes to charge enough for five hours of use, but I'm mentioning it because I've read it in multiple places online.
It charges with a USB-C cable.
Playback Controls
Summary: With Sony's gestures, it's easy to trigger the wrong action (e.g., skipping a song when you want more volume). I often didn't know what was going to happen after a swipe. Keep in mind, the swipes struggle in cold weather.
How it works:
Swipe up and down for volume.
Swipe back to go to the previous track.
Swipe forward to skip to the next track.
There are two buttons: Bluetooth/power and ambient sound control. The ambient sound button controls the noise cancellation level, but it can be mapped to your favorite personal assistant instead. It'd be nice to have the functionality of your personal assistant and ambient sound control, but you need to pick one.
Fit
The XM3 headphones have soft and squishy cups that feel like a pillow, but retain more heat and get sweaty easier. The XM3's have the same weight as the 700's but feel lighter on your head. In an unscientific survey of six friends and family members, each picked the XM3 headphones over the 700s for comfortability.
Appearance
Summary: The XM3 headphones come in black and silver. They feel like a toy compared to Bose and not in the same class. The headphone creaks as you place them on your head and folding them to put in the case is not intuitive.
Headphones:
They come in black and silver with a slick amber accent color on both.
While they weigh the same as Bose, they feel lighter and the cups are a lot wider. They're less dense and the weight is distributed differently. The way they're built provides better comfort (see above), but it also gives off the appearance of old school headphones that my dad was wearing 20 years ago. They don't feel like a premium product:
They're made with plastic that has a cheap feel. The foam cushions on the cups and headband feel like they're not made for the long haul.
The headband creaks as you open them to fit the headphones over your head.
The material on the cups is more prone to making my ears sweaty.
Folding them to put in the case is not intuitive. Sony made the headphones fold, then swivel in an odd orientation to get them to fit in the case.
Some will like the feedback you get via the clicks when adjusting the headband for a proper fit, but the headband doesn't stay locked in position well, unfortunately.
There are many moving parts, which leads to more wear and tear.
Who is this for?
Get the Sony WH1000XM3 headphones if you want a longer runtime or a sound profile with more character. They bring a fun and customizable sound with lots of bass. The cups feel like a pillow. The downsides are that they feel cheaper than the competition with inferior touch controls and calling.