Powerbeats Pro Review: Long Battery, Meh Comfort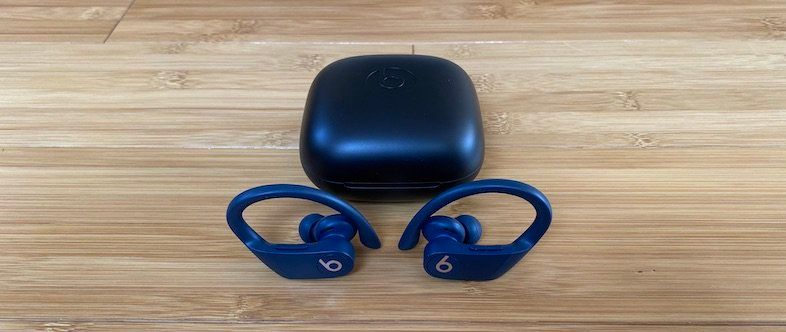 Powerbeats Pro provide a more secure fit and better playback controls compared to AirPods and AirPods Pro, which is great for those who want to exercise with them.
Sound: B+
The sound quality is an upgrade from the original AirPods because of the extra clarity and sound separation with more bass.
The biggest difference is that Powerbeats Pro do a substantially better job at blocking out noise around you (e.g., loud coffee shops, planes, wind, or screaming kids) compared to the original AirPods.
But Powerbeats Pro don't offer active noise cancellation like AirPods Pro.
To my ears, Powerbeats Pro and AirPods Pro sound similar. Powerbeats Pro offer a slightly more punchy bass, but AirPods Pro have the edge overall because they actively cancel noise.
Powerbeats Pro don't sound like previous Beats headphones (bass-heavy) and have a much smoother and cleaner bass than Powerbeats 3. You get a slightly louder and clearer bass than AirPods Pro, but you should look at Bose SoundSport Free if bass is important to you.
Fit & Comfort: C+
You get four different-sized rubber tips to pick from, which provides a solid fit for anyone.
The hooks add stability by wrapping around the outside of your ear.
While you'll get a tight seal, the rubber tips are hard and irritate the ear after extended use. For instance, if I was working out for a couple of hours, I wouldn't notice them. But if I was working at my desk (stationary), I couldn't go for more than an hour without discomfort.
In my experience, Powerbeats Pro require a firmer seal than AirPods Pro to get the same sound quality. This is due to Powerbeats harder tip style.
People with glasses should be fine because the Powerbeats Pro will slip over them, but it's something to consider.
Design: B
Earbuds:
The left and right headphones have identical tactile buttons that are easy to press. You get a volume rocker and Beats button. The Beats button can skip songs when you double-press it.
I'd like to see the Beats button with programmable software. Rather than a double press for song skipping, a single press would be ideal. A single press pauses the song, but it's unnecessary since the music automatically pauses when you remove the bud.
Each weighs 0.71 ounces.
Case:
The case is massive (7.8 cubic inches) and weighs 4.6 ounces, almost three times as bulky as AirPods.
Just like AirPods, the case charges with a Lightning cable.
Unlike AirPods, there's no wireless charging option.
Placing the Powerbeats in the case isn't as intuitive as AirPods. It doesn't have the same satisfying snap. You'll get the hang of it after a few tries, but you need to be more cautious of whether the Beats are charging. My right Powerbeat didn't charge on two occasions due to my poor placement.
Battery: A+
You'll get nine hours of music playback on a single charge. This is the best in the industry and a game-changer if you're a marathon runner or need them for an extended time.
The charging case gives you an extra 15 hours of playback.
When your Powerbeats Pro are dead, Fast Fuel gives you 90 minutes of music playback with just a five-minute charge.
The charging case charges with a lightning cable and can't be charged wirelessly.
Exercise: A+
Not only do you get four tip options that go inside your ear, but each side also has hooks to go around the ear for extra stability. Powerbeats Pro should fit everybody and won't move, even during the most intense workouts.
They're sweat-proof (IPX4).
The buttons are easy to press while moving and can easily control volume.
They're better than the original AirPods and Bose SoundSport for biking because not as much wind enters your ear. And better than AirPods Pro because of the extra stability given by the hooks.
Powerbeats Pro are the best in the business for exercise due to the stability, long battery life, and easily-accessible playback controls.
Who is this for?
Get Powerbeats Pro if you want a secure fit with great playback controls for working out. They have the longest battery life of any earbuds I've ever tested (nine hours). They have more noise isolation than AirPods, but not as much as AirPods Pro.
Powerbeats Pro should be perfect for workouts, but any longer than an hour and the hard tips will tire out your ears.