Apple AirPods 2 Review: Buy For Convenience, Not Sound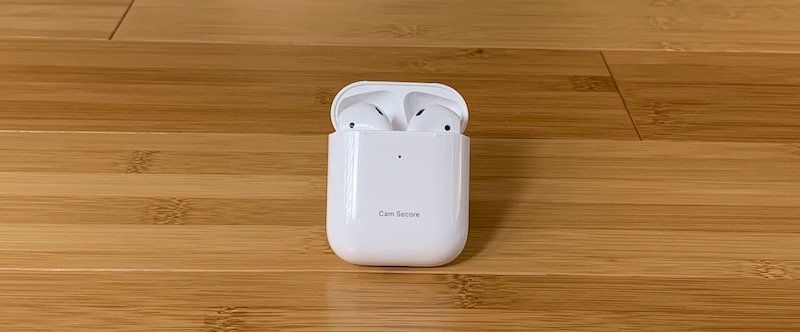 I determined Apple AirPods 2 are the best true wireless headphones because of the lightweight, comfortable fit, seamless pairing and switching, and unique software features.
Sound: C+
I'm not an audiophile, but it's clear AirPods don't deliver anything close to premium sound. However, it's good enough for me and the majority of listeners.
The high and mid-range sound solid, so podcasts and vocals sound the best, but there's next to no bass or depth. (If you want a detailed breakdown of the sound quality, I suggest going here).
AirPods sound about the same as the EarPods that come with iPhone.
They don't provide noise cancellation.
There are no equalizer options. The sound quality is what Apple chose and you can't change it.
If you're disappointed with the sound quality, you've missed the point of AirPods. They are about ease and convenience.
Software: A+
Apple's H1 Chip removes the friction that typically comes with Bluetooth. It's the most important new feature in any tech product released in the last five years. (You can use AirPods with Android devices, but the H1 Chip won't do you any good).
The setup is a complete departure from the configuration of most Bluetooth headphones. When you open the AirPod case, your iPhone, Mac, and Apple Watch immediately recognize the AirPods and automatically connect. You never need to go into the Bluetooth settings.
AirPods work with iCloud, making switching between Apple devices seamless and automatic. You don't have to touch the settings, just tap AirPods from whatever service you're listening with.
Unlike other true wireless models, these don't have a "master" earbud. Because of the Bluetooth limitations, only one bud talks to the phone, then that bud talks to the other bud. With AirPods, both are connected to the phone simultaneously, and the connection never drops. I haven't seen a drop out in the two years I've been using AirPods.
There are no power buttons. AirPods recognize when they're in your ears. When you have music playing while wearing both, and take one out, the music pauses. The music plays again once you have both buds back in. If you prefer, you can listen with just one AirPod in too.
The battery status of the case and AirPods is in three locations: the headphone selector, notification screen, and when opening the case.
Phone calls work seamlessly. The other person's voice is played through both AirPods.
Play audio with just one AirPod and leave the other in the case.
AirPods make a noise when you press the Find My app when you misplace them. For some reason, this is never loud enough, or it doesn't work. Bose does a better job with this feature.
With AirPods in your ears, you can say "Hey Siri" to initiate Siri without touching any buttons.
Almost none of the features listed above work with an Android device.
Fit & Comfort: A+
AirPods don't require a tight seal or go deep into your ear. Instead, they rest in your ear with an open back.
If the original Apple EarPods (included with iPhone) fit your ears, AirPods will fit as well. AirPods are more stable because there's no cord to weigh them down or get caught.
If you have an old pair of EarPods you don't use, cut off the cords, put them in and test them for a few minutes because many people can't get the iPhone EarPods to stay in their ears.
Aside from software, the killer features are breathability and comfort. They're light and don't put pressure on your ears. I want technology to blend into the background. For me, the biggest praise you can give earbuds is that you don't notice them. On more than one occasion, I left my AirPods in my ears after the music stopped playing because I forgot I was wearing them.
You can wear these until the battery runs out without them falling out or causing your ears to be sweaty or uncomfortable.
These babies refuse to fall out of my ears. I've intentionally tried to get them to fall out by running, jumping and doing other activities and they don't budge.
They're the easiest buds to put in. You'll know exactly how they go in without explanation, whereas with other earbuds, there's a slight learning curve. (My mom still can't figure out how to get the SoundSport Free headphones in her ear correctly).
Design: A+
Earbuds:
They have a premium feel and sleek appearance.
They weigh 0.02 pounds each. The light weight is a significant advantage.
They only come in white.
There are no physical buttons for playback controls, but a double tap to either gives you different playback options. You decide what you want each double tap to do. A double tap of my left AirPod goes to the previous song and my right AirPod skips the song. There are four options for each AirPod:
Initiate Siri
Play/Pause
Next Track
Previous Track
You can't control the volume with buttons or taps. You can use Siri or pull out your phone to change the volume, but neither of these is ideal when you're exercising. It doesn't bother me because I have Apple Watch.
Charging Case:
It's half the size of Bose's and can fit in your pocket.
You don't need to think about how to put them in the charging case because they intuitively snap in with magnets.
You can charge the case with a Lightning Cable (iPhone charger).
The newest AirPods case can wirelessly charge with any Qi charging mat.
The case is 2.5 cubic inches and weighs 0.10 pounds.
Battery: A
AirPods give you five hours of music playback or three hours of talking time. My real life tests confirmed Apple's advertised times.
The charging case provides an additional 18 hours of battery life. I found this number is closer to 13 hours over two weeks because there is some battery drainage when they're not in use.
When you put AirPods in the case for 15 minutes, you get three hours of juice.
Exercise: C
AirPods fit in my ears perfectly, and I'm able to run, mountain bike, weight lift, mow the lawn, and shovel snow without them falling out.
If AirPods fit you well, you should be able to do most activities without issue. I've had them fall out one time in two years and that was during an intense ab workout.
It's hard to skip a song while running because the combination of moving and double tapping the AirPod to skip makes them fall out.
If they don't fit you well, you may only be able to wear them while stationary. Unfortunately, the fit can't be improved because there's one size with no fins, tips or extra support. However, there are third-party accessories to help them stay in.
AirPods aren't technically sweatproof, but I work out every day with them and haven't had issues. It may be an issue for people who sweat excessively though.
Who is this for?
Get AirPods 2 if you want an amazing experience. The sound quality is mediocre, but the seamless software and amazing comfort more than make up for it. AirPods won't fit all ears, but if they fit, you'll forget they're in your ears.