Google Nest Hub Review: The Ultimate Kitchen Speaker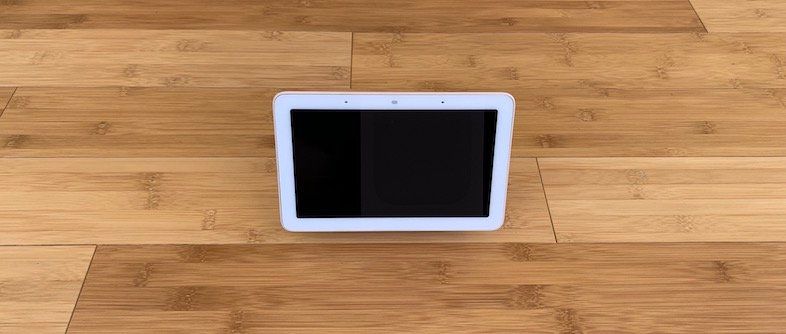 After weeks of testing, I determined Google Nest Hub is the best personal assistant because it has a more intuitive interface and better content options.
Services (B+):
It doesn't have as many compatible products as Alexa, but most of Alexa's skills are niche and people don't use them more than once.
Google gets the basic smart home integrations right with big names like Philips Hue, Nest, Wemo, TP-Link, Ecobee, August, Arlo, and many others. (Check more here.)
Google is sunsetting the "Work With Nest" program and once implemented, Google Assistant will be the only way to control Nest products with a smart assistant.
For music services, Google is compatible with Google Play Music, YouTube Music, Spotify, Pandora, TuneIn, iHeartRadio, and Deezer.
For video services, Nest Hub is compatible with YouTube, YouTube TV, Netflix, CBS All Access, CW, Viki, and HBO Now. You can play these on Google Nest Hub's display or cast them to any of your TVs, assuming your TVs have a Chromecast.
While the Google Home app for iPhone is well-done and fully compatible, Google products don't play nice with Apple's services like Apple Music, Apple Notes or Apple Calendar.
Interface & Smarts (A):
Google Nest Hub can display a full-screen clock or curated artwork gallery or rotate through your preselected Google Photos albums.
I'd like more customization of the home screen because the weather and clock are your only options.
Google shows the words as you speak in real-time, giving a smoother experience than Alexa.
Google's voice sounds more authentic and natural compared to Siri and Alexa. You have the choice of a male voice too.
Google's Knowledge Graph. Google has had its signature search engine for over 20 years, and answers queries better than anyone. It's their specialty. Going forward, this will give Google a significant advantage over Amazon. For example, anything that brings up an answer box in a Google search can be answered through Google Home. If I ask, "What stadium do the Boston Red Sox play at?" Google tells me Fenway Park, but Alexa is confused. When Alexa doesn't know an answer, it refers to Bing.
Google's not perfect, but compared to Alexa, it's much better with follow-up questions and understands substituting proper nouns with pronouns.
Google Home can identify up to six voices with Voice Match. Also, it pulls up information based on each person's calendars and preferences. That's convenient if you have family members or roommates with different music accounts. When I ask "Hey Google, play Spotify." it plays MY music, and when a roommate does the same thing, it plays his music.
Google can handle multiple commands at once. For example, it understands when you ask it to turn off the lights and play the music simultaneously. My favorite thing is being able to add multiple items to a shopping list. With Google, you can say "Hey Google, add butter and milk and eggs and hot sauce to my shopping list" and each item will appear on a separate line.
Google's app and smart home setup are better than Amazon's. It's easier to set up each room and tell it which smart products are in each room.
Things To Do (B):
Six tasks that Nest Hub is far superior to Echo Show 5:
Digital picture frame. When not in use, you should use it as a digital picture frame and have your wallpaper rotate through preselected photos. It took a while, but Google finally made the digital picture frame a selling point. They made the setup more user-friendly too. The Google Photos integration is excellent because it updates in real-time, and you can invite family members to display their photos too. It's a great gift for grandparents who want to see new photos of their grandkids automatically appear as they happen.
Smart home control. If you swipe down, a control center pops up with all of your smart devices and their statuses. You can even choose the light colors with Philips Hue. Anything smart home-related happens quicker and with few taps compared to Echo Show.
Video recipes. There's no competition when it comes to video recipes because Google can fully utilize YouTube. If you like to learn how to make something with video, Nest Hub is a better option. Bouncing between recipe screens and tutorial videos with your voice is seamless and intuitive.
Kitchen TV. I watched sports via YouTube TV whenever I was making food. I'd say "Hey Google, put on the Celtics" and it knew which service and channel I was talking about. It was an amazing experience.
Directions. When you ask for directions, the screen shows a map on the right side with written directions on the left. Also, the directions are pushed to your phone via the Google Maps app.
Getting answers. As stated above, Google owns a search engine and YouTube, and they've been perfecting search for decades.
If you tell Google you want to cook something, it'll pull up recipes for you. It takes all of the recipes you'd find if you were searching Google.com.
There's no web browser or a way to input things, but you're better off doing that on your phone anyway.
I like ordering things on Amazon through Alexa, which isn't possible with Google. But you can shop with any stores on Google Express (Walmart, Jet, Target, etc).
You can make audio calls with Google Duo, but it'll be an audio-only call because there isn't a camera.
If you have Nest Hello Doorbell, the calls display on Nest Hub. I'm not sure how useful this would be unless your house is huge, but it's a neat feature.
Design (B-):
Google Nest Hub has a 7" display (1024px x 600px) with a sharp resolution (170ppi) and a brighter screen than Echo Show 5.
It comes in four colors (Chalk, Charcoal, Aqua, and Sand) and has a pleasant minimalistic design.
While a fixed angled screen won't be perfect, Nest has a larger tilt of the screen. It makes more sense when you're standing and with it on the kitchen counter.
It's the ideal size because it blends right into the kitchen, but it's large enough to see what you need.
The Ambient EQ balances the color temperature and the brightness automatically based on the surroundings. It's similar to Apple's True Tone technology.
There's a mute switch and volume rocker on the back.
There's no camera on Nest Hub, which makes sense because of the screen assistant's fixed angle. Leaning over so that your face fits in the screen doesn't make sense when you can use your phone for a video call. Google made a point of letting everyone know during the keynote that they went out of there way to not include a camera. For people worried about tech companies spying on them, you're safe with this product.
Sound Quality (F):
The sound quality is terrible, but it's not designed for music. The poor speaker quality is a tradeoff Google made to keep the price and size down.
It sounds similar to Google Home Mini.
The smart assistant's voice is clear and rich. Although you shouldn't use it for music because it's only slightly better than a phone speaker.
There's no bass at all, and the highs sound empty.
Nest Hub doesn't have a 3.5mm out port, but Google lets you play audio through any Bluetooth speaker or "Cast-enabled" speaker.
Quick Review (TL;DR)
Music: Google Play Music, YouTube Music, Spotify, Pandora, TuneIn, iHeartRadio, and Deezer.
Video: YouTube, YouTube TV, Netflix, CBS All Access, CW, Viki, and HBO Now.
Smarts: The setup is better and can identify up to six voices, handle follow-up questions, and perform multiple commands. The screen interface is nicer as well.
Things To Do: Video tutorials, recipes, TV, digital picture frame, quick access to smart home products.
Design: It has a 7" display and comes in four colors. It's the ideal size.Speaker: Google's voice is rich and clear, but the speaker is terrible for music.
Who is this for?
Google Nest Hub is best for you if you want a great smart home controller or you own Nest products. Nest Hub has superior intelligence, more video content, a smarter picture frame and smoother operation. The interface is a substantial improvement from Google Home Mini.
Nest Hub Max is $230. It has a 10″ display, camera, and intriguing features like Face Match and Quick Gestures (more below).