Philips Hue Review: Are They Really The Best Smart Lights?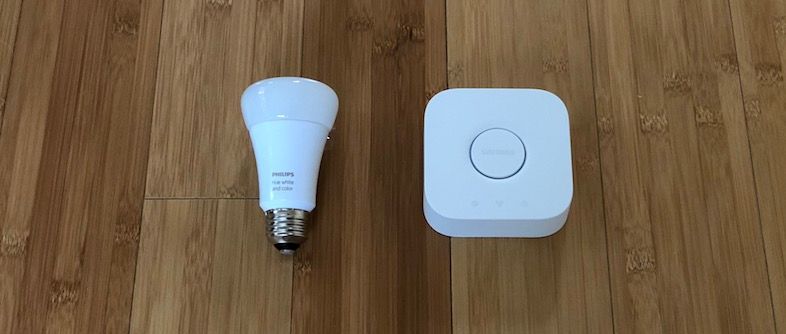 After testing Philips Hue lights for three years, I determined Hue are the best smart lights because they work better with other smart platforms and have a trustworthy brand name.
Setup (A):
You can add wall switches, dimmers, and motion sensors.
You'll need a Philips Hue Hub (sometimes referred to as a bridge). The bridge is $60 and plugs into your router via an Ethernet cable. A hub isn't ideal because:
It uses one of your Ethernet ports.
It takes up space.
It takes longer to set up.
It's a $60 upfront fixed cost.
These are valid concerns, but having a hub is better than not having one because it helps stabilize your bulb network, which is particularly important if you have more than a few lights. Instead of each bulb being connected to your router individually, like LIFX, it's just one bridge connected to the router. Most users have experienced smoother operation, but LIFX's approach can work if you have a strong WiFi setup with good range to all the bulbs.
Software (A):
In 2015, the Hue app was an abomination, and it progressively got worse. You couldn't group multiple lights in the same room, you had to control lights individually, and it wasn't compatible with many smart home products. I was still happy because I could show off my nerdy phone-controlled lights to my friends. Now, Hue is on its third generation of the app– it's excellent!
The bulbs work when you're away from home as long as you're logged into your Hue account, which is not the default mode.
Hue bulbs work with every smart home system, including Alexa, Google Assistant, HomeKit, IFTTT, SmartThings, and Wink.
Creating scenes in HomeKit isn't a seamless process, but once you make a scene in HomeKit, it works almost flawlessly with Hue bulbs. I've had it since the first HomeKit bridge came out three years ago, and I've had no problems.
Hue Labs and Friends of Hue are experimental apps, projects, and experiences with your lights. There are fresh ideas in there, but a lot of these features are built into the LIFX app.
Hue has geofencing to turn the lights on or off based on your location. This is most likely not important because you'll be setting this stuff up with your smart devices like HomeKit, Alexa, Google Home, SmartThings.
The "Wake Up" feature slowly turns on in the morning.
You can create other routines for the lights to fade on as the sunsets.
Performance (B+):
I've had 12 different Hue bulbs for three years. Out of the 12, only one of them wore out and began flickering constantly. They're rated for 25,000 hours (same as LIFX) so that one bulb didn't last long. The other 11 are still working well. Two of them occasionally flicker, which I can fix by flipping the switch off and back on.
Philips Hue has been making smart bulbs since 2012, but they've been making ordinary bulbs for decades.
Philips Hue Color A19 uses 10W of power, but it's only 800 lumens, which is the equivalent of a traditional 60W bulb.
Hue's color lights struggle with shades of green. They can't get as bright as LIFX. I'm not sure why this is, and it's not just my eyes because other customers are saying the same thing.
As mentioned, Hue lights tend to be more stable than LIFX with the long-term connectivity because of the hub.
You get a two-year warranty.
Types & Price (A):
Quick Review (TL;DR)
Setup: You'll need a $60 hub for every 50 bulbs.
Software: The newest Hue app is excellent, and third-party integration is seamless.
Performance: After a year, they may start to flicker. But overall they're stable and don't lose the WiFi connection.
Types & Prices: Hue has tons of bulb variations. They have wall switches and dimmers, and new lights on the way. It's more affordable per bulb, but you'll need to buy a $60 hub.
Who is this for?
Philips Hue is best for you if you want smart lights from a well-known brand that play well with all smart home ecosystems. Hue's app is better than LIFX's, and users typically experience a more stable connection because of the hub. Hue has better accessories like a switch, dimmer and motion sensor. The downsides are the upfront cost of the hub and less vivid colors compared to LIFX.