Amazon Fire HD 8 Review: Is It a Better Value Than iPad?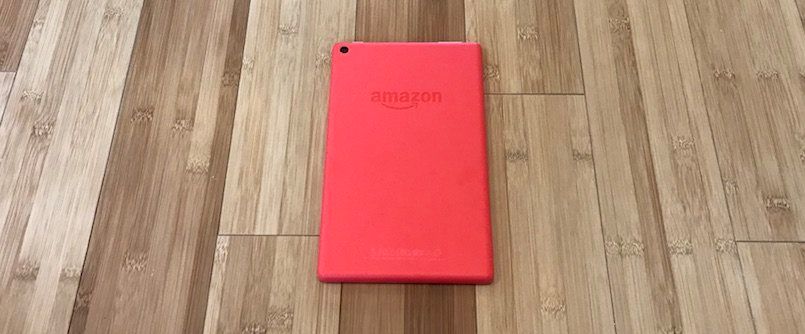 I haven't owned a tablet in four years.
I bought the second generation iPad in 2011. It was an excellent product, but I never used it.
Tablets have always felt like something that played better in theory than real life.
If I'm working, I'm on my MacBook.
If I'm watching TV and want to check Twitter or fantasy football, I have my phone.
I can't use a tablet as my primary device, so it's been hard to see where the tablet fits in.
But recently, two significant things have changed:
Microsoft, Google, and Apple make professional versions of their tablets which you can use to create content (edit videos, photos, blogs) with ease. Now, many people use tablets as their primary device.
The price of tablets dropped.
I don't often stray from Apple's ecosystem. I'm a huge Apple guy. However, I sometimes venture out to make sure I'm not missing out on something better.
Amazon released the 7th generation (Amazon Fire HD 8) tablet this summer.
When I saw the exclusive $50 deal for Prime members, I was in!
I didn't need a tablet. But for $50, even if I only use it to read, I'll get my money's worth.
I've played with the Fire HD 8 Tablet for a while, and I like it.
Things I Love
The price. Amazon Fire HD 8 is $80, and the HD 10 is $150. The cheapest iPad you can get is $329 for the 9.7" version.
This thing is indestructible. Amazon wasn't going for a pretty design. They know their market. Instead, they focused on creating a device with a great grip and solid build. I've dropped mine a few times with no harm done. While that's only anecdotal, there are numerous accounts from other customers saying it can take a beating. It seems like the perfect starter tablet for kids who are prone to accidents.
The battery life is fantastic and unexpected for the price. I haven't been regularly using it, but I was able to get through a whole week on one charge while using it for about an hour per day. That's incredible standby time. Normally, batteries lose juice even when they're not in use.
You have full Alexa powers at your disposal. You can control all your smart home gadgets from the tablet.
This doesn't get me excited, but I know a lot of nerds love expandable memory. Fire HD comes with a microSD slot and can handle up to 256GB.
This baby zips in and out of apps. You're not looking at benchmark speeds that'll compare to Apple, but it's an incredible value for the money.
All of Amazon's content is perfectly optimized, including Amazon Video and Amazon Music Unlimited, as well as Kindle Books. You'll love using Amazon's native apps.
The speakers are louder than I expected.
You get four color options: black, yellow, red, and blue.
If you've tried any of Amazon's Fire products, the setup will be familiar. Assuming you bought it with yourAmazon account, it'll come already pre-registered in your name with your email already entered. (If it's a gift you can easily opt out.)
Things I Hate
It's tough to complain about the screen resolution when you're only paying $80, but I'm doing it anyway. Here's my "problem": I'm rocking a MacBook Pro with a 220 ppi display and an iPhone 7 with 326 ppi display. Amazon Fire HD 8 is 189 ppi, which for the price is respectable, but just not what I'm used to.
There's no Google Play Store. Amazon uses their own software, which is just their version of Android. The annoying thing is there are a lot of apps that you can't download through Amazon's app store. You still have the basics like Netflix, Spotify, Facebook, and Twitter, but there are some big apps missing like most of the native Google apps. Fortunately, there's a quick fix for this, and in about 10 minutes, you can get a full Android on your tablet. Follow this guide.
Skype is your only video option because you can't use Facetime, Duo, Google Hangouts, or Houseparty.
I cheaped out and went for the version "With Special Offers." This means your lock screen will have an annoying ad on it every time. I like a clean experience. I'd recommend spending the extra $15 to get the ad-free version.
The back-facing camera is awful. I'm not sure why they even bothered to add a camera. They should've saved the space to add more battery. The front-facing camera is good enough to video chat with someone, but it's nothing to write home about.
I've never been a fan of LTE in a tablet. I'd rather tether from my phone, but this isn't an option for any of the Fire tablets.
Who is this for?
There are five types of people that should get the Amazon Fire HD 8 Tablet.
1. Kids. It's durable so there won't be an issue if it's handled roughly or dropped a time or two.
2. Old people. This is something that I'd buy for my grandparents who think they need a laptop or iPad but probably won't end up using it much. It's perfect for listening to music or casual internet browsing. It's simple, it has the basics, and it's user-friendly.
3. Android users on a budget. Just follow the instructions to get the Google Play Store installed, and you'll have full-fledged Android software for an extremely low price. It's cheaper than the entry-level small Samsung tablet and has better specs.
4. In the market for a Kindle reader. Fire HD 8 is about the same price as a Kindle, but you'll get the Kindle app, in addition to all the other apps.
5. Prime members who can't resist a good deal. When it goes on a sale again for $55 for Prime members, it'll be hard to turn down even if you don't plan on using it. You can keep it in the kitchen to catch up with the news while you drink your coffee.
If you're looking to be blown away with a great camera, design, or speed, none of the Fire HDs are for you. But it's an amazing entry-level tablet and one of the best values in all of tech.