EufyCam E Review: Does Eufy's Copycat Design Outdo Arlo?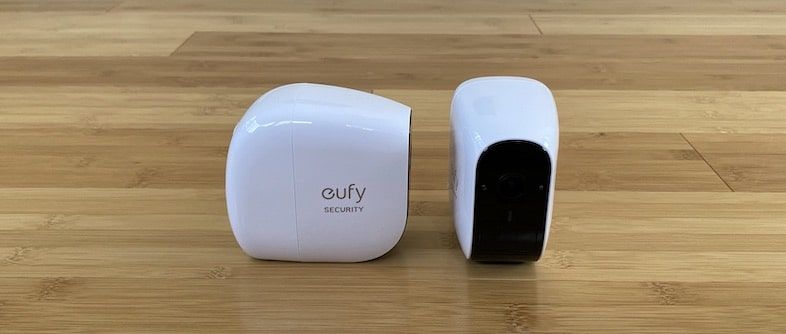 EufyCam E is fantastic for people who don't want their video clips sent to an outside server and are concerned about their privacy.
Free: A+
EufyCam E records each time it sees motion or hears loud noises. It records for up to two minutes, but if the action goes longer than two minutes, Eufy records a new clip without delay.
EufyCam E records the footage and stores it locally on the included MicroSD card.
It comes with a 16GB card, which should be enough for over 1,500 hours of footage, but you can upgrade the card up to 128GB.
The video is AES 256-bit account encrypted and isn't sent to the cloud.
Because your video clips don't leave your base station, you don't need WiFi for the system to operate. When your internet goes down, the clips record normally, then you can view your clips in the app once you're connected to the internet again.
You can export your clips to your phone's camera roll.
Subscription: N/A
Eufy doesn't offer a subscription service, and it seems unlikely that one is coming on EufyCam E because they're already close to maxing out the hardware's potential.
It's common for security camera companies to market features that aren't available without a subscription without clearly stating that. For example, Ring and Nest cameras are essentially useless without a monthly subscription, but some customers don't know that before the purchase and get upset when they find out. I appreciate Eufy's straightforward approach: the features included on the product page are immediately available without opening your wallet again.
Software: C+
The Eufy Security app is nice because they shamelessly cloned Arlo's user-friendly interface. But the Eufy app launches quicker than Arlo and seamlessly loads new pages as you tap through clips and settings. Plus, it takes just three seconds until the live feed fully loads. It's much faster than Arlo.
You can record footage from the live feed and save it to your camera roll with one tap.
The app doesn't give you a precise battery remaining percentage. Instead, you get an icon with four bars.
You can put your system in different modes based on a fixed schedule, or have it automatically change mode based on your phone's location. There are three modes.
By default, Home Mode records motion and sends notifications, but you can customize it to your liking.
By default, Away Mode records motion, sends notifications, and turns on the alarms.
Disarmed Mode turns off everything.
You can create "activity zones" that will disregard movement from outside your zone and not record. In theory, this would eliminate false alerts, but I didn't find it accurate. It's a free feature and may improve in the future.
It works with Alexa and Google Assistant, but it's more limited than Arlo.
You can bring up your live feed on Fire TV and Echo Show devices by saying "Alexa, show me my EufyCam." The feed comes up quicker and works with more consistency than Arlo.
You can bring up your live feed on Chromecast by saying "Hey Google, show me my EufyCam."
Unfortunately, you can't create Alexa Routines.
Eufy lacks serious smart home device integration and home automation nerds will hate it:
You can't create Alexa Routines, which means Eufy's motion-sensing can't trigger your other smart home devices.
It doesn't work with Apple's HomeKit. Eufy promised HomeKit support on EufyCam 2, but it's still in beta and not fully baked.
It doesn't work with IFTTT.
You should only buy EufyCam if you want to view motions clips exclusively inside the Eufy Security app and don't care about smart home automation.
Eufy doesn't have a web-based interface option.
Hardware: B
EufyCam E is well-built, but they cloned Arlo's hardware, just like the app's interface. The color, shape, and magnetic mount are all similar to Arlo, which is great because Arlo is a great system, but it'd be nice to see some originality.
There are two major things that Eufy didn't copy from Arlo:
You can't buy a spare battery or replace the battery when it goes bad because the cameras don't have a battery compartment door. Your EufyCam will probably only work for 2-3 years before you need to buy a new system unless Eufy creates a battery replacement program.
Aside from the easy-access magnetic mount, Eufy comes with a more permanent outdoor solution that screws in.
Eufy claims a "365-day battery" life, which is based on five minutes of video per day while on the "Optimal Battery Life" video quality setting. I've owned Eufy for three months and use the "Optimal Surveillance" video quality setting, and my battery still has full bars. I'll update this post as I learn more, but it'll last a lot longer than the three months that I get with Arlo.
EufyCam has the same IP65 rating as Arlo Pro 2.
Eufy claims the base station can be up to 300 feet from the cameras (same as Arlo), but it's closer to 100 feet in my experience. Based on my tests, Arlo Pro 2's range is about 50 feet longer than Eufy's. The base station needs to be plugged into your router initially, but a recent software update lets you disconnect the base station from your router and connect via WiFi instead. Surprisingly, I don't notice a performance difference when the base station isn't plugged into the router. I love this versatility.
The base station has a MicroSD card slot and includes 16GB.
The base station and the cameras have a siren, unlike Arlo that only has a siren in the base station. You can enable "Anti-Theft Detection" mode to sound the alarm on the cameras and base station when the camera is moved.
Quality: A-
It shoots video in 1080p.
The field of view is 140-degrees, which is an extra 10 degrees compared to Arlo Pro 2.
EufyCam has two infrared LEDs and the night vision is clearer than Arlo's because it provides more light.
EufyCam's mics are very sensitive and will pick up someone's voice from far away, but the downside is it's not always as clear as it could be.
Who is this for?
Get EufyCam E if you're concerned about your privacy and content with basic functionality. It reliably records motion for free on a microSD card, but it doesn't integrate with smart home devices, and the batteries aren't removable.