Apple TV vs. Roku: Is Apple TV Worth Twice The Price in 2021?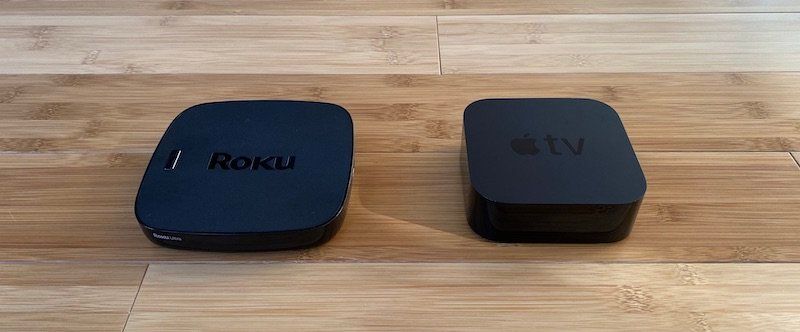 After over a year of testing, I found Apple TV 4K to be the best overall streaming device because of its smart interface. However, as a budget-friendly alternative, I recommend Roku Stick Plus because it's essentially the same as Roku Ultra for half the price.
If you're new to streaming, I recommend my TV Streaming Basics post before reading this comparison to get you up to speed.
Want to learn how I reached this conclusion? Read on to see the detailed breakdown of user-friendliness, advanced features, and remotes that informed my overall impression.
Content
Apple TV
Summary: Apple TV has an app store just like on iOS. It has all the mainstream apps. Apple TV has the widest selection of 4k content with the recent addition of YouTube.
Has:
Prime Video, Vudu, Hulu, Netflix, Showtime, HBO Max, Disney+, Sling TV, AT&T TV, YouTube TV, Netflix, Prime Video, Epix, Vudu, FandangoNOW, Peacock, Spotify, and Apple TV App.
Doesn't Have:
It has everything most will need, but it may be missing some niche apps.
4K:
Apple TV supports both HDR formats: HDR10 and Dolby Vision.
Netflix, Prime Video, Epix, Vudu, FandangoNOW, and Apple TV have 4K HDR content available.
YouTube is finally available in 4k.
Roku Ultra
Summary: Roku has every content app you'll ever need (other than HBO Max), and there are tons of niche apps that you won't find on Apple TV. Roku's search feature displays a huge list of content unbiased options listed from lowest to highest price when searching for content.
Has:
Prime Video, Google Play Video, Vudu, Hulu, Netflix, Showtime, HBO GO, HBO Now, HBO, Disney+, Sling TV, AT&T TV, YouTube TV, fuboTV, Philo, Apple TV, Peacock, Spotify, and Pandora are available. They claim to have 500,000 movies and shows.
The Roku Channel has solid ad-based free content in it as well.
Roku Ultra has a USB port and Micro SD card reader, making it the only legitimate option to watch your ripped movies or shows via external storage. The interface for it is brutal, but at least it's an option.
Doesn't Have:
4k:
Roku's 4K content selection is vast. You get 4K content from Netflix, Prime Video, YouTube, Vudu, Apple TV, FandangoNOW, CuriosityStream, Smithsonian Earth, and others.
The 2020 Roku Ultra is the only Roku model to support Dolby Vision and HDR10. All previous Roku models only have HDR10.
---
Ease of Use
Apple TV 4K
Summary: Apple TV will feel familiar to iPhone and iPad users, while still making sense to those coming from Android devices. The interface is clean, fast, free from ads, and puts all of the content from your apps into a unified list.
Interface structure:
The design is the most polished of any streaming device and stays consistent throughout each app.
There are no advertisements anywhere.
The "Up Next" feature is a queue of everything you're watching, across all your apps (e.g., Showtime, Hulu, HBO, Amazon, etc.). When you tap on a show, it plays in the correct app to which you have a subscription and starts the next-in-line episode.
When you're watching a series, new episodes available are put at the front of your list.
You can mark episodes as played.
You can tap on things from your list to view previous episodes from the list.
Netflix is the only major streaming service that doesn't show up on the list.
Features:
Apple TV 4K is the fastest streaming device I've ever tested because it uses Apple's 64bit A10X Fusion chip (the same chip in the first generation iPad Pro).
Typing in emails and passwords for every service isn't fun. Apple gets around this with "Single Sign-On." You sign in with your cable provider, and all of your apps will work without signing in again. Not all cable providers are available, but even if yours isn't, Apple saves your default email and makes it easy to sign into your apps.
Create profiles for each person in your household and switch with ease. Multiple profiles keeps your "Up Next" list clean, and it could be a gamechanger for people who have kids and don't want both types of content mixed.
Apple TV has stunning screensavers. They're drone shots that move slowly through different cities, oceans, or space for four minutes. My friends and I have spent hours looking at these. This is trivial, but it shows Apple's attention to detail.
Ease of Use
Roku Ultra
Summary: Roku's interface is clunky, dated, and has a gigantic advertisement on the home screen. Roku runs an app based interface, which is easy to use, but it doesn't do much to curatate or organize your content.
Interface structure:
There's no way to opt out of ads, but there's only one big ad on the home screen that stays out of the way. Unlike Fire TV, the ads don't compromise the experience. Roku makes money by collecting your user data and showing you targeted advertising. Interestingly, Roku made more money from advertising than selling hardware.
The latest Roku OS 9.1 software is an improvement over previous iterations, but Roku still has app quality issues from previous years.
The interface feels dated because Roku only provides the streaming apps and doesn't offer much content curation or try anything ambitious. Roku lets each app developer create the experience, rather than trying to streamline the experience.
You don't get a universal experience. Each app is set up differently and has different playback controls.
Features:
Roku has enough processing power for apps to open and operate correctly, but it's not as snappy as Apple TV.
Hulu, Sling, Philo, and Pandora use a feature called Automatic Account Link that automatically logs you into your streaming apps on each new Roku device after the first one. Typing logins with a remote is a pain, so this could be a huge feature for Roku if they can add more services.
Roku's "feed" lets you follow movies and shows to get updated when they become available, but it doesn't work as well as it should. It's far away from catching up to Apple TV's "Up Next" list.
It's not easy to unfollow shows.
Content appears on the feed only when new episodes are released, so you can't see your entire list.
You can't pick a default app for your shows. If you always watch Silicon Valley with the HBO NOW app, Roku should just open it in HBO NOW each time. Interestingly, sometimes my preferred app doesn't appear inside the feed.
It's limited to Hulu, Prime Video, Showtime, Apple TV, and HBO content.
There's no way to mark episodes as played or see other episodes in the series.
Put your Roku in "Guest Mode" if you have a TV regularly used by visitors. It lets your guests use their credentials to their streaming services and automatically signs them out on their chosen "leave date," so Roku is ready for the next guest. It's a great feature for guest rooms or AirBnB places.
Private listening mode is a cool feature if you have roommates or if you're just trying to be quiet. You plug your headphones into the remote, and the volume is turned off on the TV and is played in your headphones.
There isn't a sleep timer on Roku, so it'll just show your wallpaper until you turn it off manually.
Advanced Features
Apple TV 4K
Summary: Siri on iPhone gets deservedly criticized, but Siri on Apple TV is great. Hold the button to ask Siri to find certain movies, genres, open apps, check the score of a game, or perform any of HomeKit activity. Apple TV has basic integration with HomePod, but it doesn't work with Google or Alexa speakers.
Search:
Siri is the only thing needed to search for content not found in your "Up Next" list.
Siri displays the words you're saying as you say them. It's a small detail, but it makes for a more polished product.
When searching for content, Apple guesses on which services it thinks you'll want to use, while Roku shows an entire list of services. I prefer Apple's approach because it usually guesses correctly, while Roku's approach can be intimidating because it provides too many options.
HomePod integration:
Ask Siri to do basic commands hands-free if you own HomePod or have "Hey Siri" enabled on your phone.
"Hey Siri, turn on/off the TV."
"Hey Siri, pause/play the TV."
"Hey Siri, skip 10 minutes on the TV."
Other:
Connect Bluetooth headphones with a swipe down and a button press.
HomeKit works with Apple TV and it can be used as your home's "hub" to control your lights, thermostat, and other devices while you're not home.
Roku Ultra
Summary: Roku's voice assistant can't handle complex questions or tasks, but it works perfectly to search for content. Roku works with Alexa and Google speakers, but the integration can be slow and requires complex commands.
Search:
Roku's voice search finds the content that you ask for and shows all the apps that it can be streamed in.
When searching for content, Roku displays results from your installed channels from lowest to highest price. This sounds great in theory, but sometimes I found that it wasn't putting the services that I subscribed to on the top of the list.
Google & Alexa speakers:
Ask your Google and Alexa speakers to control Roku. These are solid workarounds for the lackluster smarts in the remote, but the integration doesn't work perfectly and the commands get wordy. For instance, if you say "Alexa, open Netflix on Roku," you'll have to wait a while for it to happen.
Ecosystem Integration
Apple TV 4K
Summary: Apple wants the TV App to be the center of your content. It's a great idea, but it falls short due to strange UI choices and the lack of Netflix integration. Apple TV improves when you subscribe to premium services (e.g., Showtime, STARZ) via Apple TV Channels inside the TV App, rather than from your cable provider or directly.
TV App promise:
Apple wants to make the TV App the center of attention. When you're subscribed to a bunch of services, it's hard to remember which service is needed. The TV App has a unified list of your content.
It pulls in content from each of your streaming apps to make the content the focus, not your apps.
You can view and search for content inside the TV App, then once you tap on something to watch, it'll automatically open the correct app and play the correct episode.
Ideally, you'd never need to know which service your content is hosted on because the TV App would act as your TV guide to get you to the right place.
TV App issues:
Netflix won't give Apple access to its content library, which means that Netflix shows won't appear in the TV App or your "Up Next" list.
Shows don't always automatically get marked as played.
It doesn't always send you to the right episode when you tap on a show.
Rather than curating and displaying the content from services you subscribe to, it mixes in content from things you don't subscribe to. Some content appears to be free, but it's an iTunes rental.
It organizes your purchased iTunes stupidly. You can't add content that you own to your "Up Next".
Apple promotes its Apple TV+ service too much.
Subscribe via Apple TV Channels:
There are 22 streaming services available through Apple TV Channels. You'll pay Apple rather than from your cable provider or directly.
Content stays inside the TV App, which makes the interface feel smoother because you don't leave the app to watch content. Plus, the interface is more streamlined than with third-party apps.
You can play content from your Apple TV Channels inside the Apple TV app on iPhone and iPad and download it for offline viewing.
Apple hosts the content on their servers and the video quality is better because it's optimized perfectly and has a higher bitrate than when you subscribe to services outside of Apple TV Channels.
Roku Ultra
Summary: Premium streaming services can be bought via The Roku Channel instead of paying directly or with your cable provider, but there aren't enough benefits to do it this way.
Roku Channels:
If you don't want to subscribe to HBO, Showtime, Cinemax, or Starz through your cable provider, subscribe through Roku.
Your subscriptions' content stays in one app, The Roku Channel. For example, you won't need to use the HBO app anymore because it'll stream inside The Roku Channel.
You get a limited "Up Next" list that is missing basic functionality compared to Apple TV.
The Roku Channel is fine, but you're better off bringing your subscriptions to Roku with you.
Physical Remote
Apple TV 4K
Summary: The remote is made from premium materials and looks great, but it's impractical, hard to hold, and the trackpad is harder to use than directional buttons.
Description:
Siri Remote has a touchpad instead of directional buttons like Roku.
The remote is made of glass and aluminum and feels like a premium product. Unfortunately, they made too many usability sacrifices.
It has volume buttons.
Downsides:
The touchpad isn't as responsive to your swipes as a phone screen, so it's choppier.
It doesn't fit well in your hand because it's thin and not curved. It's hard to tell which part in the front. elago sells a remote case that makes Apple's remote thicker and improves the grip.
It needs charging once a month via the iPhone lightning cable.
It doesn't have a dedicated TV power button, but when you turn off the Apple TV from the control center, it should turn off your TV.
Roku Ultra
Summary: The remote is one Roku's best features. It's practical, easy to use, and feels great in the hand because it molds to it. It has dedicated buttons for your streaming apps too.
Description:
Roku's remote is molded to your hand and feels great. The buttons are large, colored, and have lots of give. After a couple of hours, you'll know where the buttons are without looking.
It has preset streaming buttons (mine came with Netflix, Hulu, ESPN+ and Sling) that bring you to the app with one push. It would be cool if you were a member of all those services, but most people will be left with useless buttons. Fortunately, on Roku Ultra you get two additional buttons labeled "1" and "2" to map to your preferred streaming apps.
There are TV volume and power buttons.
Software Remote
Apple TV 4K
Summary: The iPhone remote gives you directional buttons and changes your phone's playback controller to whatever you're watching. It's a better alternative to the physical remote. Each time a text field appears on Apple TV, a keyboard displays on your iPhone to type or access your iCloud passwords with ease.
iPhone Remote:
If you swipe down from the top right corner of your iPhone, you get a software remote from iOS's control center (swiping from the top right corner).
Playback controls are displayed on your iPhone's lock screen.
To disable the touchpad in favor of directional buttons, go in the Accessibility settings.
It has buttons that let you fast forward or rewind in 10 second increments.
When you need to enter a password on your TV, your iPhone's keyboard will automatically appear.
AirPlay with your iOS device is great. Swipe down on your iPhone and tap the AirPlay button and then you're mirroring your phone's screen.
Other iPhone features:
Apple TV 4K's setup is perfect if you have an iPhone. When you place the phone next to the Apple TV, it collects your Apple ID and WiFi information, so you don't have to log in.
Whenever a text field appears on Apple TV, you'll get a notification on your iPhone prompting you to enter text via your iOS device's keyboard.
It can pull your passwords for your streaming services from your iPhone, iPad, and Mac if you have them saved in your iCloud Keychain.
Roku Ultra
Summary: Roku's phone app is great for opening streaming channels. When you tap on services in the app, it shows on the TV. The remote in the app gives you directional buttons, but the volume control doesn't always work.
Features:
The directional buttons in the Roku app work just like the physical remote.
Tapping on the streaming apps logos opens the corresponding app on your TV.
There's a keyboard button for when it's time to type something.
Which is best for you?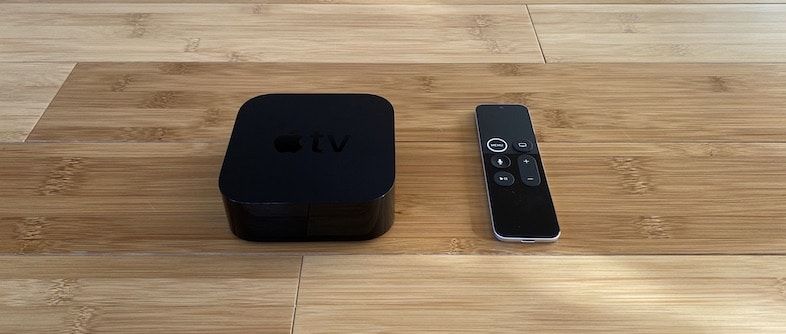 User-Friendliness (A)
Advanced Features (A)
Remotes (B)
Get Apple TV 4K if you want an iPhone-like interface without ads. It's the best streaming device on the market (even for Android users) because it organizes your content.
---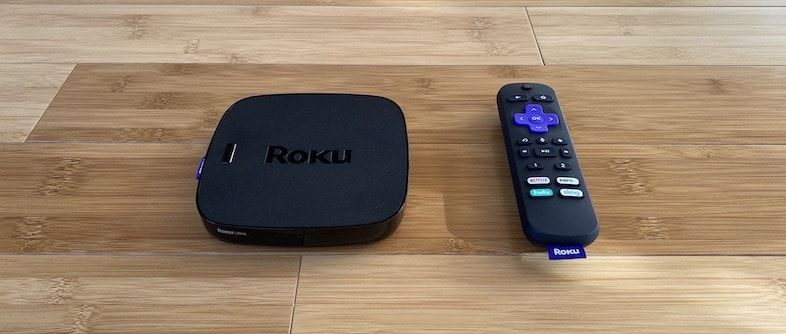 User-Friendliness (B-)
Advanced Features (C+)
Remotes (A)
Get Roku Ultra if you want a great experience for less. Roku has tons of content and unbiased search, but it has an old-school interface and advertisements.
---
Other Options
Apple TV HD is better and faster than all of the Roku models, but it can't play 4K content and it is slightly slower than Apple TV 4K. Considering the small price difference, Apple TV 4K makes sense even if you don't own a 4K TV yet. Why not make yourself future-proof?
Roku Stick Plus has the same interface as Roku Ultra, but you won't get an Ethernet and USB port, Micro SD card reader, remote finder, or a headphone jack in the remote. Roku Stick Plus is slightly slower than Roku Ultra, but it's fast enough for most, which make it a great affordable option.