HP Sprocket Review: How Much Are Portable Printers Worth?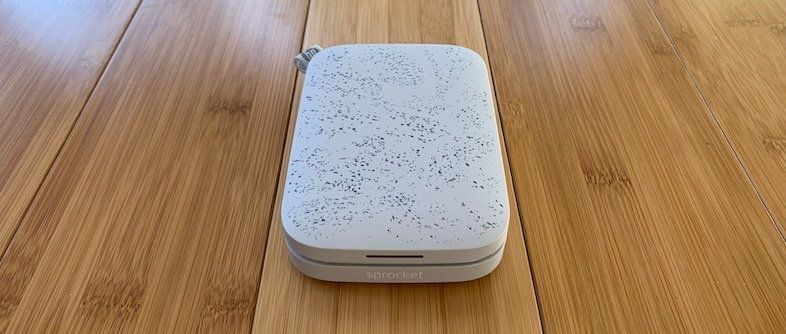 After a couple weeks of testing, I determined that the HP Sprocket is as good as any portable printer on the market and worth a buy if you understand that the prints won't be perfect.
Software (C):
You need to print from your phone (iOS or Android). You can't directly print from a computer or camera.
You can print anything from your phone's camera roll. You can also connect with your social media profiles, like Instagram and Facebook or grab photos from your Google library.
Before printing, the app automatically centers and positions the photo, but it's almost impossible to make adjustments on what's printing by cropping and moving the photo. It requires steadily moving two fingers at once.
The camera roll moves smoothly and has a more traditional grid.
The interface works well until you need to edit a photo or add filters. I suggest you do this outside of the app anyway because the app features are limited and difficult to use.
HP initially requires your location data with camera and microphone access to use the app. After the setup, you can go into your phone's settings and disable your location data and the app will still work.
Printer Quality (C):
Portable printers are a solid gift idea but don't count on amazing print quality. The colors are inaccurate and sometimes washed out or lack detail. It reminds me of the quality you'd get from a Polaroid camera. But it's adequate because the photos are only 2″ x 3″.
While the quality of the printed pictures will not mimic what's shown on the box, Sprocket's print quality has the edge over Zip because it's a tiny bit sharper and prints more consistently.
After you've selected a picture to print, it takes 65 seconds for your finished print to be done. (If you don't use the reveal feature, it takes 55 seconds).
Features (F):
You don't need ink cartridges, just paper. These use ZINK Zero Ink technology. The papers have several layers and the heat, pulse, and intensity from the printer makes the paper change colors.
There are several poorly-executed image filters, stickers, and borders that can be added before you print. It's like Snapchat, except painfully slow with a significant lag.
You can print with multiple phones connected at once and it'll create a queue of photos. I didn't try this for myself, but I think you're asking for trouble going this route due to the poor software.
You can't print collages, like Zip, but it has "tile mode" where you can print a fourth of a photo on four different sheets to create a 4″ x 6″ picture that's broken up into fourths. I don't understand its purpose, but someone might like the tile feature.
"HP Reveal" puts a hidden code on your printed pictures to let you scan your photo for more information. After a 10-second scan in the app, a Wikipedia page pops up with the location of the picture. It'll also show you your camera roll photos from the same day. HP's trying to be "innovative" but they've created a feature that no one will need or know how to use.
Price (C):
The second edition HP Sprocket has a list price of $130.
It comes in three colors with a matte finish: Black Noir, Blush, and Luna Pearl. They have a strange speckled pattern on the top.
When you buy the printer, you get 10 sheets with it. Additional sheets cost $25 for 50 sheets on Amazon.com (50 cents per sheet).
I didn't try the first edition Sprocket, but it sells for $100 and it's probably the one most should buy. Here are the differences:
It has Bluetooth 3.0, rather than Bluetooth 5.0. This probably only saves a bit of battery life.
People seem split on whether the picture quality is different, so let's call it a wash.
The first edition doesn't have the gimmicky HP Reveal feature.
Quick Review (TL;DR)
Software: Sprocket has the best photo-finding interface.
Print Quality: It's a tad sharper, but it's only evident if you look closely in direct light.
Features: You can make one 4" x 6" photo with four 2" x 3" tiles.
Price: It's $130 on Amazon and $0.50 per photo paper.
Who is this for?
HP Sprocket is best for you if you want a better interface for finding photos to print. You may have issues properly fitting the picture on the paper. The first edition is a better option, because it's almost the same device for $30 less (more below).