Bose SoundLink Color Review: Low Volume & High Price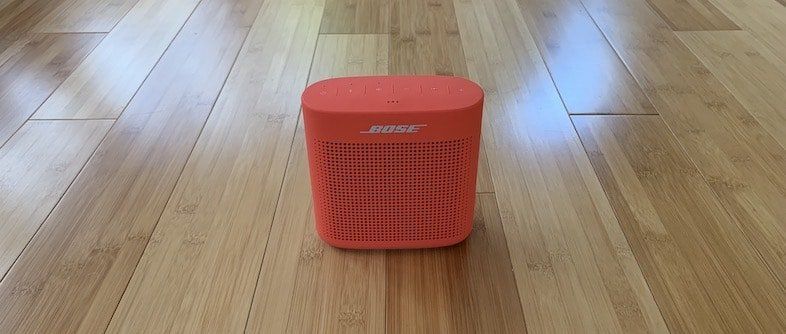 After a month-long trial, I determined Bose SoundLink Color II sounds good but it doesn't have adequate volume and isn't worth its price.
Sound: C+
SoundLink Color II sounds good relative to other portable speakers on the market, but most people will want more bass than it provides.
It has dual 40mm drivers.
Sometimes it sounds like there's something covering the SoundLink Color II speaker because it sounds so boring and flat.
SoundLink Color II stays well balanced at higher volumes.
The disadvantage is its volume. For reference, SoundLink Color II at 85% volume, is the equivalent of Charge 4 at 40% volume. SoundLink doesn't deliver enough volume to warrant $130.
For reference, it sounds better than UE Boom 3, but I prefer JBL Flip 4's sound.
If you want to stick with Bose, you're better off going with SoundLink Micro because it's half the size, more durable, less money, while sounding similar with a little less bass and power.
Design: F
It weighs 1.2 pounds and is 5.25 inches tall.
It comes in Aquatic Blue, Coral Red, Polar White, and Soft Black.
It's ugly and has a funky shape. This speaker isn't aesthetically pleasing for some reason I can't put my finger on. It has a wrapped silicone casing that feels cheesy. The casing is similar to what's on Bose SoundLink Micro, but for some reason, I didn't mind the material on a smaller version.
There's no way to see the battery life on the device via LED light, a voice readout, or even in the app. When you turn on the device, the robot reads out "high," "medium," or "low." While the app either shows a battery percentage of 100% or 40%. That's a big difference and it's usually stuck at 40% for hours. It's not a deal breaker, but it's frustrating.
There's a 3.5mm port for external audio devices without Bluetooth (like iPods).
There's a "multi-function button." One tap will play/pause, two taps skip the song, while a press and hold activate your phone's voice assistant (there's a mic for listening).
Durability: C
Only water-resistant but not waterproof. This means it can withstand a splash, but if you drop it in the water, your speaker is probably toast.
It can withstand drops.
Power: B
The listed playback time for Bose SoundLink Color II is eight hours and three hours to recharge. My real world tests:
9 hours with 60% volume.
4 hours with 85% volume.
You can recharge it with its exposed micro USB port.
Software: B
Party Mode lets you pair multiple SoundLink speakers. Pairing works well as long as one of the Bose speakers isn't connected to two phones simultaneously.
You can change the auto-standby timer.
Two devices connected simultaneously with eight devices paired in total. In the Bose app, you can manage each device.
The speaker firmware is updated frequently, but these updates take forever and fail often.
Which is best for you?
Get Bose SoundLink Color II if you want to pay a premium price for an indoor-only speaker to play at low volumes. If you're cool with a low volume and only plan to use it for personal listening, it's not a bad speaker but not worth its price.
Get Bose SoundLink Micro for $30 less. It makes more sense because of its better durability, price, and amazing form.