SimpliSafe Security Review: Is it Better than Ring?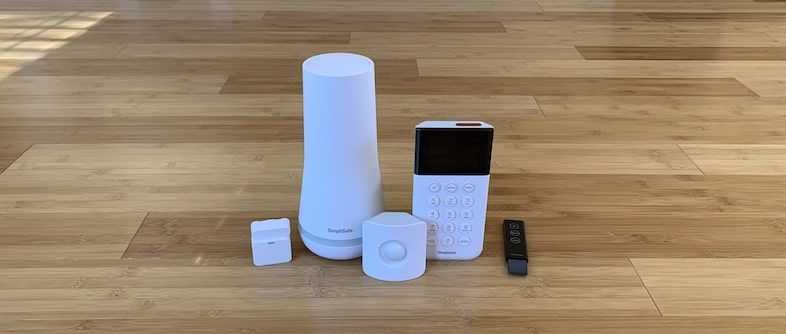 The SimpliSafe 5 Piece Security System has a better build quality than other systems on the market, but it's almost useless without the $25/month plan.
Setup & Support (B-):
Most smart home products have an interactive, step-by-step walkthrough in the app for installation. I love phone app installations because they are tailored to specific user needs and companies can tweak steps after seeing where users get stuck. I can't remember the last time I read paper instructions to set up a tech product. While you can set up SimpliSafe with the phone app, you'll run into issues.
I was stuck after trying to set up with the app, so I called SimpliSafe for troubleshooting tips because they won't help via email for security reasons. Once they helped me reset my system, I located my paper instructions and followed them. The setup process was easy after you connect your keypad to your base station, then carry around the keypad to set up the other accessories.
Bottom line: if you follow the paper instructions and then use the keypad to sync your accessories, you'll be fine. But if you're a techie and want an app setup, go with the Ring Alarm security system.
"Dave at SimpliSafe" blew up my inbox with automated emails every day with tips on how to use my system while I couldn't get it running due to my installation errors. It's my fault because I didn't have time to call SimpliSafe for a few days, but it left a bad taste in my mouth when I couldn't respond to the emails because SimpliSafe requires a phone call.
Once the system is running and you've paid for a subscription, SimpliSafe smartly puts your system in "test mode" for three days to let you learn and play around with the system without calling the police when the alarm is triggered.
As you add new accessories to your system, the speaker on the base station gives you status updates and prompts.
While SimpliSafe has 24/7 monitoring, their technical support is only available from 9:00 AM to 12:00 PM via phone. They respond to support emails within 48 hours, but there's not much they can help with. Most issues require a phone call.
Monitoring (F):
Without a paid subscription, your system functions as a siren when one of the sensors is triggered, but it won't call the police or send you a notification. You won't get monitoring, remote access, or smart assistant control either. The free plan is only helpful when you're home and someone breaks into your house while you're sleeping.
SimpliSafe uses a third-party service, COPS, for their paid monitoring service.
Once your alarm is triggered, SimpliSafe calls both of your emergency contacts. If no one picks up, emergency responders are called automatically. If you pick up the phone call, you'll be asked to confirm your safe word, then they'll ask you what you need.
Standard Plan ($15/month):
24/7 professional monitoring.
A cellular connection so that your system works when your WiFi stops working.
Detects fires and calls the fire department if you have the SimpliSafe smoke detector.
Detects water damage if you have the SimpliSafe water sensor.
Interactive Plan ($25/month):
You get everything included with the standard package.
You can arm and disarm with the phone app.
You get alerts on your phone.
You can create "Secret Alerts" that won't trigger the alarm, but silently notify your phone. For example, you could put a secret alert on your liquor cabinet to keep your kids out.
Video alarm verification that will start automatically recording on your cameras (if they're installed) once the alarm is triggered.
You get smart home controls with Alexa, Google, August and Apple Watch.
You need the Standard plan for SimpliSafe to be functional, but it's hard to avoid the Interactive plan because that's where you get the helpful features. Do you want to pay $15/month for a security system that doesn't have phone notifications when someone breaks into your house? I don't.
$25/month is reasonable for peace of mind, but relative to Ring's similar offering at $10/month, it's hard to go with SimpliSafe.
SimpliSafe is a confusing product because it's too expensive for casual monitoring. And I find it hard to believe that it's as safe as a professionally installed security system when the door and window sensors are stuck on with just double-sided tape.
Software (B):
SimpliSafe's app is useless if you don't have a subscription. The only thing you can do in the app for free is view a list of your system's activity or pay for a subscription. Surprisingly, the app is useless with the Standard plan too. You can't even arm or disarm the system.
Aside from the lack of an interactive app setup, SimpliSafe's app has a clean and straightforward interface if you have the Interactive plan. I'll grade this section, assuming you have the Interactive plan.
You get three modes: Off, Home, and Away. Each mode can be turned on with the phone app, the keypad, or the key fob.
You can change your Master PIN, add a Duress PIN, and create custom pins for other family members to disarm the system.
You pick how you want each accessory (motion sensors, door sensors, flood sensors, etc.) to act in each of the three alarm modes (Off, Home, and Away).
You'll want an entry delay before the alarm is triggered on your accessories. SimpliSafe's default is 30 seconds, but you can increase it to up to four minutes. If you don't, when your system is armed, and you open the door, you have 30 seconds to enter your PIN before the siren goes off.
You'll want an exit delay too. SimpliSafe's default is one minute, but you can increase it to up to four minutes.
You can pick the alert type (alarm, activity, and error) and how you want to receive the alert (push notification, SMS, or email). For example, you can choose to send all error messages to your email, but send alarm triggers via push notifications.
August is the only smart lock that has an integration with SimpliSafe, but it's not overly helpful because you need to be inside your house. August will automatically lock when you've armed your system or unlock when you've disarmed the system. Ring's integration is done the smarter way with the opposite approach: when you lock your door your system is armed.
Hypothetically, you can unlock your door and disarm the system with one button on the SimpliSafe Key Fob. If you have the key fob this is a powerful feature.
You can't give household members access to your system via the app. They'll need to use your login credentials.
You can arm and disarm your system with Alexa and Google. The smart assistants can arm without a code, but disarming requires you to say your code.
You can single out specific accessories to instantly trigger the alarm.
Neither SimpliSafe nor Ring have native geofencing, where your system changes modes based on your phone's location, but you can integrate SimpliSafe with Nest to arm your system whenever your Nest system goes into Away Mode.
First minor annoyance: SimpliSafe doesn't warn you when you try to arm your system with one of your accessories out of proper position. For example, you can arm your system with one of your doors or windows still open.
Second minor annoyance: SimpliSafe doesn't instantly notify you when one of your accessories isn't working or is tampered with as Ring does. It takes up to 24 hours for it to notice something is wrong.
Third minor annoyance: the app doesn't sync to the base station in real-time, like Ring. If you want the status of a door, you need to manually refresh the page to get its status.
Hardware (B):
If design aesthetics are your thing, neither of these systems are for you, but SimpliSafe's accessories have better build quality and are made in a smarter way than Ring's.
I bought a five-piece system called "The Nook." It includes a base station, contact sensor, motion sensor, keypad, and key fob. The other packages include extra sensors and other optional accessories that are listed below.
Base Station:
SimpliSafe's base has a useful speaker. When you arm your system, it says "please exit now." A voice updates you during the installation process too.
It's a 9" tall cylinder with a light ring near the bottom.
When the light on the base station is solid blue, your system is armed. When it flashes blue, it's in the exit or entry delay, and you need to enter your code.
It has a 24-hour backup that uses four AA batteries if you lose power. I wish that they were rechargeable, like Ring's.
It has a cellular receiver if your WiFi goes down.
It has a 95dB siren.
Keypad:
The keypad is powered by four AA batteries. I'd prefer rechargeable batteries.
The keypad is well-built with raised, backlit rubber keys. It feels more like a legit security system when compared to Ring's keypad.
The keypad utilizes a backlit screen. It has status updates, notifications, and setting configurations. Even though the screen is old school and not a touchscreen, I enjoyed it more than I thought I would.
You add all your accessories with the keypad.
You can program a "Duress Code" for when an intruder is forcing you to turn off the alarm. SimpliSafe will immediately send emergency responders once the code is entered.
Entry Sensor:
The sensor is smaller than Ring's and used to tell when windows and doors are open. The big piece of the sensor sticks to the door frame, while the small piece goes at the top of the door. It's a smart design decision to have the piece that weighs less stick to the door because the door moves. It's versatile due to the size too.
They come with double-sided tape without an option to screw them in.
Motion Sensor:
It's about half the size of Ring's.
It detects motion within 30 feet and has a 90-degree field of view.
If your sensor is higher than five feet off the ground, it shouldn't be triggered by pets under 50 pounds, but the internet says otherwise.
They recommend you place it in a corner, and it's perfectly shaped for this.
The range isn't nearly as strong as Ring's. It performed mediocrely in my tests. I wouldn't rely on either brands' motion sensor as more than a failsafe.
SimpliSafe has a bunch of optional accessories like their video doorbell, indoor security camera, glass break sensor, smoke detector, temperature sensor, water sensor, key fob, and an extra siren.
Quick Review (TL;DR)
Setup: If you install the accessories via the keypad things go smoothly. Don't use the app for the setup unless you want issues.
Monitoring Price: It's $25/month for basic functionality. The system is useless without a subscription.
Software: The useful app features are disabled without the $25/month plan.
Hardware: The craftsmanship is an improvement over Ring. And they have optional accessories: video doorbell, indoor camera, smoke detector, water sensor, temperature sensor, glass break sensor, panic button, and key fob.
Who is this for?
Get the SimpliSafe security system if you're fine with $25/month for the same functionality as Ring, or you don't want to set up your system with an app. The keypad is far superior and the other accessories have a better build quality too. But even if SimpliSafe's monthly fee wasn't required, it still wouldn't be a no-brainer over Ring.