Ring Alarm System Review: Does it Beat SimpliSafe?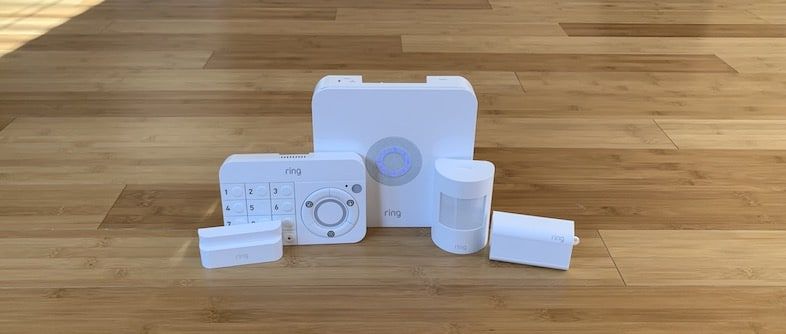 After two weeks of testing, I found the Ring Alarm 5 Piece Kit to be the best DIY security system because it has free self-monitoring or professional monitoring for $10/month.
Setup & Support (A+):
You install your system with the Ring phone app. You scan the QR codes located on the back of the accessories to activate and add them to your system. Ring holds your hand with a step-by-step interactive walkthrough guide.
Ring includes a wireless z-wave range extender to increase the distance that your accessories can be from the base station. I didn't use the range extender because my house is only 1,200 square feet, but I love the potential versatility that it adds.
Ring has 24/7 technical support via phone and chat services. I had a question about smart lock integration that I thought would trip them up (because it's a new feature), but it took the representative less than a minute to come up with a solution.
Monitoring (A+):
Ring uses a third-party service, Rapid Response, for their paid monitoring service. I didn't test the response times myself, but Ring claims a 30-second average response time, and I didn't find anything on the internet that contradicts that.
Ring asks you for three emergency contacts. When your alarm is triggered, all three contacts get called and if no one picks up, the authorities are called automatically. If you pick up the call, they'll ask for your safe word, and you'll decide what should be done next.
You get a seven-day training period where the authorities won't be called when your system is triggered, but you can turn the training mode off once you're ready.
My favorite part about Ring's security system is that you can self-monitor the system for free. While self-monitoring isn't as safe as having a professional monitor your house, it's great if:
You want peace of mind but can't afford SimpliSafe's $25/month plan.
You want assurance that certain things have happened in your house. For example, certain rooms stay vacant, your kids arrive home, a door stays shut, etc.
"Protect Plus Plan" is Ring's only subscription plan. It's $10/month or $100/year and includes:
24/7 professional monitoring for break-ins, burglaries, smoke, carbon monoxide detection, and floods.
30-days of video recording storage if you have Ring Doorbell or other Ring cameras.
You don't unlock any new app features because you get them all for free.
Software (A-):
There are three modes: Disarmed, Away and Home. Each mode can be turned on with the keypad by entering your code, then tapping the mode button you want.
You can choose which accessories you want active in each mode. For example, when you're home, you'll care less about motion in your living room than when you're away.
You can change modes inside the Ring app too.
Ring gives you control of the types of alerts you want enabled. You can customize individual accessories to instantly notify you without sounding the alarm. For example, you want a notification when someone goes into your closet, but you don't need the siren to go off in that situation. There's an option for email alerts too.
You'll want an entry delay when you arrive home so that you have enough time to enter your code. The default delay is one minute, but you can increase it to up to three minutes.
You'll want an exit delay when you're leaving the house to give you enough time to exit and shut the door. During the standard one minute delay, the base station and keypad make an annoying countdown noise with a red indicator letting you know how much time you have left. There's no way to silently arm and leave the house unless you want to disable all sounds.
While your system is disarmed, the doors can play a chime sound via your base station when they are opened.
You can give additional household members access to your system in the app by entering their email address. They'll each get their own access code too.
You won't get Google Assistant or HomeKit support. The only smart home platform that Ring supports is Alexa. You can ask Alexa to arm your system without a code, but disarming will require you to speak your code.
Ring has partnered with Schlage, Yale, and Kwikset smart locks that are z-wave compatible. If you add compatible smart locks to your Ring app, you'll be able to use the app to lock and unlock the door and create access codes. Third-party accessories like smart switches and smart outlets can be managed in the Ring app too.
You can arm and disarm your security system with your smart lock too. For example, you'll enter your access code on your smart lock to unlock the door and the security system changes modes (disarms in this case) automatically. You can make your system arm whenever you lock your door too. It's an opt-in feature because not everyone wants tight integration like this. Ring's smart lock integration is its best feature for people who have them.
Ring instantly alerts you when accessories are tampered with or aren't working.
In my opinion, Ring has more potential to innovate than SimpliSafe for two reasons:
Ring is an app-focused system. Software platforms can be iterated quickly and be tailored to specific user needs more easily than a fixed hardware solution.
Ring's owned by Amazon. They are a technology giant with unlimited funds and huge connections for future smart home integration with other companies.
First minor annoyance: when you're in Away mode and arrive home, you can't put the system into Home mode without disarming the system first. Ideally, you would enter the code, then hit the Home button and it would disarm and change the mode at the same time.
Second minor annoyance: when you arm your system, and it's in the exit delay, you can't cancel it without entering your PIN again.
Hardware (C-):
Ring accessories have a cheap feel, but that's because Ring is a budget system. It works as intended, just don't expect great craftsmanship.
I bought Ring's most popular package, Ring Alarm 5 Piece Kit. It includes a base station, contact sensor, motion sensor, keypad, and wireless range extender.
Base Station:
It has 24-hour battery backup power that's rechargeable. It's an advantage over SimipliSafe's AA batteries.
It's a 7″ x 7″ x 1.5″ modem-like box and takes up more shelf space than I'd like.
It has a loud 104dB siren. It's noticeably louder than SimpliSafe.
It has a cellular receiver when your WiFi goes down.
It has a speaker to alert you of the enter and exit delays, but the voice isn't as helpful as SimpliSafe's.
The keypad is holding the system back. It gets the job done, but there are issues:
It feels like a toy.
The keys are backlit, but not until you touch them.
The buttons to arm and disarm can't be seen at night because they're not backlit. You'll get used to the button placement, but it's hard when you're first learning the system.
You need to redundantly enter your PIN to arm the system.
There's a panic button if you get in trouble, but there's no way to secretly inform Ring that there's an intruder present. SimpliSafe uses "Duress Code" for this.
There's no screen.
You can power the keypad with the power cord, but there's also a rechargeable battery inside for when you lose power. You can run the keypad on the batteries for 12 months before needing a charge if you're not near an outlet.
Contact Sensor:
The contact sensor comes in two pieces and is used to detect when doors and windows are opened. The big piece goes on the door, while the smaller piece goes on the door frame. These sensors are bigger than the competition and might affect where you can put them, and they'll be more prone to fall off because of the extra weight.
The CR123A batteries are rated for up to three years and they're the reason why the sensors are larger.
Ring gives you strong adhesive double-sided tape and screws. The screws aren't necessary, but they reduce the chance that the sensor will fall off.
Motion Sensor:
The motion sensor is twice the volume of SimpliSafe's.
It uses heat to detect motion via passive infrared sensors.
Unlike SimpliSafe, you can change the sensitivity level for how often it triggers.
You can choose between five chirp tones for when the doors are opened and the system is disarmed.
There's a test mode to establish the best sensitivity level automatically.
The range is stronger than SimpliSafe's, but I wouldn't rely on the motion sensor as more than a failsafe.
Ring doesn't have a key fob or a glass break sensor in their product lineup yet, but the tight smart lock integration makes up for no key fob.
You have the option to add any of the Ring cameras, doorbells, and lights to your system too.
Ring has other optional accessories too: Flood & Freeze Sensor,  Smoke & Co Listener, and an Outdoor Motion Sensor.
Quick Review (TL;DR)
Setup: You scan QR codes on the back of your accessories and follow an interactive walkthrough in the Ring App.
Monitoring Price: You can self-monitor for free or pay $10/month for professional monitoring.
Software: You can lots for free with the app. The smart lock integration is great!
Hardware: The keypad isn't well-built and everything feels like a plastic toy. They have optional accessories: video doorbell, indoor camera, outdoor camera, smoke listener, water sensor, temperature sensor, panic button, and smart lights.
Who is this for?
Get the Ring Alarm 8-piece kit if you want a system that's app-focused, or you want to self-monitor for free. Ring includes premium features like push notifications for free ($25/month with SimpliSafe). Ring doesn't have a glass break sensor or key fob, but it's a solid trade-off for no monthly payments.