Ring Stick Up Cam Review: I Prefer Blink Cameras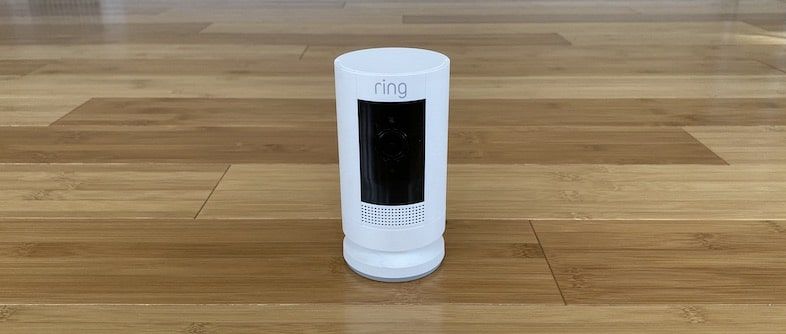 Ring Stick Up Cam has a solid app interface and a rechargeable battery, but you'll need to pay for a subscription to use basic features.
Free Service: F
Ring is useless without a paid subscription because nothing is recorded. Here's what you can do for free:
You can check the live feed at any time.
You get alerts when there's motion in front of the camera, but you can't view what happened unless you see it live.
You can have a conversation with someone in real-time with two-way audio. It works like Ring Doorbells. But it doesn't make sense for this kind of camera because it's going to be mounted high and probably take visitors by surprise when someone starts talking. Although, it may be useful if you need to tell someone to get off of your yard.
Subscription ServiceC
Ring Protect plan is $30/year and you need it to make Ring useful. Here's what you get:
Motion is recorded and saved on in the cloud for 60 days. You can export or share these video clips whenever you want.
As I saw with the battery-powered Ring Doorbells, motion recording is not sufficient relative to other security cameras. Even when it catches the motion properly, the audio part of the video sometimes doesn't record until it's three seconds into the clip. While Ring Stick Up Cam will probably record 90% of the action, it's unreliable.
There are three settings for motion detection: Frequent, Standard, and Light. All of them miss events.
Software: B
Video calls work well because your phone's mic and the camera's mics are always recording. Although, it's nowhere near as smooth as Ring Doorbell Pro because Stick Up Cam's video and audio still cut out.
Ring added a smooth timeline with thumbnails that you can slide through to see what happened. It's a significant upgrade from the previous interface.
You can record on-demand with one tap.
You can set a schedule for when you do and don't want motion recording, or enter in "motion snooze" mode for an hour, right from your phone's notification screen.
There's no native geofencing in the app, but you can work around this with Alexa Routines.
You can create motion zones.
"Neighbors Feed" lets you post videos, screenshots or written descriptions to your local community with the hopes that other Ring owners do the same. For instance, there was a fire in my town and someone posted it to the feed for all to see.
You can have screenshots posted, emails sent, events uploaded to Google Drive, along with other things done automatically with IFTTT recipes.
Ring is also owned by Amazon and Alexa works perfectly. You can arm and disarm or have the live feed appear on your TV, if you own a Fire TV device.
It takes about four seconds to load to view the live feed.
You can control Kevo and other smart locks right inside the Ring app.
It works with Wink smart hubs and WeMo smart switches.
Hardware: B-
You'll get about two months with Ring's rechargeable battery. You slide the battery out and then insert a micro USB port into the battery pack to charge it. You can buy additional batteries to avoid downtime too.
If you have access to power, you can buy the powered version for the same price.
I've used several Ring products, and it feels similar to the others. It's not anything special.
You can keep the camera on a flat surface with the base stand.
Or you can unscrew the base stand from the bottom of the camera, then screw the base onto the backside of the camera, which turns it into a wall mount. It's a nice design.
The battery can easily be taken out to charge.
You don't need a module or bridge. It just runs off your WiFi.
You can use it indoors or outdoors. It's waterproof and works from –5°F to 120°F temperatures.
Audio & Video Quality: B
While it's 1080p and has the same 110° horizontal field of view as Blink XT2, the video looks crisper. You'll notice the better quality when you zoom in to see specifics.
Its night vision isn't special, but it's better than Blink's.
It records audio during motion clips, but the sound is delayed by a few seconds from a motion recording that's already delayed in the first place.
Overall, Ring Stick Up Cam's video quality isn't great, bur it's serviceable. If video quality is important to you, the high-end Arlo and Eufy cameras are the way to go.
Who is this for?
Get Ring Stick Up if you want a budget camera with rechargeable battery. The video quality and video calling are solid, but the motion recording isn't good enough to be used for serious surveillance.
Unfortunately, Ring Stick Up Cam requires a $30/year plan to record motion.
If you want a more reliable security camera, check out the EufyCam lineup.
If you want a camera that doesn't require a monthly subscription plan, check out Wyze Cam V2.