iPad Pro (2018) Review: Can it Replace a MacBook?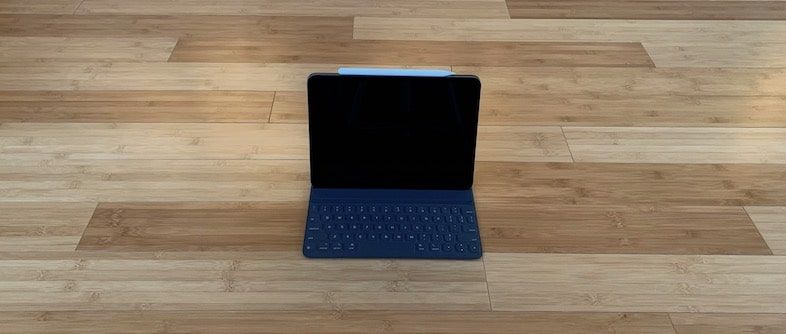 Speed (A+):
iPad Pro uses Apple's custom-built processing chips, and the 2018 version uses an A12X Bionic chip. My iPad Pro (11 inches, 4 GB RAM) has a single-core score of 5026 and a multi-core score of 18121 using Geekbench's metrics. That's close to triple the compute power when both cores are being used compared to MacBook Air.
Unbelievably, my iPad Pro outperformed my 2018 MacBook Pro on Geekbench in both single and multi-core scores.
The bad news is that iPadOS still isn't for power users yet because the multitasking workflows aren't as efficient as a real computer. The good news is that iPad is plenty powerful for power users and Apple's software updates are free, so you'll see regular improvements.
Apple lists 10 hours of battery life, but I found it closer to seven.
Operating System (D+):
iPad Pro runs on iPadOS 13, which is a tweaked version of iOS (used by iPhone). iOS and iPadOS are brilliant operating systems because they're easy, intuitive and fun to use.
Extra iPadOS features not on iOS:
There's a dock that sits behind full-screen apps; you can pull it up any time with a swipe from the bottom.
You can drag apps from the dock to either side of the screen to go into Split View and multitask. Here's Apple's tutorial.
Slide Over lets you place a stack of apps on the right side of the screen that you can hide when you swipe right and bring back with a left swipe. Slide Over is like having an iPhone on top of your iPad screen. Here's Apple's tutorial.
You can pin widgets (weather, reminders, stocks, next up, etc.) to the left side of your home screen. It's the same interface as when you swipe right on your iPhone.
The on-screen keyboard can be made smaller and float when you pinch the keyboard. The floating keyboard makes typing on a huge screen more reasonable and similar to typing on iPhone.
iPadOS 13 has desktop-class browsing in Safari. Previously on iPad, you'd occasionally get a mobile version of sites. Also, forms and inputs weren't always functional when the interface was designed for a mouse. Sites like Google Analytics, Google Docs, and cPanel were barely usable on iPad, but they work well now.
iPhone is the best-selling tech product of all time, so what's wrong with a tweaked version of iPhone blown up on a giant iPad screen? iPad Pro is priced like a computer, with a fully upgraded version priced over $2,000, and marketed as a device for creators. It's not realistic to expect to get real work (other than email) done on an operating system that's similar to iPhone's software. Anyone who creates with a real computer, has five windows open simultaneously and switches with rapid speed.
I grew up on the Mac and know all the tricks. It's been my life for the last twelve years, so while you should consider my biases, others are experiencing similar limitations too. Here are experiences that take twice as long to complete or are broken compared to MacBook Air and things that can't be done at all on iPad.
The file management system is better than it used to be because it functions more similar to desktop, and you can finally use external drives. But managing files is still easier on Mac.
Switching between four or more windows can be done with Split View and Slide Over, but you can move faster on Mac. Apps aren't always where you expect them to be while multitasking (Dieter from The Verge broke this down well). Two examples:
Let's say Mail is in your Slide Over stack. If you tap on Mail from the dock or home screen, Mail will no longer be in the stack and opens in full-screen mode. It takes getting used to.
You can't easily bring an app into Split View mode to multitask if the app isn't already in your dock.
Search and replace isn't ideal, which is a significant must-have for coders.
iPadOS 13 improved the select, undo, copy, and paste gestures significantly, but these actions are easier on Mac because selecting words with precision is easier with a mouse than your fingers.
Listening to something on one Safari tab while looking at another tab.
Listening to a YouTube video in the background while you work isn't an easy task.
You can't share your iPad with another person because it only supports one account per iPad.
On a Mac, your dock of apps is always at the bottom, with iPad it's hard to get the dock to come up without inadvertently opening the app switcher.
For this blog, after I shoot pictures, I need to crop and resize them to 800 pixels by 332 pixels. There's no native way to do this in iOS, and I couldn't find any apps that would let me do this after trying for an hour. I gave in and did it in two minutes on my Mac. While this is not a common task for most, it's just another example of why the iPad isn't ready for content creators.
Security (A+):
iPad Pro uses Face ID that debuted on iPhone X. It's better than the phone version because it can work from any screen orientation. In a month of using iPad Pro, I didn't notice there was a passcode enabled. It unlocked my iPad before I thought about swiping up to open the OS. It's impressive technology that fades seamlessly into the background.
Passwords stored in your iCloud Keychain are one tap and a Face ID authentication away from entering automatically.
Screen & Design (A+):
iPad Pro comes in 11-inch and 13-inch sizes. It comes in Space Gray and Silver.
iPad Pro is the nicest piece of hardware Apple has ever built. It reminds me of the squarish design of iPhone 4, but thinner and more modern. It feels fantastic in your hands.
The 11-inch version weighs 1.03 pounds or 1.7 pounds with the Smart Keyboard Folio attached, making it about a full pound lighter than MacBook Air.
The 13-inch version weighs 1.39 pounds or 2.3 pounds with the Smart Keyboard Folio case.
It has True Tone, like the current iPhone lineup. This technology changes the white balance based on the surrounding light to give you a more natural color no matter where you take it. It's a game changer.
The screen has a pixel density of 264 PPI, which is higher than MacBook Air. It's also substantially brighter at 600 nits, compared to 300 nits on MacBook Air.
Scrolling and using the gestures are buttery smooth with Apple's ProMotion display. It has a 120 Hz variable refresh rate.
Due to the touch screen, fingerprints all over the screen are inevitable, despite Apple's fancy "Fingerprint-resistant oleophobic coating" marketing language.
The front-facing camera is 7 megapixels and is the same one used in the current iPhone lineup, which is one of the best in the entire phone market. I'm not sure why Apple's not trying to put this great camera in its MacBooks.
It has a rear-facing 12-megapixel camera with an f1.8 aperture. It's the same camera used on iPhone 7. While I don't know how often you'd take photos with it, due to the awkwardness, but having an 11-inch viewfinder is awesome! This camera has a shot at becoming more significant in the future as augmented reality apps evolve.
It can shoot 4K video at up to 60 FPS.
There are four speakers that sound better than you'd expect for such a tiny device. The sound is richer with better depth and bass compared to MacBook Air.
Keyboard & Inputs (C+):
Apple sells an optional Smart Keyboard Folio case that protects the iPad's front and back while providing a stand and a keyboard.
The keys have more give than the butterfly keyboard that MacBook Air has.
To test iPad Pro's capabilities, I wrote this entire comparison post on iPad Pro. The typing experience wasn't bad and was exponentially better than it'd be without any keyboard, but I'd pick the MacBook keyboard every day. (My issues with typing this entire post on iPad Pro were formatting, lack of a mouse, and iPadOS related, not anything to do with the keyboard.)
You only get two viewing angles, while the MacBook Air has infinite angles.
The keys are not backlit.
iPad Pro has one USB C port used for charging and accessories.
You can connect any third-party keyboard into iPad Pro via the USB C or Bluetooth.
Apple Pencil is an optional accessory, for $129, that works as a stylus.
It magnetically latches to the top edge to automatically pair and charge simultaneously.
It's fantastic for marking up documents or screenshots. It'd be great for artists because the screen has palm rejection and it can senses how hard it's being pressed into the screen to create depth. Artists are creating beautiful pieces with it, and lots of the Apple marketing material for iPad Pro was designed using Apple Pencil. It's the equivalent of drawing on paper, but better because you can erase mistakes.
Apple Pencil is not a substitute for a mouse nor is it supposed to be. While you can scroll and select apps with Apple Pencil, there are too many things you can't do.
iPadOS is built for a finger input, but under the Accessibility settings, you can add a mouse as a pointing device. Overall, mouse support on iPad is a poor experience because there's no way for a mouse to mimic gestures, while most apps require and are built for gestures.
Uses (D):
While you can write, make spreadsheets, or create a slideshow, they're a more basic, vanilla version compared to the desktop and the process can be cumbersome.
You can get by if you're only occasionally writing documents or emails, but the experience isn't ideal with the on-screen keyboard. I recommend buying a keyboard if you write a lot.
If you're someone who likes to write while on the couch or your lap, iPad Pro isn't for you due to its awkwardness and lack of keyboard stability.
iPad Pro has LTE cellular versions, something no MacBooks offer. It's convenient to have internet access wherever you go without worrying about WiFi connectivity or tethering from your phone.
iPad uses the same App Store as iPhone, but that doesn't mean all apps in the store are optimized for iPad. Some apps will display in phone size on the huge iPad screen.
Most content consumption apps are fully optimized and look amazing: Netflix, HBO, Showtime, Hulu, Spotify, YouTube, Amazon Video, Facebook, Twitter, Pinterest, Pandora, etc.
Unfortunately, even with the beautiful display and 4K capabilities, you can't watch YouTube in 4K because YouTube uses an unsupported 4K format.
All of Microsoft Office's apps are available.
While there are ways to create content, iPad Pro is a brilliant content consumption device. Of all of my devices, it's my preferred way to browse the web and watch videos. It's reliable for emailing as well.
You'll get all the iPhone apps that you're used to like iMessage, Pages, Numbers, Keynote, Safari, Music, and Notes.
There isn't Final Cut Pro for video editing.
You can use iMovie for video editing, but it's dumbed down compared to the Mac version.
Lots of the same games on iPhone have an optimized iPad version. If fun and gaming are important to you, iPad is the clear answer over MacBook.
Many artists and music producers are in love with iPad Pro and use it as their primary computer. But if you're an artist, you already know you need an iPad Pro and wouldn't be on this comparison post.
Quick Review (TL;DR)
Speed: It's faster and more powerful than most MacBook Pros.
Operating System: It runs a similar OS as iPhone, which is great, but limiting when you want to do real work.
Security: It uses multi-orientation Face ID to unlock, and it works brilliantly.
Screen: The touchscreen looks amazing and smoothest on the market and the design is the best Apple's ever made.
Keyboard: It utilizes a touchscreen with the option of a keyboard case.
Uses: It's perfect for games, movies, drawing, and web browsing. And fine for document and email writing.
Who is this for?
Get iPad Pro if you want to consume lots of content and don't need traditional coding or content creation workflows. iPad Pro is the nicest designed Apple product ever. It's perfect for emailing, web browsing, video, and games.