Simplify your HomeKit Setup for $30 with Tuo & Aqara Smart Buttons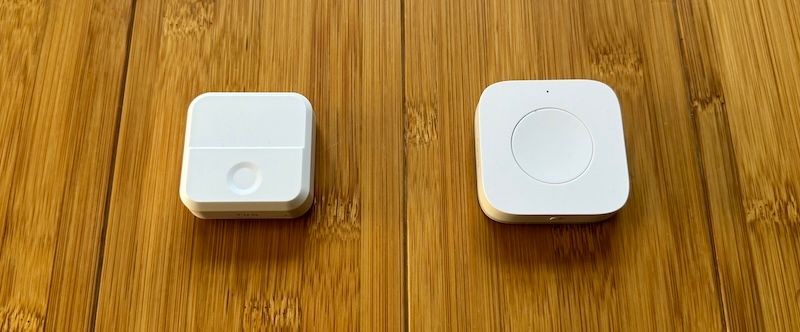 Reviewing smart buttons sounds so painfully boring that I almost didn't write this post. How does someone even review them? I can hear myself now, "Yeah, the button has great clickability." It's literally just a single button, what else is there to say?
But I wrote this post anyway because I'm convinced that smart buttons should be a requirement for every Apple smart home, and I'm disappointed that I didn't think to add one previously. It's my favorite tech purchase of 2023. And even better—they can be bought for just $35.
For those unfamiliar, I'll pitch the reasons for and importance of smart buttons in a smart home, then I'll go over my main reason for buying one, a couple of creative ways to utilize them, then finally my personal experience with two brands (Tuo and Aqara).
Why Smart Buttons?
A smart button is an affordable tool to reduce the complexity of your smart home, whether it be for guests, family members, or yourself. Sometimes a button tap is the easiest way to trigger something in your home.
Why choose a smart button over a smart switch? While smart switches from TP-Link and Leviton exclusively control lights and are fixed to where your old switch was, smart buttons offer more versatility. Not only can smart buttons manage all of your HomeKit devices, but they support up to three distinct actions with single, double, or long presses. Plus, they're portable, battery-powered, lasting up to a year, and can be adhered anywhere with the included double-sided tape.
The battery-powered portability is a great selling point of a button, but more importantly, they're not techie. There's no fumbling with a phone, unlocking apps, or speaking precise commands to Siri on your HomePod. Just press and watch the scene seamlessly change.
So why did I buy my button?
My wife and I needed a quick way to turn on the light strips in our bedroom for when our baby wakes up. I prefer to not look at my phone in bed because I have trouble falling back asleep when I do, and initiating Siri at 2 AM when my brain is barely functioning feels overwhelming. That's why we've had a smart button stuck to the top of our bed frame for the last three months. It instantly solved all of our issues.
Here's how we use it:
When the baby wakes up, we single tap to turn on the lights at 10% brightness for the diaper change, then after the change, double tap to dim the lights to 5%. Once he's fed, we long press to turn off the light strips, while also ensuring that all the lights in the whole house are off, and the back door is locked.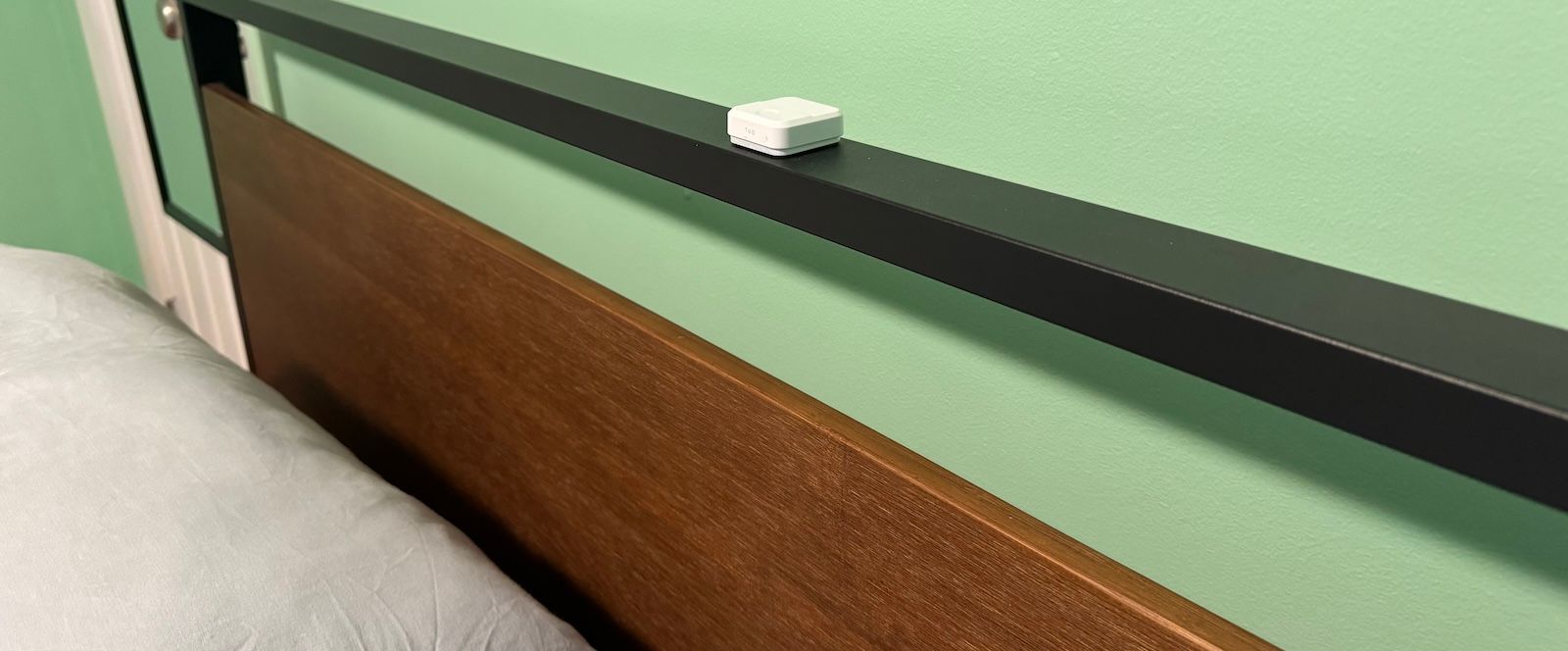 Even without nighttime baby tasks, the peace of mind from knowing one button can secure the house is invaluable. Wake up in the middle of the night and panic that you didn't lock the door? Just hit the button again. But aside from these nighttime routines, there are other ways to utilize smart buttons.
Other smart button uses
The first spot where smart buttons are helpful is for older homes without ceiling light switches. Just combine a table lamp with a smart light or smart plug, then place a smart button near the doorway (or any convenient spot) to trigger the lamp, just as if it were a traditional wall switch.
I have a button behind my couch too. When this button is tapped once, it triggers my version of a movie mode where the lights are dimmed and turn orange, and it fires up the Apple TV. A double press brightens the lights, and a long press of the button turns off the TV.
Another interesting use case is having one by the entry door that could trigger a "Leaving Home" or "Arriving Home" scene with your lights and thermostat. Home and away automations usually work more seamlessly with a geofence, but with lots of family members and people outside of Apple's ecosystem, a smart button by the door makes sense.
Which brings me to the smartest use case: for guests, roommates, or a wife who doesn't want to deal with our B.S.
As a nerd and a tinkerer, I've been pimping out my house with smart home gear for almost ten years now. While some smart home gear is universally useful, a lot of it just adds extra complexity where it's not needed. And when household members aren't as enthused about tech as you and I, these buttons are a cheat code for them. And sometimes smart buttons are the most convenient option even for nerds like us.
My wife's been a good sport with our smart home, but sometimes at night she'll say things like, "I'm not talking to Siri. Just do it for me."
Or how often have guests turned off your lights using an old school wall switch, rendering the Apple Home app useless? Seriously, who even uses wall switches now? Sometimes I swear my guests flip them just to troll me. And in my tech-woven house? Turn off the living room switch and you've basically thrown a wrench in my entire Thread mesh network, meaning all of my lights will be laggy for days.
I'm not saying every room needs a smart button, but for high-traffic areas or rooms with multiple voice commands, consider adding one. Don't quiz your guests on which voice assistant you have or make them guess your specific command. Just hand them a button.
Now, let's talk about the two brands I've tried out.
Tuo vs. Aqara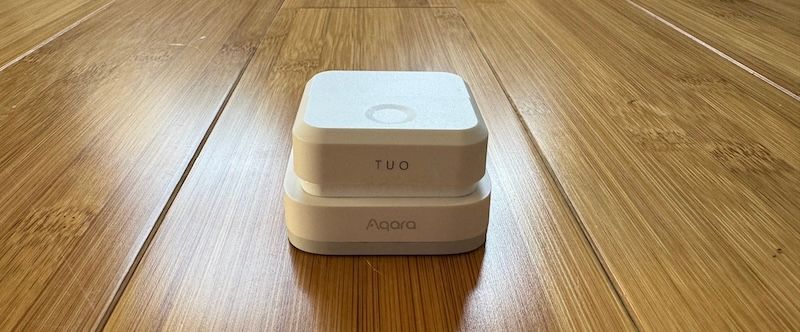 I first gave the Aqara Wireless Mini Switch a try for just over a month, and it did its job perfectly. On its own, the button's under $20. But here's the kicker, it needs the Aqara Smart Hub, which will set you back another $60. So you're looking at around $80 for a single button setup, but the cost per button decreases if you buy more. Remember, this hub connects to your router via Ethernet, and each button should be within a decent range of it. I placed my button a few rooms away from the hub and had no hiccups with the connection.
I don't have any experience with Aqara devices, but they appear to be slowly building up a lineup of decently reviewed devices. In my time with it, over 200 button presses in, it delivered on cue, within 1-2 seconds, every single time. Impressive stuff.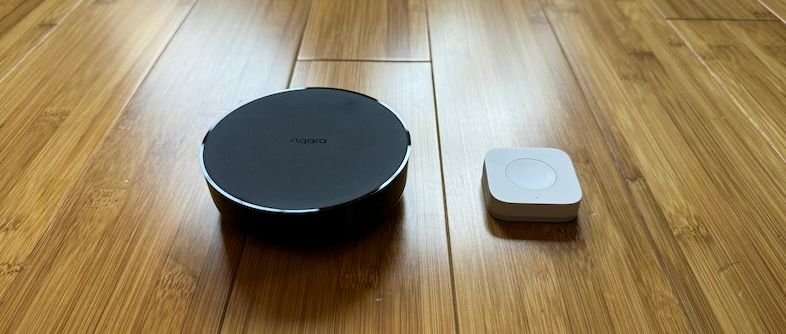 To set up the Aqara button, you'll need to download the Aqara app, install the hub, update its firmware, set up the button, and then add your button to the Apple Home app. Once added to the Home app, you'll need to choose which scene gets triggered for each of the three-button taps. It's straightforward; however, give yourself about 15 minutes for the entire setup. Oh, and the Aqara button and hub have a bonus feature: they can double as an emergency alarm or doorbell. It's a cool idea, but not something I see anyone actually using.
Next, I experimented with Tuo's smart button, which is a brand previously unfamiliar to me. After over two months of daily use and over 600 button clicks, it's performed flawlessly. I can't vouch for the brand or the long-term effectiveness of the button, but I have no reason to believe it won't continue to work.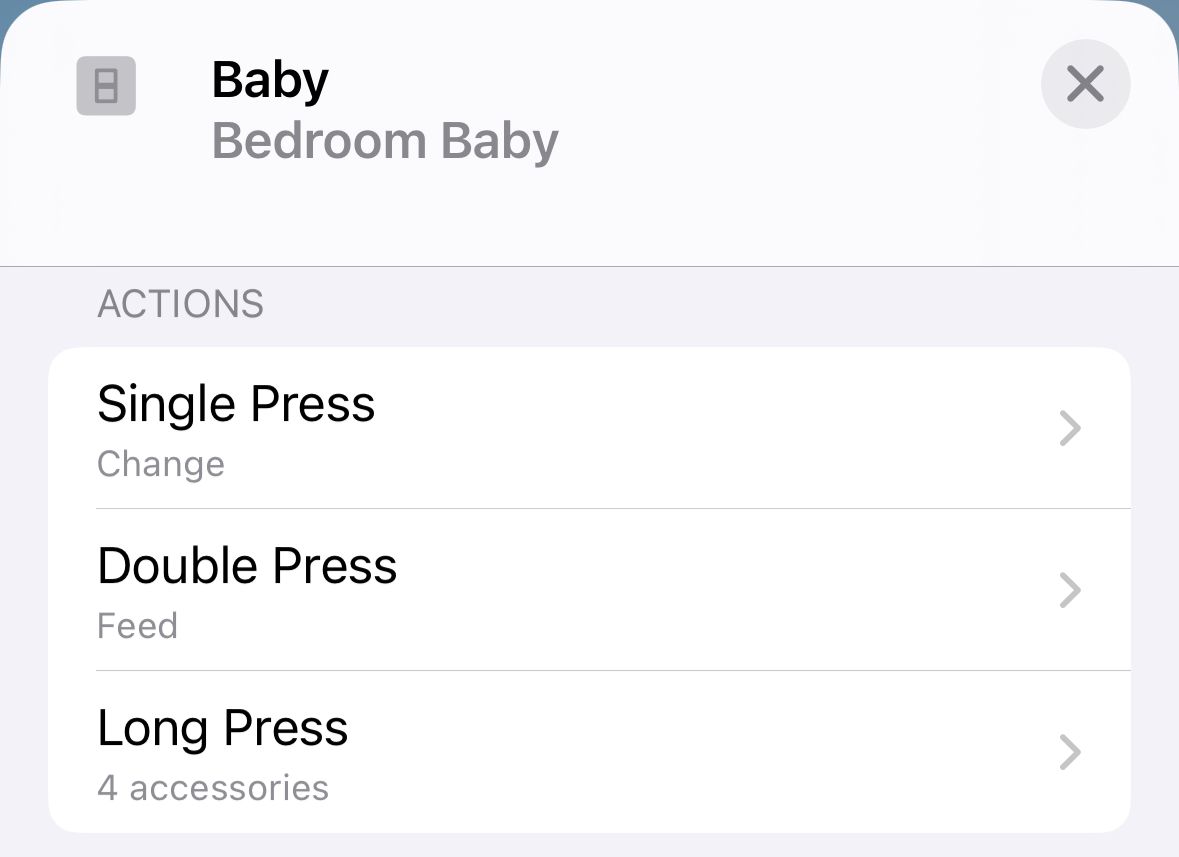 The Tuo button is $35, which is twice the price of Aqara, but it doesn't require a dedicated hub, which is why it's a better value and a no-brainer for HomeKit users. The Tuo button works with the Matter standard via Thread (and Bluetooth), meaning that it'll work with any smart home platform. To set up, go to the Home app, tap "Add Accessory", scan the QR code on the button, and choose which room it belongs to. From there, choose your single, double, and long press actions. It took me less than five minutes from the unboxing to completion.
Remember, Matter devices need a 'Matter controller'. Most likely, if you're reading this, you already have a HomeKit hub that serves as this controller. Your second-generation HomePod, HomePod mini, or any Apple TV 4K can be this hub. But, if choosing an Apple TV, go with the latest 4K 128 GB model because it supports Thread, unlike the 64 GB model. Devices using Thread, like smart lights, locks and buttons, typically work more efficiently than those on Bluetooth.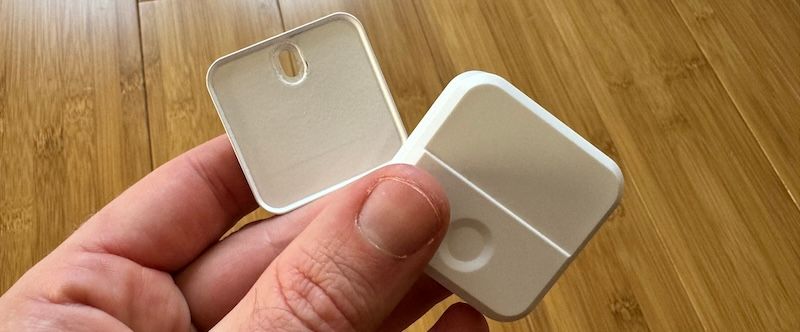 In short, if you have a HomeKit hub already, get the Tuo smart button. It's easier to set up, more cost-effective since you don't need an additional hub, and its magnetic mounting adds portability.
Wrap Up
Any HomeKit user with a handful of smart devices should consider snagging a smart button, especially given the affordable price tag.
While they're perfect for the tech-challenged friends or visitors in your life, they're also just swift and efficient—even for us tech nerds.
To those who've been mentally shouting about NFC tags throughout this piece, I hear you. Yes, NFC tags are great. At a tap, your phone can activate millions of cool actions. They're budget-friendly, often offering 100 tags for less than $15, and via the Shortcuts app, they can rival or even outperform smart buttons. I've got a few around, like one under my desk that toggles my studio lights for YouTube videos.
However, NFC tags have their limitations:
They demand some tech-savviness, requiring a grasp of the Shortcuts app.
They aren't universal solutions. Each person wanting to use them has to set up the automation on their device.
They're guest-unfriendly, given the need for personal device setup.
They're phone-dependent, excluding Apple Watch users.
Accuracy matters with NFC tags. Your phone needs precise positioning. There are days were they don't work without at least five attempts.
Whether you choose NFC tags, smart buttons, or a mix of both, it's all good! Every home has its unique needs. My goal was simply to spotlight this underrated smart gadget.
Now, over to you: If you've got a smart button, how has it made a difference in your tech routine?