Best Authentic Apple Watch Bands: Comparing 9 Styles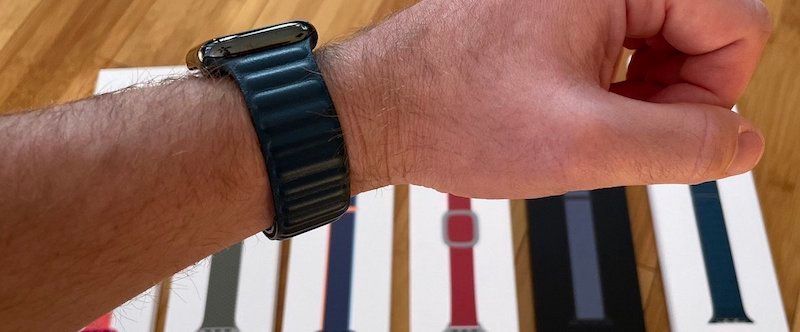 The authentic Apple Watch bands probably aren't the best value. I'm sure great third-party bands exist, but I've been disappointed in the few that I've seen. For this post, I'll give you a breakdown of nine authentic band styles sold on Apple.com.
Sport Band

The Sport Band is the original Apple Watch band.
It's made from fluoroelastomer (a type of rubber).
It's great for exercise because the sweat falls off easily and you can rinse it off in the sink.
It's my go-to for running in hot weather.
It looks good enough to wear during the day.
Unfortunately, the Sport Band doesn't always provide the perfect fit. If you're in between sizes, it'll be a little too tight or too loose. I use the sixth hole because the fifth hole is too tight, but a hole between these two would be perfect.
Sport Loop

The Sport Loop was released two years after the Sport Band.
It's made from a lightweight and breathable nylon.
It straps around your wrist, then fastens with hook and loop.
It's my go-to for working out.
The Sport Loop is more comfortable than the Sport Band because the size is fully customizable, which provides a perfect fit.
It's so light that it feels like you're not wearing anything on your wrist.
It gets soaked when you sweat. Luckily, it dries out quickly, but it becomes discolored with lots of sweat and can't be easily cleaned. Instead, I wear the Sport Band when I'm exercising in the heat.
The hook and loop strength gets worn down after lots of use. I usually get about 6-12 months out of a band.
Nike Bands

Nike sells two band styles: Sport Loop and Sport Band.
The Nike Sport Loop is no different than the regular Sport Loop, but Nike's usually has two tones in the middle part of the band.
The Nike Sport Band is made of the same material as the regular Sport Band, but it has holes in it. It feels the same on the wrist.
Braided Loop

The braided loop was released this year. It's one solid piece of braided recycled yarn. It's comfy, but it doesn't live up to Apple's marketing pictures because it has a silver metal piece near the spot where it latches in that prevents the band from living up to its potential. The latch should be colored to match the band.
I exercise pretty intensely every day, but after a month it discolored slightly from my sweat.
Fitting is tough. To find your size, print out the sizing sheet on Apple.com. According to the sizer, I was a size 7, but I needed a size 5. The size 7 fit well originally, but it's too loose to wear now. If you're between sizes, I recommend the smaller size. I discovered after my purchase: your size number for the Solo Loop corresponds to the hole used on your Sport Band.
I already have a snag in the band after a month of light use.
$99 for "recycled yarn" is too much, especially when you consider HomePod mini is the same price. It's probably expensive because Apple knows there will be lots of returns due to sizing issues.
Solo Loop

The Solo Loop is the same concept as the braided loop, but it's made of silicon.
Unfortunately, you'll run into the same sizing issues.
It's made out of a stretchy and sticky feeling material. It's nothing like the comfy rubber from the Sport Band. I found it to be uncomfortable after just a couple of days of use.
It doesn't do well with sweat because it got stuck to my skin and left a red mark.
I can't figure out why, but I don't like the looks of this band.
Milanese Loop

The Milanese Loop comes in three colors: Gold, Graphite, and Silver.
It's more comfortable than it appears because you can customize the fit to be perfect.
It's a relatively good value and the most affordable way to look classy. It was my everyday band for two years.
Unfortunately, if you hit it against something, it gets loose and requires re-adjusting.
The Milanese Loop doesn't look great with aluminum Apple Watch models due to the mismatch in latch color.
It's not made for exercise, so you'll have to switch to a Sport Band or Loop.
Leather Link

The Leather Link band was released this year.
It comes in four colors: Baltic Blue, California Poppy, Saddle Brown, and Black.
It has magnets in each leather hump. The magnets are stronger than the Milanese Loop, but you can't customize the fit as much as the Milanese. It has a satisfying snap when you connect both sides.
You don't want to sweat with leather.
The Leather Link is my new everyday band because it fits well, looks good, and provides good value at $99 compared to the rest of the bands.
The best part is the leather latches are the same color as the band, which means it'll look good with any stainless steel or aluminum Apple Watch.
Modern Leather Buckle

The Modern Leather Buckle band is made with colored leather and has a stainless steel buckle fastener.
You don't want to exercise in these, but they're comfortable for the rest of the day.
It's $149, which is $49 more than the Milanese or the Leather Link. Mine hasn't held up well enough to be worth that price.
While you can use it with any Apple Watch model, the color of the connector is silver stainless steel. I don't like the look when it's connected to a non-silver stainless steel model.
Summary
I recommended the Sport Loop band for $50 if you want one band for all purposes. It's light, ready for exercise, and it fits perfectly.
I recommended the Milanese Loop or Leather Link for $99 if you want a classy look while not exercising. These bands are custom fit, well-built, and look great.
What about the Hermès and Stainless Steel Link bands?
I haven't tried either yet.
The Hermes bands are for fans of the Hermes brand. If that's you, you've probably already bought one.
The Stainless Steel Link is the best way to make your Apple Watch look like a real watch, but it'll set you back $349.
---
Want to support this blog? (affiliate disclosure)
I'm not affiliated with any of the products that I review on this blog. I always purchase them out of my own pocket to ensure that my reviews are unbiased. However, as an Amazon Affiliate, I earn a small commission (usually between 1-4%) on some purchases made through the links in my posts. These commissions help support my blog by allowing me to buy new products and produce reviews independently.