Best Authentic Apple Watch Bands For 2023: Comparing 9 Styles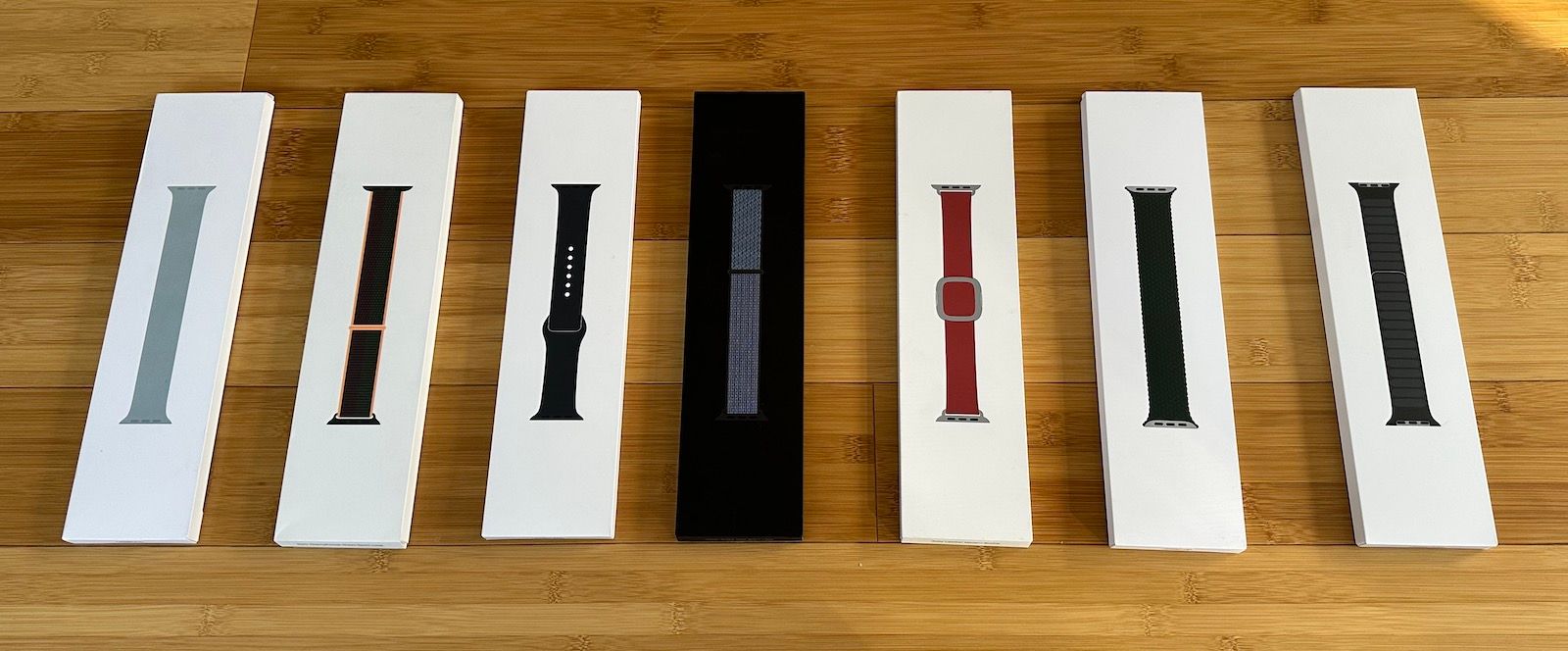 The authentic Apple Watch bands may not be the best value compared to third-party bands, but they're all well-made and what I prefer to use.
In this post, I'll break down nine authentic band styles available for the smaller models (38mm, 40mm, and 41mm) on Apple.com.
Sport Band

Design: The Sport Band is the original Apple Watch band. It's made from fluoroelastomer (a type of rubber). I think it looks good enough to wear any time.
Fit: The fit can be imperfect—either too tight or loose if you fall in between sizes. I typically use the sixth hole because the fifth hole is too tight, but a hole between these two is ideally what I need. The inconsistent fit can sometimes delay heart rate readings, but it's usually not a major issue.
Exercise: Sweat falls off easily. It can be rinsed off in the sink to keep it looking almost like new for years. It's my go-to band for running in hot weather.
Sport Loop

Design: The Sport Loop is made from lightweight and breathable nylon. It's so light that it feels like you're not wearing anything on your wrist.
Fit: It straps around your wrist, then fastens with hook and loop. It's more comfortable than the Sport Band because the size is fully customizable, which provides a perfect fit. The hook and loop strength gets worn down after lots of use, but you should be able to get more than a full year of wearing before noticing less stickiness.
Exercise: I use the Apple Watch Sport Loop for low-sweat workouts, thanks to its adjustable fit for accurate heart rate readings and perfect placement. Intense summer workouts can result in the band becoming soaked with sweat, which makes it uncomfortable to wear afterward and leads to discoloration over time. To maintain its appearance, I switch to the Sport Band during high-intensity workouts.
Nike Bands

The Nike Sport Loop is similar to the regular Sport Loop, but Nike's has two tones in the middle part of the band. The stripes in the middle are slightly reflective for better nighttime visibility if put into direct contact with light.
The Nike Sport Band is made of the same material as the regular Sport Band, but it has different colored holes in it, which gives it slightly better breathability. Although, it feels about the same on the wrist as the regular Sport Band.
Braided Loop

Design: The Braided Loop is made of a single braided recycled yarn piece. Despite its comfort and appearance, it's tough to justify its $99 price because it's prone to snagging and costs twice as much as the Sport Loop, which offers a similar fit and appearance. Someone as detail-oriented as I am, will find it annoying that the silver latch contrasts with the band color and doesn't match certain Apple Watch cases.
Fit: The Braided Loop is Apple's first band with non-universal sizing. To find your precise fit, print the sizing sheet from Apple.com and cut out the template. The sizing process is now easy to follow thanks to improved instructions. If you know your Sport Band hole size, it'll match your Braided Loop size. If you're in between or just slightly over a size, definitely round down to the smaller size because both of my bands seemed to stretch slightly after the first week of use.
Exercise: It's comfortable to exercise in, but after a month of intense summer workouts, it discolored slightly from my sweat. It'll be fine for moderate workouts, but it'll soak up sweat.
Solo Loop

Design: The Solo Loop is similar to the braided loop, but made of silicon. The idea of a seamless design appeals to me, but the material differs from the comfortable rubber of the Sport Band because it's stretchier and stickier.
Fit: The Apple sizing sheet ensures a precise fit. Once you have the right size, it feels weightless and stays in place. However, I found it uncomfortable against my skin after a few days of use and haven't used it since. On the other hand, my wife loves the weightless feel and perfect fit and considers it the best watch band from Apple.
Exercise: In theory, the perfect fit, lightness, and easy cleaning make this band ideal for any type of exercise. However, sweat caused it to stick to my skin and left red marks. My wife, who exercises with equal intensity, doesn't have this issue.
Milanese Loop

Design: The stainless steel Milanese Loop comes in Gold, Graphite, or Silver, and best complements an Apple Watch with a stainless steel case. It doesn't look great with aluminum Apple Watch models because of the latch color mismatch. For $99, it's a great way to look classy and it was my go-to band for two years.
Fit: It's more comfortable than it appears because you can customize the fit to be perfect, but it tends to loosen slightly throughout the day with regular use, so it'll need to be tightened here and there. It's worth noting that my wrist hair has been pinched a few times between the mesh metal when putting it on. And the edges are a bit sharper than you'd think if you rub it against a part of your body.
Exercise: Aside from a casual walk, it's not made for exercise, so you'll have to switch to one of the bands mentioned above.
Leather Link

Design: The Leather Link band comes in three colors for 2023: Umber, Ink, and Midnight. It's one of my favorite everyday bands because it looks great and provides great value at $99 compared to the rest of the bands. I love that the leather latches are the same color as the band, which means it'll look good with any stainless steel or aluminum Apple Watch.
Fit: It clicks into place with a satisfying snap at each magnetic hump, serving as size increments. While the magnet power is stronger than the Milanese Loop, the fit customization is more limited. If you're in between sizes, it'll be looser than ideal because if you want a tighter fit, flexing the wrist can cause it to unsnap to the next size down. The Sport Band has this similar sizing issue.
Exercise: It's not suitable for intense exercise, except for walking or other light activities. I suggest switching to a different band, like the Sport Loop or Sport Band.
Modern Leather Buckle

Design: The Modern Leather Buckle band features colored leather and a stainless steel buckle fastener. It's compatible with all Apple Watch models, but the connector is silver stainless steel, which creates a mismatch with all aluminum and non-silver watch models. At $149, it's $50 more expensive than the Leather Link or Milanese Loop. Despite normal use, its color changed in less than 6 months, making it not worth the higher price compared to my favorite Leather Link and Milanese Loop.
Fit: The latch system is interesting and easy to use, but it may occasionally pinch if you have wrist hair. The comfort is fine, but the fit is similar to the Sport Band and not as precise as others.
Exercise: It's not suitable for exercise, except for walking or other light activities. I suggest switching to a different band, like the Sport Loop or Sport Band.
Summary
If you're looking for a versatile band that's suitable for exercise and everyday life, I recommend the Sport Loop band for $49. It's lightweight, comfortable, and provides a perfect fit.
If you prefer a more sophisticated look for non-exercise occasions, I suggest the Milanese Loop or Leather Link for $99. Both of these bands are well-constructed and stylish.
I haven't tried the Hermès or Stainless Steel Link bands yet. The Hermès bands are designed for fans of the brand, and if that's you, you probably already own one. The Stainless Steel Link band is a great way to give your Apple Watch a more traditional watch appearance, but it comes with a price tag of $349.
I'm also interested in trying the newer Apple Watch Ultra bands, like the Alpine Loop, Trail Loop, and Ocean Band, but unfortunately, they're not compatible with the smaller watch models (38mm, 40mm, 41mm) like mine.
---
Want to support this blog? (affiliate disclosure)
I'm not affiliated with any of the products that I review on this blog. I always purchase them out of my own pocket to ensure that my reviews are unbiased. However, as an Amazon Affiliate, I earn a small commission (usually between 1-4%) on some purchases made through the links in my posts. These commissions help support my blog by allowing me to buy new products and produce reviews independently.