Eero WiFi 6 Models Reviewed (6 vs. 6+ vs. Pro 6 vs. Pro 6E)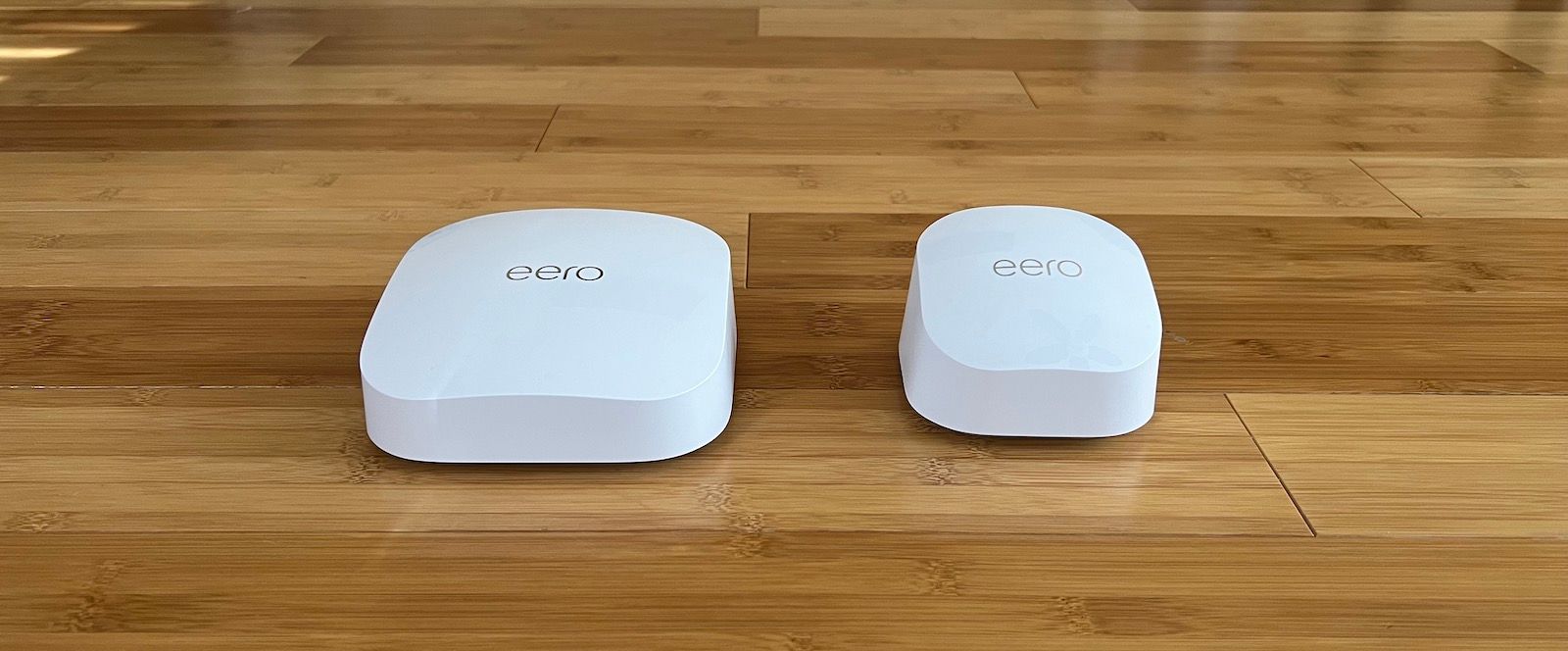 Over the last five years, I've used more than 12 different Eero configurations in my home. But in this post, I'll focus on the four Eero WiFi 6 models: Eero 6, Eero 6+, Eero Pro 6, and Eero Pro 6E.
Eero 6 and Eero 6+ are the best value and are ideal for those who have houses under 4,000 square feet and want to dip their toes into the WiFi 6 and Thread radio waters.
On the higher end, Eero Pro 6 is great for those who want to get the best performance in 2023 out of a Eero system. While Eero Pro 6E is the first that incorporates the 6GHz band, it's one of the more confusing products I've ever tested, which we'll go into detail later.
In this post, we'll start with the fundamental features of Eero systems, assuming no prior knowledge. Then, we'll discuss the stability, my performance testing, touch on privacy concerns, and wrap up with thorough and easy-to-understand recommendations on which of the four systems is most suitable for different types of users.
Eero Basics
Eero mesh WiFi systems are great for those who want an easy-to-install and user-friendly system. It's the one WiFi system that I'm confident my parents could get running in under 30 minutes and manage themselves.
The attractive design of Eero routers can't be overlooked either. While it may seem silly, I love having a WiFi system that looks good. Unlike traditional routers with protruding antennas, each Eero model has a sleek and stylish appearance that can blend in anywhere in the house.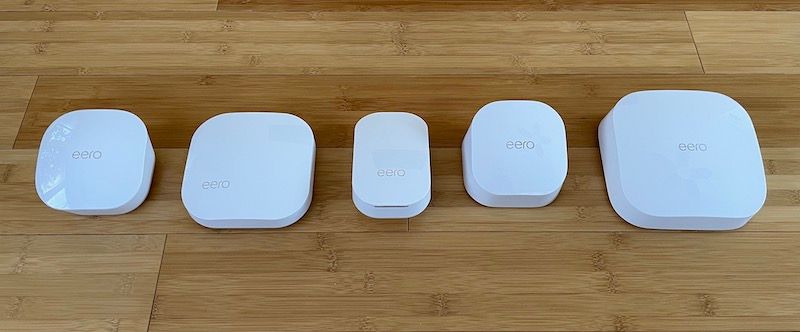 Eero is great for parents with younger kids too because the internet usage of devices can be managed and monitored. The Eero app lets you group devices by each user on the network and create a "Family Profile," which allows you to set scheduled access and downtime periods for a set of devices. And now, multiple household members can have admin access via the app.
There's also an interface that displays your devices in order of real-time bandwidth usage, which is helpful for troubleshooting when the network or a device isn't running as intended. The amount of bandwidth each profile or device is consuming for the current week is displayed too, but you'll need Eero Plus for $99/year if you want full access to historical bandwidth usage, content filtering, and ad-blocking.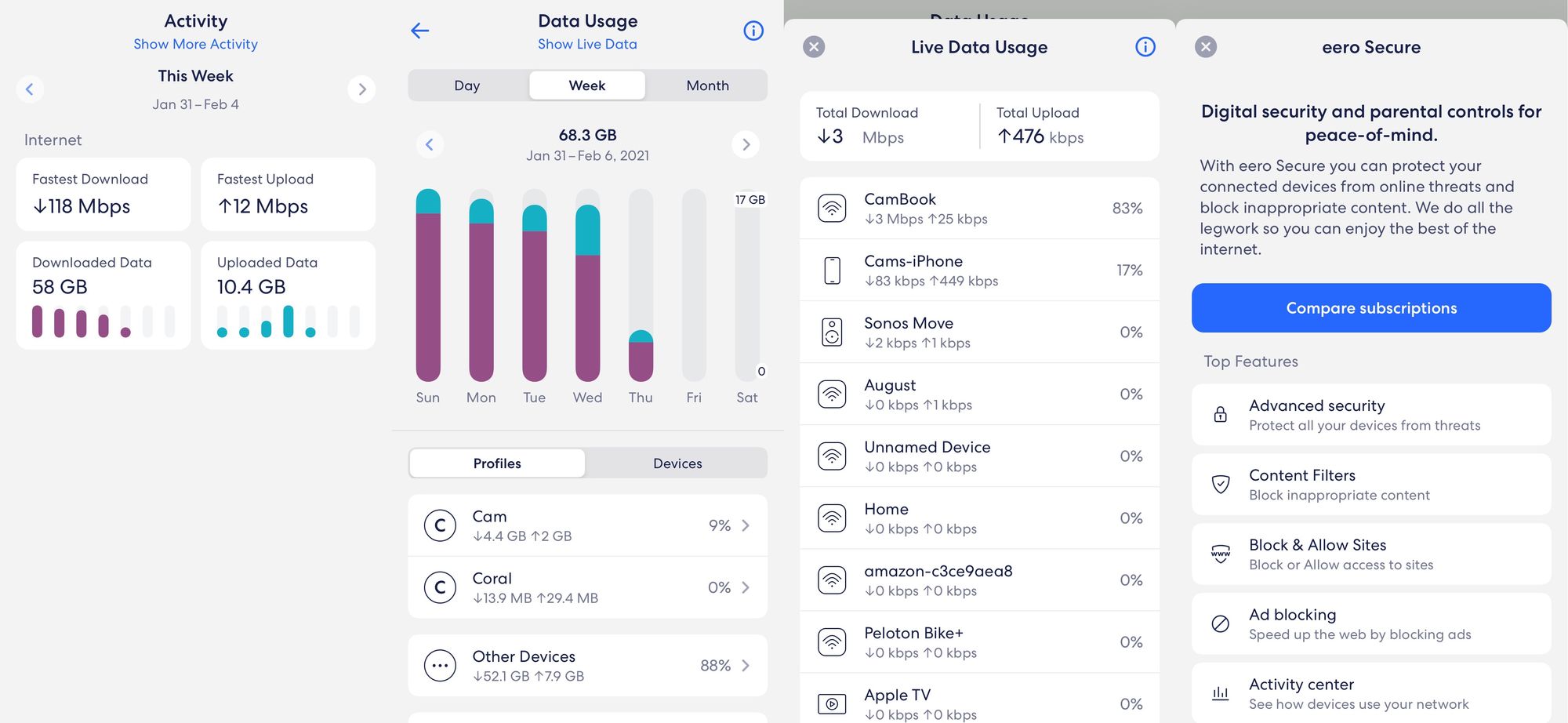 Most won't need Eero Plus, however, it's a solid value because it includes 1Password's password manager and Encrypt.me's VPN. I've been a happy subscriber because a password manager and VPN are two things that I'd be buying independently regardless.
The bottom line? If you're looking for a simple WiFi solution that'll enhance stability and range compared to a traditional WiFi system and look way more appealing, Eero is a near-perfect choice. However, if you're a networking nerd who enjoys tinkering with settings inside of a web interface to get the most out of your system, Eero isn't ideal because they do their best to remove added complexity with a basic app. Keep in mind that the premium price you pay for a Eero system is for user-friendliness, not necessarily for superior performance.
Stability
Eero uses TrueMesh technology that dynamically routes devices using algorithms and real-time data to help avoid drop-offs. It also automatically optimizes and self-corrects over time.
I'm not smart enough to understand all the optimizations that happen in the background or how it compares technically to other systems, but it's likely TrueMesh is just a fancy marketing term.
But here's what I know: I've used dozens of mesh systems from Orbi, Google, Nest, Velop, and Deco over the years. Eero is almost always the most stable and works without being noticed, which is the highest praise of a WiFi system.
With most mesh systems, when you walk around, your devices tend to have a slight hiccup when a device switches its connection to a different node. This doesn't happen with Eero. It has client steering that smoothly directs and hands off your devices to the optimal nodes as you move throughout your house.
These WiFi 6 Eero models may have differed in stability after the initial releases for each, but currently, there's not a noticeable difference between them after firmware updates.
Band & Radio Differences
Eero 6 and Eero 6+ are dual-band systems (5GHz and 2.4GHz), which means a chunk of your total bandwidth from the 5GHz band will be wasted on backhaul communication (Eero nodes communicating with each other).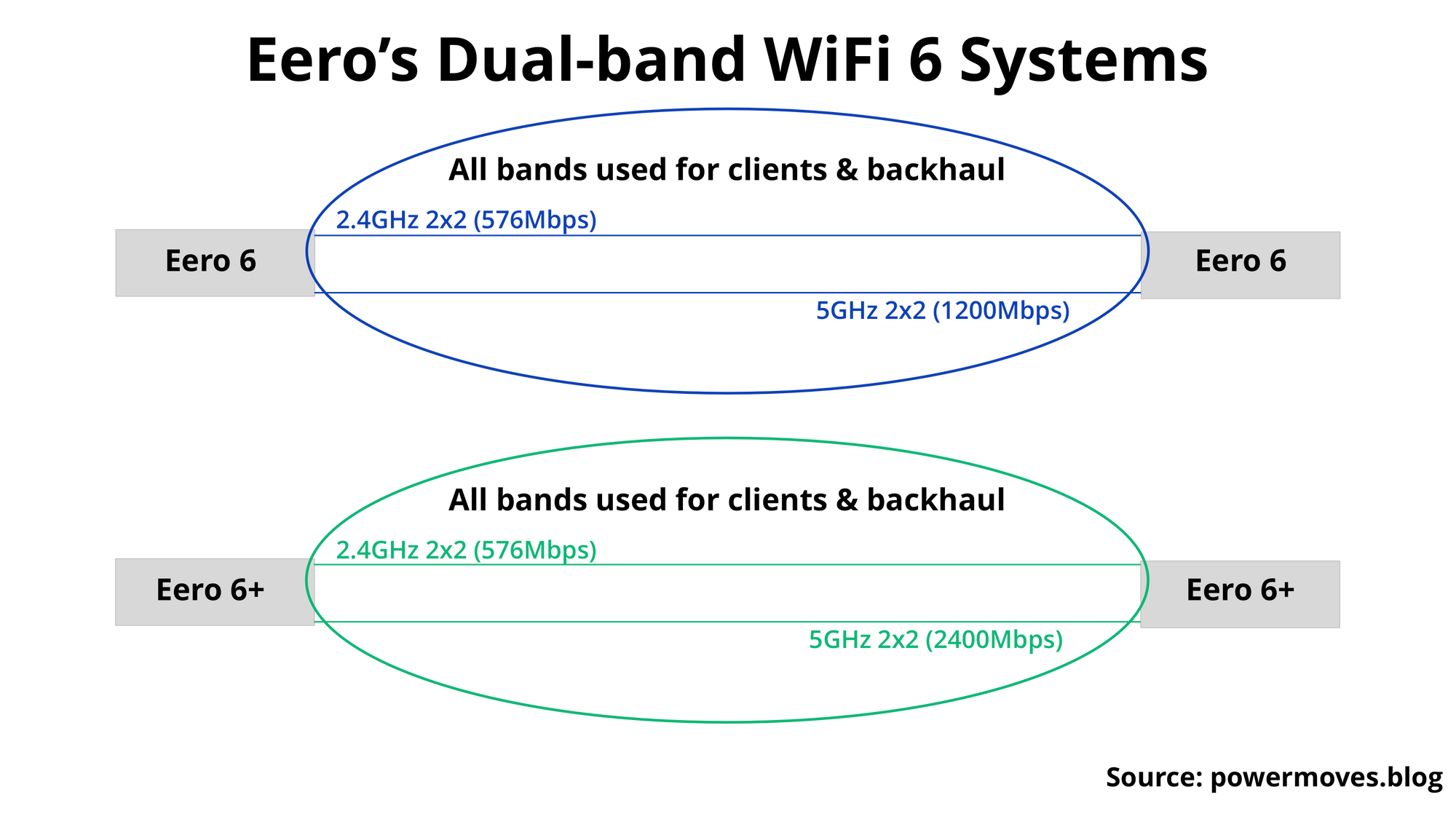 Eero Pro 6 and Eero Pro 6E are tri-band systems. The Pro 6 has two 5GHz bands, while the Pro 6E has a 6GHz band and a 5GHz band instead of two 5GHz bands. The 6GHz band is part of the new WiFi 6E standard that allows for wider channels and less congestion, which should result in faster speeds when 6GHz compatible devices are connected to that band.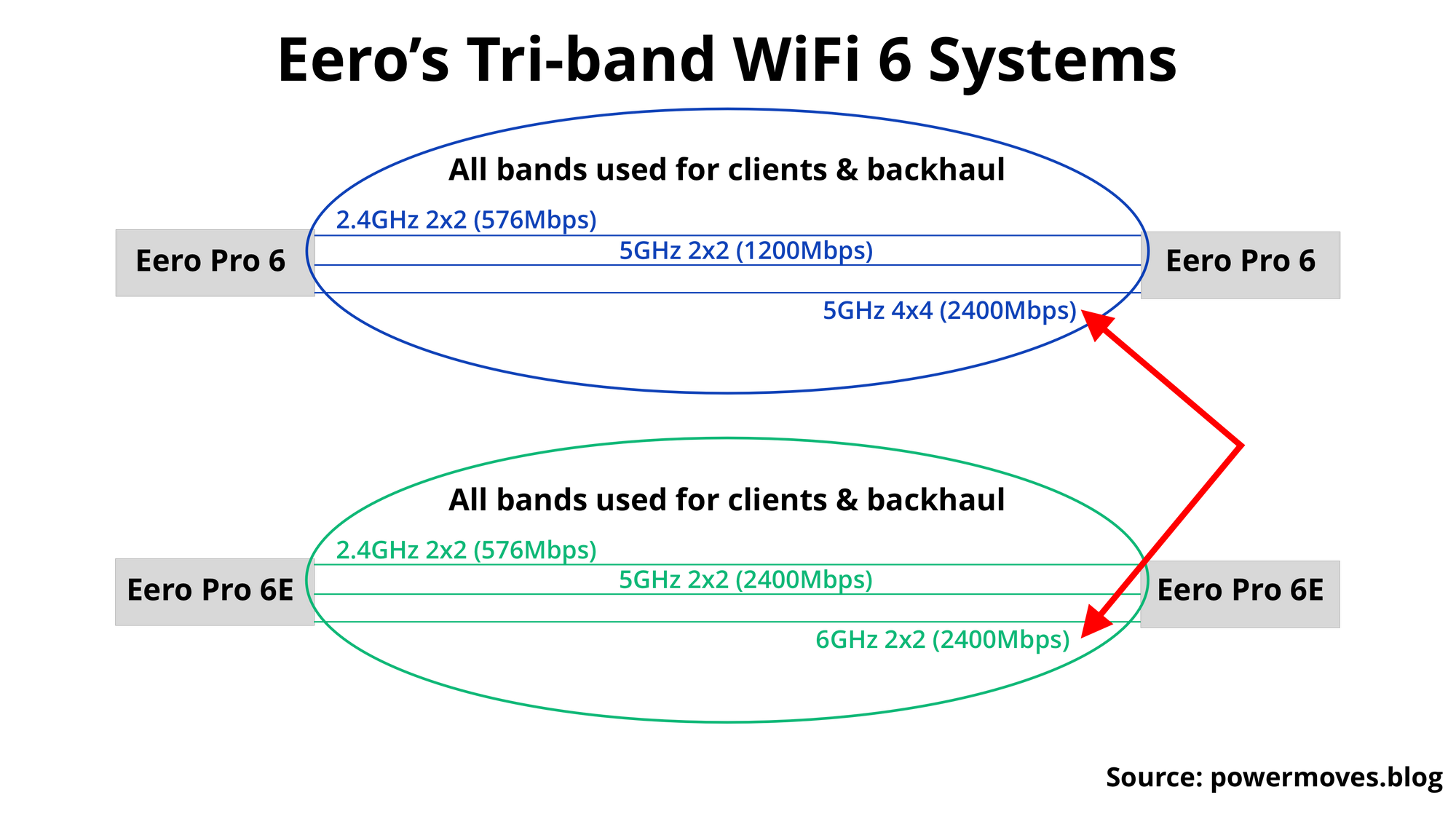 Theoretically, both Pro models should have three bands available for the backhaul, with 5GHz and 6GHz band taking the primary backhaul duties due to throughput capabilities, but that's not always the case, which we'll get into next.
Performance
Eero's Specs
| Model | Rating | Mesh Mbps | Coverage Per Node |
| --- | --- | --- | --- |
| Eero | AC1300 | 350 | 1,500 sqft |
| Eero Beacon | AC1300 | 350 | 1,500 sqft |
| Eero 6 | AX1800 | 500 | 1,500 sqft |
| Eero 6+ | AX3000 | 1,000 | 1,500 sqft |
| Eero Pro | AC2200 | 550 | 1,750 sqft |
| Eero Pro 6 | AX4200 | 1,000 | 1,750 sqft |
| Eero Pro 6E | AX5400 | 1,300 | 2,000 sqft |
My Testing Methods
I created an iPerf3 server on my M2 MacBook Air, which plugged into my Eero via an Ethernet cable. This tests the throughput speed rather than factoring in my internet speed, which is a more realistic representation of what can be expected compared to Eero's spec sheet or an internet speed test.
My house is just 1,200 sqft, but I wanted to cover the entire backyard. For each model tested, I used a two-node configuration and they were placed in the same optimal spot for my house.
I used the iPerf3 app on my iPhone 14 Pro (WiFi 6 compatible, but not WiFi 6E) to check the throughput speeds from ten set locations in my house and backyard, then averaged my numbers together. My iPhone only utilizes only the 5GHz and 2.4GHz bands and has a max speed of 867Mbps.
There are many variables at play when comparing my house to yours: which node your device connects to, the number of nodes and devices, home layout, ISP speed, and the capabilities of your clients.
Remember, when a device is plugged into Eero 6+, Eero Pro 6, or Eero Pro 6E directly, you'll get gigabit internet speeds, but I'm testing for wireless mesh speeds.
My Results & Interpretation
My results for the dual-band Eero 6 and Eero 6+ systems were as expected, delivering more than 330Mbps on average throughout my house with impressive stability.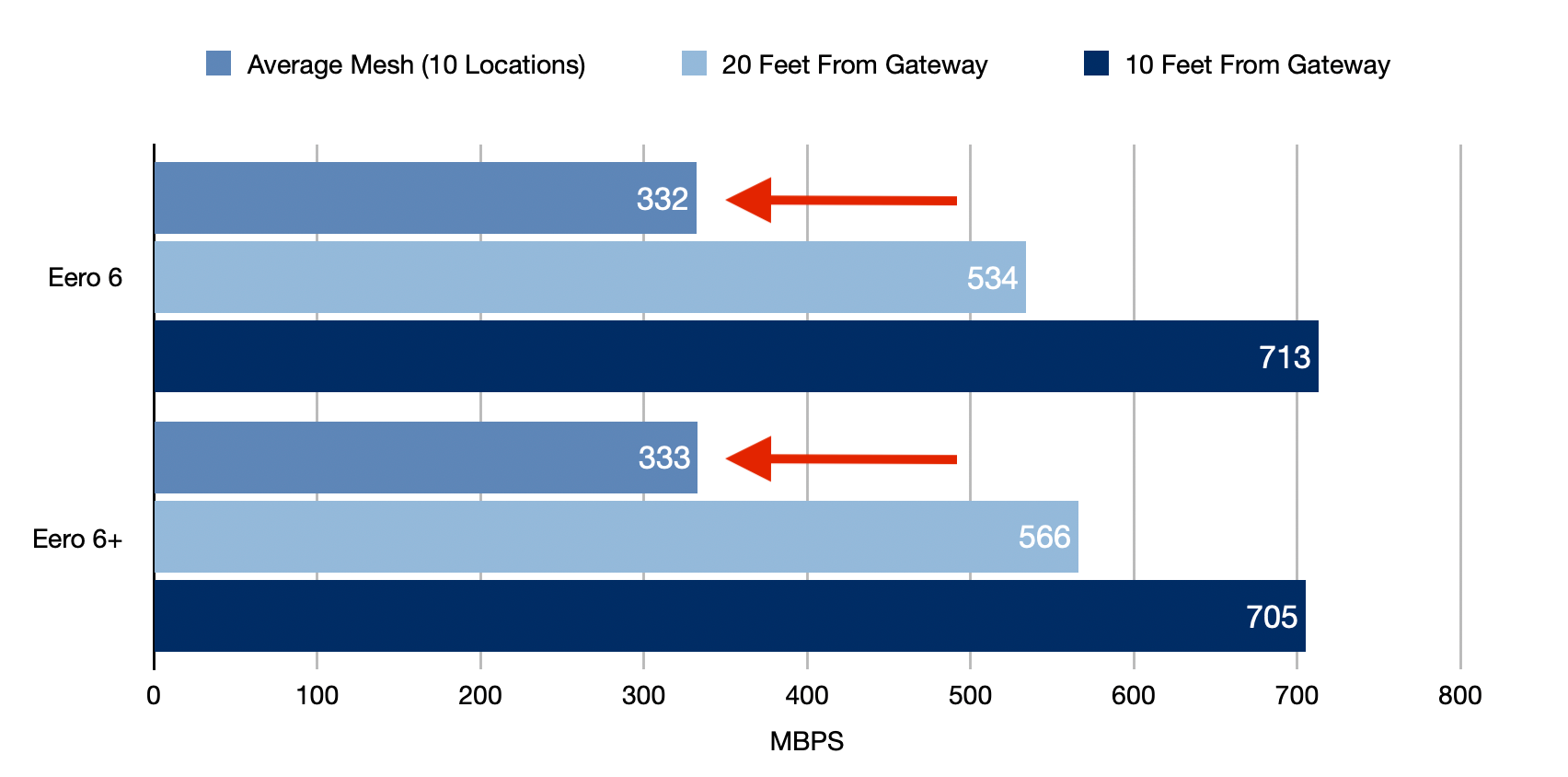 Eero Pro 6 also performed in line with expectations due to the third 5GHz band, which allows for more space for devices and backhaul to intermingle.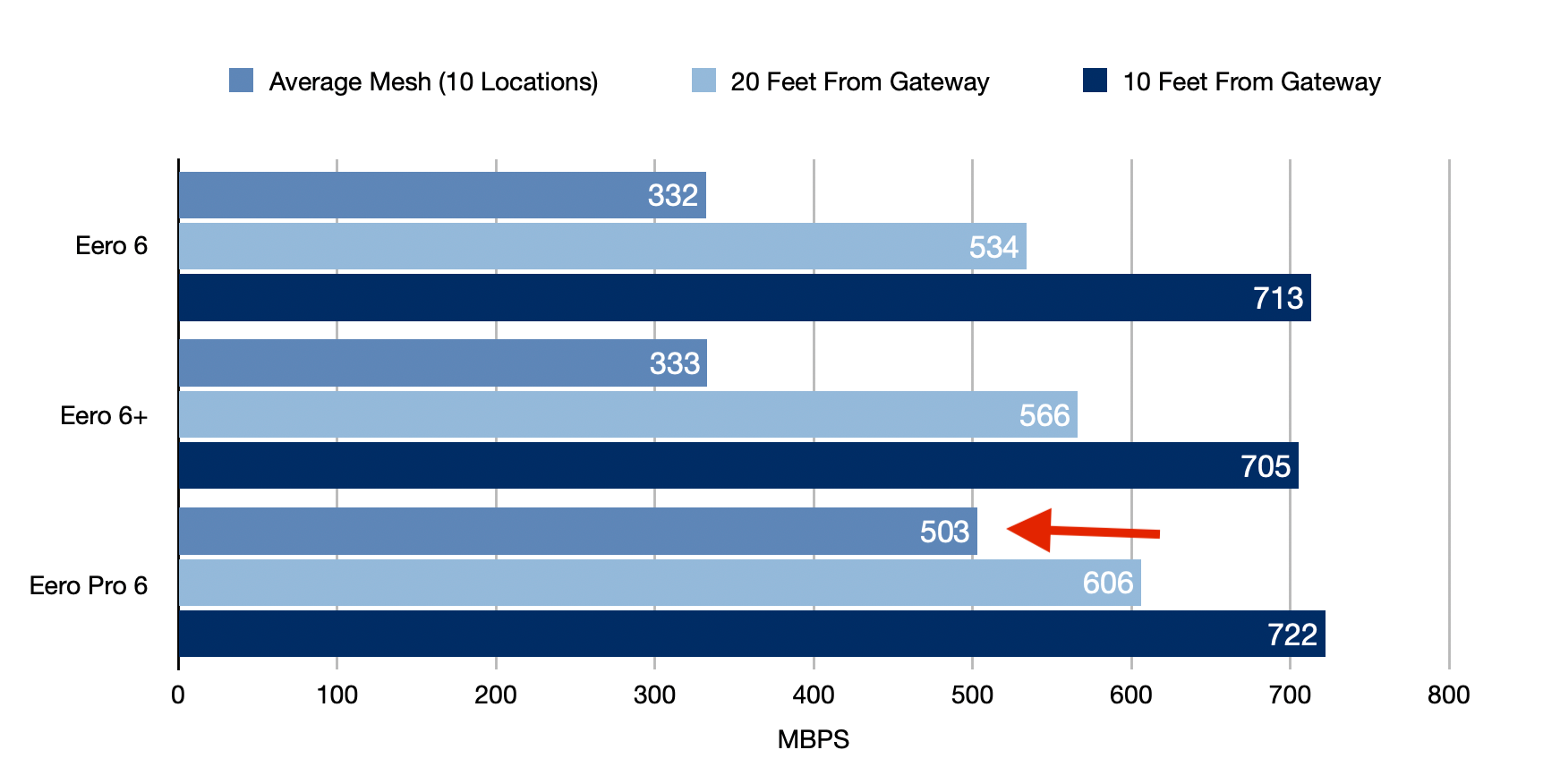 However, my results for the Eero Pro 6E might be surprising, because the speed is more in-line with the dual-band models. WiFi 6E devices can theoretically reach up to 2000Mbps, but I intentionally used my iPhone 14 Pro (without 6GHz band support) to give a fair representation of what you should expect in 2023 because there aren't many devices on the market that support the newest standard.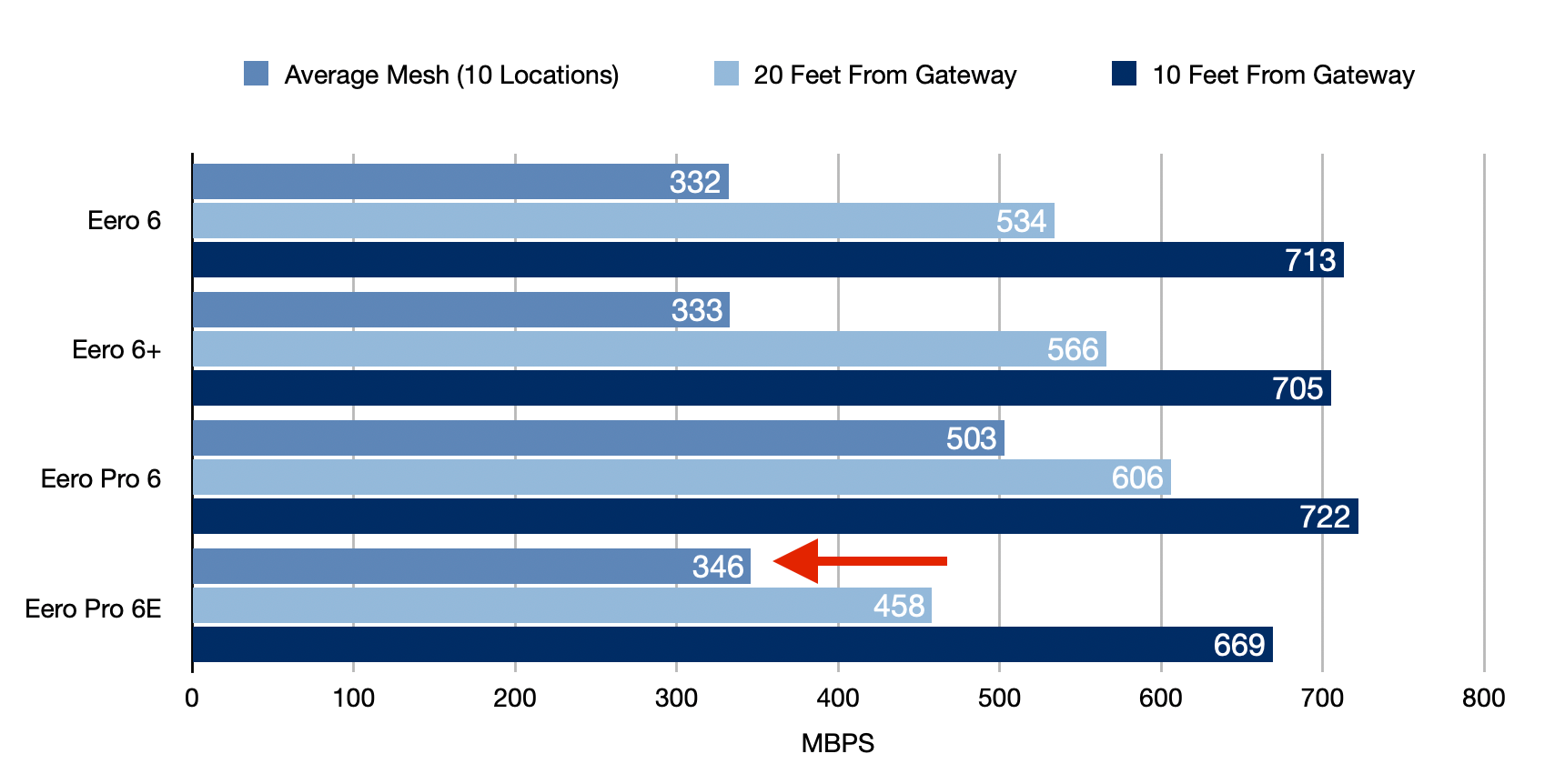 As of now, I don't have a single device that uses the 6GHz band in my house, but I was still convinced that the 6GHz band would be helpful because it'd be used for the backhaul. But that brings me to the second issue with the 6GHz band: the range is shorter than the 5GHz which makes it a less reliable backhaul. In my case, the Pro 6E appeared to be depending primarily on the single 5GHz band for backhaul, which meant that all my 5GHz devices and the Eero nodes were fighting for bandwidth on one band.
On the other hand, the older Pro 6 has two 5GHz bands for backhaul and clients to share, which is much more friendly in an environment with primarily 5GHz devices. Additionally, the Pro 6's 5GHz band has a 4x4 radio compared to 2x2 on the Pro 6E, which will hurt performance with some devices too.
Not only is the Eero Pro 6E hardware not worth the extra $150, but it's a downgrade from the Eero Pro 6 for most households in 2023, unless you have a bunch of 6GHz devices and/or want to run a wired backhaul.
The bottom line? I appreciate Eero's early implementation of new WiFi standards, but a quad-band system or a stronger radio on the 5GHz band would have made the Pro 6E a more practical option for today's environment. You might be thinking you want to "future-proof" yourself, but even in a few years when there are lots of 6GHz devices in the wild, Eero will most likely have a couple of new and more capable WiFi systems on the market.
Privacy
Since Amazon's acquisition of Eero a few years back, people have been rightfully worried about Eero's stance on privacy, but according to Eero, its privacy policy hasn't materially changed since the acquisition. This means that Eero still uses data from your devices and how they're used to help optimize your network.
Unfortunatley, there's no way to opt-out of this data collection or to view what data they've collected. The only way to get around this data collection is to purchase a system, like Orbi, that operates without cloud dependencies.
So what data is Eero actually collecting?
They collect product and performance information from your devices, like network speeds, bandwidth usage statistics, MAC addresses, IP addresses, and types of connected devices. This means theoretically, Eero knows when you're home, when you're working, and when you're sleeping all based on your internet usage.
However, due to how HTTPS works, it's not possible for Eero to track your browser history. Your ISP is actually a larger threat to your browser history if that's a concern of yours. It's also worth mentioning that almost a third of the entire internet uses Amazon's AWS for their infrastructure–there's no escaping Amazon!
Amazon has an advertising platform and they love data, but as of now, I don't see their stake in Eero as a huge concern. Especially, if you already have another Amazon or Ring device, your privacy is at a similar risk level. But given Amazon's enormous size, there's a greater risk associated with their ownership.
---
Which configuration is best for you?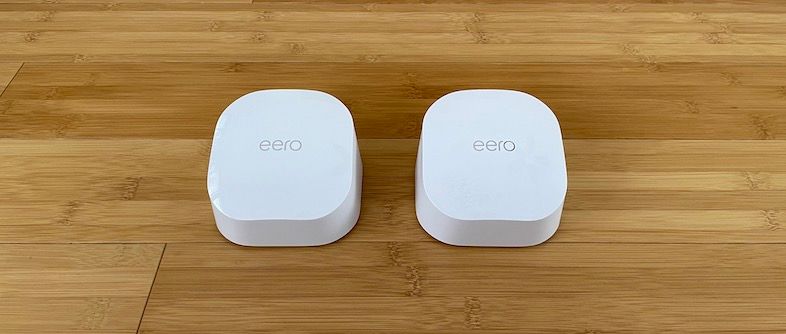 Eero 6 is best for people who pay for an ISP speed of 500Mbps or less. The three-set is perfect for those who have a modest amount of connected devices and a home under 4,000 sqft. It's a great system to dip your toes into the WiFi 6 waters. The only disadvantages are that it's the slowest WiFi 6 Eero and only the main gateway router has Ethernet ports.
---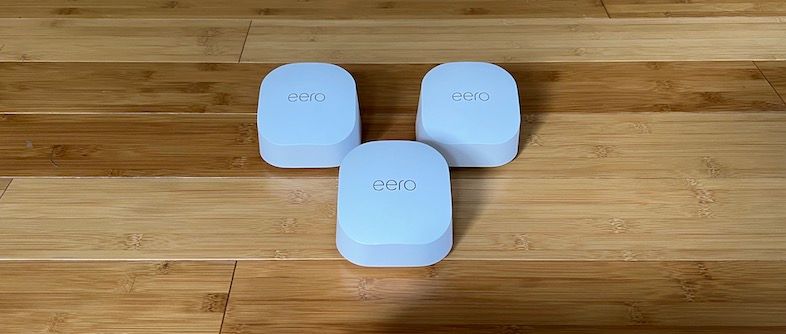 The Eero 6+ three-piece set is similar to the Eero 6 set. It's great for those who pay for 500Mbps or less, have under 75 connected devices, and a home under 4,000 sqft. It's $100 more than the Eero 6 set, but each node has two Ethernet ports. And the 5GHz band has a faster theoretical speed compared to Eero 6, but it won't be super noticeable in real life.
---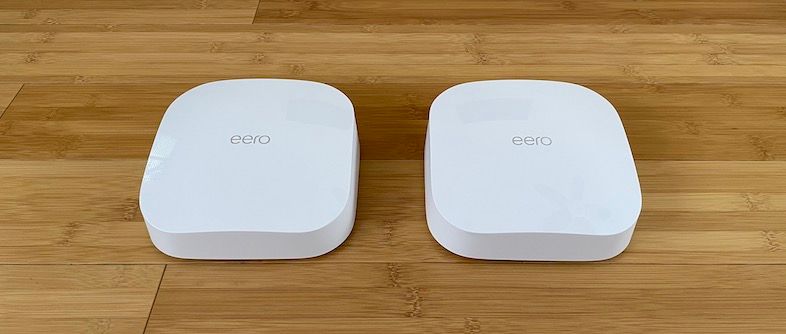 Eero Pro 6 is a great choice for those who want the best performance in 2023 that the Eero ecosystem has to offer. It's $399 for a set of three or $299 for a set of two, which is a more reasonable price than when they were first released. However, don't expect to get anywhere near gigabit speeds with this system. Eero Pro 6's three bands, along with its extended range, make it the best option for larger homes or households with lots of connected devices.
---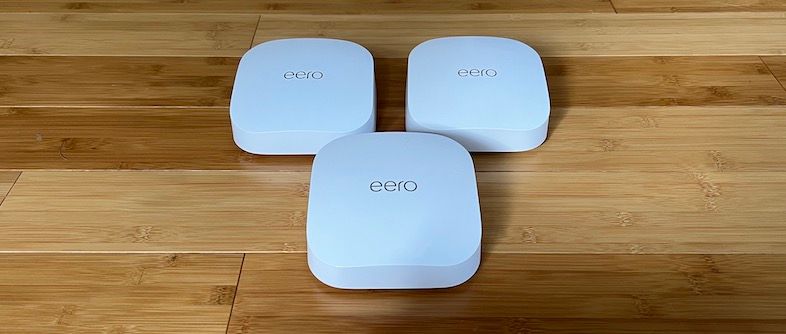 Eero Pro 6E is the only Eero system that I've ever reviewed that I don't recommend. It's just not equipped for a 2023 world with a limited amount of 6GHz devices. And the argument that you're "future proofing" doesn't make sense, better systems will be on the market once 6GHz is ubiquitous.
The new 6GHz band is exciting for the future of WiFi, but we're a ways off so it doens't make sense pay more money for worse performance now. That being said, this system works just as well as any Eero. I'm just disappointed in almost double the cost to get similar performance compared to the Eero 6+.
---
Which model am I keeping?
I pay for a 450Mbps plan from my ISP and with either of these four WiFi 6 systems installed, I average ~250Mbps (using speedtest.net) across the 10 areas where I want coverage. I consider this a huge win! Based on that, I would've been fine sticking with the Eero 6, but I decided to keep the Eero 6+ because it's slightly faster, and I have a bunch of Ethernet accessories, so those extra ports come in handy.
Keep in mind, it's just my wife and me, and we have about 30 total devices connected. If I had more devices or family members, I might consider the Eero Pro 6, but it's just not necessary for what I'm trying to accomplish.
If you're still confused about which configuration would be best, check out Eero's questionnaire. Tell it your house size and number of devices, then it'll recommend a model and configuration that would work best. It's not definitive, but it's a great place to start.
FAQ
Where do I place the nodes?
Each Eero node needs to be out in the open and placed on a hard surface. Ideally, the gateway node (the one plugged into your modem), should be in a central location.
The secondary nodes should be placed within a couple of rooms of the gateway node because it needs a strong signal. If you have a poor signal in the bedroom and you want to improve it, adding a node to the bedroom won't help. There's no signal. You need to add a node between your gateway and the bedroom.
For optimal performance, each node should get its signal from the gateway router. If you're constrained by the location of your modem, your network will still work if node #3 gets its signal from node #2, but your performance will suffer.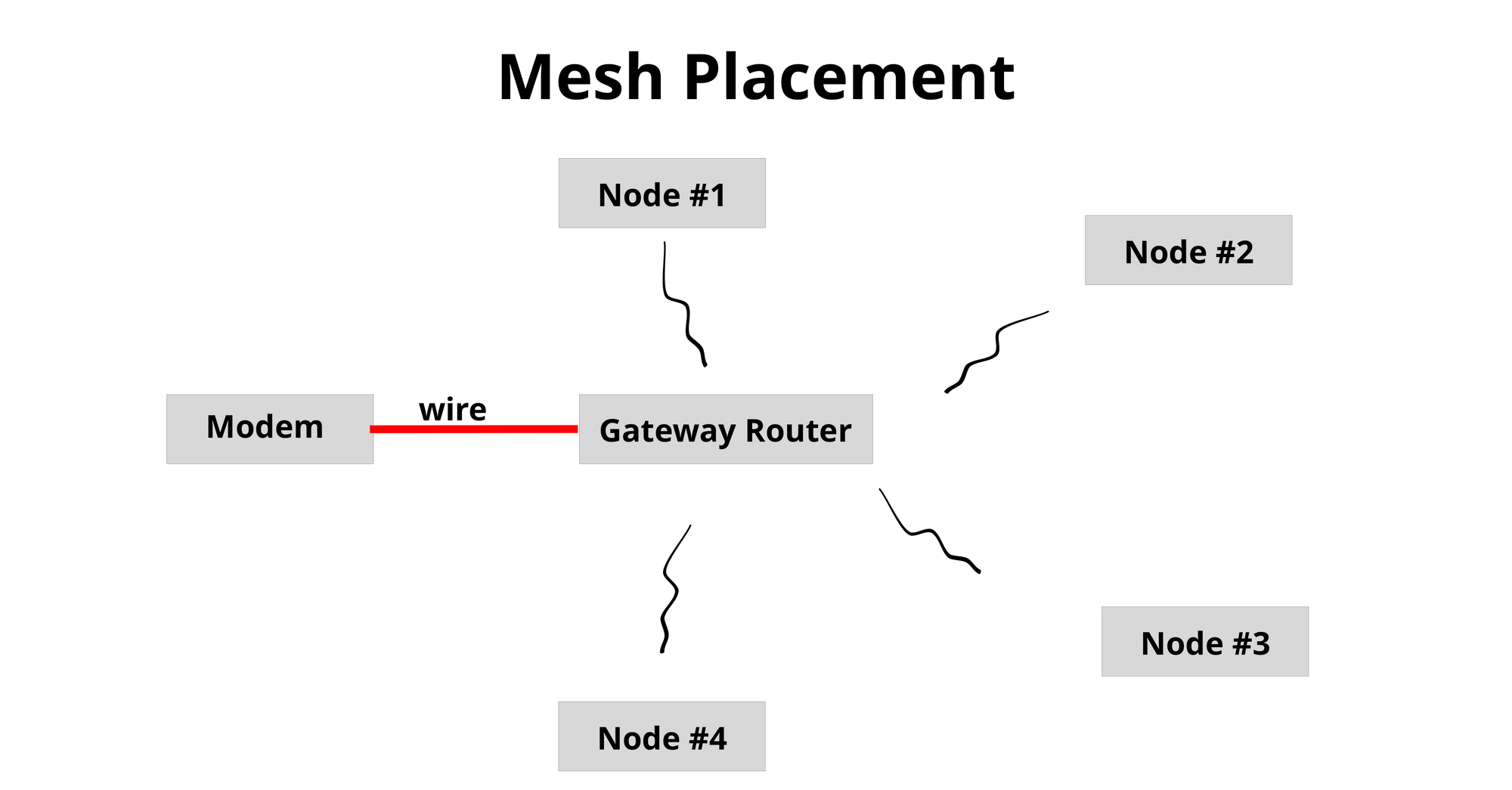 What about a wired backhaul?
A wired backhaul is when you connect the secondary nodes to the gateway node with an Ethernet cable, allowing your secondary nodes to achieve the same speed as the gateway.
A wired backhaul makes sense if you have a long or tall house where the gateway node can't be centrally located.
For most people, the inconvenience of setting up a wired backhaul isn't a worthy sacrifice to get a few download speed points. The beauty of Eero's mesh setup is that Eero does a ton of work in the background to make everything run smooth without needing to think. But if you like to tinker, optimize the crap out of your system.
What's wrong with the WiFi 5 Eero models?
Nothing! Eero 5 and Eero Pro 5 are still great systems, but it seems likely that Eero will stop selling them soon-ish. That doesn't mean WiFi 5 models will stop working, but they may stop getting firmware updates.
Eero's WiFi 6 models have faster radios than their predecessors, but because most of the devices on your network are likely WiFi 5 still, you won't see a ton of benefits until you have WiFi 6 more devices.
Once WiFi 6 is more prevalent, we'll see speed improvements. OFDMA and Multi-User MIMO are two WiFi 6 features that work together, which lets data be sent to multiple devices in the same broadcast. With lots of WiFi 6 devices running simultaneously, the devices are more likely to maintain their top speed.
WiFi 6E is the next iteration of WiFi 6 that adds a 6GHz band for wider channels and less congestion, resulting in faster speeds for 6GHz compatible devices (only a few are on the market).
Unless you get an incredible deal on a WiFi 5 Eero model, stick with one of the WiFi 6 models.
Can I pair different Eero models together?
You can mix and match any Eero model on one network. But I recommend using the highest performance node as your gateway. If you have Eero 6 and Eero Pro 6, the Pro 6 should be the one plugged into your modem.
Can I use Eero with my ISP?
Yes. Eero should work with any ISP. If you have a combination router/modem, you'll need to disable the router part, by putting it into bridge mode. Then, just plug in your gateway Eero to your modem.
---
Want to support this blog? (affiliate disclosure)
I'm not affiliated with any of the products that I review on this blog. I always purchase them out of my own pocket to ensure that my reviews are unbiased. However, as an Amazon Affiliate, I earn a small commission (usually between 1-4%) on some purchases made through the links in my posts. These commissions help support my blog by allowing me to buy new products and produce reviews independently.