Ecobee vs. Nest: A 2022 Look at All the Models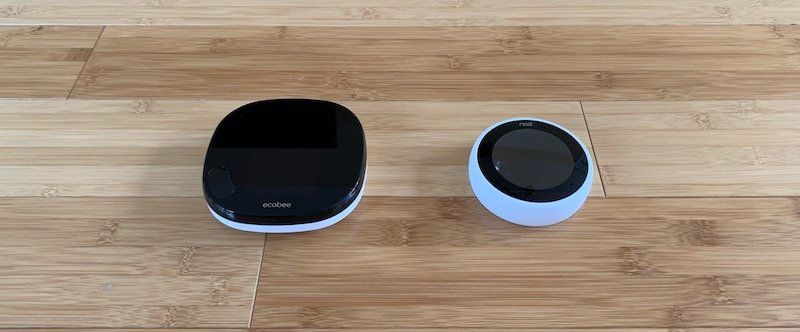 After years of testing Nest and Ecobee devices, I've determined Ecobee SmartThermostat is the best smart thermostat because you'll get the most control, flexibility and smart home compatibility.
Nest Learning Thermostat (3rd Gen) is a great system for those who lack the c-wire or want an easy installation with mindless money savings.
Want to learn how I reached this conclusion? Read on to see the detailed breakdown of user-friendliness, money-saving, and design that informed my overall impression. I'll cover the budget Nest and Ecobee devices in the final part of this post too.
Installation
Nest
Nest is the easiest smart thermostat to install because you don't need to touch your HVAC system. (Check your system's compatibility.)
The Nest needs power to operate, but it doesn't require constant power because there are two AAA batteries installed. In most situations, the c-wire won't be required for installation.
The installation shouldn't take longer than 15 minutes when you follow the step-by-step instructions in the Google Home app.
Ecobee
Ecobee's installation is smooth if you follow the steps in the Ecobee app. (Check your system's compatibility.)
Ecobee requires the c-wire for constant power. If your house doesn't have the c-wire, you'll need to install the included Power Extender Kit.
The Power Extender Kit requires opening your HVAC system, then moving wires around to create an artificial c-wire. It's safe, not overly difficult, and Ecobee provides a step-by-step tutorial. But if you don't have the c-wire and aren't comfortable installing the Power Extender Kit, Nest will make more sense.
---
Design
Nest
Nest Learning Thermostat is the best-looking thermostat on the market. It's a piece of art. The resolution is much sharper and better looking than Ecobee's too.
It comes in seven colors: Stainless Steel, Black, Copper, White, Mirror Black, Polished Steel, and Brass. The screen is made of glass and the sides are either polycarbonate or steel depending which styele you choose.
Rather than a touchscreen, it works similarly to the iPod click wheel. Spin the dial to navigate through the menus, then push the thermostat in to click. It's not convenient, but you shouldn't have to interact with the menus after setup.
You can customize the screen to your liking, and the display wakes when it senses your presence with Farsight.
It also has a cool "Sunblock" feature that automatically adjusts your Nest to read the correct temperature if it's in direct sunlight.
Ecobee
Ecobee SmartThermostat has a black touchscreen display (3.5″). It looks techie and always catches the eyes of my friends who come over for the first time. It's made with cheaper materials than Nest, but it looks nice from far away.
The display has a big font for the inside temperature, along with a smaller outside temperature on the bottom and a clock on top. The inside temperature can be seen from far away.
When you get close to the thermostat the display lights up brighter, and the temperature appears. It has a touchscreen with an advanced menu system that mimics the phone app. The temperature can be changed with a swipe up or down on the screen.
The Ecobee SmartThermostat has an Alexa speaker built into it, but I always keep this feature disabled due to the poor speaker quality and not wanting a speaker in my thermostat's location.
---
App
Nest
The temperature can be controlled anytime inside the Google Home app, whether you're home or away. The Google Home app is easy to navigate and has more advanced menus and is more user-friendly than the physical thermostat.
I like the Google Home app. If you're already a Google family, Nest will be awesome because you won't need to download a new app. The thermostat will get placed along with your other smart devices.
Nest has three preset temperature options: Comfort for when you're home, Eco when you're away, and Sleep. You can create additional presets, but the three provided should be fine.
Once you pick the proper temperature for each preset, you'll create a schedule by choosing the time you want each preset to come on. The presets can be scheduled in 15-minute increments rather than 30 minutes (like Ecobee) and they stay running until the next scheduled preset.
The Google Home app has an amazing energy dashboard that displays how long your system ran for each hour, then provides cumulative stats for the week and month. Eccobee has something similar on their web interface, but I admire the simplicity of Google's dashboard.
Ecobee
The Ecobee phone app has the same interface as the thermostat.
Ecobee's scheduling is dead simple. It has three modes: Sleep, Home, and Away.
Just enter the time and which days you want each setting applied. Scheduling works in 30-minute increments.
There's a Vacation Mode that lets you set the time of your departure and arrival back home.
Ecobee has an online portal where you can control your thermostat. Inside the portal, there's a Home IQ feature that provides tons of data that isn't in the phone app. You get runtime reports, community comparisons and home efficiency reports. There's an interesting graph that displays the outside temperature, overlaid with the inside temperature, along with how long your HVAC system was running.
Ecobee is compatible with Alexa and Google, but Apple HomeKit compatibility sets it apart from Nest. If you're an iPhone user, Ecobee is a must-have because you can access Ecobee with Siri, from the control center, or inside the Apple Home app.
Unfortunately, Ecobee's servers have occasional downtime, but it hasn't happened in a few months. For years, I'd open the Ecobee app and couldn't access my thermostat. Unusually, a force quit and relaunch would fix things.
---
Money-Saving Automations
Nest
Nest Learning Thermostat has an occupancy sensor inside the thermostat, but for a proper sense of when you're home, it'll need access to your phone's location to set up a geofence. Then, when it sees no one is home, it'll switch into Eco mode.
If your Nest is in a popular location in your house, the combination of the presence sensor on the thermostat and one geofenced phone should be enough for it to accurately predict occupancy.
But if your thermostat is stuck in a random halfway, all household members will probably need the Google Home app installed to get proper home and away detection.
Because it's not compatible with IFTTT, SmartThings, Harmony, or HomeKit, you can't create automations with these apps. (Nest's lack of HomeKit support means iPhone users will miss out on Siri and Home App compatibility.)
Ideally, Nest will figure out your household's patterns after a couple of weeks, and you won't have to touch it again with its "Learning" feature. If you turn the heat up a couple of times at 8 AM, Nest will see that and start to do it on its own automatically.
I've never been a huge fan of the learning feature because it's not great for those with inconsistent schedules. If you have a consistent schedule, a combination of the manual schedule and geofencing should be fine.
Ecobee
Out of the box, Ecobee is more efficient than Nest at knowing if you're away from home because it has a motion sensor on the thermostat and it uses a SmartSensor (separate device) to detect occupancy (in a different room).
Away mode is activated after two consecutive hours of no motion detected, which means you can probably ignore geofencing altogether if you place your SmartSensor in an active location.
If you want even more precise occupancy sensing, you can enable geofencing to track your phone's whereabouts. The size of the geofence radius can be customized to whatever size you want, unlike Nest.
Once your phone leaves the radius, it can trigger Away mode, then trigger Home mode once you reenter the radius, which means your system will start up just before arriving home.
For Android users, geofencing is set up in the Ecobee app, while iPhone users set up geofencing in the Apple Home app.
Ecobee works with all major smart home platforms (Alexa, HomeKit, Google, SmartThings, Wink, Harmony, IFTTT, and Vera), leaving you with more automation options.
Two Ecobee features that give it an edge:
The first is that Ecobee lets you edit the temperature swing. With Nest, the swing is stuck at one degree. In my house, I like a swing somewhere between 1.5 to 2 degrees. With a 2-point swing and the heat set to 65 degrees, the heat won't turn on until the temperature hits 63 degrees.
Running equipment less frequently but for longer periods seems like it should be more efficient, as long as you're comfortable with a larger temperature variance. I like that my loud furnace turns on less often too. Can this save a little bit of money? Intuitively, I'd say yes, but I don't know how to properly test this.
Secondly, not only are the SmartSensors great for turning off your system when you leave home, they enable a feature called "Follow Me" that takes the temperature from each sensor with occupancy detected and creates an average. Sensors without occupancy, won't be counted against the average. Or you can manually choose which sensor should be used for Home, Away, and Sleep modes.
Why do I love the Follow Me feature?
My bedroom gets hot at night with the door shut compared to the rest of my house. For Sleep mode, my bedroom sensor is the only one that stays active, which keeps my bedroom at exactly 61 degrees during the night.
SmartSensors are great for maximizing savings and comfort. They'll be great for big, old houses with varying temperatures, or if your thermostat is in a hallway where the temperature isn't a priority. One SmartSensor is included with Ecobee SmartThermostat, and up to 32 SmartSensors can be added to any Ecobee system.
---
Which is best for you?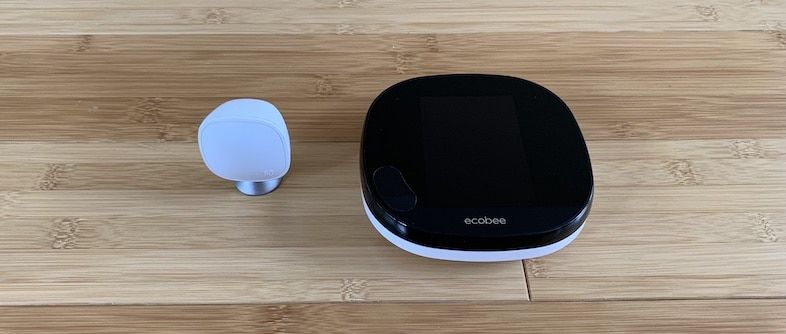 Ease of Setup (A)
User-Friendliness (A-)
Money-Saving (A)
Get Ecobee SmartThermostat if you're an iPhone user who wants to control your thermostat with Siri. The SmartSensors help to regulate temperature and monitor occupancy throughout your home. Unfortunately, those without an existing c-wire will need to open the HVAC system to install the Power Extender Kit.
---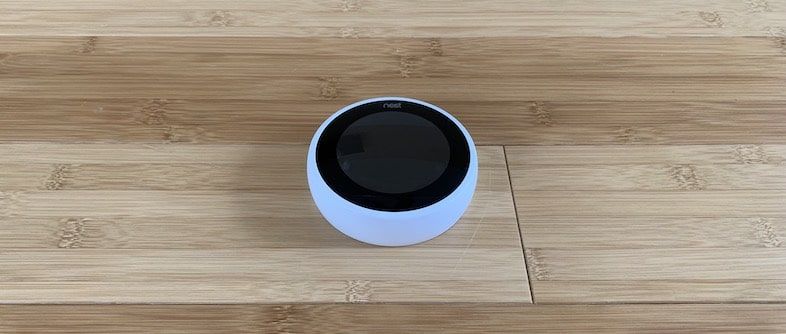 Ease of Setup (B)
User-Friendliness (A-)
Money-Saving (B)
Get Nest Learning Thermostat if you want to save money on your energy bill without optimizing it yourself. It's a great option for homes without the c-wire, non-techies, Android users, and those who prioritize craftsmanship. It's fine for iPhone users but not ideal.
---
Budget Options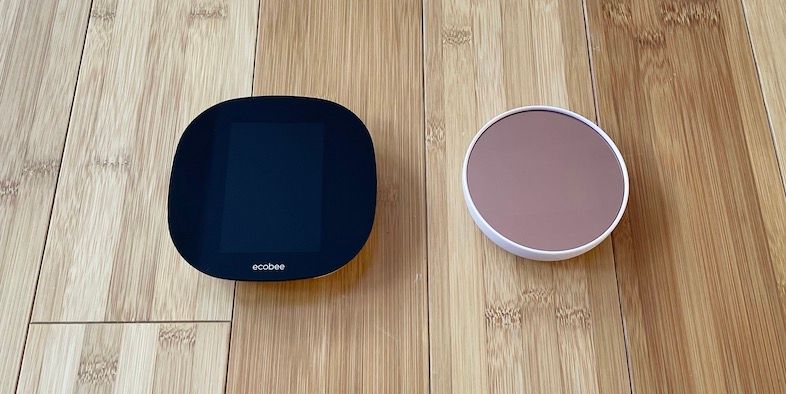 Ecobee3 Lite was released in 2016 and sells for $149. Unfortunately, it can't detect occupancy and doesn't come with a SmartSensor (for multi-room temperature and occupancy detection). Ecobee3 Lite is a great value if you don't want the built-in Alexa speaker or a SmartSensor.
Google Nest Thermostat is the budget model and sells for $129. Between the scheduling and presence sensor, and your phone's location, Nest should know when people are home and make the proper temperature adjustment. Unfortunately, Nest isn't compatible with Siri and the design isn't intuitive. The entry-level Nest is great for those who want the most affordable way to save money on energy costs.
---
Want to support this blog? (affiliate disclosure)
I'm not affiliated with any of the products that I review on this blog. I always purchase them out of my own pocket to ensure that my reviews are unbiased. However, as an Amazon Affiliate, I earn a small commission (usually between 1-4%) on some purchases made through the links in my posts. These commissions help support my blog by allowing me to buy new products and produce reviews independently.