Apple Watch Series 7 vs. SE: Thoughts From a 6-Year Wearer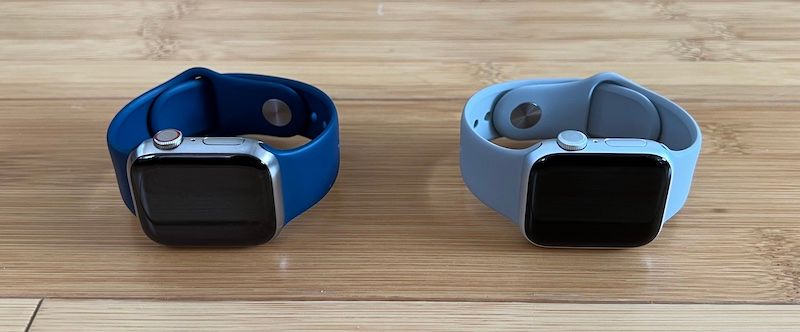 After two months of double-wristing Apple Watches (Series 7 and SE), and six years of wearing Apple Watch daily, I determined that Apple Watch SE is the best bet for most people because it's more affordable with just a few minor sacrifices.
Apple Watch Series 7 is the better device overall, but it's not necessary for most people due to its price.
Let's go over the five main reasons why you should consider Series 7. If a couple of these reasons resonate with you, as they do for me, it might be a smart move to go for the upgrade.
Keep in mind, I'll be comparing the 40mm and 41mm models, but the results won't vary much when talking about the larger 44mm and 45mm models.
If you've never owned an Apple Watch, I recommend my Apple Watch Basics post before reading this comparison to get you up to speed.
#1 – Always-On Screen
Series 7's biggest feature upgrade from the SE is the Always-On screen. To understand the importance of the Always-On screen, first, let's go over how the screen on the SE works.
How the screen turns on:
The SE's screen turns black when it isn't in use. Twist your wrist towards your eyes to wake the screen. It should happen naturally and not feel forced. During my first four years with Apple Watch, the twist to wake worked 98% of the time. But be aware that you'll look goofy when you exaggerate your wrist twist on the second attempt after the first doesn't wake the screen.
Tap on the display to light it up.
Twist the Digital Crown to light up the display slowly, then twist it back to make it go black.
On the Series 7, the display dims when it's not in use, but it's still bright enough to see the time and other complications. Once you move your wrist or twist the digital crown, the display switches back to normal brightness, just like the SE.
Why would you want an Always-On screen?
You always have access to the time without moving your wrist, just like a traditional watch.
It's useful when full focus can't be on your watch. During workouts, I can glance down to see my heart rate or pace without thinking. It's great for running, but it's even better during timed core workouts, like planks.
Always-On can be disabled at any time to keep the screen black while not in use.
However, there are two Always-On downsides:
When the screen switches into Always-On mode, the refresh rate of the screen switches from its usual 60Hz to 1Hz, meaning the screen refreshes once per second, rather than the standard 60 times per second. The refresh rate switch preserves the battery, but the Always-On still reduces the battery's runtime by about six hours per charge cycle. In my testing, I'd only get 28 hours of runtime, compared to 34 without. On a positive note, you should have enough juice to get through an entire day with Always-On enabled.
It can be a distraction. Do you need to be locked into your tech at all times? When the Apple Watch screen is black, it looks like a regular watch. When the screen is on, it looks like a nerdy tech product.
Overall, Always-On has been well received by the market and some consider it a huge advantage, but perhaps people are too wrapped up in the cool tech and don't consider all of the downsides.
During testing for this post, I often found that I preferred the SE's lack of Always-On.
Series 7 will be my go-to watch for the rest of the year and I'll keep Always-On disabled because it's an added distraction that I don't need and it drains the battery faster.
#2 – Screen Size
Over the years, Apple has increased the display size and the number of pixels that fit in the case, which provide more space for information.
In 2018, the Series 4 got a screen upgrade, as it was 30% larger than the Series 3. It increased from 38mm to 40mm. The pixels were pushed closer to the edge while the case size was the same as Series 3. In other words, the black border, also known as the bezel, was reduced significantly.
I remember being blown away at how much the experience improved with just an extra 2mm. All of the text was larger and had better spacing. It was just easier to use, especially when running or doing something where your full focus couldn't be on the watch.
With Series 7, Apple pushed the boundaries further. The Series 7 display is 20% larger than the Apple Watch SE and Series 6. Remember the size of the case stays the same, but you get more pixels. The Series 7 screen gets so close to the edge that it almost curves off. The new screen size on the base model is 41mm, which is just a 1mm difference.
To be honest, I barely noticed a difference after first setting up my Series 7. The difference isn't as drastic as it was when going from 38mm to 40mm. But when I went back to my SE (40mm), after a few weeks, the text was noticeably smaller.
The bottom line? Series 7's added display real estate isn't necessary or drastic, but it's nice to have and one of the main reasons why I'm sticking with my Series 7 over the SE.
#3 – Better Internal Specs
In a blind test, I wouldn't be able to notice any hardware differences between the two watches. However, there are differences on paper.
The Apple Watch SE uses the same S5 processing chip found in Series 5, while the Series 7 has Apple's S7 chip, which is up to 20% faster than the S5 chip.
But in real life, I can't tell the difference in the SE's speed compared to Series 7. Both models perform all actions and open all apps with great speed. I'm never looking for more speed like I was with earlier Apple Watch models.
Keep in mind, the S7 chip may potentially receive extra watchOS software releases in the future, but the SE should be supported for at least three more major releases. Apple is generous to previous generations. For example, Apple Watch Series 3 is four years old and receives the same updates as Series 7 and SE. (p.s. Apple still sells the Series 3, but don't buy it.)
Since a speed increase wasn't apparent in day-to-day usage, I assumed there'd be extra battery efficiency, but this wasn't the case either.
The Apple Watch SE has a 245 mAh battery, while the Series 7 has 284 mAh. This is good for a 16% increase in size, but during my testing, I averaged 34 hours with the Series 7 (with Always-On disabled) and 33 hours with the SE.
Keep in mind, my testing included two hour-long workouts and eight hours of sleep tracking with cellular disabled. Each hour that my watch was connected to LTE, it lost two hours of runtime. For example, my Series 7 got 28 hours of runtime with one hour-long workout, eight hours of sleep tracking, and three hours connected to LTE.
Overall, the Series 7's larger screen seems to cancel out its increased battery capacity and any processor efficiencies because it only gets one extra hour of battery runtime.
However, one big battery difference is the recharge time. The Series 7 charges up to 33% faster, according to Apple.
The Series 7 charges from 0% to 80% in about 45 minutes, it then needs an additional 30 minutes to get to 100%. On the other hand, the SE gets to about 65% after an hour of charging and will take a total of 2.5 hours to charge fully.
The quick charging isn't a huge deal if you charge before bed each night. But it's a huge advantage if you plan to use your Apple Watch for sleep tracking. Apple advertises eight minutes of charging for eight hours of sleep tracking.
The Series 7 has three more minor hardware differences.
Series 7 has a U1 chip used for spatial awareness. Unfortunately, it's barely used in the watch. The U1 chip doesn't work for handing music off to HomePod mini, nor does it help with locating AirTags. However, it'll help with the Apple Car Key and Home Key, but the U1 chip isn't necessary for either feature.
Secondly, Series 7 has a third-generation optical heart sensor compared to the second generation on the SE, but both models have heart rate readings that are always similar and refresh at the same rate when worn simultaneously.
Thirdly, Series 7 works on the 2.4GHz and the 5GHz WiFi bands, while the SE works just on the 2.4GHz.
#4 – More Health Features
The SE has a compass, always-on altimeter, fall detection, an option to add a cellular plan, and Family Setup just like the Series 7.
But the Series 7 has two features that you won't find on the SE.
The first feature is an ECG reader on the Digital Crown that works by holding a finger on the Digital Crown for thirty seconds.
Secondly, it has a blood oxygen reader that works by shining green, red, and infrared LEDs onto the blood vessels in your wrist. You have to keep your wrist still for 15 seconds while the watch faces upwards.
Blood oxygen is typically taken from a finger, so getting a reading from your wrist may prove to be difficult and less accurate. A $20 pulse oximeter is probably a better bet if you're looking to monitor blood oxygen.
Both the ECG and blood oxygen features are potentially life-altering, but if you have certain conditions or you climb certain altitudes, you probably already know you need Series 7 before coming to my post.
As a young and healthy person without preexisting conditions, neither of these features are used unless I'm testing them for a review.
#5 – Premium Materials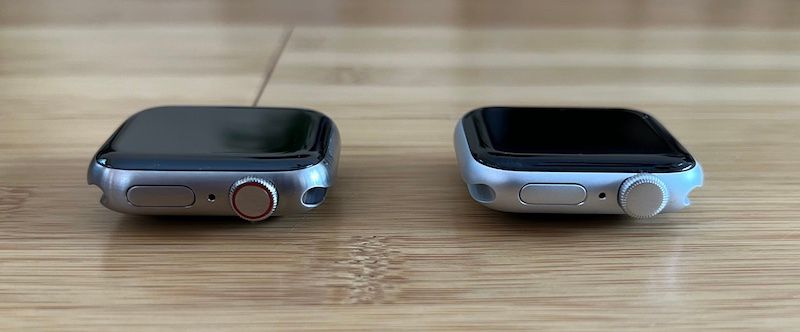 Apple Watch SE comes in three aluminum case colors (space gray, silver, and gold) and there are 27 different band options, which gives you 81 combinations to choose from.
To go along with the aluminum case, it has an Ion-X glass display.
Apple Watch Series 7 comes in five aluminum case colors including blue, midnight, starlight, green, and red. And it uses a slightly upgraded Ion-X glass display that's more crack resistant.
Overall, there's not much difference when comparing the design between the aluminum Series 7 and SE models.
But things get interesting on the higher-end.
Series 7 is the only Apple Watch model that's sold in stainless steel and titanium, making it a better bet for those who care more about the design. The stainless steel and titanium models cost $200 and $300 more than the aluminum models.
I've owned two stainless steel models in the past, but this year I went with titanium to match my wedding ring. I love it!
The case material is an improved look over the aluminum, but the best feature is the sapphire crystal glass that's used for the screen, rather than the Ion-x. Surprisingly, no one talks about this screen difference, but it's noticeably more scratch-resistant and feels stronger.
The screens on the aluminum models feel fine until you've tried a model with sapphire glass, then it feels like a toy in comparison.
Whenever I test the aluminum models for reviews, I'm reminded of how hollow and squishy the screen feels when you tap it. I've been spoiled with premium materials found on the stainless steel and titanium models.
Aside from the price, the only downside to the stainless steel and titanium models is that they're a bit heavier (39g vs. 32g), but it's never noticeable while wearing.
If you want a more premium experience or you're not on a tight budget. The premium models are a nice upgrade and the main reason why I will be sticking with the Series 7.
Overall, I've used the aluminum models for years without an issue and there's nothing wrong with them. They're my recommendation for those who plan to upgrade annually with each new release.
Which is best for you?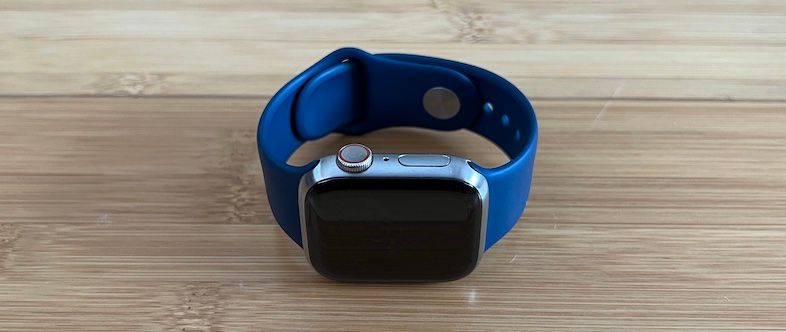 Hardware (A+)
Features (A+)
Appearance (A+)
Get Apple Watch Series 7 if you want an Always-On display that's slightly larger than the SE. Or, get the Series 7 if you want a premium stainless steel or titanium finish with a sapphire glass display. The blood oxygen and ECG features are nice to have, but if you need them you're probably already on your way to buying Series 7.
---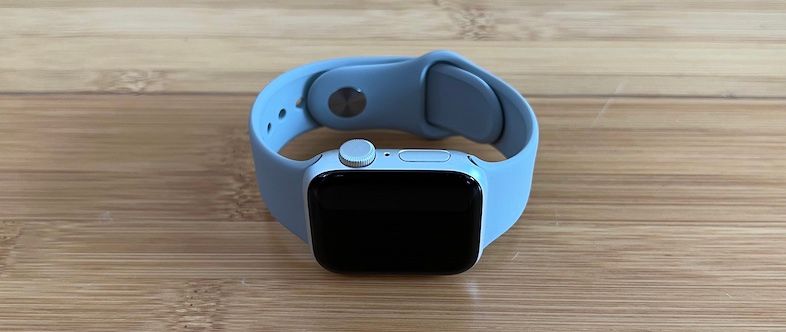 Hardware (A)
Features (B)
Appearance (C)
Get Apple Watch SE if you want the standard aluminum finish and don't mind the screen turning off when it's not in use. The SE is a fantastic value because it has almost identical speed, battery life, and features compared to Series 7. The substantial sacrifice is the lack of an Always-On display, which I found to be overrated after years of testing.
---
Want to support this blog? (affiliate disclosure)
I'm not affiliated with any of the products that I review on this blog. I always purchase them out of my own pocket to ensure that my reviews are unbiased. However, as an Amazon Affiliate, I earn a small commission (usually between 1-4%) on some purchases made through the links in my posts. These commissions help support my blog by allowing me to buy new products and produce reviews independently.