JBL Xtreme 2 Review: Amazing Sound But Too Big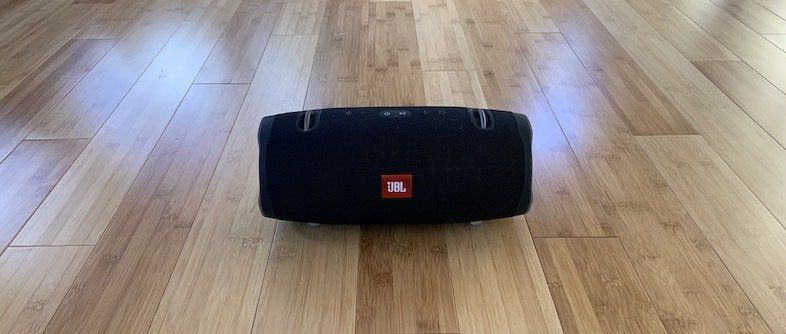 After a month of testing, I determined JBL Xtreme 2 is the loudest and best sounding Bluetooth speaker I've ever used.
But I don't recommend Xtreme 2 because the large form factor and lack of portability don't make sense for a pure Bluetooth speaker.
Sound: A+
JBL Xtreme 2 is the loudest portable speaker I've ever tested. The maximum volume on Megaboom 3 is the equivalent of 80% volume on Xtreme 2.
It sounds fantastic as high as 80% volume. Once you're past that point, the highs get stretchy.
The overall sound is crisp. The bass is cleaner and more consistent than Megaboom 3.
As long as you're in front of the speaker, the bass sounds fantastic, but if you're listening off to the side, it sounds overdone and boomy. There's no way to change the bass or other sound settings through the app.
You have to be in front of the speaker to get quality sound. Ideally, the speaker should be against a wall. If you're on the side, you'll notice distortion. Listening outside isn't ideal.
It sounds like a louder version of Charge 4. I had a hard time telling the difference between the sound on Xtreme 2 and Sonos One while standing in front.
Bottom Line: JBL Xtreme 2 is louder and sounds better than Megaboom 3 and JBL Charge 4 in every way, but I don't recommend it due to its design. If you want JBL's sound profile but want portability, Charge 4 is the size of Megaboom 3 and one of the best values in tech.
Design: D+
It's over five pounds and a foot long. It comes with a carrying strap, but it's huge and not portable. The size isn't practical for this type of speaker. It's better for home use, but you're better off going with a WiFi speaker, Sonos One for $200 makes a lot more sense.
It sits horizontally with two feet.
The port cover is hard to open and not nearly as nice as Charge 4.
It only comes three ugly and boring colors: Midnight Black, Ocean Blue, and Forest Green.
There's a 3.5mm port for external audio devices.
There are six LED lights to indicate how much battery is left.
Durability: C
JBL Xtreme 1 was only splashproof, but Xtreme 2 is waterproof (IPX7) and can withstand up to 30 minutes in a meter of water.
It's not as durable as UE speakers. That's based on research rather than first-hand experience, but you can tell by looking at the side of the speaker where the bass radiators vibrate as music plays. It feels more fragile, and its extra weight means it'll have greater impact if dropped.
Power: B
JBL lists 15 hours of playback with a three-hour recharge time. They undersold their battery times compared to Ultimate Ears. Based on my real-world tests:
13 hours with 60% volume.
8 hours with 85% volume.
JBL Xtreme 2 works as a portable phone charger with its 10,000-mAh battery.
It doesn't charge with USB-C, which would've been the logical move considering it's the standard for new tech products. Instead, it uses a bulky 19V, old school AC adapter with a power brick. This isn't practical for travel because it's heavy and it's not a standard cable (USB-C or Micro USB) that you'd be traveling with anyways.
Software: D
You can keep two devices connected simultaneously.
JBL's app is useless. It doesn't even show you the battery percentage. An app isn't necessary, so why build one if it adds nothing?
You can group ("Party" or "Stereo") other JBL speakers without an app because of the dedicated "JBL Connect+" button. You hit the button on both devices, and they pair together. JBL Connect+ grouping still cuts out because Bluetooth isn't great for these things, but it works much better than the original JBL Connect.
You'll get an extra 20 feet of Bluetooth range compared to Megaboom 3.
Who is this for?
Get JBL Xtreme 2 if you want deep bass and high volume and don't care about portability. It sounds better than Megaboom 3 and Charge 4 and would be a great stationery home speaker. But if that's what want, why not get a wired WiFi speaker? A speaker like Sonos One has superior sound and WiFi capability for a lower price.