Sony WF-1000X Review: Do They Top AirPods?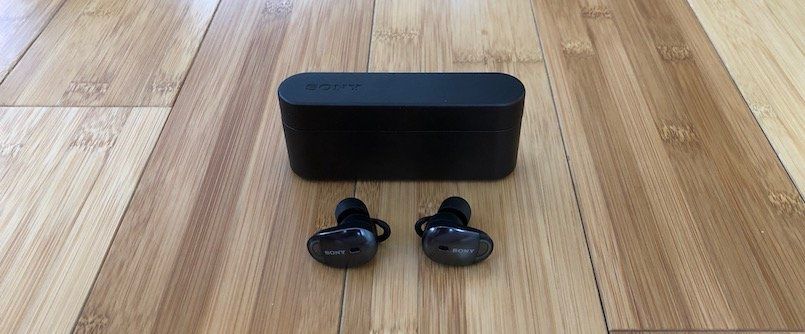 Sony WF-1000X earbuds have excellent noise-cancellation and audio, but the sound will cut out with minimal movement.
Consider them if you want more noise cancellation than Bose or AirPods offer and plan on using them while seated. While they won't cancel noise like a pair of over-ear headphones, they're better at eliminating noise than Bose. The downside is you can't move with them because the audio cuts out. You can't watch video either.
Sound (A):
They have noise cancellation and something called "Adaptive Sound Control" that detects your activity, such as walking or sitting, then adjusts the sound settings accordingly. Neither of these features does precisely what's intended, but that's due to the size limitations of the buds.
If you get a tight fit and aren't moving much, they sound amazing. They block out more surrounding/outside noise than any of the others I tried.
Software (F):
Setup is challenging, not intuitive, and Sony's guide isn't helpful. You need to sync the left bud first by pressing the power button for seven seconds, but the power must be turned off for it to work. Then, you sync the right bud to the left, but it doesn't often work the first time.
The left and right bud stay in sync and don't cut out, but only if you don't move and your phone's not in your pocket.
The new firmware update might fix some of the cutout issues. But after four tries, I haven't been able to get the update through my phone. The download fails halfway through.
The audio lag on video isn't as drastic, but it's still there.
This happened twice: I stopped using them, paused the music, disconnected from my MacBook, and placed the buds in the case. Ten minutes later, I played a YouTube video and the Sonys were used as the audio source while still in the case.
Switching sound sources means powering off and repairing, which is always a tedious process and it's tough to sync the buds.
Fit (C):
The earbuds go inside your ear canal. There are seven different earbud tips of various sizes, some made of silicone and others foam. The foam tips feel better, but I couldn't get a tight seal. They don't sound good without a tight seal, so I stuck with the silicone tips, which were uncomfortable. But that's just my opinion. Some people like that tight fit inside the ear canal.
Design (F):
The buds stick out more than the Bose, which looks goofy. I like the sleek charging case, but the buds don't always snap in well and there's no battery indicator.
Battery (D):
You get three hours of playback (closer to two hours in my real life testing) and an additional nine hours (closer to seven) with the case. That's not good enough.
Exercise (F):
They're not waterproof or sweatproof.
They cut out when you move, even during a casual walk. It's better if your phone is out of your pocket and if it is in your pocket, it had better be the left one.
Because the ear wings are small, the buds fall out easily. These shouldn't be used for any activity more than a light stroll.