Traeger Pro 575 Review: Can The WiFi Smoker Replace Your Propane?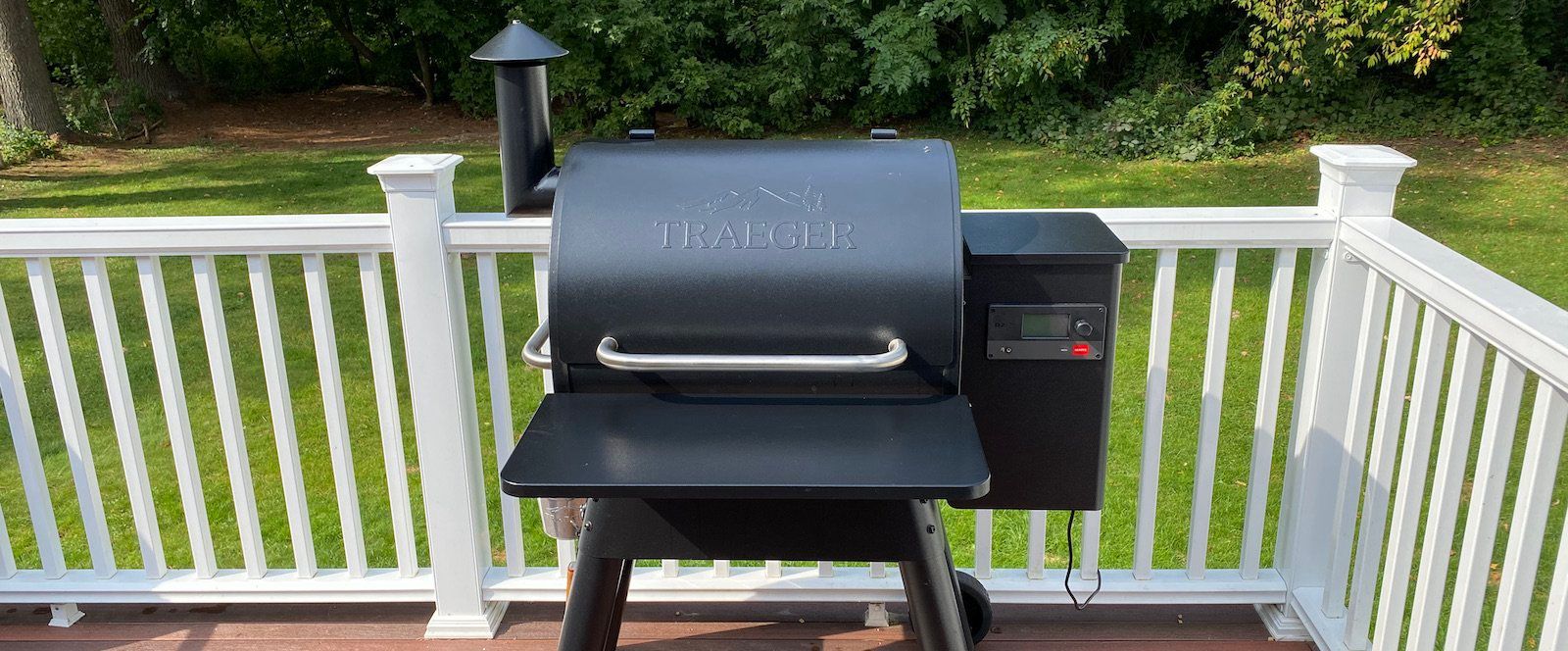 It's been more than three months since I bought my Traeger Pro 575 WiFi Pellet Grill (Smoker). I've cooked with it more than 40 times.
As a tech nerd, the idea of controlling a grill with my phone got me excited, but after using it daily, I'm not a huge fan.
In this post, I'll go over the things I love and hate about my Traeger compared to a propane grill, then wrap it up with my recommendation.
Conclusion: Traeger grills are perfect if you have unlimited time and funds. You'll like it if you want your meat to taste smokey and you're willing to pay a premium for it, but it won't replace a propane grill due to many inconveniences.
Things I Love
The installation was great. I did it by myself. All the pieces are well built and fit together nicely.
The smokey smell, while it preheats, is amazing. I often sit next to it while it heats up.
The Traeger app has thousands of recipes that lead you through each step of the process. But the best part is the phone notifications. You'll get an alert when it's done preheating, when your meat reaches the proper temperature, and when the cooldown cycle finishes to remind you to put the cover on.
You set the temperature like an oven. My Traeger usually stayed within 10 degrees of the target temperature. As far as I know, you can't accomplish this with a propane grill.
It's more versatile than a propane grill. You can smoke, roast, bake, barbecue, and grill. You cook things that you'd usually put in the oven to keep the house from heating up. We threw on a casserole, stuffed shells, meatballs, and even homemade pizza.
Traeger uses indirect heat and the flames are blocked from climbing up to the grate. The propane grills that I've used had lots of flare-ups. When you put any type of fatty meat, the grill catches on fire.
I've never had an issue with bacon from the oven, but bacon on the Traeger is next level. Traeger uses convection style heat so the fan blows heat around and makes the bacon extra crispy. Plus, there's no immediate clean up afterward. The bacon isn't $800 better than an oven, but it's great!
I get anxious about running out of propane and never have a backup tank. With Traeger, you can see exactly how many pellets you have left in the hopper and keep backup bags ready.
When I called customer service, I got through in a couple of minutes and my issue was resolved quickly.
Traeger's rubs are amazing. The original Traeger rub is my favorite rub of all time and I will continue to put it on all my beef, even if I don't keep my Traeger.
Things I Hate
My girlfriend and I cook at home six nights a week, which means I'm grilling at least three nights a week. Because I grill so often, I prefer less maintenance and quicker cooks. One of the main advantages of grilling for me is that it's quick and doesn't need much clean up.
I wanted to smoke meat with my Traeger, but I don't want to spend hours smoking each night because I want to quickly grill things like burgers, dogs, brats, and steak too.
You can cook burgers on Traeger, but it's more time consuming from the start-up, the cook time, and the added cleaning maintenance later on.
I've cooked many half-pound burgers on my Traeger by turning the heat up to 450 and cooking for about six minutes per side to get them to medium. If you want smokey flavor on your burgers, you won't get much of it when you cook them this way.
It's not built for cookouts because cookouts typically require you to open the cover frequently and you can't cook with the Traeger cover off. You quickly lose about 100 degrees when you open the cover for a minute because Traeger uses indirect heat with a convection fan. Most propane grills get up to at least 600 degrees with ease via direct heat and stay there.
I realize Traeger grills should be used for smoking as their main purpose, but Traeger calls it a "grill," not a Traeger "smoker." It seems like they market it towards grill owners who might want to cook with pellets.
I'm indifferent to the smoky flavor on my meat. I couldn't taste the smoke on everything, but when I could, it wasn't game-changing. I didn't like the taste of the Traeger's Signature Blend pellets. While the maple, hickory, and mesquite were fine. The cherry flavor was my favorite and was definitely better than no smoke flavor, but I would've been fine without it. Bottom line: I should've tried more smoked meats before dropping $800 on a grill.
I used the reverse sear method to smoke four ribeyes and a few strip steaks. I smoked the steaks at 225 until the internal temp reached 120, then cranked the temp to 500 degrees, I let the steak sit on a plate while the Traeger preheated, then put the steak back on the grill until the internal temperature reached 145 degrees.
During the reverse sear, I don't love the idea of letting the meat sit out while the Traeger preheats for 10 minutes. Plus, 500 degrees isn't hot enough to get perfect grill marks. You can fix both of these issues if you sear the steaks on a cast iron skillet on your cooktop, but this adds more work.
I smoked a small brisket for three hours at 225, and once it reached 165 degrees, I wrapped in foil and cooked it for another two hours. The brisket wasn't the best cut of meat, but I got it to the proper temperature of 203 degrees with a nice smoke ring. The taste was good, but it wasn't worth owning a smoker.
Traeger's maintenance is more intensive than propane. You need to vacuum out the Traeger every five times it's used. If you don't vacuum it out, the ash from pellets floats around and lands on your food, and you may run into issues starting your Traeger if there's too much ash in the firepot. Plus, the Traeger grate is harder to clean because it doesn't get as hot or have direct heat so the grease doesn't burn off.
Grease gets under the tray liner and touches many parts of the grill before it goes into the grease bucket. This makes it hard to clean. Plus, the grease bucket gets in the way when you put the cover on.
You need to replace the drip tray often. The trays sell for about $2.50 each on Amazon. I'm sure you can try aluminum foil instead, but it'll make a bigger mess.
The cost of using pellets over propane is about 3-4 times more expensive based on my usage, but it's great that you can always have an extra bag ready.
No grill has perfectly even temperatures inside, but I expected more from an $800 grill. Your meat needs to be square under the tray. The back of the grill gets hotter, especially if it's not under the drip tray. You can fix this issue, by buying a bigger sized Traeger with more room to maneuver.
Traeger's WiFIRE and app get lots of complaints, and I ran into the same issues as everyone else. My grill is only 20 feet from the router, but the setup took four tries and a few resets to finally get it configured. Traeger can only connect to the 2.4GHz channel on your router, while smartphones can connect to either, so if your phone is automatically connected to the 5Ghz channel, your Traeger won't configure. There isn't an easy fix for this.
Once the WiFi was configured, there were four different occasions where the app lost connection to the Traeger (over three months). Solid but not perfect.
My first meat probe triggered the grill to shut down everything without a proper cool-down session each time I touched it. I didn't have issues with the new probe that Traeger sent me.
I love the idea of the probe, but due to the occasional difficulties with the Traeger app and the fact that it has to plug into the grill, something like wireless MEATER Plus might make more sense.
It needs to be plugged into an outlet to power the fan and the WiFi connection, which might not be ideal for everyone.
Who is this for?
You'll like the Traeger grill if you want your meat to taste smokey and you're willing to pay a premium for it, but it won't replace a propane grill.
When looking over Reddit threads, Traeger fans probably wouldn't dispute this. Lots of people say you need a smoker and a propane grill in your repertoire because they're different tools. If you grill frequently and want an all in one solution, I don't recommend Traeger.
Due to struggles with the app, if you want to smoke with Traeger, save the $200 and get one of last year's models without the WiFi.
I spent about $1,200 for three months of grilling when you factor in the cost of the shelf, cover, drip trays, grease buckets, pellets, scraper, shop vac, and the original cost of the grill. You'll need to factor in the other disadvantages that I covered aside from the cost too.
I'd feel better about my purchase if the Traeger was closer to $400 and I had deck space for two grills. The Traeger grill was never a great fit for me, but that's not Traeger's fault.