Bose SoundSport Free Review: The Perfect Bud?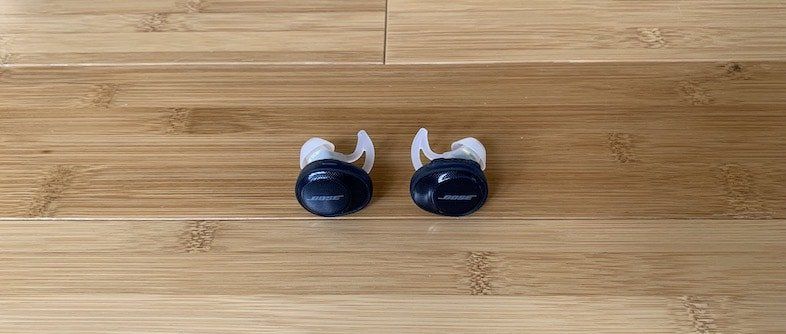 if you're an Android user, want premium sound, or need a guaranteed fit, Bose SoundSport Free are the way to go.
Sound: A
Bose SoundSport Free earbuds' sound is unparalleled.
You get an incredible level of depth, bass, and clarity that I've never experienced in true wireless earbuds.
While they sound great, they're not noise-canceling, and there's no isolation. You can hear your surroundings, which is intentional.
I'm not a sound expert, but what I hear doesn't differ from the crowd. If you want a thorough breakdown on sound quality, check out RTINGS' review.
Software: C+
The release was shaky by Bose's standards. Users reported lag between video and audio. These problems were patched with the latest firmware update. Bose gets the most out of Bluetooth, but there are frustrating limitations. For instance, phone calls only work with the "master bud" (right), and there are more cutouts between the buds than AirPods, but Bose gets most things right.
Once you get used to headphones that stop playing music when you pull them out of your ears, it's hard to go back to those that don't. SoundSport Free headphones don't recognize the difference, so they keep playing.
Like AirPods, there's no on/off button. They're on when they're out of the case and shut off automatically when you put them in the case or when they've been inactive.
Changing audio sources isn't as seamless as AirPods. A tap of the Bluetooth button on the left earbud changes the audio source to a previously used device, but it doesn't always work. You'll still need the Bluetooth settings menu on your phone more than ideal.
When connected to a new device, hold the Bluetooth button for a few seconds, and it'll disconnect from the old device, and enter pairing mode.
All of your Bluetooth connections are show in in the Bose App, along with the option to change the standby timer. You can also have your buds play a sound so you can find them if you've misplaced them. It's much louder than AirPods' finder and works well for finding the buds when they're buried in the couch cushions.
Overall, the connection is better than 90% of truly wireless headphones. You won't experience many dropouts, but it's not completely immune. The only time I had an issue was when I had my phone in a thick coat pocket while shoveling snow.
Firmware updates fail frequently and are time-consuming.
Fit & Comfort: B-
They're made of soft silicone and sit on your ear canal (similar to AirPods) rather than inside the ear canal.
You get three different size ear tips. They fit more people's ears than AirPods. My friends said they love the fit too.
You're going to love the fit when you're working out. The soft silicone makes them more comfortable than other wireless earbuds on the market while also strong enough to not budge.
They're more comfortable than most earbuds, but because they're double the weight and fit tighter than AirPods, your ears may get tired. I call it quits after an hour of listening and don't want to use them when not active.
Design: C-
Earbuds:
The buds feel solid, but they're relatively heavy at 0.04 pounds. You won't notice the weight while you're active, but it'll become tiresome on your ears after an hour of use while sitting.
The build quality is excellent, but Bose falls short when it comes to aesthetics because they are bulky and look awkward, noticeably protruding out of your ears. With everything else SoundSport Free earbuds bring to the table, it was a worthwhile sacrifice considering the brilliant battery, fit and sound.
The right bud has three buttons: volume up, volume down, and a multifunction-button for going back and skipping tracks based on the number of button presses.
It's nice to have physical buttons (especially volume, which is missing from AirPods), but these buttons require lots of force to initiation. This is fine when you're sitting but not easy when you're running.
The right bud has a button for connecting to Bluetooth. You can cycle through your devices with one tap, or a double tap puts it into pairing mode.
Charging Case:
It feels great, has a battery life indicator with five lights, and the buds snap into the case nicely.
Getting the buds back into the case isn't as intuitive or satisfying as AirPods, but you'll get the hang out it with practice.
The case is 6.9 cubic inches and weighs 0.22 pounds. It's twice the weight and more than double the size of the AirPods case, but the Bose charging case should still fit in most pockets.
It charges with a micro-USB cable.
Battery: C
You get five hours of music playback with an additional 10 hours from the case.
A 15-minute charge provides just 45 minutes of juice. Bose advertises their quick charge feature, but it's below the standard recharge time for wireless earbuds.
The standby time is not nearly as strong as AirPods. After two weeks of inactivity, the case will be at 50% battery.
Exercise: B-
They are sweat- and weather-resistant (with an IPX4 rating), and they won't fall out, even with the most rigorous of exercises.
If you're moving quickly, they let in more air than AirPods, due to the design. For biking and running, my preference is AirPods because of this.
While I'm critical of Bose's comfortability while sitting still for long hours, you won't notice them in your ears if you're exercising.
Who is this for?
Get Bose SoundSport Free if you want premium sound quality or need a more customizable fit compared to AirPods. They fit a broader range of ears, won't fall out during intense workouts, but your ears will get tired after extended use.