Shark ION F80 Review: It Gives The V10 A Run For Its Money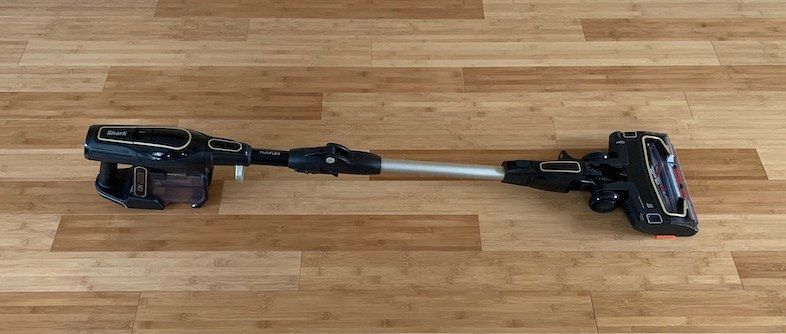 After a month of testing, I determined Shark ION F80 has great suction and comes with two batteries, but there are design deficiencies.
Carpet (B):
There's one motorized head, and it works on wood and carpet. It's nice that you never have to remember to change the head.
Once you hit the power button, you press the carpet button. The brushes will spin depending on the surface you're on.
It's easier to move forward on carpet than the Dyson's because the head helps propel it, but for that same reason, it's harder to pull back. If you don't use the pullback method while vacuuming, Shark will be a better experience on carpets.
The suction power is technically stronger than Dyson's medium power mode, but the V10 ends up sucking up more in real life because of the better technology in the Dyson powered rollers.
With this iteration, Shark renamed their high power mode, "Ion Boost." Ion Boost provides extra suction power for 60 seconds. The new timer is perfect for cleaning up big messes or going over high traffic areas, and you don't have to worry about killing the battery if you forget to turn it off. The Ion Boost isn't nearly as strong as the V10's max mode, but it's an improvement over Shark's normal mode.
Hard Floor (B):
You hit the power button, press the wood floor button.
It does well on wood floors and it'll beat any Dyson that doesn't have the Soft Roller.
But Dyson V10 Absolute does a better job of getting deep inside the cracks of wood floors than Shark.
Shark does better with big chunks, like huge cereal pieces (i.e. Fruit Loops).
It gets clogged easier if you run it through a big pile of debris. For big piles or clumps, the Dyson wins every time.
Battery (B):
The battery is removable and Shark ION F80 comes with two batteries. You can buy as many as you need. Having multiple batteries decreases the importance of the runtime per battery.
You'll get around 50 minutes in the normal suction mode with the motorized head attached, assuming you use both batteries consecutively.
After draining the battery, you can't charge it right away because it needs to cool off. Once it's cooled, it'll take 3.5 hours to charge.
Design (B):
The light on the head is useful for seeing light dust on hard surfaces.
While Shark ION is heavier (almost 9 pounds), I found it easier to use for longer periods for a few reasons:
While it's on the carpet, the motor in the roller helps it move without much force.
It's balanced differently than the V10.
You don't need to hold down the trigger for it to run. You can move your hand placement without it shutting off.
Shark doesn't have the same futuristic look as Dyson; it looks more like a typical vacuum. Do you care what your vacuum looks like if it's going in the closet?
The handheld weighs 3.5 pounds and feels cumbersome as a handheld because of its weight distribution. You won't be able to use it for as long as the V10.
There are promotional pictures of people using it with the wand attachment to clean ceilings and blinds. But it's too heavy for that in real life.
The middle of the bar flexes 180 degrees. This should be useful for getting under the couch, but I didn't find it useful because bending your body down shouldn't be an issue. This could be helpful for elders.
There's no dock like Dyson, but it folds nicely, it can sit up without leaning against the wall when you store it in a closet.
You can't stand it upright without it falling over so you'll need to fold it when not using it.
Shark is the loudest to my ears and after using unreliable tools to test the decibels I was proved correct. It's a noticeably loud and more annoying.
It comes with a dock for the extra battery.
It does not include HEPA filtration meaning the air that comes out the exhaust won't be as clean as Dyson's. We're talking very small particles, so I wouldn't worry about this unless you have serious allergies.
Dustbin (F):
It only holds 284 ml of dry material.
When emptying, the debris usually doesn't fall out of the bin on its own, especially with pet hair. You have to reach in with your hand to get it out.
Pet hair accumulates quickly, so I can't recommend this to anyone with animals unless you want to turn it off every minute to empty the bin.
Quick Review (TL;DR)
Battery: You get 50 minutes at the normal suction level, with both batteries combined.
Design: It's heavy, bulky, loud, and doesn't work well as a handheld.
Dustbin: It only holds 284 ml, and it's hard to remove the debris without getting dirty.
Who is this for?
Shark ION F80 is best for you if you want replaceable batteries and don't have pets (the bin fills up quickly). Shark ION F80 outperforms the Dyson V10 Motorhead and V10 Animal on wood because of its combination roller. It's a great budget option for those who don't want to spend $600 on the V10 Absolute. Shark ION F80 works well on carpets, but the V10 Motorhead picks up more debris on medium power mode. The Shark head automatically propels, which can make it more difficult to control.