Schlage Connect Review: It's Loud & Ugly, But it Works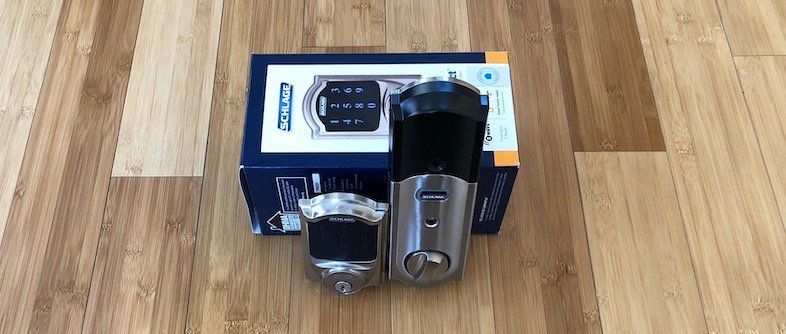 After two weeks of testing, I determined that the Schlage Connect is a decent budget smart lock with a few hardware and software issues.
Setup (C+):
There wasn't a walkthrough tutorial in the app, but the paper instructions were fine.
For installation, you need to remove the existing deadbolt. Then, drill a bigger hole if your previous hole isn't 2-⅛" (most are 2-⅛" already), install a new deadbolt latch, mount the front and back plates, attach the wires, and install a new strike on the door frame. It took 30 minutes from start to finish.
Unlocking (B-):
You hit the Schlage button and type in your 4-8 digit code. There's no need to tap any other buttons afterward.
Locking and unlocking is loud. It's annoying and can be heard throughout the house.
You can unlock with the included key.
If you have Schlage Sense, you can use Siri to assist after your phone is unlocked.
If you have Schlage Connect, you can use Google or Alexa once you've authorized.
Locking (A):
The easiest way to lock is to tap the big Schlage button.
You can lock with the included key.
With Schlage Sense, you can ask Siri, use the Home app or the Schlage app to lock.
With Schlage Connect, you can ask Google or Alexa or use their respective apps.
Inside Design (F):
It's huge, ugly, and definitely attracts attention.
There's only one small screw to get battery access, but the battery case doesn't slide out well because it's connect by a wire.
Outside Design (D):
The keypad is not a traditional touchscreen. It's more of a push-button display, so it works well with gloves or in the cold.
It's ugly and looks like an old-school keypad.
From far away, you can't tell it's a keypad because there isn't a screen and the numbers don't light up until you tap the Schlage button.
Other users have reported issues with moisture (from humidity or rain) causing the lock to malfunction. Make sure your lock has overhead coverage and don't use this lock if you live in a humid climate.
Software (C+):
The app is messy, but you can make it work.
You can create scheduled times for certain codes to work for specific guests. They don't need to download an app, just know the code.
Schlage Connect and Schlage Sense have the same functionality. The one minor difference is the keypad design, but the only major difference is that Schlage Connect can work with Z-Wave devices like Alexa (if you buy a $100 hub), while Schlage Sense works with HomeKit out of the box.
There's an alarm that sounds when a forced entry is detected.
Quick Review (TL;DR)
Unlock Options: Schlage App or the keypad. It's way too loud.
Lock Options: Auto-lock, Schlage App, Schlage button, Alexa or Google.
Design: The inside part is huge and attracts attention. The outside has a push-button keypad with a keyhole, but it's ugly.
Software: You get guest access codes, but the app is messy.
Who is this for?
Schlage Connect is best for you if you're on a budget and not bothered by ugly aesthetics. It's bulky and loud. The app is poorly designed, but you won't need the app much if you rely on the Google and Alexa apps instead. Schlage Sense has the same look, but it works with Siri instead. Look at August or Nest if money's not a concern.