Sonos Play:5 (Gen 2) Review: Is It Actually Worth $500?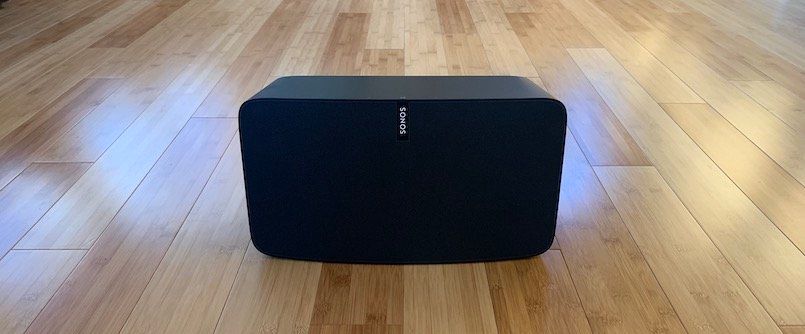 I've been a fan of Sonos, so I bought the Sonos Playbar for my living room and added two Play:1's and the Sonos Sub to complete the 5.1 home theater setup.
I was so impressed with my Sonos home theater setup, I decided to buy the Sonos Play:5 speaker. I wanted to move music from room to room.
After using the first generation Sonos Play:5, I decided it was necessary to upgrade to the second generation.
Why I love Sonos brand:
Sonos doesn't use Bluetooth. It runs off of your WiFi. Why is this a positive?
Bluetooth has a limited range; as soon as your phone is out of that range, the music stops playing. If your speaker is in range of the WiFi (much larger range than Bluetooth) you're all set.
WiFi provides better sound quality. The audio is not compressed.
The music will keep playing if your phone rings.
More than one person can control the music at once.
Connecting to a Bluetooth speaker can be cumbersome.
The setup and playing of music is done through one app. This app is available on Android, iOS, Macs and PCs.
All the major streaming services are available in the Sonos app, including Spotify, Pandora, Apple Music, Google Play Music, Last.FM, iHeartRadio, SiriusXM, SoundCloud, and Tidal. Moreover, you can play the music stored locally on your phone. Once one person signs into their Spotify account (or other service), everyone on the network has access to it. For example, one of my roommates pays for Spotify, the other has Google, and I use Apple Music. Inside the Sonos app, we all have access to the three services!
The queue lets anyone with the app (or on the network) add songs to be played next, which is my favorite feature, brilliant for parties or when you have friends over. Songs in the queue can be added from any of the streaming services.
You can buy as many Sonos speakers as you want and sync them together. Disconnect to have them run separately. In theory, if all your friends brought over their Play:5's, you could set it up so they're all playing off the same queue. I started with just one Sonos Playbar, now I have three speakers and a subwoofer.
You have multiple speakers working together and they don't have to be in the same room. You get a complete multi-room experience.
Sonos calibrates the speakers using Trueplay. During the setup, your speaker will play random sounds while you wave around your phone's mic. The speaker analyzes your room's acoustics and speaker positioning. Trueplay takes into account the size and shape of your room and adjusts the sound to match perfectly.
Sonos' customer support is incredible. You can send a diagnostic report straight from your phone, and they'll know exactly how to fix your problem.
The app gets frequently updated with new features. They also update the speaker firmware through the app.
You can play music from anything with a line-out or headphone port.
Difference between the first and second generation Play:5's:
The new design is stunning. You can get it in black or white with the matte polycarbonate finish.
The second generation can sit horizontally or vertically.
The new Play:5 has six custom-designed drivers with dedicated amplifiers compared to five in the previous edition.
The newest speaker is missing the handle on the back. Either they wanted the speaker to look more attractive (mission accomplished) or there wasn't enough room with the current configuration. I move my Sonos Play:5 around all the time. Carrying this 15 lbs. Speaker is terrifying. It's way too beautiful to be dropped.
No details were overlooked. For example, they've specifically made the box a carrying case with locking latches. Apple has set the standard with product design and packaging, but Sonos is right there with them.
Things I Hate
I love the Trueplay technology, but I wish you could create preset room settings. For example, once I've configured my office, "Cam's office" should be a preset option. Currently, once I move my Play:5 back to my office, I have to reconfigure the speaker again. However, this isn't a deal breaker and configuration only takes a couple minutes.
Anyone with the Sonos app (and on the same WiFi network) will have access to the queue. This is great but there's always THAT guy who decides to put a song in the queue no one wants. I'd like to see Sonos implement "admin access" for one person and give them control of who can control the queue.
Sonos doesn't have remotes. Everything is run through the app, and that's kind of the whole point. I have no need for a remote, but some people might.
Random fact: The Sonos app looks the same if you flip your phone upside down. Sonos is spelled the same backwards and the logo is completely symmetric. Neat.
Who is this for?
The sleek design and (slightly) better sound quality does not warrant the upgrade if you're an owner of the first generation speaker.
If you're looking to get your first Sonos speaker, this is for you. Sure, you could get a solid Bluetooth speaker for $100, but Sonos brings much more to the table. You're paying for crisper sound, ability to add multiple speakers to one system, Trueplay technology, Sonos software, and the gorgeous design.
You won't regret paying the $500. If for some reason you do, the resale value of these is incredible.
Thanks for checking out my Sonos Play:5 Review.