Orbi RBK50 Review: The Dedicated Backhaul is Great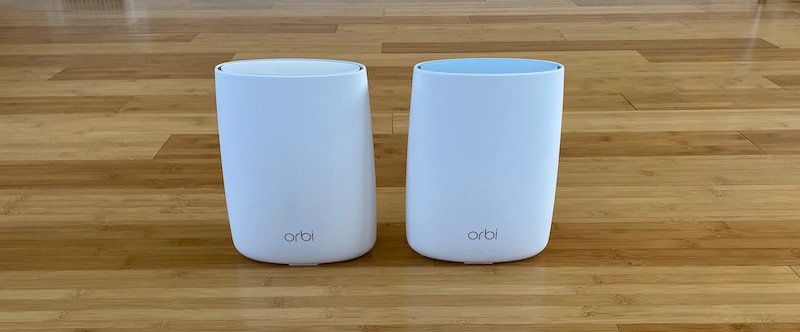 I determined Netgear Orbi RBK33 (3-Set) is the better mesh system because you'll get faster speeds and brilliant range.
Setup: B
Installation is straightforward through the phone app, but syncing the routers isn't always as simple. Installation would go more smoothly if they asked you to get the network running with the router first, then add the satellites after. But Orbi tries to do it all at once.
Orbi has a specific base router and the others are called "satellites," unlike other mesh systems.
Software: D
You can access any advanced feature you'd ever need through the Netgear admin panel on the web interface. If you want to geek-out on the admin panel, Orbi is for you.
In my opinion, the primary purpose of a mesh system is to make WiFi simpler and more customizable for the average user. If you're looking for a pleasant experience with an easy-to-use phone app, Orbi is not the answer. The phone app is lacking smart and native parental features. Netgear takes an old-school approach to the software while providing multiple routers.
You can see a list of all your devices, rename them, and pause them.
Orbi doesn't rely on the cloud to operate.
It'll work with a VPN pass-through.
You can create and name guest networks.
There's an Alexa skill for enabling your guest network or rebooting your WiFi.
There's a way to measure bandwidth for daily, weekly, and monthly usage. It's not a great interface, but at least Orbi has something.
Areas where the Orbi app needs work:
The connection between the nodes and the app is unreliable and wonky. It can take a couple of minutes to connect on occasion and everything you do seems delayed.
The app looks terrible with pieces of text running off the screen.
Half the time that I open the app, I get a "Router Not Set Up" message, even though the network is running perfectly. If you dismiss the message, it'll even show your network in the app running fine. It's a bug that's been around forever.
There aren't parental controls for grouping devices and scheduling pauses. While "Circle with Disney" provides these features, it costs an additional $5/month. Parental controls should be baked into the Orbi app.
You can reboot the system from the app but it takes close to 15 minutes to get up and running again.
Performance: A+
Orbi RBK50 is a beast and the fastest mesh system that I've ever tested and has a higher theoretical download speed (866Mbps). Orbi's speeds will stay consistent no matter which node you're connected to, but the network doesn't seem to be as stable as Eero.
Orbi nodes have three bands and are the only mesh systems to use a dedicated backhaul channel that's reserved for Orbi routers to talk to each other. You'll notice this dedicated backhaul when your client is connected to the satellite node because the download speed will match the main gateway's speed.
Keep in mind, Orbi's Amazon and Reddit reviews aren't as favorable as Eero, and there were questionable firmware updates that broke a lot of routers.
Single router testing:
My maximum internet speed is 117Mbps.
Orbi RBK50 is a tri-band router. I averaged 100Mbps with one Orbi RBK50.
Orbi has an AC3000 rating and a maximum theoretical download speed of 866Mbps on the 5 GHz channel. Looking through Reddit, it looks like most gigabit users aren't getting close to the 866Mbps max, but your potential should be higher with Orbi than Eero.
Mesh router testing:
I averaged 115Mbps with Two Orbi RBK50 routers. This is the fastest WiFi 5 mesh system that I've ever tested.
Netgear says two units will cover 5,000 square feet, but the range seems the same as two Eero Pro routers (4,000 square feet).
Design: A
Orbi RBK50 is ugly and stands almost 9″ tall. There's no way you can tuck them away out of sight.
The Orbi RBK50 two-pack comes with two nodes, but they aren't interchangeable. You'll get one gateway "router" with a spot to plug in your modem, and one "satellite" access point.
A two-piece system will have seven Ethernet ports for hubs and accessories.
Who is this for?
Get Orbi RBK50 if you want the best performance and you know you won't need the app after the installation. Orbi's dedicated backhaul makes it the fastest WiFi 5 system on the market.
The tradeoff for performance is the phone app doesn't always work well, but it's fine if you're cool with Netgear's old-school web-based portal.
There are many Orbi configurations to choose from, but the choice is easy. The RBK50 two-pack should be perfect for most homes and the best value Orbi configuration. It should cover at least 4,000 square feet.