Nest Indoor Cam Review: It's Useless Without a Subscription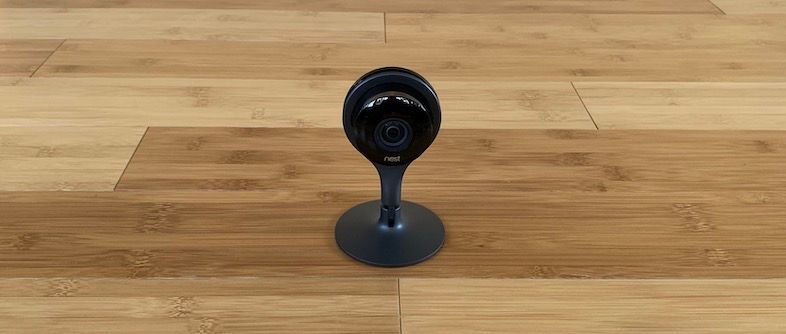 Free Service (F):
The free service only saves the last three hours of snapshots; no video is recorded. In most cases, three hours doesn't even give you enough time to view the snapshots and the snapshots are only a screenshot that doesn't provide any value.
You'll get a notification when it detects motion, so you can catch the live feed whenever you want, but if you're away from your phone, you'll be out of luck.
In my experience, you need Nest Aware for Nest to be worth your time.
Subscription Service (B+):
Nest uses a timeline interface. When it catches a new event on camera, it marks it and you can tap it to watch or scrub through the timeline.
Nest has a subscription service called Nest Aware. While Nest Aware is not required, it's essential for Nest to be useful. It's a better deal than Amazon's service because it has continuous recording. Here's what you get with Nest Aware:
It records every second of every day. You'll get at a timeline that you can scrub through with events marked out. Amazon can't match this assurance that you won't miss anything.
Rather than saving just the last three hours of screenshots, you'll get five days of video (or more, depending on the service you choose).
Intelligent alerts mean it'll only send you notifications when people are detected. There are no false alarms for shadows, etc.
Activity zones let you create a box on your phone's screen that you want to be monitored, which can eliminate notifications from an area with traffic that's not relevant to your goal.
You can make time lapses or share clips with friends and family with URL links.
Nest Aware has three tiers:
5-day video storage is $5/month per camera.
10-day video storage is $10/month per camera.
30-day video storage is $30/month per camera.
Software (B):
The WiFi connection is weak, which caused issues during setup. While my phone and Cloud Cam were getting full WiFi strength, Nest struggled from the same spot. I've seen this with other Nest cameras and doorbells too.
Because of the occasional connection issues, you won't always get flawless scrubbing through the timeline. (Keep in mind that I'm a tech nerd, with a fully optimized mesh router setup.)
Another thing to keep in mind in regard to WiFi is Nest is going to use more of your Internet data (up to 300GB/month) because it's always recording.
You can set schedules for when you want it to record and not record, or you can have it only record while you're away with Nest's Home/Away Assist, which will use your phone's location to determine where you are.
It integrates well with other Nest or Google products. For instance, it can work as an additional sensor for your Nest Thermostat to give it more data whether someone's home or not.
Works with Google Assistant and Alexa.
There are useful IFTTT recipes. For example, when Nest detects motion, you can have it turn on Hue lights.
If you have Chromecast, you can ask your Google Home products to display the live feed on your Chromecast, by saying "Hey Google, show [insert camera's name]."
Video & Audio Quality (B+):
It records video in 1080p HD with a 130-degree field of view with 8x digital zoom. The extra 10 degrees would be useful.
The video quality is consistently crisper and looks better than Cloud Cam.
Nest uses infrared lights, like Cloud Cam, for its night vision. It doesn't look as good as Amazon does in pitch black, but Nest doesn't default to infrared mode as easily. If I keep my porch lights on 25%, Nest preserves the color in the video, while Cloud Cam is black and white.
It records audio and the quality is slightly better than Cloud Cam.
The speaker quality sounds terrible and due to the video lag, two-way communication is almost impossible.
Design (A+):
Like all Nest products, it has an amazing build quality with a sleek all-black finish. The camera lens is made with glass and the base is metal.
It comes with a base and holder. The camera stays put in the base, but you can detach it if you prefer to use just the camera.
The swivel rotation is better than Cloud Cam because you get a wider range and it feels more sturdy.
The entire bottom is an extra strong magnet, which can be a significant advantage depending on where you're putting it. It'll stick to steel doors, poles, and metal appliances without an issue.
It has a standard micro USB port for power.
Quick Review (TL;DR)
Free: The free plan only provides three hours of snapshots. There's no video recording.
Subscription: Nest Aware is $5/month with the same features as Amazon's, but with the addition of 24/7 recording.
Software: It's compatible with most smart products. There are cool IFTTT and Nest product integrations.
Quality: The video and audio recording are superior, but two-way communication is not as good.
Design: It's has a detachable base and incredible craftsmanship.
Who is this for?
Nest Cam is best for you if you're willing to pay at least $5/month for Nest Aware for 24/7 surveillance. Without a subscription, Nest provides three hours of useless snapshots. However, Nest Cam is useful if you want to view a constant live feed.