Nanoleaf Shapes Are Really Cool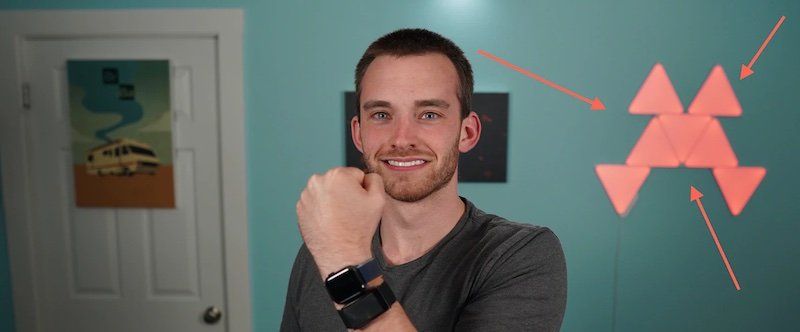 If you've watched any of my YouTube videos, this year, you've probably noticed a set of triangular lights behind me.
These are Nanoleaf Shapes and they're sold for $200.
How do they work?
You get seven triangle light panels with ten "panel linkers" and one power cord.
Just use the panel linkers to connect the seven triangles to create any shape you want. The only requirement is that each triangle must touch at least one other triangle.
What can these light panels do?
Nanoleaf Shapes are compatible with all the major smart home platforms including HomeKit, Alexa, Google Assistant, IFTTT, and SmartThings, which means you can use any smart voice assistant and set up automations. (The response time is extra speedy with HomePod mini because of its Thread support.)
The brightness can be adjusted from 1% to 100%.
Each of the seven panels can be its own color.
There are tons of color presets combinations (e.g., Cotton Candy, Hot Sauce, etc.).
If you don't like the default preset colors, custom color combinations can be saved to a scene. Once a scene is made it's just a tap away.
Each panel can change colors and bounce to the rhythm of your music. I don't like this feature, but some might.
There's a setting to enable a color change whenever a panel is touched.
Up to 500 triangles can be connected to each other (if you have a spare $11,000).
Any downsides?
$200 is rough.
Plus, hanging them on the wall isn't convenient because the included tape doesn't seem like it can be removed easily. Instead, I used Command Strips to hang them.
Lastly, I wish the entire panel, from edge to edge, would light up. Unfortunately, the colors stop short near the corners of the triangle. It's just a technical limitation. The further away you are from the panels, the less noticeable this is (the white corners are barely visible in my videos).
Any alternatives?
Nanoleaf has a mini-triangle version that's more affordable ($119). It comes with five small panels rather than seven big panels.
There are lots of knockoffs on Amazon too, which should work similarly to Nanoleaf.
Are the Nanoleaf Shapes worth $200? Nope.
But they're perfect for what I wanted: a unique object for the background of my YouTube videos. The beauty is that I can change the design of my shape or adjust the color at any point to avoid a stale background.