Megaboom 3 Review: Bad Bass When Loud, But Great For Outside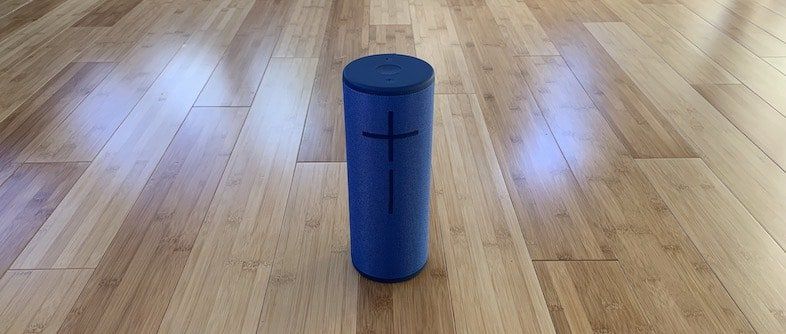 After a month-long trial, I determined UE Megaboom 3 is one of my wireless speakers because of its brilliant design, wireless charging, and superior high-volume performance.
Sound: A-
It offers omnidirectional sound, meaning it sounds the same from all angles, which makes it ideal for listening with large groups or outdoors.
Megaboom 3's sound is clear and sharp with strong bass.
It has more bass than Charge 4. It seems like Ultimate Ears went the crowd-pleasing/party route with this iteration of Megaboom. It sounds good on average, but on some songs, especially at high volumes, the bass gets too boomy and overpowering.
Ultimate Ears lets you toggle with the equalizer to tweak the sound to your tastes, but I wouldn't bother, unless you're in a smaller room, then it's smart to turn down the mids a bit.
Bottom line: If you want to listen outside, use it for a party, or just like your music loud, Megaboom 3 is probably best for you.
How does the sound compare to the original Megaboom? Megaboom 3 has better bass, but the volume level, mids and treble sound similar. The reason to upgrade to Megaboom 3 is for the substantial design improvements noted below. (Side note: Megaboom 2 never existed. Ultimate Ears skipped the second version to streamline their lineup name structure.)
Design: A+
It weighs two pounds, is 8.9 inches tall, and sits vertically.
It has a brilliant minimalistic design and comes in five different two-tone colors: Lagoon Blue, Nightblack, Sunset Red, Ultraviolet Purple, and Urban Magenta. The mesh material looks fantastic!
It has two huge volume buttons on the side.
The original Megaboom was a well-designed speaker, but it had flaws:
There was no play, pause or skip button. Instead, you had to use gestures to play and skip. For example, if you tap the top, the music pauses, or if you double tap, the music jumps. I hated that you have to hold the speaker in your hands and tilt it for the gestures to work. They fixed this with a giant "Magic Button."
The micro USB charging port was previously located on the bottom, making it challenging to charge and listen at the same time. But they moved the charging port to the bottom and if you spring for the $40 charging base, you can charge wirelessly.
UE got rid of the ugly, thick, rubber strip that went down the middle.
There's isn't a port for external devices.
If you press and hold the volume buttons, you'll get a precise reading of the remaining battery life.
Durability: A+
It's exceptionally durable and shockproof. You can drop it a few times without worry.
It's entirely waterproof (IPX7 rating). This means it can be submerged in a meter of water for 30 minutes. It's dustproof too!
It'll float if you drop it in the water.
Power: A-
UE lists 20 hours of playback before the battery needs a charge. My real world tests:
10 hours with 60% volume.
5 hours with 85% volume.
You can wirelessly charge with the additional $40 UE charging base.
Software: A
Inside the app, there's an equalizer where you can toggle the bass, mids, and treble. There are four preset equalizer options too. I like the "voices" preset for podcasts.
You can connect up to 150 other UE speakers with "Party Up." It's not flawless due to Bluetooth limitations, but it stays in sync and doesn't cut out nearly as much as JBLs.
It uses Bluetooth 4.2, and you can pair it with eight devices and have it paired to two simultaneously.
"Block Party" lets you connect up to two source devices at the same time while eight different people can manage the music being played.
The firmware is frequently updated. You'll see improvements as the time goes on, whereas JBL doesn't upgrade anything.
When you hold the Magic Button down for two seconds, it'll start playing one of your four Apple Music pre-selected playlists without touching your phone. This is a cool feature and could be expanded to other services, in the future.
Who is this for?
Get UE Megaboom 3 if you want the more versatile speaker and to play music at high volumes for large gatherings. The sound profile is crowd-pleasing with a substantial bass. More people will prefer it. It has an amazing design and provides wireless charging.