UE Megablast Review: The Best Sounding UE Speaker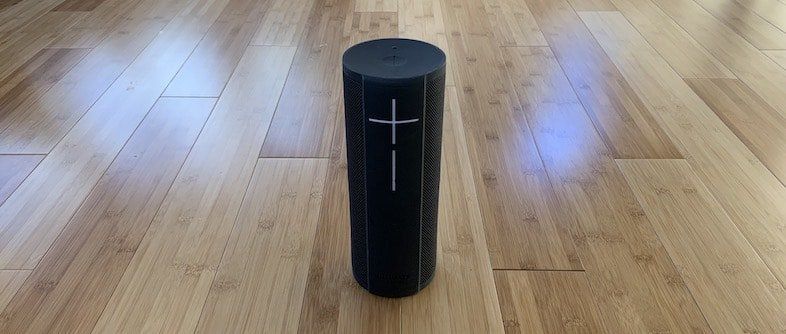 After weeks of testing, I determined UE Megablast sounds great at high volumes, has a clean bass, and it's internet enabled, but it's not as nicely designed as UE Megaboom 3.
Sound: A+
It has two 55mm active drivers. The difference of 5mm on both drivers compared to Megaboom 3, is presumably what provides the difference in sound quality.
It has the same omnidirectional sound as Megaboom 3. In typical listening situations (around half volume) the sound quality is close to identical (to my ears) between the two speakers.
UE lists the Megablast's volume as three decibels louder. In my tests, it seemed like 85% volume on Megablast was the equivalent of Megaboom 3's maxed out volume.
The bass is richer, deeper, and more controlled than Megaboom 3. Because of the brilliant sound at all volumes, Megablast is my favorite sounding portable speaker.
When you're at home, Megablast will sound better if you use WiFi because the music doesn't get compressed as it does with Bluetooth.
Design: D
It's waterproof and dustproof (IP67 rating), and shockproof. It can be submerged in up to a meter of water for 30 minutes. UE speakers are the most durable speakers I've ever tested.
It weighs 2.65 pounds, is 9.3 inches tall, and sits vertically. This makes it a half-pound heavier and slightly taller than Megaboom 3.
There are no buttons or gestures to use for playback controls. You can skip a song via Alexa, but that's annoying and only works if you're using WiFi, rather than Bluetooth. The best way to skip a song is with your phone's display.
The micro USB charging port is located on the bottom of the speaker, making simultaneous listening and charging difficult. Buy the wireless charging dock for $40 to get around this.
There are two huge volume buttons on the side, and there's an ugly rubber strip running down the middle.
It's won't float if you drop it in water.
It comes in four boring colors: Graphite, Bluesteel, Merlot, Blizzard.
Power: C
Ultimate Ears lists a 16-hour battery rating. Here's what I got in real life tests:
8 hours with 60% volume.
4 hours with 85% volume.
The battery life decreases when Alexa is active and listening. It'll go down further with heavy Alexa usage.
You can wirelessly charge with the base.
Software: A+
There are multiple microphones that are always listening for hands-free Alexa:
You can say "Alexa, play my Discover Weekly on Spotify" or any other Spotify voice command. This is fantastic.
You can say "Alexa, turn down the volume."
You can say "Alexa, skip."
You can control your smart home devices, just like native Amazon Echo devices.
You can disable Alexa's mic by holding the Bluetooth button simultaneously with the volume decrease button.
Reasons why Alexa isn't worth your time on a portable speaker:
The mics aren't as good as Amazon's devices, so it doesn't hear your commands as well. It has no chance of hearing when the volume is above 50%.
Alexa only works when you're home and connected to WiFi.
How often would you use Alexa and when is it useful? In my experience, the only time that I used Alexa was for the playback controls. But it's easier to press a button like you can with Megaboom 3's Magic Button.
Megablast can play music via Bluetooth or WiFi.
WiFi music playback is an upgrade from Bluetooth, which is important if you plan on using this speaker at home and have Spotify (with Spotify Connect).
The sound quality is better because it's not compressed.
You don't have to worry about pairing and unpair.
The music is streamed directly to Megablast, so your phone's location relative to the speaker is irrelevant.
The music isn't distorted or interrupted when someone calls you.
It only pairs with one other Megablast to create a stereo pair, while you can connect 150 Megaboom speakers. However, it's not a significant issue because pairing multiple speakers via Bluetooth is never a smooth process. I avoid it if at all possible.
Megablast has the same list Bluetooth range, but I was able to get an extra 15-20 feet compared to Megaboom 3.
You can't power it on with the app.
If you want an accurate battery life reading, you can hold the two volume buttons for two seconds, and a voice will read out the level.
It can be paired with eight devices and paired to two simultaneously.
Which is best for you?
Get UE Megablast if you want the best sounding Ultimate Ears speaker. It sounds better than the UE Megaboom 3 at high volumes. The WiFi playback brings more versatility than Bluetooth and Alexa is a nice add-on too, but it has design flaws with a subpar battery.
Get UE Megaboom 3 if you appreciate brilliantly-designed products and want to listen at low and medium volumes. It has great colors, a longer battery life, and it's lighter.