LIFX Review: Are They Better Than Philips Hue Lights?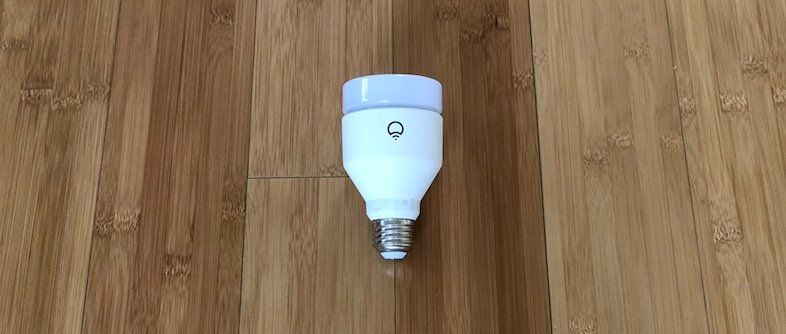 After testing LIFX lights for a couple of months, I determined LIFX is a great option if you only want a couple of smart lights because it saves you from buying a $60 hub.
Setup (A):
LIFX bulbs don't need a hub. Each bulb needs to be connected to your router individually, so disconnections happen more frequently than with Hue. This is inevitable, and the internet agrees, but I haven't experienced this first hand.
If you use a wall switch, the color and brightness you previously used will still be there. This is significant if you have people in your household who don't always want to use the app. The color and the brightness stays saved on the light, whereas on the Hue, it always goes to 100% white light.
You can't set up HomeKit without syncing the bulbs to the LIFX app first.
Software (C+):
The LIFX app is just okay; the Hue app is far superior.
It works with HomeKit, Nest, IFTTT, SmartThings, Alexa, Harmony, and Google Assistant.
There's no support for Wink.
There are 22 variations of white in the app, everything from a bright cool white (Blue Ice – 9000K) that hurts the eyes to a yellowish warm sunset (Ultra Warm – 2500K) white.
In the app, there are cool effects, like "candle flicker," "color cycle," "music visualizer," and "strobe."
The color of the white light can automatically change based on the time of day. It's cooler in the morning, but as the day progresses, it gets warmer. You can have it adjust to your schedule.
You can "Copy Scene to HomeKit," from the LIFX app, which is a big improvement for setting up scenes in HomeKit compared to Hue. But the white colors I want don't stick in a scene because it doesn't match the color temperature perfectly. Bottom Line: HomeKit support isn't perfect.
You can set schedules for when to turn on or off the lights.
There's no way to turn a light on or off based on your phone's location. This isn't a huge deal because you can set this up with HomeKit or IFTTT instead.
Performance (B-):
LIFX is a startup company that got their start on Kickstarter. Despite occasional flickering from my Hue bulbs, Hue still wins the longevity battle based on reputation. I'd hate to buy into an ecosystem and have it disappear, but that doesn't look like it's happening because LIFX has found a place in the market.
The bulbs are rated for 25,000 hours of life (same as Hue). I'm 500 hours in so far, so I'll report back my findings as I continue to use them.
The flagship LIFX bulb consumes 11W of energy, but you get 1,100 Lumens, and it's the equivalent light of 75W bulb.
It works perfectly remotely.
Its colors are much brighter and have a more extensive range.
You get a two-year warranty.
Types & Price (C):
LIFX bulbs are more expensive than Hue on average. But because you don't need a hub, LIFX will cost less if you only plan on having a few bulbs in your house.
LIFX ($60): This is the bulb this review is based on and the one I tried. It's the company's go-to bulb and considered their flagship. It has over 16 million colors, plain white, and special shades of white to match day and dust colors to make the light look more natural. LIFX comes in the traditional bulb style (A19 E26) and the recessed light style (BR30).
LIFX+ ($80): It looks and functions the same as the bulb above, but it shoots out infrared light that's invisible to the human eye but helps light up a dark room for cameras. LIFX+ comes in the traditional bulb style (A19 E26) and the recessed light style (BR30).
LIFX Mini White ($25): It's white only. It just comes in the traditional bulb style (A19).
LIFX Mini Day & Dusk ($30): It's has warm and cool whites and can change automatically with the sun during the day. It only comes in the traditional bulb style (A19 E26).
LIFX Mini Color ($45): It has the same colors as the original LIFX but less bright. Mini Color is only 800 Lumens compared to 1100 Lumens with LIFX. It only comes in the traditional bulb style (A19 E26).
LIFX Z ($90): It's a six foot LED light strip. I haven't tried any of their niche light products, but their lineup is much more limiting than Hue.
Quick Review (TL;DR)
Setup: Installation is easier than Hue because there's no hub.
Software: The app isn't great and there are issues with HomeKit.
Performance: Connectivity can be an issue because there's no hub. They're brighter than Hue but consume more energy.
Types & Prices: Selection is limited and individual bulbs are more expensive than Hue, but if you only plan to have a couple of smart lights, it'll be cheaper because you don't need to buy a hub.
Who is this for?
LIFX is best for you if you want vivid colors, or you plan only to have a couple of smart lights in your house. LIFX lights don't require a hub, so you'll save on that cost. Their app could use some work, third-party integration isn't perfect, and you could potentially have issues with WiFi connectivity if you plan to use LIFX throughout your whole house. Overall, they are great lights, and the colors are fantastic.