Kwikset Kevo Review: It's a Great Idea But It Doesn't Work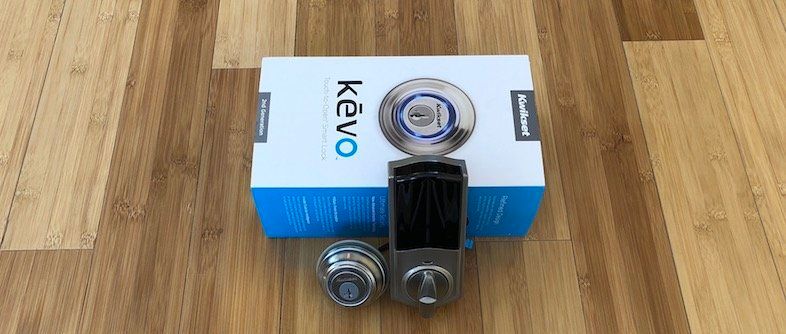 After two weeks of testing, I determined that the Kwikset Kevo isn't worth buying because it doesn't work reliably.
Setup (B-):
An interactive guide in the app walks you through installation. It gets the job done, but the directions weren't perfect. The app implies you sync Kevo to your phone first, but that isn't correct. You sync after the lock is installed.
For installation, you need to remove your existing deadbolt. Then, drill a bigger hole if your previous hole isn't 2-⅛" (most are 2-⅛" already), install a new deadbolt latch, mount the front and back plates, attach the wires, and install a new strike on the door frame. It took about 30 minutes from start to finish.
Unlocking (F):
Once your household members have the Kevo app on their phone and are signed in, they tap the top of the lock and, if their phone is nearby, Kevo unlocks the door.
When it works, there's nothing more satisfying. It's like you're living in the future.
But Kevo only works on the first try 50% of the time. It usually works on the second try, but I've had it fail on the second try too. I've never had to try more than three times to get in, but others on Amazon say differently. If an attempt fails, you're waiting a solid 20-30 seconds. At that point, why not just use a key?
Kevo won't work if you're on a phone call or listening to music via Bluetooth because it uses Bluetooth as well.
The app needs to be running in the background for a tap to unlock the door. If your phone's battery dies or you close your apps, you'll need to restart Kevo in the background. You shouldn't close your apps because it doesn't save battery life. But most of my friends, girlfriend included, are compulsive app-closers, and I'm sure lots of others do this out of habit too.
If you have family members without smartphones, you can buy a&nbspkey fob to keep in their pocket which allows them to tap and open.
You can use a standard key as a failsafe.
Locking (F):
There's auto-lock, but you can only set it to 30 seconds.
The only way to lock is by tapping Kevo, opening the app or using a standard key.
You can't lock yourself out because Kevo senses when your phone is on the other side of the door.
Unfortunately, you'll face the same connectivity issues as with unlocking.
Inside Design (B-):
It has a sturdy-looking, thin metal cover that goes over the plastic base.
You have to unscrew the three screws to take the battery cover off. Then, slide the battery pack out.
Outside Design (B):
From the outside, Kevo looks like an ordinary lock with a keyhole. When you tap the top of it, there's a blue ring that lights up, then turns green when it's unlocked.
It doesn't look fancy and won't attract unwanted attention.
Software (F):
You can give someone scheduled access on Kevo, but they need to sign up for an account, download the app, keep it on their phone, and have the app open when they tap. That's too much to ask of a guest.
You can't control anything remotely, and it doesn't work with Google Assistant, Alexa, or Siri (HomeKit) out of the box.
For an extra $100, the Kevo Plus Hub gives you remote access and smart assistant controls. Unfortunately, even with the hub, it isn't compatible with HomeKit. Also, the Alexa command is wordy, "Alexa, tell Kevo to lock the back door."
Because of limited features, Kevo's batteries seem to last longer than others.
Quick Review (TL;DR)
Unlock Options: Tap Kevo to lock if your phone's with you, but it fails most times.
Lock Options: Tap Kevo, Auto-lock, Kevo App, Alexa or Google.
Design: It has a sturdy-looking, thin metal cover that goes over the plastic base. It looks like an ordinary lock from the outside.
Software: It requires guests to download an app, and you can't control remotely.
Who is this for?
Kevo is perfect for you if you want a lock that's unreliable and unintelligent with no benefits over a conventional lock. Instead of searching for your keys, you'll be getting out your phone to get a better connection with Kevo. Even then, Kevo won't always unlock on the first try