HomePod vs. Sonos Five: They're Both Great But At Different Prices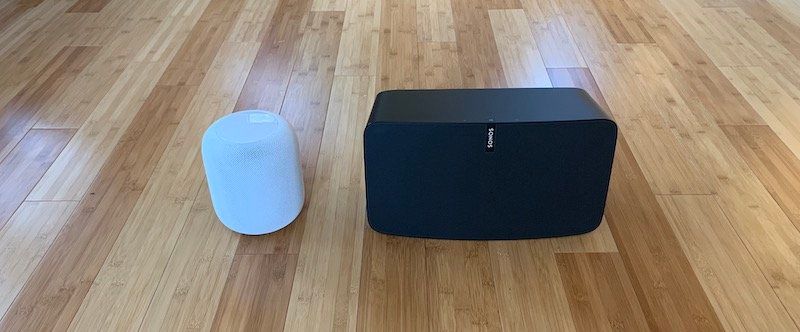 After two years with Play:5 and HomePod, I can say that Sonos Five is the best-sounding and most compatible speaker. Apple HomePod has incredible sound for its size and is more affordable than Sonos Five, but you only should consider HomePod if you're an Apple Music user.
You'll be happy with either of these speakers, and it'll be the best speaker you've ever owned. I own both and plan to keep them.
Note: Sonos Five is a refresh of Sonos Play:5. According to the Sonos CEO, they've increased the memory and processing power, but these won't have an impact on performance or sound. Sonos Five is just a branding move to match the rest of the lineup, so if everything in this post applies to both speakers. If you can get a great deal on Play:5, go for it.
Want to learn how I reached this conclusion? Read on to see the detailed breakdown of user-friendliness, sound quality, and design that informed my overall impression.
Compatibility
Sonos Five
Summary: You can play music from any of the major music services in the Sonos app. You can cast or AirPlay from your music service's app too.
Services:
Inside the Sonos app, you can play your music from any of the major music services after you sign in (Apple Music, Google Play Music, Pandora, Amazon Music, Spotify, and many more).
Using Spotify Connect, you can play music on Five inside Spotify's app rather than Sonos' app.
On iPhone and Android devices, you can "cast" music services (Amazon, Google, and Pandora) to Sonos.
You can play music from any device by plugging it into Five's headphone port.
You can AirPlay audio from any iOS app that has the AirPlay symbol at the bottom.
HomePod
Summary: You can AirPlay any music service, but AirPlay isn't great and there are no ports. You can ask Siri to play any Apple Music song.
Services:
You can AirPlay any music service from your iPhone to HomePod.
The only service that gives you voice control via Siri is Apple Music.
Limitations:
You can't set up HomePod without an iPhone.
There are limitations to AirPlay:
Siri won't know what song's playing and songs can be initiated with it.
There's a few second lag when skipping or pausing songs.
The audio cuts out, here and there. It's not frequent, but this doesn't happen with the Sonos app or Spotify Connect.
There are no plug-in ports.
Spotify Connect isn't an option.
Sonos Five
The Sonos app is awesome and my favorite feature. You can add any song from any music service to the same queue, and everyone who has the app and is on your WiFi can add songs to it. All of my friends have the Sonos app, and someone's always loading the queue with new songs. It's one thing everyone looks forward to doing when they come over.
The TruePlay setup isn't perfect and involves waving your phone around your body and room, like an idiot for three minutes. And once you move your speaker, you'll need to re-tune it.
You can pair and unpair with unlimited Sonos speakers, but Five is typically used as a standalone speaker.
AirPlay 2 lets you pair multiple speakers together, even if they're not Sonos speakers.
There's no smart assistant on Five, but you can buy Echo Dot for $50 and have full control of Sonos with Alexa. For example, "Alexa, play my Discover Weekly playlist in the living room."
It works with Google Assistant too. But because these assistants aren't built-in, it requires an extra layer of technology which can slow the process down and make it work less smoothly.
HomePod
HomePod's setup is seamless through the iPhone Home app.
HomePod lacks smart features compared to smart speakers like Google Home Max or Amazon Echo due to Siri's limitations. But it's smarter than Sonos Five.
Siri can perform any HomeKit task. For example, "Hey Siri, turn off the bedroom lights."
You can ask Siri to play any Apple Music song, album, artist, playlist or have it pick music for you based on your preferences.
Siri has the best listening capabilities of any smart speaker on the market. It can hear you while whispering and it can hear when talking in a normal voice when the music's at 100% volume.
AirPlay 2 lets you pair multiple speakers together.
Sound
Sonos Five
Summary: The sound is crisp with perfect bass and mids. It has way more power than HomePod and, overall, most will prefer it when side-by-side.
Description:
It has six custom-designed drivers with dedicated amplifiers.
You can't find a better sounding speaker for $500. Sonos Five's sound is crisp with perfect bass and mids. The biggest sound difference between Five and HomePod is the midlevel. There tends to be better separation with Five.
It fills bigger rooms better than HomePod because it's much louder. It sounds much louder on the highest volume, and you'd go deaf at high volumes.
The sound doesn't get distorted at loud volumes like most speakers. To get the most out of Five, it sounds best at volumes over 60%.
Side note: How does Five sound compare to Sonos Playbar? While Five is louder and gets better with more volume, Playbar doesn't sound great above 80% volume. Five has better bass than Playbar, but Playbar is better with highs and vocals making it better for movie watching.
The sound only comes from the front of the speaker. However, you can use TruePlay to create a custom sound based on your room's configuration, similar to what HomePod does automatically. The TruePlay setup is clunky, only works with iPhone. You need to set it up each time you move Five to a different location.
I prefer HomePod's real-time sound configuration to Sonos', but it sounds great once it's configured.
HomePod
Summary: HomePod is omnidirectional and has amazing sound for its size. It has crisp vocals and deep bass. It calibrates itself automatically to sound the same no matter where you're sitting in the room.
Description:
HomePod has seven tweeters, a four-inch woofer, and six microphones.
Even at the highest volume, there's no distortion.
The highs are crisp, and the bass is deep but stays in control.
The mids aren't anything special and sound better on Five.
At super low volumes, I prefer HomePod's sound to Sonos because the sound profile doesn't change as the volume changes. The sound retains all the detail at low volumes. It's strange because I've never seen a speaker do this.
HomePod is omnidirectional and has an A8 processing chip (the same one used in iPhone 6). How does that affect the performance? HomePod calibrates its sound based on its surroundings like walls and furniture. After a song plays for two minutes, the music sounds identical from any position in the room. Close your eyes and most of the time you won't know where the sound is coming from. There's no setup; it works automatically.
It's much quieter compared to Five. HomePod can easily fill a small room with sound, but if you're looking to jam or throw a party, Sonos is the way to go.
HomePod has an accelerometer. If moved, it detects its new position and automatically recalibrates the sound based on the surroundings.
Even the founder of Sonos praised HomePod's sound saying it's better than Sonos One. HomePod sounds fantastic for its size, and you won't find a better sounding speaker in this form.
Design
Sonos Five
Sonos Five is well built and attractive, but it's huge (14" long) and heavy (14 pounds).
I move my Sonos Five around all the time, but I don't recommend it. Carrying this 14-pound speaker is terrifying because you'd do severe damage if you dropped it with that much force.
It comes in black or white with a matte polycarbonate finish.
There are no physical buttons. You use tapping gestures to change the volume and skip songs.
HomePod
HomePod is made with a sleek mesh material and can be put anywhere without hogging space. It's the perfect kitchen speaker.
It has a six-inch diameter, making it one-third the size of Five.
It comes in White and Space Gray.
The power cord is the nicest I've ever touched and matches the mesh material of the speaker.
The downside to HomePod's design is that it's hard to clean. Dust sits on the mesh material and it can't be wiped off easily without leaving debris behind.
I recommend the Space Gray color for longevity.
Which is best for you?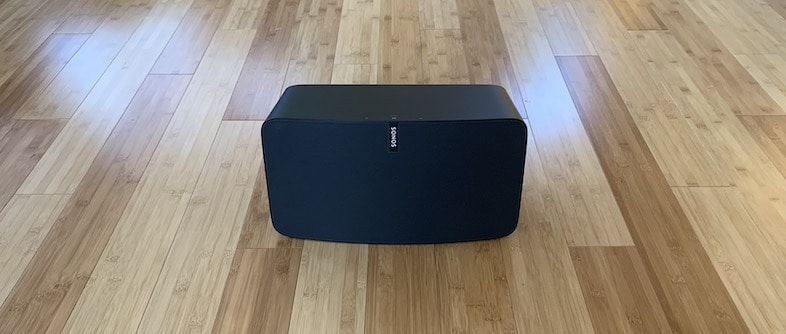 User-Friendliness (A+)
Sound (A+)
Design (B)
Get Sonos Five if you use a music service other than Apple Music. It's the best sounding speaker under $500 and fills any large room with huge sound. You can use the Sonos app or Cast and AirPlay directly from your favorite music app. The downsides are its bulkiness and lack of a smart assistant.
---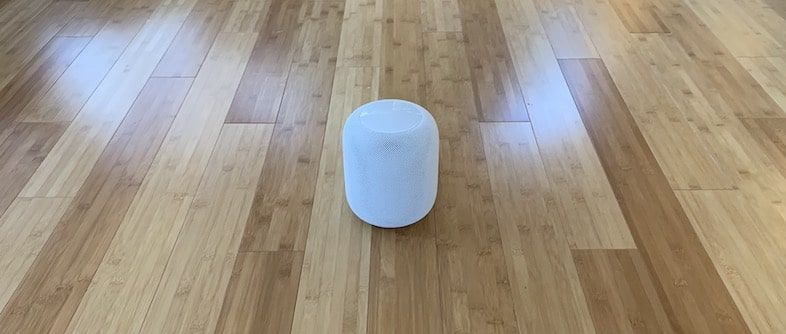 User-Friendliness (B-)
Sound (A-)
Design (A-)
Get Apple HomePod if you're an avid HomeKit user or an Apple Music user. HomePod is more portable, sounds best out of the box without customizations and is $200 less than Sonos Five. HomePod is an amazing speaker but comes with limitations because AirPlay and Siri aren't perfect.