Google Home Max Review: Is It Better Than HomePod & Sonos?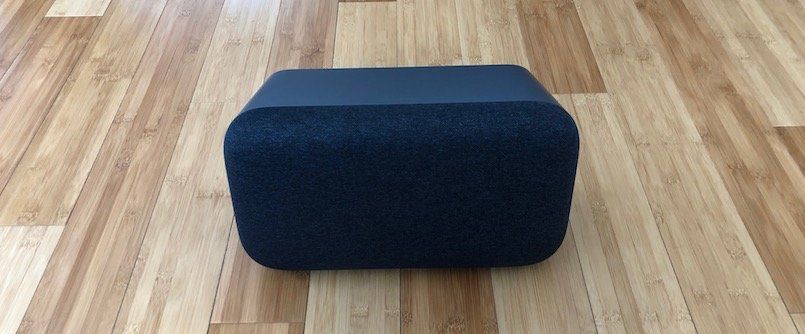 Before we talk about Google Home Max, I want to talk about the smart speaker market as a whole.
Speakers with smart assistants have been out for two years, but sound quality hasn't been a priority until recently.
Google released their premium version of Google Home, Google Home Max, earlier this year. Sonos released Sonos One, a revised Play:1 with Alexa support. And in February, Apple finally released HomePod after six years of work to make a speaker.
It's not a worthwhile investment to change your music service to cater to Google Home Max, Apple HomePod, and Sonos One because they all sound excellent! It comes down to which company's ecosystem you're comfortable with.
I love HomePod and keep it in my office. But I have two Sonos One speakers in my living room, too!
Smart Speaker Notes:
HomePod, Home Max, and Sonos One are going after different markets than the original Amazon Echo and Google Home devices. You either want a premium speaker for music, or you want to make your home smarter. The people who prioritize smarts resort to the $50 subsidized devices, like Home Mini and Dot.
Audio preferences are subjective. Some audiophiles on Reddit say HomePod sounds like a $1,000 speaker, while others say it's overrated. Sound preferences even vary in blind tests.
Unless you're an experienced tech reviewer and have done side-by-side comparisons like I have, you won't be able to distinguish sound quality between one system and another. HomePod, Home Max, and Sonos One sound great independently, and they're 10 times better than the $100 smart speakers (Amazon Echo and Google Home).
Home Max is my least favorite, but I only noticed its inferiority when I heard HomePod or Sonos next to it. You can't go wrong with any of them. Whatever you choose, it'll probably be the best speaker you've ever owned.
All of these require power and WiFi to work properly. HomePod and Sonos don't function without WiFi. Echo and Home Max have a 3.5mm jack line-in and Bluetooth, so you can play music without WiFi but will need to connect to use the full range of capabilities.
Google Home Max Review
Sound (C):
Home Max is the loudest. Above 80% volume is uncomfortable to my ears if I'm listening in the same room.
It provides extra bass and treble, but the mid-ranges are funky and can't be changed with the equalizer.
It doesn't sound as crisp as Sonos or HomePod. Music sounds like it's softened or as though there's a filter over the speaker.
"Smart Sound" is a machine learning algorithm that automatically adjusts the bass and treble depending on the environment. To me, it seems like a gimmick because the bass was overpowering wherever I put the speaker.
The consensus is that Home Max sounds worse than HomePod and a pair of Sonos One speakers. I agree, but that doesn't mean Home Max is bad.
You may prefer Home Max because it's a crowd pleaser. It would work well for parties with its extra bass and loudness.
Design (F):
It's 12 pounds, bulky and awkward. It's too big to place in the kitchen or on many bookshelves.
It's a rip off Sonos Play:5's sleek design. It looks fine from afar, but it's made out of cheaper materials. I'm fine with the Play:5's bulk because of the superior sound.
You can't see the touch controls on top, and they don't work well.
You can flip the speaker to stand vertically, but it looks awkward, is easy to knock over and only plays mono-sound.
Voice Assistant (A+):
"O.K. Google" and "Hey, Google" are wordy, and it can't hear with loud music playing, but it's a fantastic smart assistant overall.
Google can answer almost any search, regardless of the search engine used. It can even handle follow-up questions and multiple requests at the same time. Google's been a search engine for 20 years. It's what they do, and their assistant has the highest potential of them all.
Google can answer up to six different voices, and apply preferences (calendars, reminders, music, etc.) based on who asked the questions. The setup is seamless.
Compatibility (B):
Home Max doesn't have as many integrations as Alexa, but it has everything most people need and more integrations than HomePod. (Here's a list of partners).
You can't play Apple Music, but YouTube Music, Spotify, Pandora, Google Play Music, iHeartRadio, and TuneIN are available.
Software (A):
The initial setup process, as well as adding multiple voices, setting your preference and configuring smart devices are miles ahead of Alexa.
I like everything about the Google Home app.
Home Max can control your Chromecast well, but it can't be used as your TV speaker unless you go 3.5mm to 3.5mm. You'd sacrifice audio quality, convenience, and need to set a sync delay on your TV if you do this.
Who is this for?
Google Home Max is best for you if you're heavily invested in Google's ecosystem or want a louder speaker that's loaded with bass. Home Max is a crowd pleaser, and you'll love it unless you hear it side by side with HomePod and Sonos. It comes with the best assistant on the market, too!