Eufy RoboVac 11 Review: Best Entry Level Robot?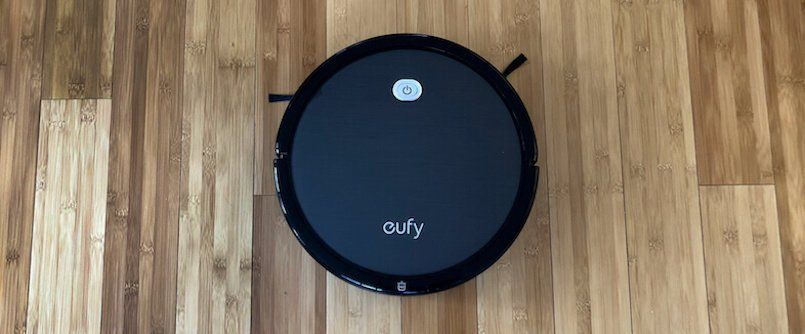 Function (A+):
One of the most important things with a robot vacuum is that it keeps chugging and doesn't stall due to the bin filling up, running out of battery or get caught. Deebot outperforms Roomba in this respect because:
The advertised battery runtime is 100 minutes, but my tests showed it's longer. Roomba runs for an hour.
The dustbin holds 450 ml compared with Roomba's 300 ml dustbin. That's 50% more.
It seems to take better routes and fewer risks making it get stuck less.
Eufy 11 has four cleaning modes. The automatic mode is what you'll use most of the time, but you can spot or edge clean and there's a new extra power mode for tough spots.
It doesn't bump baseboards as hard as other robot vacuums.
Roomba doesn't include a remote. Eufy comes with remote, and it's great with the ability to change modes or manually control it.
Eufy 11 is slimmer and lighter than Roomba by a solid margin. It's seven pounds and only three inches tall.
The dustbin is easier to clean and take out.
Suction (A-):
It's a beast on hardwood floors and does a decent job on thin carpet, but it doesn't work well on thick carpeting.
In my testing with ground up tortilla chips and flour, Eufy 11 was the top performer on hardwood.
None of the vacuums that I looked at were great on carpets.
Software (C):
There's no app for scheduling, but the remote is great for this.
Noise (A+):
The decibel readings aren't as drastic as the real-life sound, but it's the quietest robot vacuum that I've ever tested.
Who is this for?
You want the best robot vacuum under $300; Eufy 11 is the best in that price range. The most important thing a robot vacuum can do is to keep cleaning without getting stuck. Eufy delivers a long runtime and great suction. The only thing missing is a reputable name, but because it's only $200, you should be OK replacing it when it dies.