Deebot N79S Review: Better Than the Cheap Roombas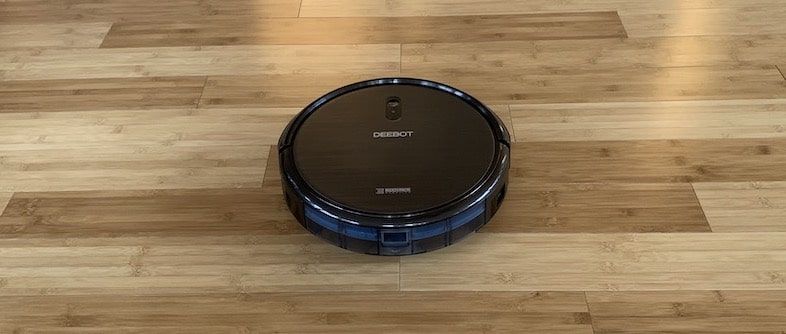 After years of testing over ten robot vacuums, I determined Ecovacs Deebot N79S is one of the best because of its superior suction, battery life, and price. The Roomba brand is top-notch, but the Roomba 600 Series (614, 650, 675, 690) can't compete with Deebot in performance categories.
Navigation: A
Ecovacs claims a two-hour battery life. It takes around an hour and 45 minutes for it to finish its cleaning cycle before slowing down to find the base.
It got stuck on my 12×16″ cool air return grate almost every time, where the others that I tested didn't, but on average it tends to get stuck far less frequently than the others. My grate is abnormally big, and I chalk this up to an anomaly.
Just like any budget robot vacuum, you'll need to create barriers with everyday objects to keep it out of certain areas. For instance, I put a tiny box on the grate to help it not get stuck.
It does a great job of navigating and doesn't bump into things as hard as Roomba.
It has four cleaning modes. It's best to set it to automatic and let it detect what it needs to do on its own, but sometimes you'll want to switch modes. For example, you can make it clean the middle portions, you can turn on the edging feature, or you can have it spot clean. I love the edging function, which makes it clean along the edges of the room.
Suction: A
Ecovacs claims it has 1,000 Pa of suction. Deebot and Eufy are neck-and-neck with real-life suction power, and they both have way more than Roomba.
There's a max power mode that's accessible through the app. It'll decrease the runtime by about 15-20 minutes, but it's helpful on carpet.
Carpet:
After running three tests, for five minutes each, I determined Deebot performs the best of any robot vacuum under $300.
Deebot didn't kick the debris as much as Roomba.
Deebot picked up more rice than Eufy but by a margin that's too small to be conclusive.
Hard Floor:
Deebot does great on hardwood, but Eufy beat it by a slight margin.
Deebot consistently picked up more than 50% rice than Roomba in the same five-minute span.
Design: B-
It's rated with the same noise level as Roomba 675, but it sounds substantially quieter to me. Maybe because it's a softer sound.
It's slimmer and lighter than Roomba.
The remote is excellent. You can handle all of the scheduling with it. While controlling Deebot N79S by hand defeats the purpose of a robot vacuum, the up, down, and side-to-side controls offer extreme handling precision.
The dust tray is big, easy to empty, and provides easy access to the filters.
You have the option to charge with the base or with the power cord. Most robot vacuums only allow for charging through the base.
Software: C-
The remote must be in sight of the vacuum to change the schedule. Plus, you can only create a routine that's the same for each day.
There's a phone app to create custom schedules for each day of the week. It's easier to read a phone screen than the tiny remote screen too.
The app is not well done. It has the look of a high schooler's first coding project. It's nice to have extra scheduling options compared to Eufy's, but it's barely an upgrade over no app. For some reason, the only way to put Deboot in "max" mode is through the app.
Syncing the app and vacuum is a bit clunky, but you only have to deal with it once.
You can control it with Google and Alexa.
Company: C+
Ecovacs doesn't have much of a reputation in the United States because they've mostly distributed in China until now. Deebot N79S is one of the most affordable robot vacuums that I bought and substantially better than Roomba, making it an incredible value even if it doesn't last forever.
Unlike most robot vacuums, an extra filter and brush aren't included. But they can be purchased separately on Amazon.
Who is this for?
Get Deebot N79S if you want a robot vacuum that's more effective and affordable. It executes better on any floor type and runs longer than Roomba. It probably won't outlast Roomba and the app isn't great, but these are worthwhile sacrifices.